These vegan Thanksgiving recipes are all inspired by the delicious flavors and ingredients of Greece!
Every year, I get more and more requests for plant-based and vegan recipes for Thanksgiving, and I've noticed that generally it's the plant-based options that draw the most attention across my site and social media. We're fortunate throughout the Mediterranean, but especially in Greece, where plant-based foods abound and are delicious, thanks to perfect growing conditions, amazing produce, and the sunny Mediterranean clime. The Greek kitchen is filled with vegan dishes that are "REAL" food — in other words, made from unprocessed natural ingredients. That is the kind of cooking I embrace and want to share with you.
Here is a menu of some of my favorite things for Thanksgiving and beyond, packed with all the season's beloved veggies, like winter squashes, sweet potatoes and Brussel sprouts. But there's also the interesting Greek stuff: dark , nutty tahini from unhulled sesame seeds, petimezi, an ancient grape molasses, Greek herbs, and more. There's definitely something for everyone here, with food so satisfying that even the carnivores at the table will love it!
Salads & Condiments
1
In this Greek take on an American classic, figs and cranberries join forces with one of the world's oldest natural sweeteners, petimezi, a reduced grape must that has the aroma of earthy vineyards!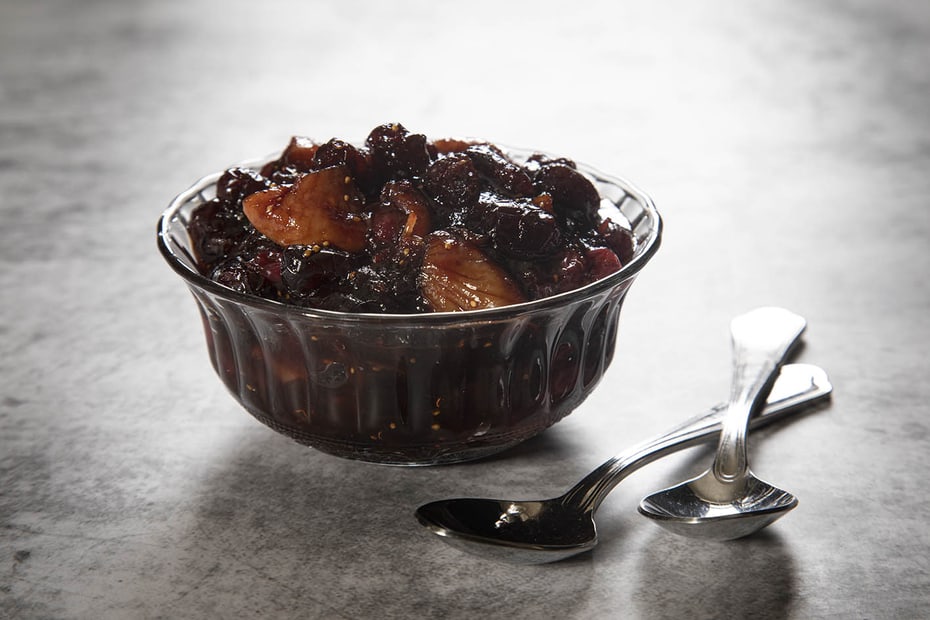 2
It's the exceptional tahini in this dish that makes this easy salad so sating and luscious.
3.
My approach in Politiki salata, a colorful traditional Greek winter salad that typically calls for cabbage. Here. using broccoli stems, is a way to truly give thanks…by not discarding anything and embracing the notion of "nose to tail" cooking even when it comes to vegetables!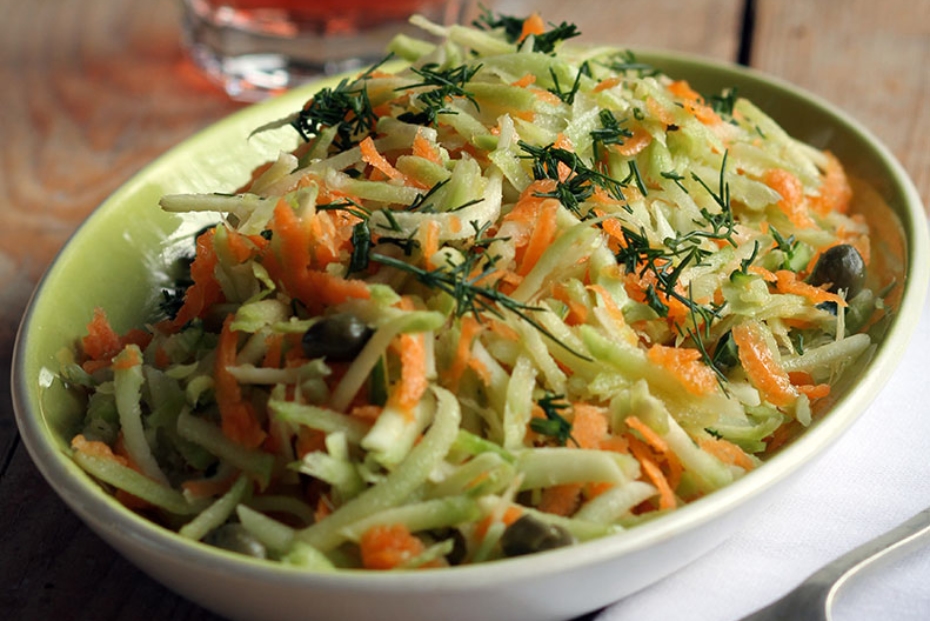 4.
This salad is so simple, yet so elegant, and has all the colors of Fall! It makes a great addition to festive tables and weeknight dinners alike. Make sure to use great Greek olive oil to make it even healthier and more vibrant!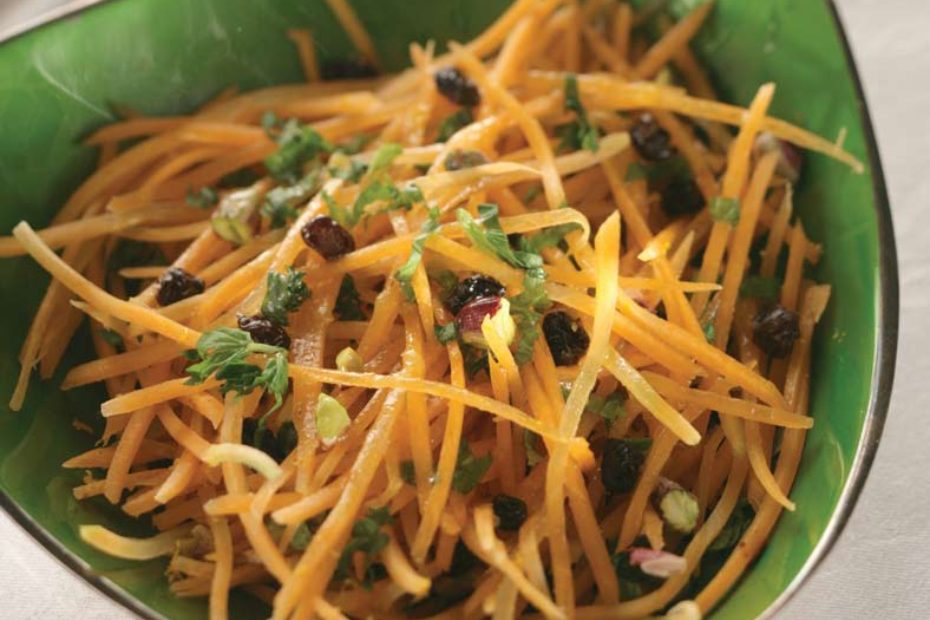 5.
This wonderful jammy glazed carrot recipe takes a most pedestrian vegetable and turns it into something luscious and irresistible.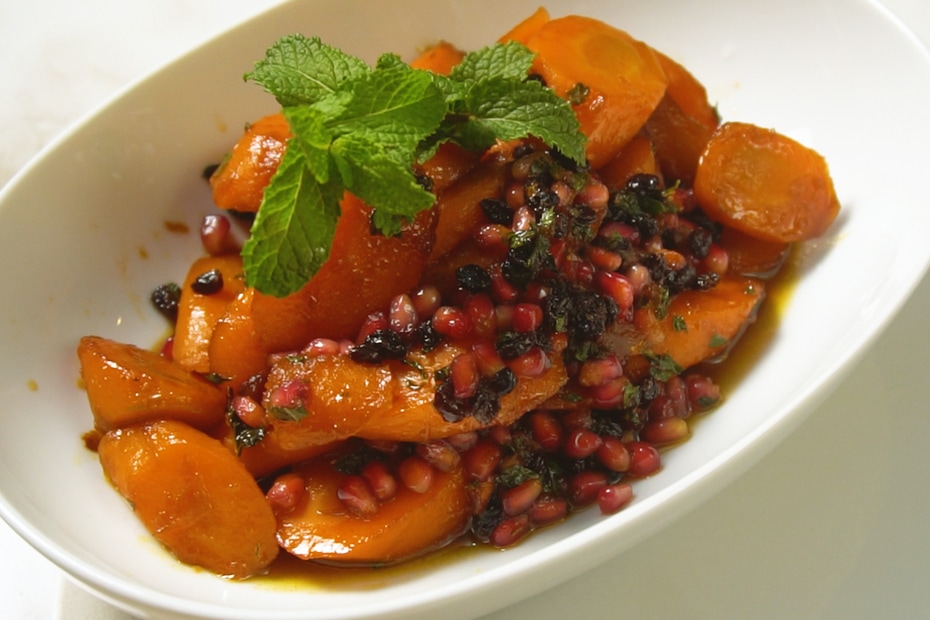 6.
Have  you ever tried Mastiha, the Mediterranean's most seductive spice? It tastes faintly piney and refreshing and pairs beautifully with citrus. It's also one of the most beneficial and therapeutic "super foods" in all of Greek cooking!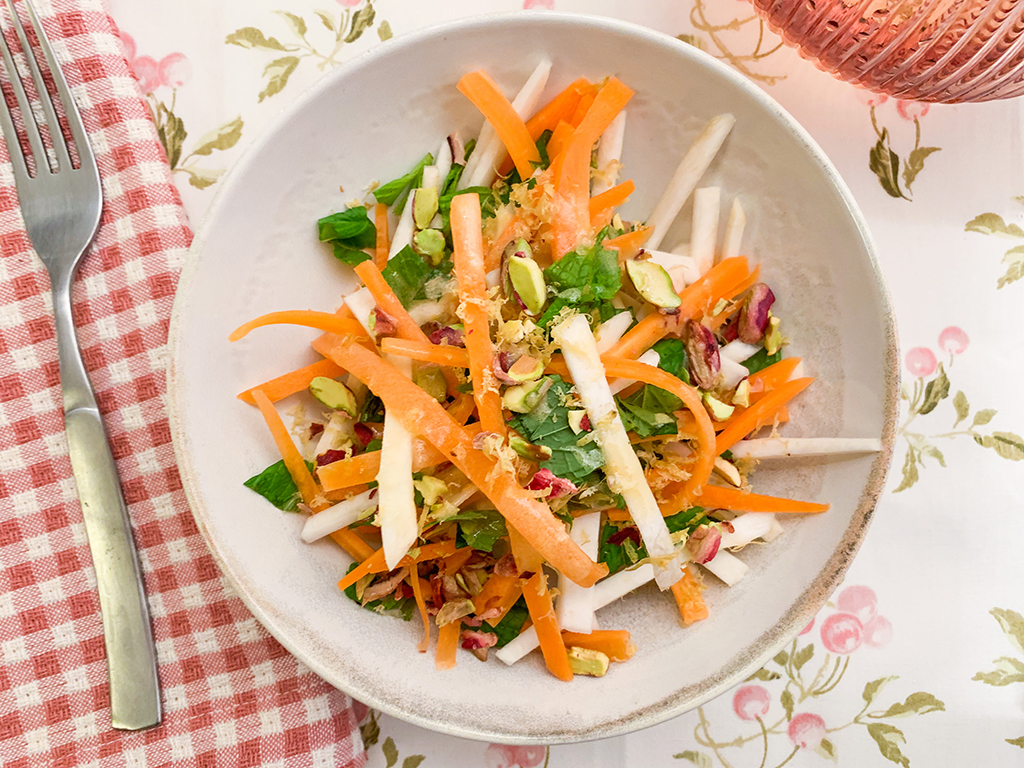 7.
Oranges and olive oil and a generous dose of garlic provide the flavor palette that enhances the spinach.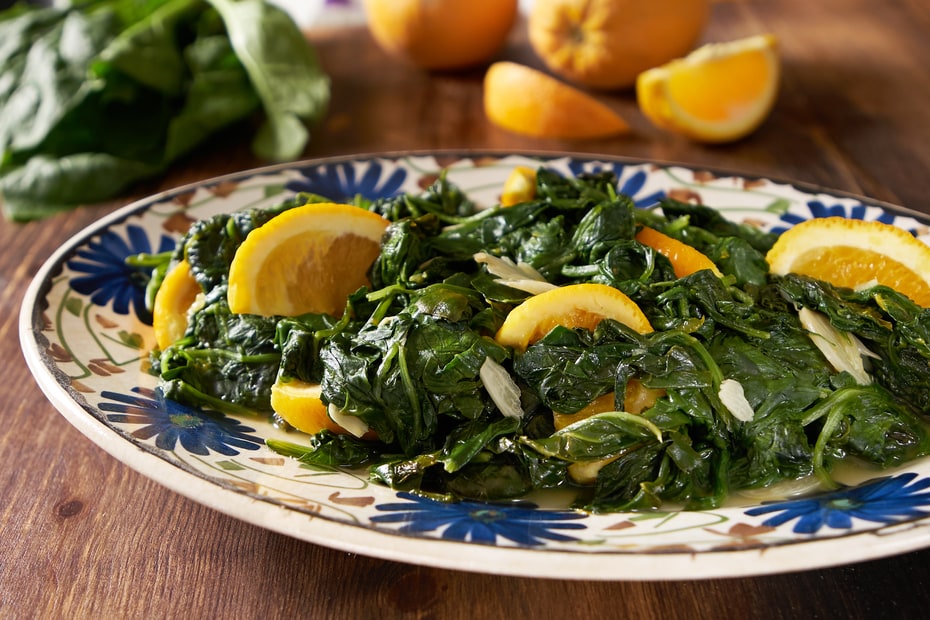 Soups
8.
Sage tea is one of the most delicious and therapeutic Greek herbal teas. In this Greek recipe, I transform a cup of tea into something with which to infuse a pot of soup!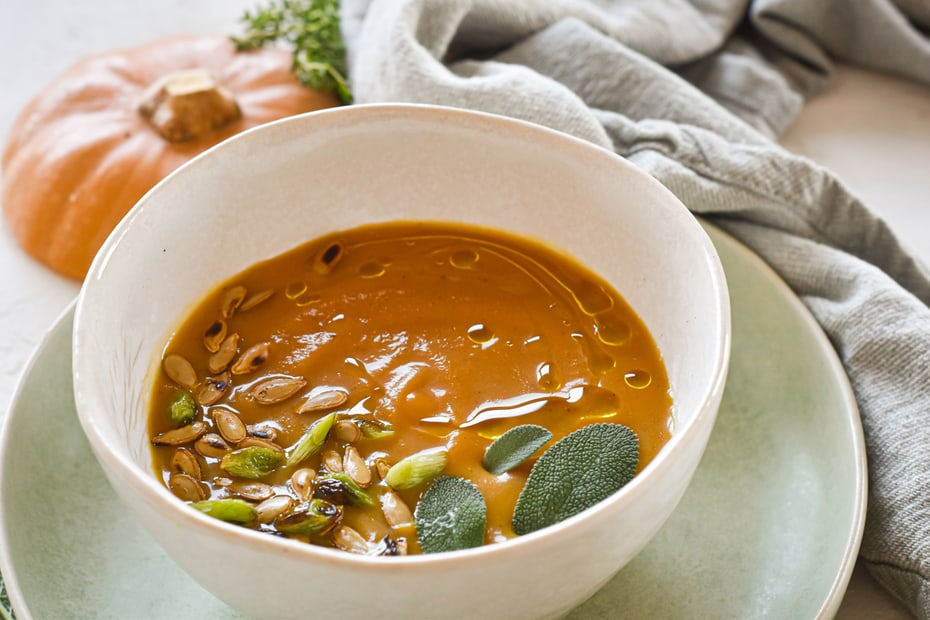 9.
Greek fava, aka yellow split peas, is about as basic and ancient an ingredient one can find in the Eastern Mediterranean and a key component of the Mediterranean Diet. Gussied up with a drizzling of truffle oil and aromatic emerald-green cilantro leaves, this food of sustenance morphs into a princely dish for festive tables.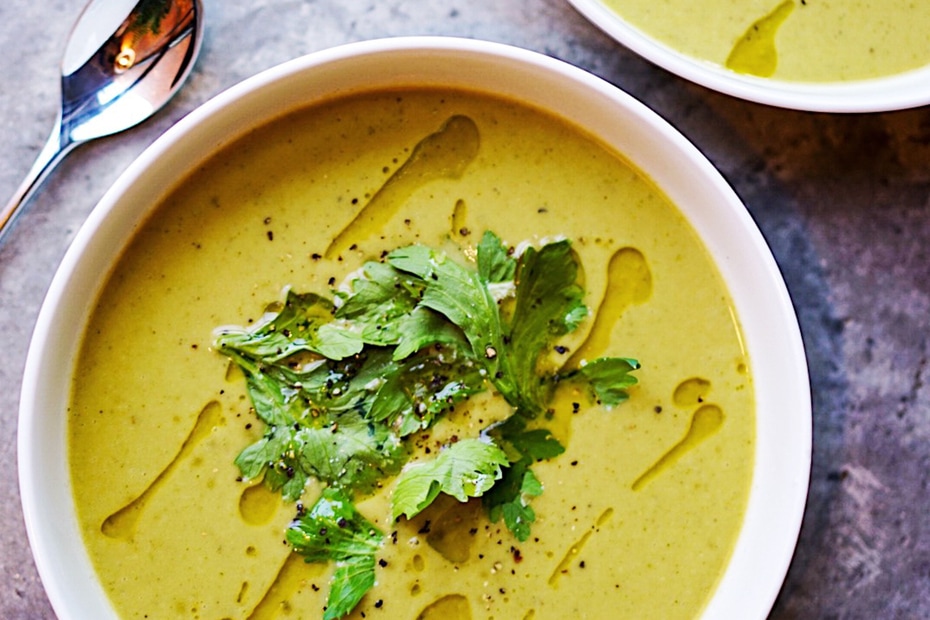 10.
The sweetness of the carrot soup balances beautifully with the rich, earthy, tangy flavor of the olives.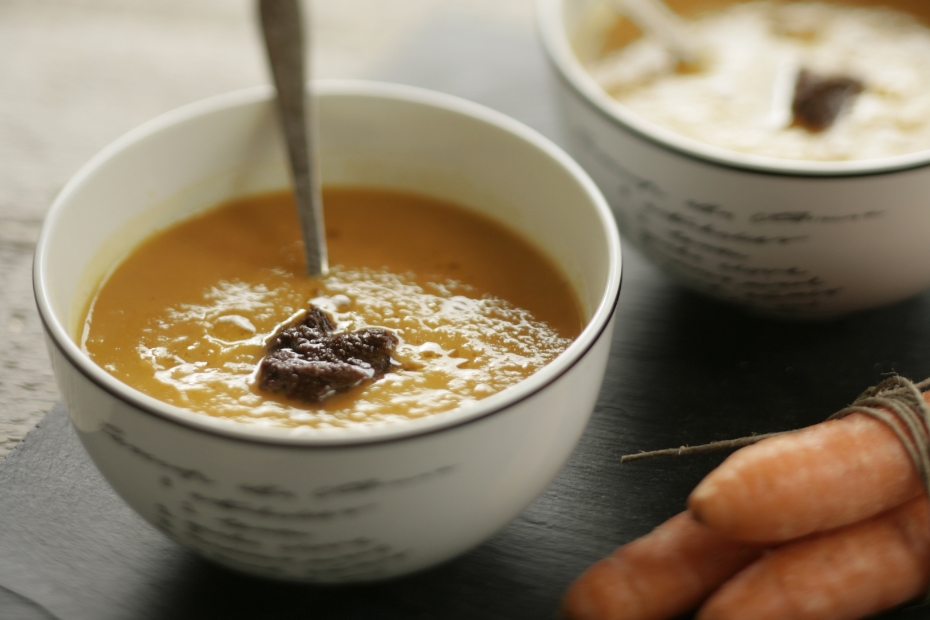 Beans & Pulses
11.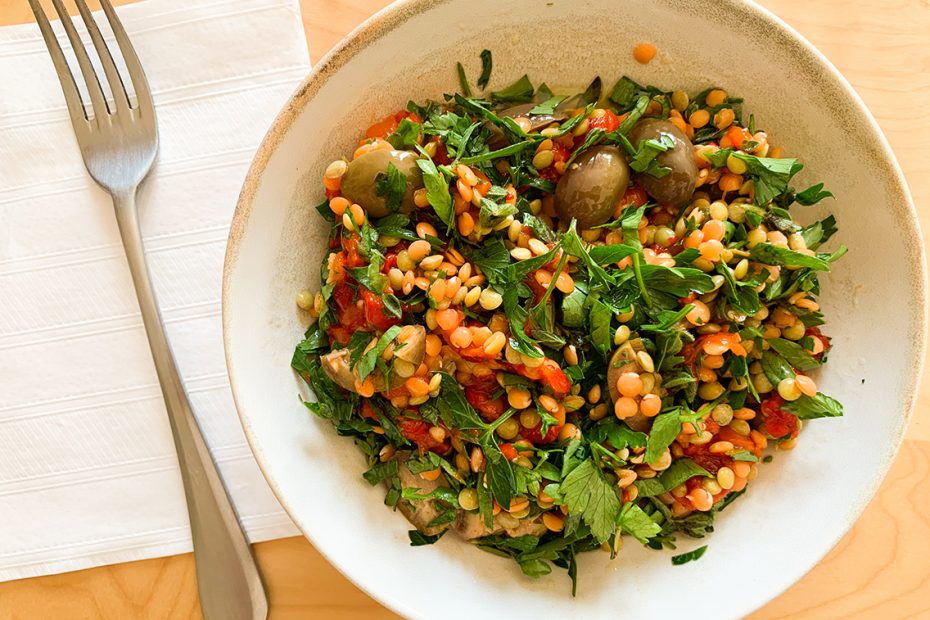 12.
This Greek recipe, called Sympetherio, hails from Crete and is the absolute perfect paradigm of the healthy Mediterranean diet. In the Greek diet, as you know, beans have played a major role forever. Here, a medley of beans, grains and vegetables are mixed together into a nutritious whole. This makes for a perfect and soooo hearty and sating T-day treat!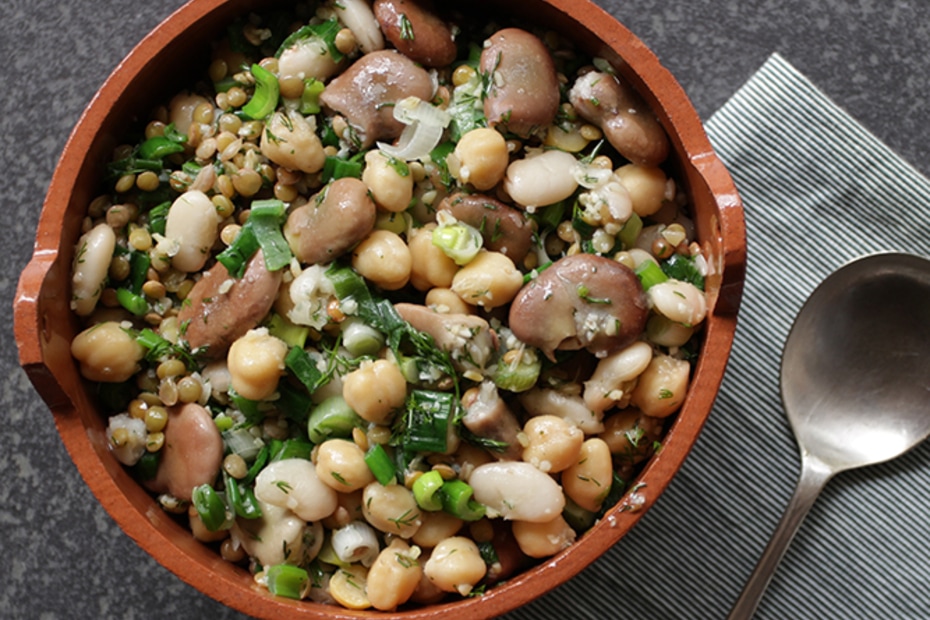 13.
Giant beans, aka gigantes (GHEE-ghan-tez), are one of the stars of Greek plant-based cooking. They're creamy and buttery on the inside, and can be made in countless recipes. This one, sweetened a little with the ancient grape syrup called Petimezi, holds its own as a main course on Thanksgiving.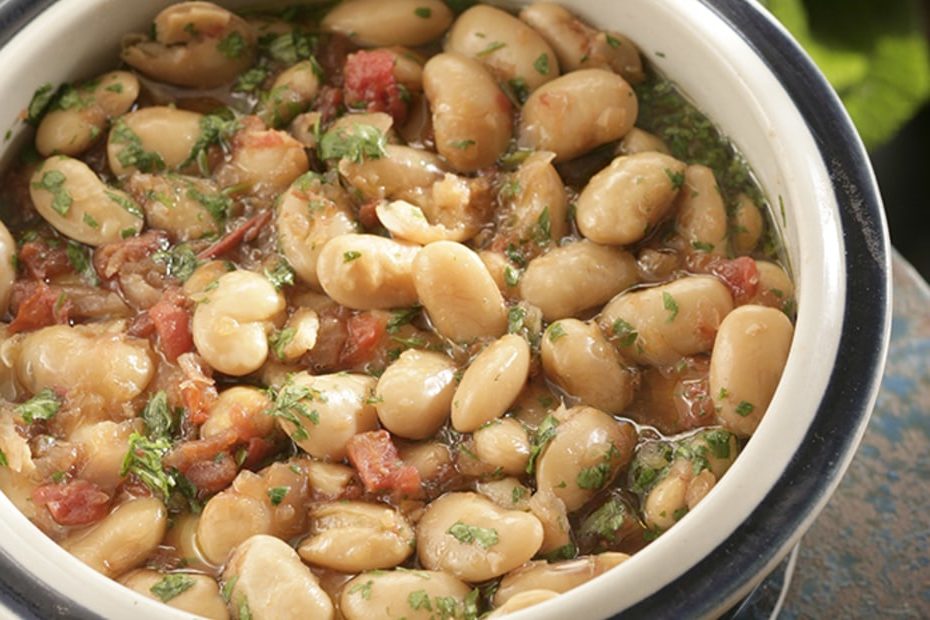 Mushrooms
14.
Looking for a great way to start Thanksgiving? This is it! Mushrooms, which abound in Greece, hold a world of endless possibility. These portobellos stuffed with creamy fava (yellow split pea puree) are gorgeous and sure to be a show stopper! Drizzle some excellent Cretan high polyphenol olive oil over them for extra love!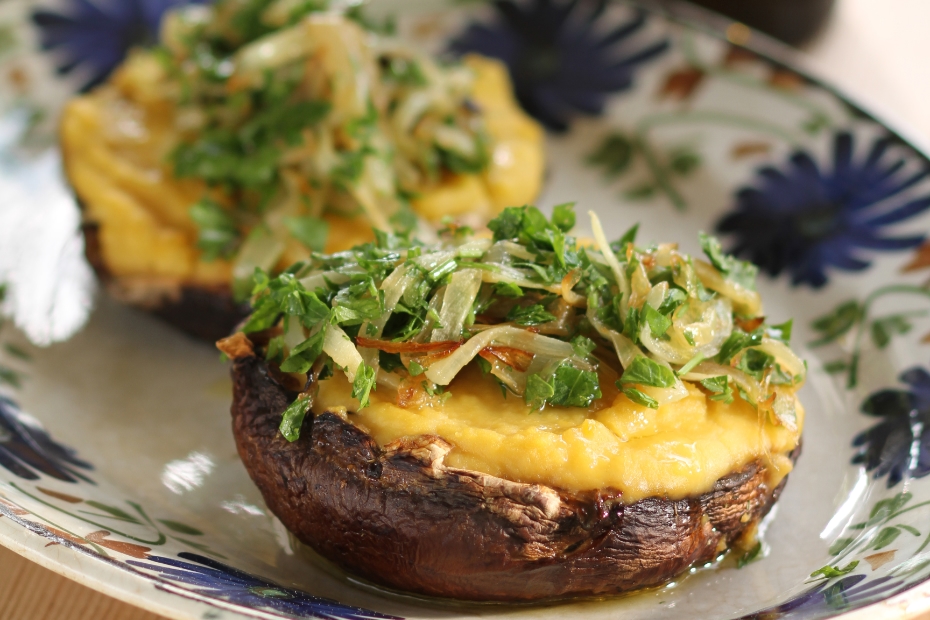 15.
To my mind, this is one of the great vegan dishes of Greece. It is earthy and light, but also deeply satisfying and hearty. Try my mixture of dried Greek forest mushrooms in here for a  taste of the Greek countryside!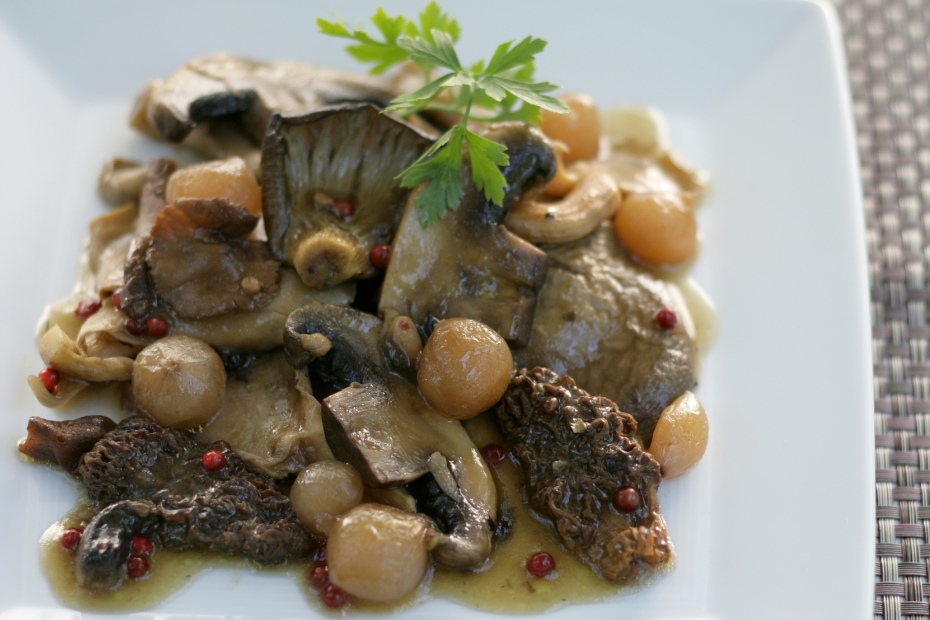 MAIN COURSES
16.
These chestnuts make a fine and unexpected substitute for meat on the Thanksgiving table and this recipe, one of the oldest and most unusual in Greece, is surprisingly elegant. It hails from the Peloponnese.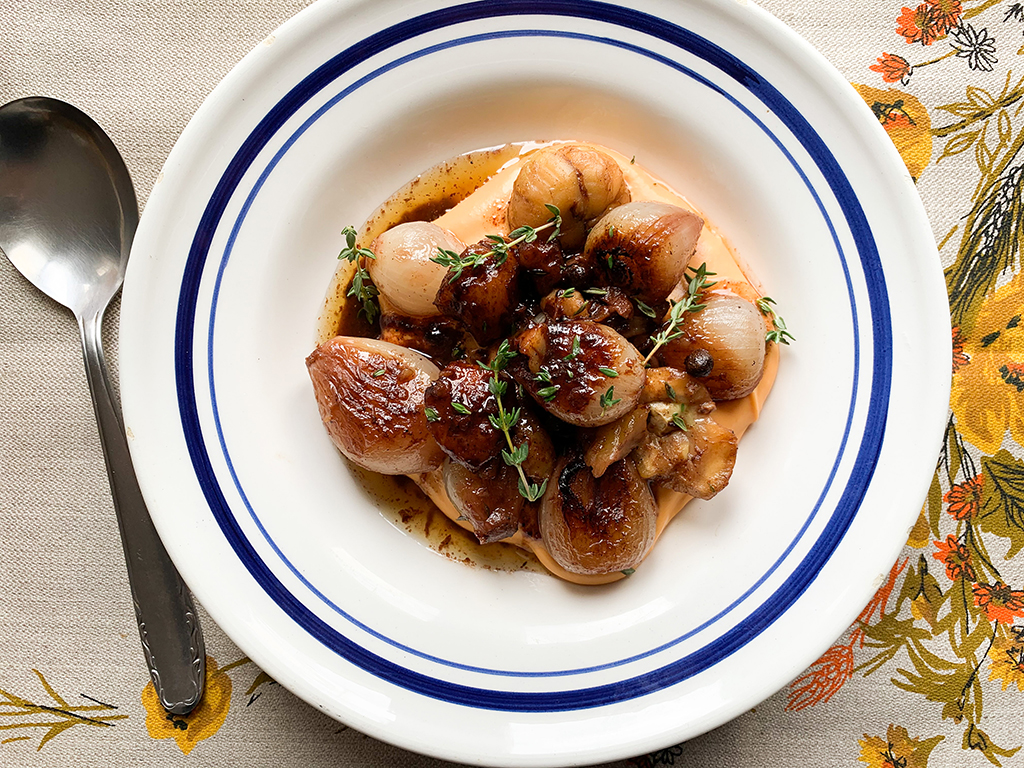 17.
I can't describe to you what a show-stopper this vegan and/or vegetarian Greek recipe for stuffed whole roasted butternut squash is. It's a great example of the variety and flavor inherent in the vegetable traditions of the Mediterranean Diet. Many of the ingredients in the stuffing — garlic paste, olive oil, mushrooms, and more — are available online here!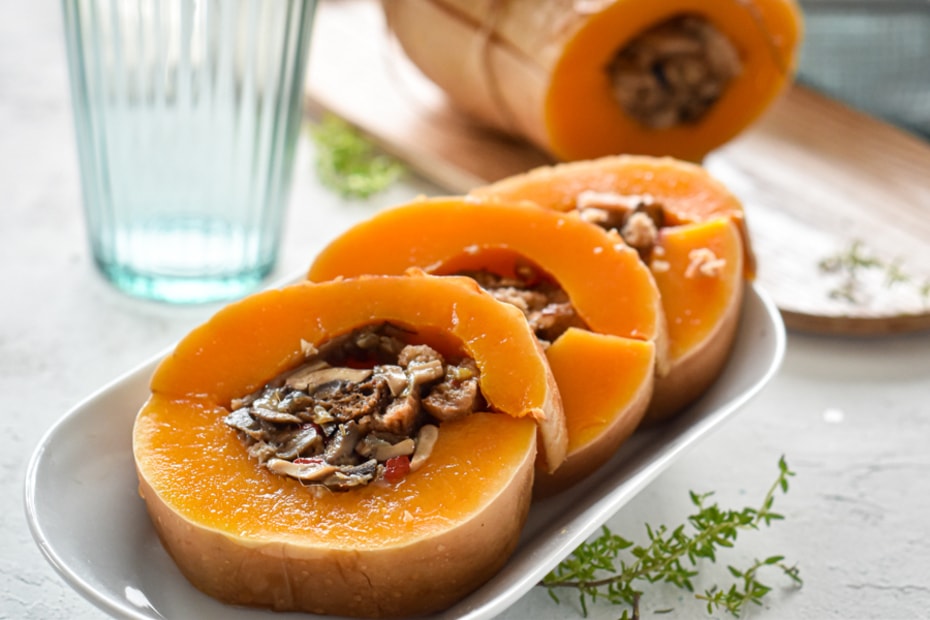 18.
Cinnamon-scented Cauliflower Stew with Sun-Dried Tomatoes and Olives
Cauliflower is one of those vegetables that incite either ire or awe. I choose the latter and I hope this Greek recipe for cauliflower stew will convince you that there's more to this cruciferous vegetable than meets the eye. Make a little wholesome brown rice or quinoa to go with this, and you've got a winning protagonist at your Thanksgiving table.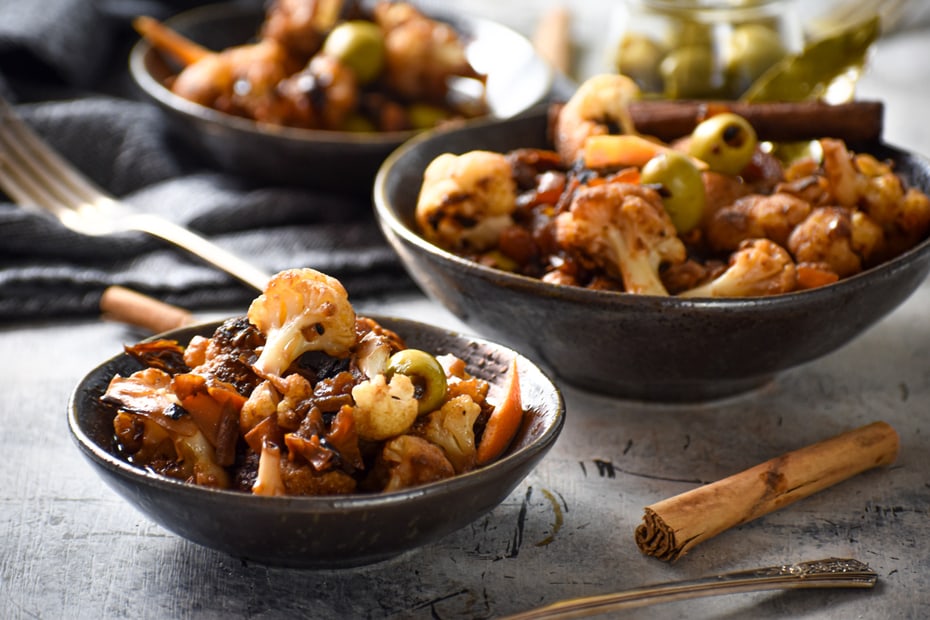 19.
This delicious Greek recipe for pumpkin comes from my native Ikaria and I can happily say that it's one of the many longevity recipes that are plant-based and delicious and that people still cook today. Lots of what is called for in this dish, from the great Greek olive oil to the vinegar, garlic, sea salt and mint, can be found online here.

20.
This Greek recipe speaks to my plant-nourished heart and to the endless array of traditional and innovative Greek vegetable dishes that make Greek cuisine one of the great plant-based options on the planet.  Aside fromtheactualsquash,almosteverythingyouneedforthisrecipe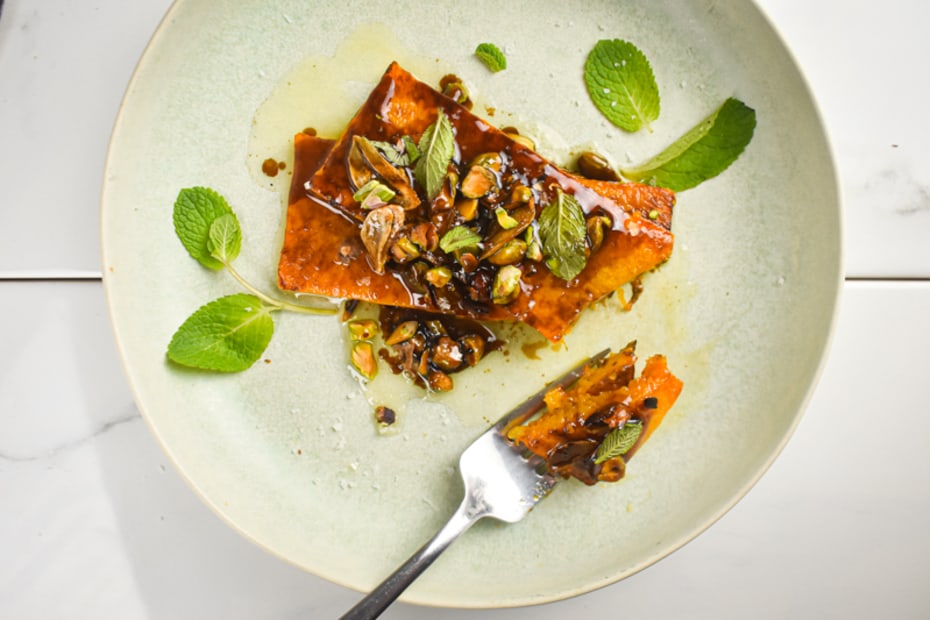 21.
In my humble opinion, this is one of the greatest Greek recipes in the entire Aegean! With two basic ingredients, a good frying pan and some manual deftness, you'll create a simple elegant pumpkin skillet pie that is a paean to the simplicity of the Mediterranean Diet and can stand its own at the fanciest dinner party or at a backyard picnic.

A Few of My Favorite Sides
22.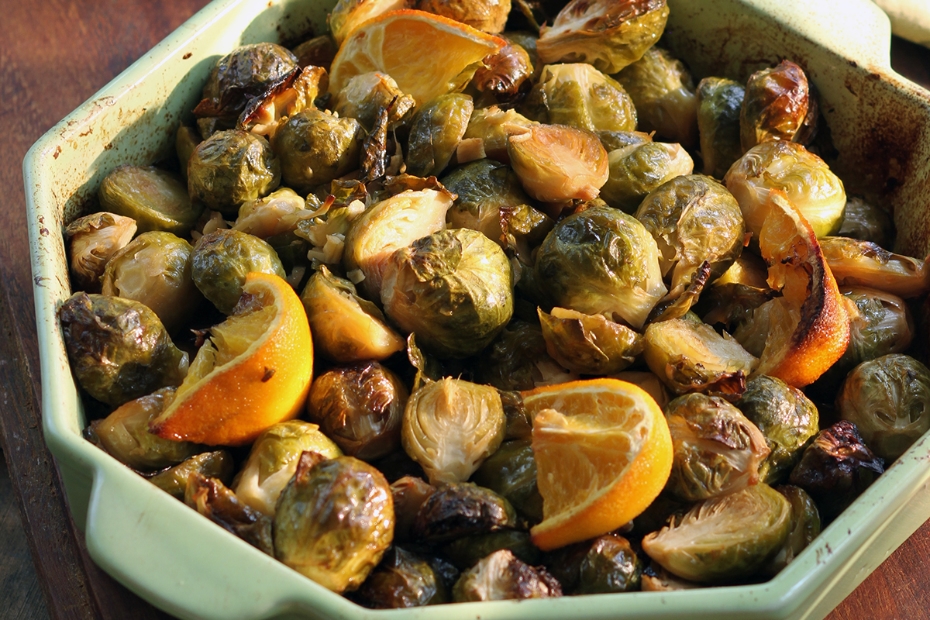 23.
This Greek recipe is inspired by a traditional recipe from the Blue Zone Greek island of Ikaria, renowned for its longevity and home to some amazing "green" Mediterranean cooking. What sets this Brussel sprouts recipe apart is the ouzo! It's a yummy addition to Thanksgiving!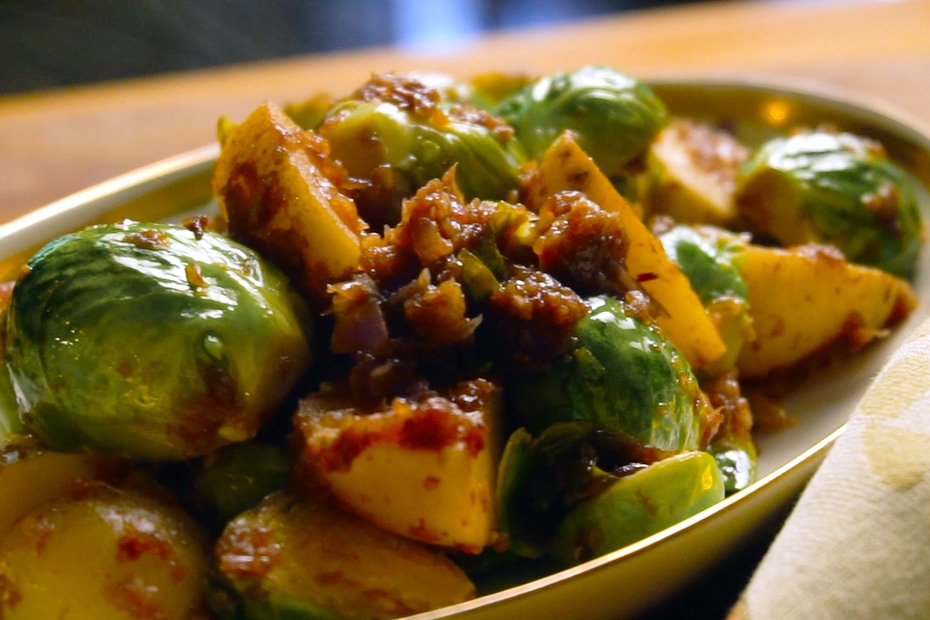 24.
Roasted sweet potatoes get a contrasting lift here with this spicy, Greek-mustard aioli.
25.
Sweet potatoes probably came to Corfu with the Venetians, as did many other New World crops, sometime during the sixteenth century, where they remained poor man's fodder for hundreds of years. It took the English to popularize them, by showing Corfiot aristocrats the virtues of serving them with syrup.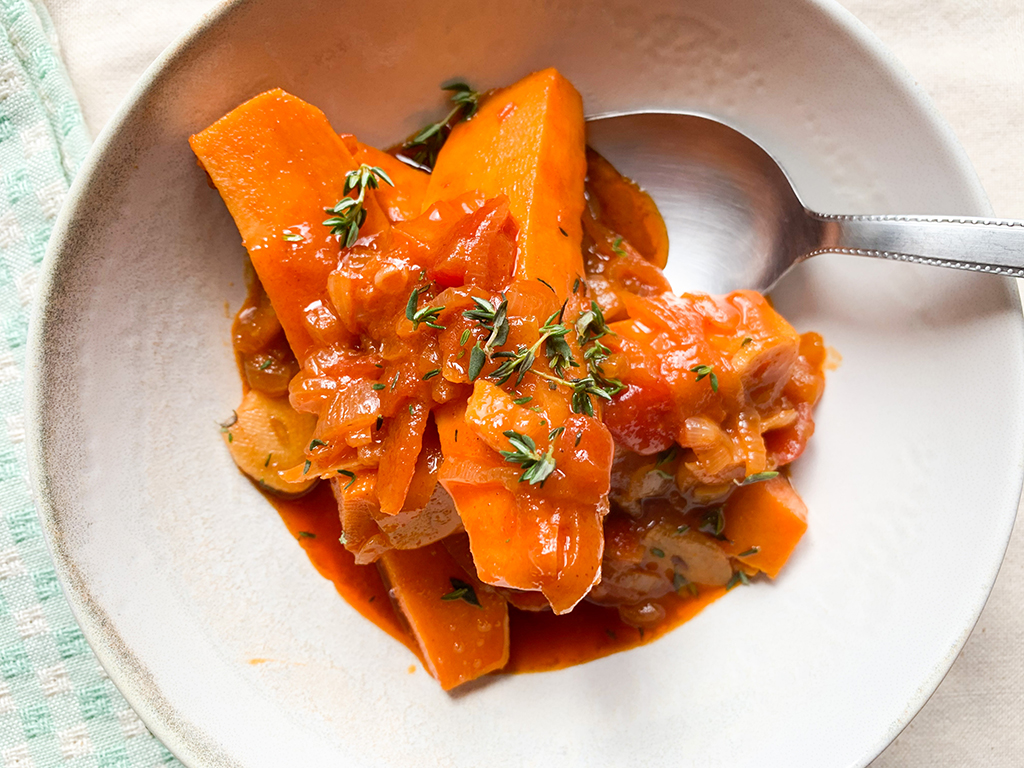 26.
The Greek kitchen abounds with some amazing pilafs, not all made with rice, but all gently and warmly spiced! This will  make a wonderful nutty addition to Thanksgiving!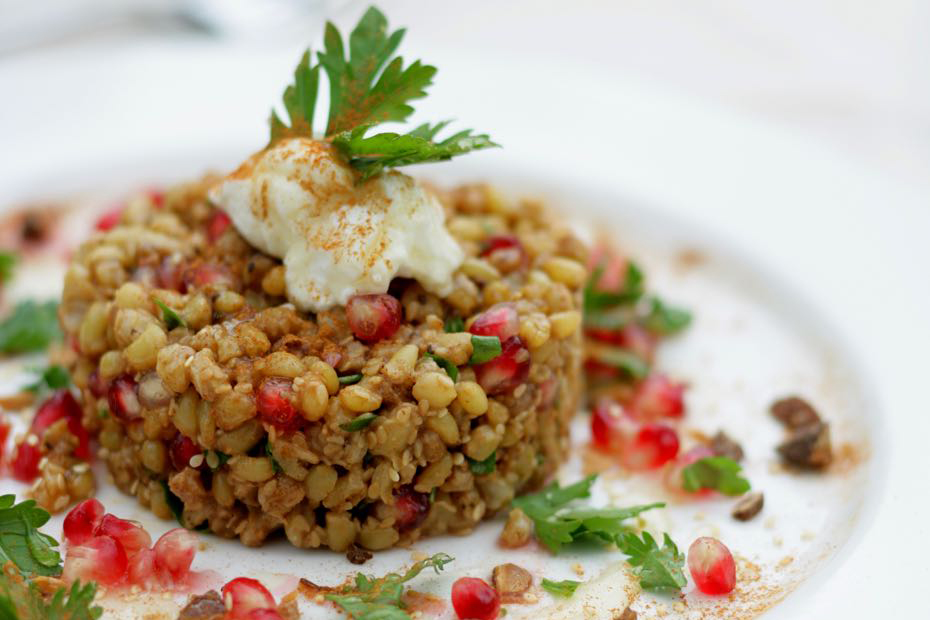 STUFFINGS
27.
Here's one of my favorite stuffing recipes, totally vegetarian and baked separately. The combination of dried fruits, olives, nuts, orange and ouzo is very Greek!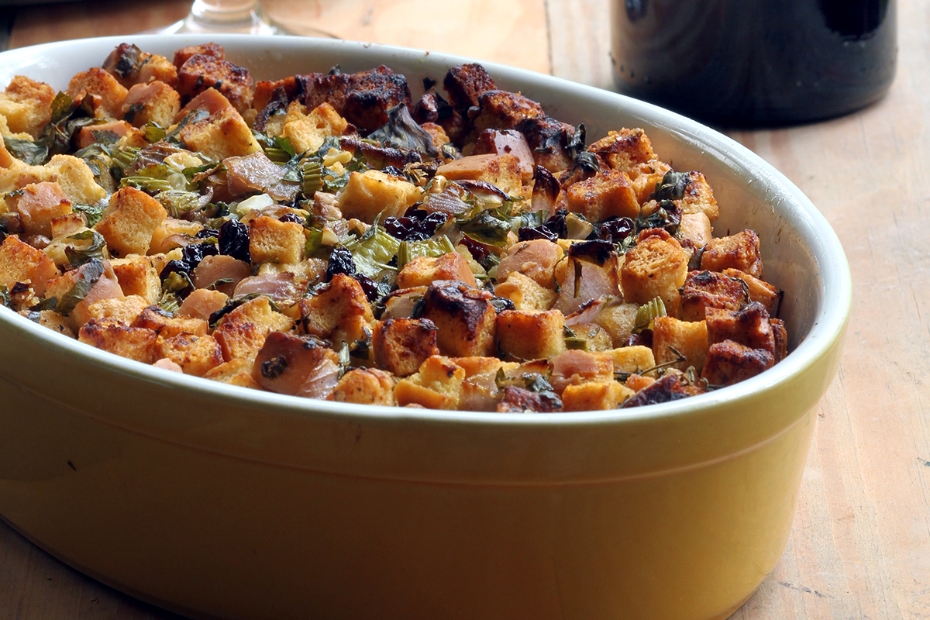 28.
A colorful wild rice pilaf dish, with plenty of flavors and fragrances! Feel free to enjoy it not only during the holiday season, but year-round just as well! Try this with organic Greek orzo!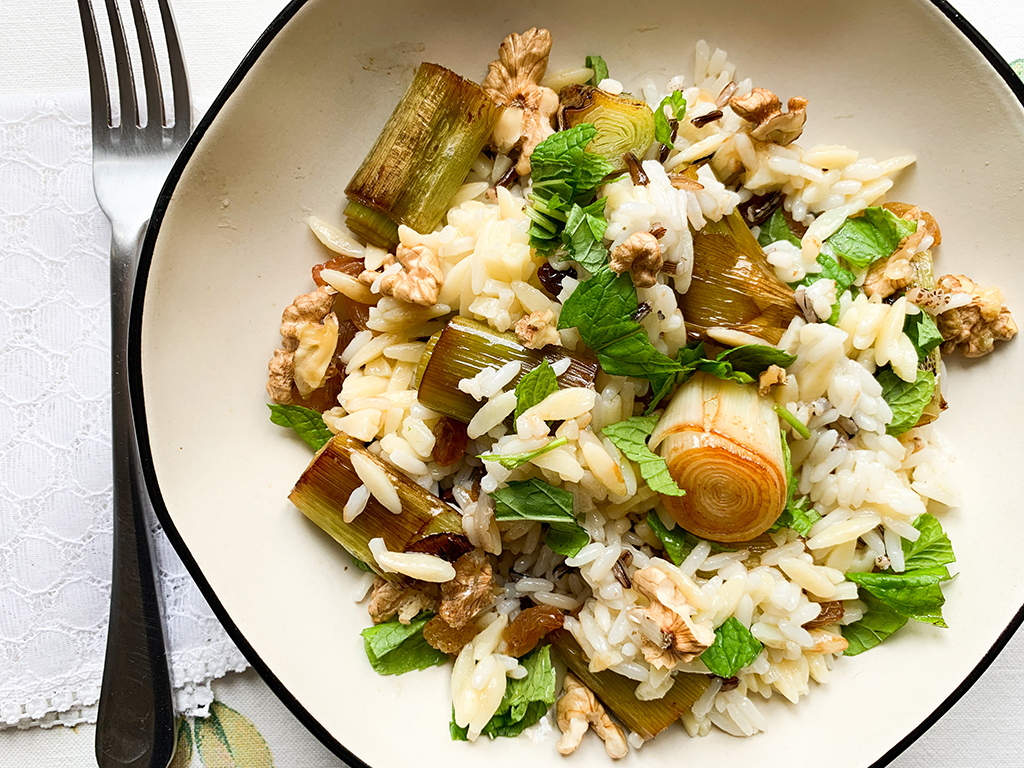 29.
Yet another great rice pilaf from the traditions of the Greek table, this one is earthy with mushrooms and simply seasoned with fresh oregano and thyme.
30.
Mushrooms are a delicious and filling addition to this slow-cooked, spiced orzo dish, called kritharoto. There's a cheat sheet in this recipe, too! You can go "non-vgegan" by adding grated parmesan or Greek kefalotyri cheese, or you can try ground cashews or even one of the delicious cultured cashew-milk cheeses now available.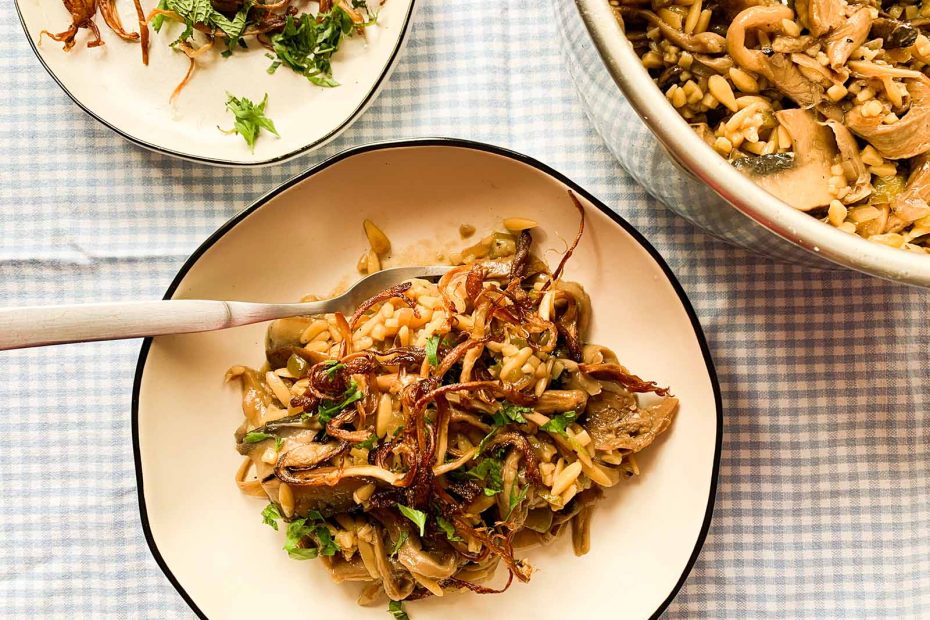 31.
Here is a side that has all the goodness of tradition, health, history and flavor rolled into hand-held comfort food! One of my absolute favorite recipes from Ikaria!
Desserts
32.
Many traditional Greek sweets, especially during periods of fasting, such as Lent, call for olive oil instead of butter. An apple crisp isn't exactly traditional Greek food. I've "hellenized" a classic American dessert by adding two distinct greek flavors, that of olive oil and the scented geranium, arbaroriza in Greek, which Greek cooks often use when poaching fruit.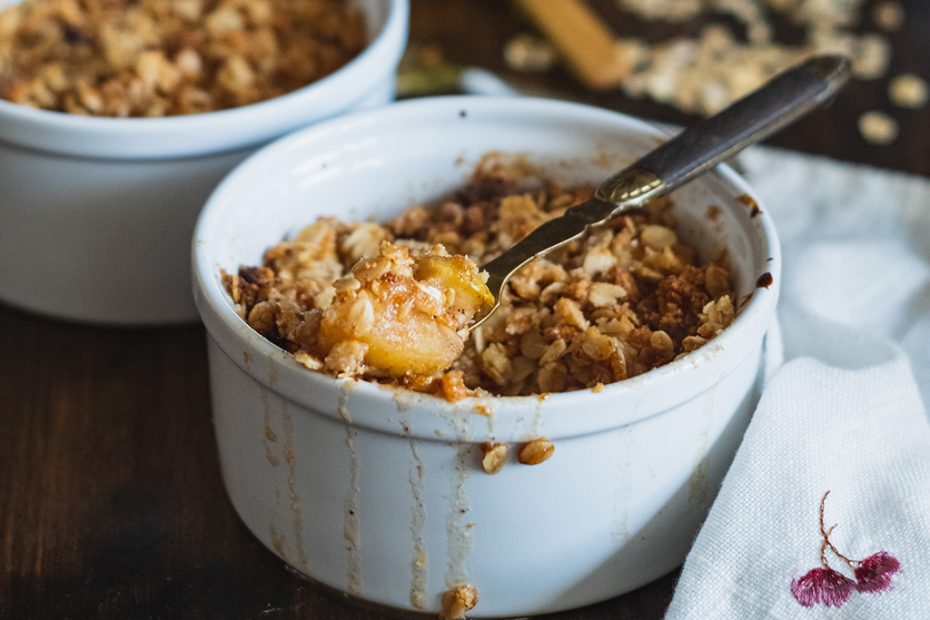 33.

34.
This recipe is culled from one of the episodes of My Greek Table shot on the island of Chios. You'll see two versions of it — one with butter and one, for vegans, with olive oil. They're both delicious!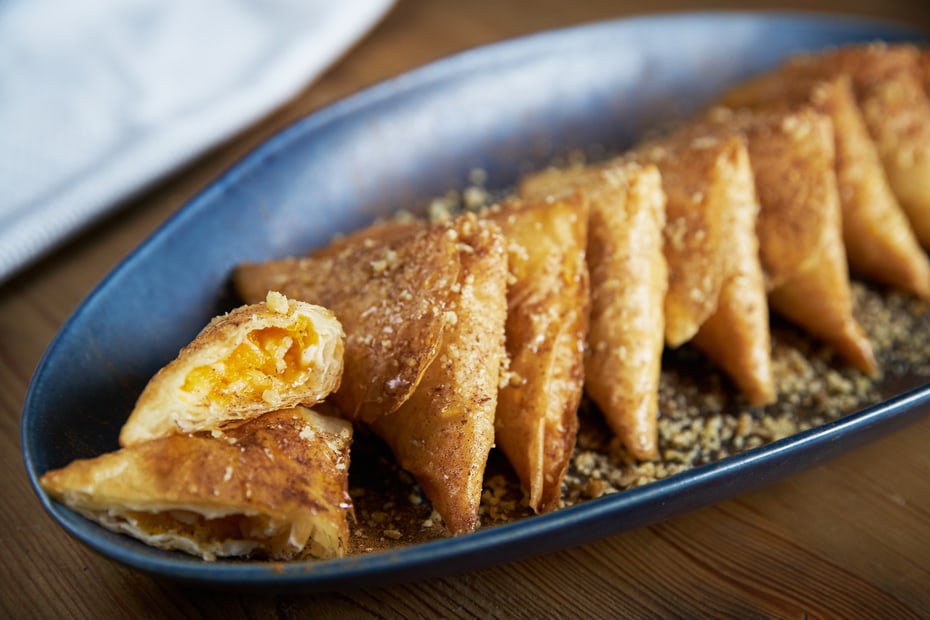 35.
Looking for a crowd pleaser that's impressive but also easy and unique? This poached pear recipe is definitely it!