Diane Kochilas is one of the world's foremost experts on Greek and Mediterranean cuisine. She is the host, creator and co-producer of
My Greek Table
, the award-winning 13-episode per season cooking-travel show about Greece that airs nationally on Public Television. The series is in its third season.
Diane hails from the Blue Zone Greek island of Ikaria and New York City and brings a combination of innate Blue-Zone wellness and result-oriented NYC spirit to everything she does. She is an award-winning author of
more than 18 books
on Greek-Mediterranean Cuisine and runs the Glorious Greek Kitchen on Ikaria Cooking School every spring and fall on the island. Diane also organizes culinary excursions and walking tours in Greece and cooking classes throughout the United States.
She has been on the forefront of bringing healthy Greek and Mediterranean cuisine to an American audience for more than 25 years. Diane has been consulting chef for many of the top Greek restaurants in the United States and for years has worked with university dining services at Harvard, Yale and UMass Amherst to bring healthy Mediterranean cooking to student dining halls. She is a frequent speaker at the CIA and other major culinary institutions.
Awards:
Taste Achievement Award, 2020, My Greek Table
IACP Nomination 2019, My Greek Table
Best Cookbook, 3 IACP Awards
Books for a Better Life Award
Art of Eating Award, long list
---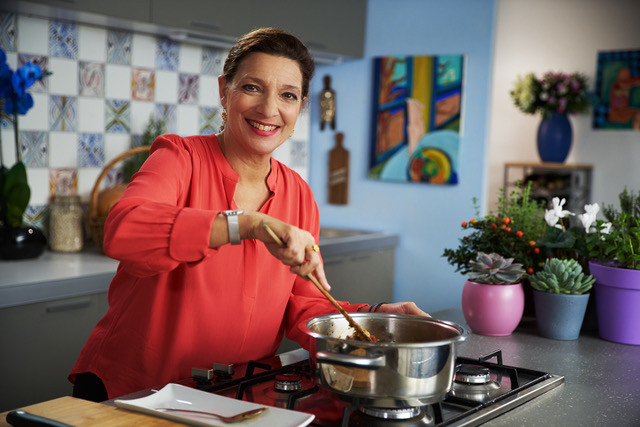 01.
A born teacher, every spring, summer and fall since 2003, Diane has run the Glorious Greek Cooking School on her native island, Ikaria, a Blue Zone, renowned for the longevity of its inhabitants, and for its untrammelled beauty.
02.
Kochilas is an award-winning author of 18 books on Greek and Mediterranean cuisine. Her latest book is My Greek Table, Authentic Flavors and Modern Home Cooking from My Kitchen to Yours (St. Martin's Press, December 2018). Her book before that, Ikaria: Lessons on Food, Life and Longevity from the Greek Island Where People Forget to Die (Rodale), won the 2015 Books for a Better Life award by the MS Society as well as the prestigious IACP award Best Cookbook award in the International Category. The book was also long-listed for an Art of Eating award.
03.
The book before IKARIA, Country Cooking of Greece (Chronicle, 2012), was hailed by the New York Times as one of the 100 best books of 2012 and by virtual gourmet, John Mariani, as Diane's "masterpiece." Another tome, Glorious Foods of Greece (William Morrow), won the prestigious IACP Jane Grigson prize for excellence in research.
04.
Diane has been consulting chef at Committee Boston, an acclaimed small-plate and ouzerie concept, since the restaurant opened in June 1015. As consulting chef, she has designed menus at some of the top Greek restaurants in North America, including Molyvos and Pylos in NYC, Axia in Northern New Jersey., Avli in Chicago, and Volos in Toronto.
05.
Diane has also worked extensively in institutional dining, with Harvard University Dining Services, establishing a roster of healthy Greek menu items for student and retail dining; for Yale University Dining, and for UMASS, Amherst, renowned as the premiere college dining program in America.
06.
In Greece, she was host of Greece's most popular TV cooking show, "What Are We Going to Eat Today, Mom" (in Greek) and was a columnist and restaurant critic for 20 years at the country's largest circulation daily paper, Ta Nea.
07.
Diane has appeared on many major American television shows, most recently on FoxNews (Jan. 2014), as well as on "Throwdown with Bobby Flay," "The Today Show," "Martha Stewart," "Bizarre Foods with Andrew Zimmern," and more.
08.
Diane divides her time between the United States and Greece.
March 13th 2021 - Noon Eastern/9a.m. Pacific
A Taste of Lent – Live FB Class
Take my live cooking class a Taste of Greek Lent, and discover one of the most delicious and nutritious aspects of Greek cuisine. The class is Live on FB, $32.95.
Register HERE!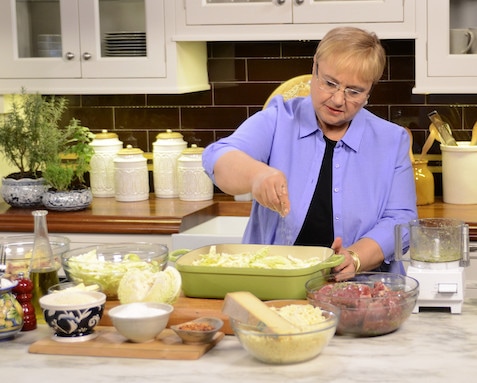 March 17th 2021 - Noon Eastern /9 a.m. Pacific
INSTAGRAM LIVE WITH PBS LEGEND & CHEF LIDIA BASTIANICH!
Join me for an IG Live with Chef, Restaurateur and Italian Culinary Legend Lidia Bastianich. Just go to my IG page, @dianekochilas at noon ET on Wednesday, March 17th, and tune in! Lidia and I will be discussing the common foods that unite us across the Mediterranean and her incredible journey as a woman and chef.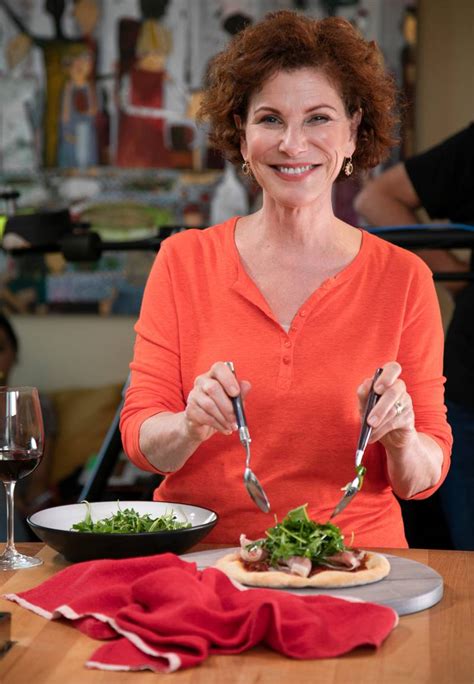 March 24th 2021 - 1 p.m. Eastern /10 a.m. Pacific
INSTAGRAM LIVE – A TALK WITH DAN FRANCISCO CHEF JOANNE WEIR
This is the month for PBS collaborations! I'll be chatting with Joanne about the Mediterranean diet and how she interprets it in her work as a California chef and fellow Public Television cooking show host.



IG Live with Ultra Marathoner Dean Karnazes
Details TBA
Hellenic American Women's Council
Webinar on Greek Cuisine and 200th Anniversary of the Greek State
Details TBA
CONSULTING & OTHER CULINARY SERVICES
Put a Heading here...
RESTAURANTS (... and here?)
Diane is available for restaurant, retail and food-travel consulting for culinary professionals who want to learn more about Greek-Mediterranean cuisine. Contact Diane here, for further information or with specific requests: [email protected]>
Diane has worked with a long list of restaurants, retail food markets, and editorial and marketing entities to help shape the perception of Greek food internationally.

She helped open Pylos Restaurant in NYC in 2004, and worked with the restaurant for a decade to serve forth rustic, elegant Greek cuisine, efforts which were rewarded with great reviews, top ratings in Zagat and many honorable mentions in the Michelin Guide.

She has worked with Axia in Tenafly, NJ, and Avli in Chicago in the same capacity, helping to shape their menus. In 2011 she helped open Volos Restaurant in Toronto.
HEPO. Diane worked with the Hellenic Exports and Promotions Board throughout the 1990s and up to 2008 as a consultant. The much-lauded GreekGourmetTraveler Magazine was her brainchild, a publication aimed at sharing the foods, wines and regions of Greece with an Emglish-language audience. Under her term with HEPO, she also spearheaded other award-winning publications, such as Simply Plated and Passport to Greek NY, all aimed at promoting Greek food and wine products internationally.