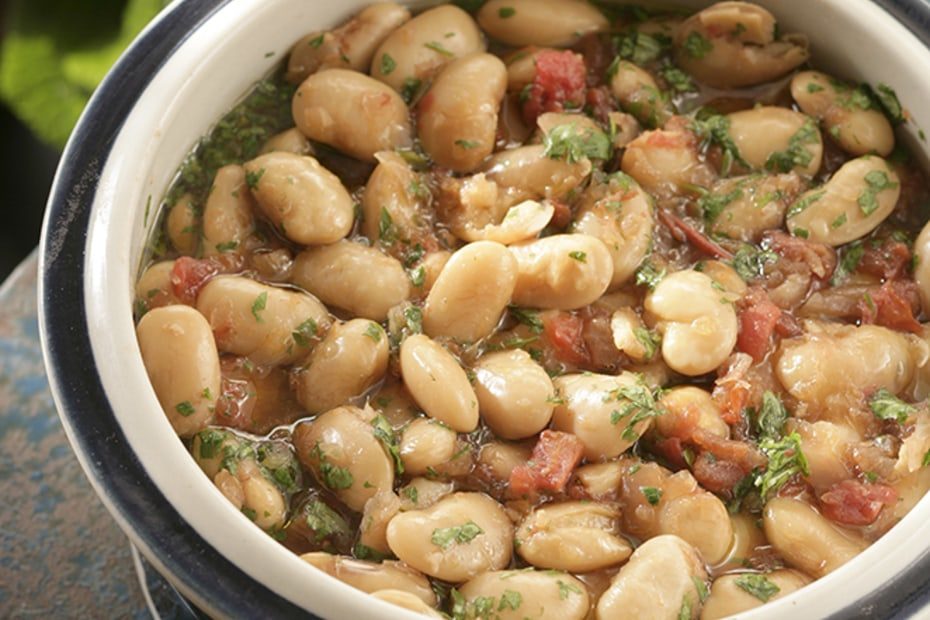 Giant Beans Baked with Grape Molasses and Herbs
---
I have made this dish in other versions, with my favorite Ikarian pine honey and fresh orange juice. Petimezi, the subtle, sweet syrup made by cooking down clarified grape must, is one of the world's oldest natural sweeteners. In this dish, it lends balance to the already earthy beans and it pairs beautifully with tomatoes and herbs.
Ingredients
1

pound

/ ½ kilo Greek giant beans

gigantes

2

large red onion

chopped, about 2 cups

2

large garlic cloves

chopped

2

bay leaves

2

cups

chopped plum tomatoes

canned are fine

3

tablespoons

petimezi

2/3

cup

extra virgin Greek olive oil

2

– 3 tablespoons red wine vinegar

1

cup

chopped fresh parsley

½

cup

chopped fresh oregano leaves
Instructions
Soak the giant beans for 8 hours or overnight, until plump.

Drain the soaking water and place the beans in a large pot with enough fresh cold water to come about 2 ½ inches / 6 cm above the beans. Cook over medium heat, uncovered, for about one hour, or until the beans are slightly undercooked. As they simmer, skim off the foam that forms on the surface of the water.

Preheat the oven to 375F /190C

Remove the beans with a slotted spoon or drain, reserving their cooking liquid, and transfer to a large ovenproof baking pan.

Add the chopped onions, garlic, bay leaves, tomatoes, half the olive oil, the petimezi, vinegar, salt and pepper to the baking pan and stir to combine thoroughly with the beans.

Add enough of the reserved cooking liquid to come up just below the surface of the beans. Cover with parchment paper then aluminum foil and bake for about one hour, or until tender. Uncover, stir in the herbs and continue baking for about another 20 to 30 minutes, or until almost all the liquid has been absorbed and the giant beans are at once firm but tender. They should hold their shape but be very soft and buttery on the inside. Remove, cool slightly and serve.
Want to learn more about Ikaria Longevity Cooking? Sign up for my online class bundle "Everything Ikaria 101!"