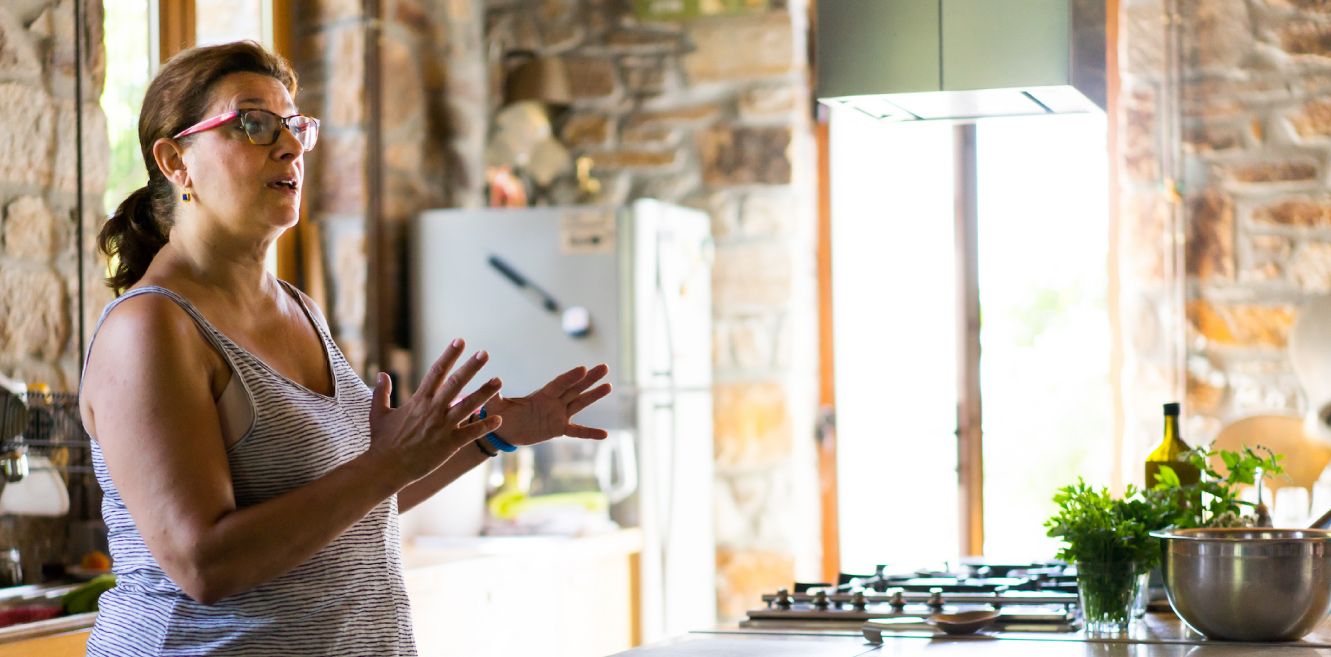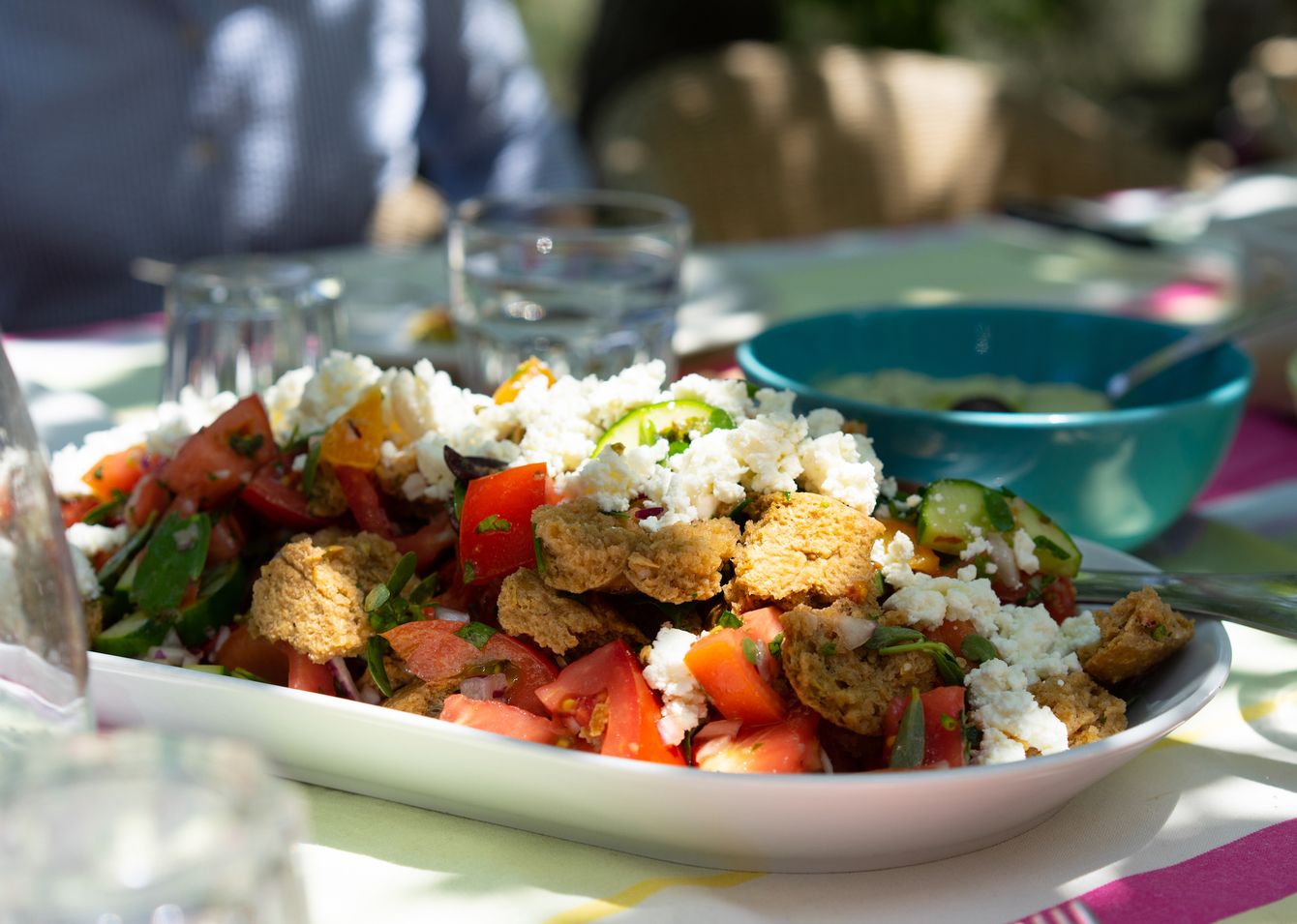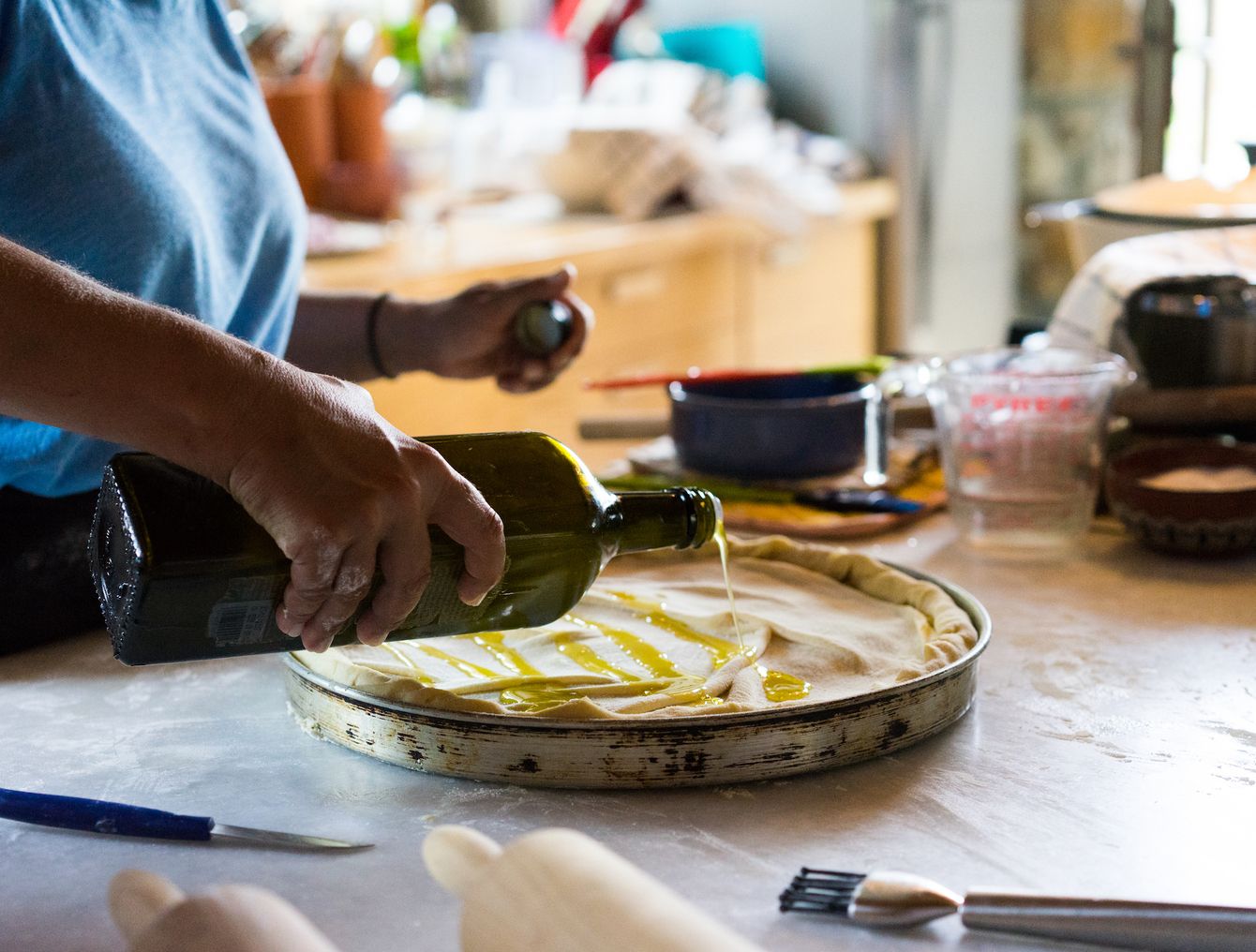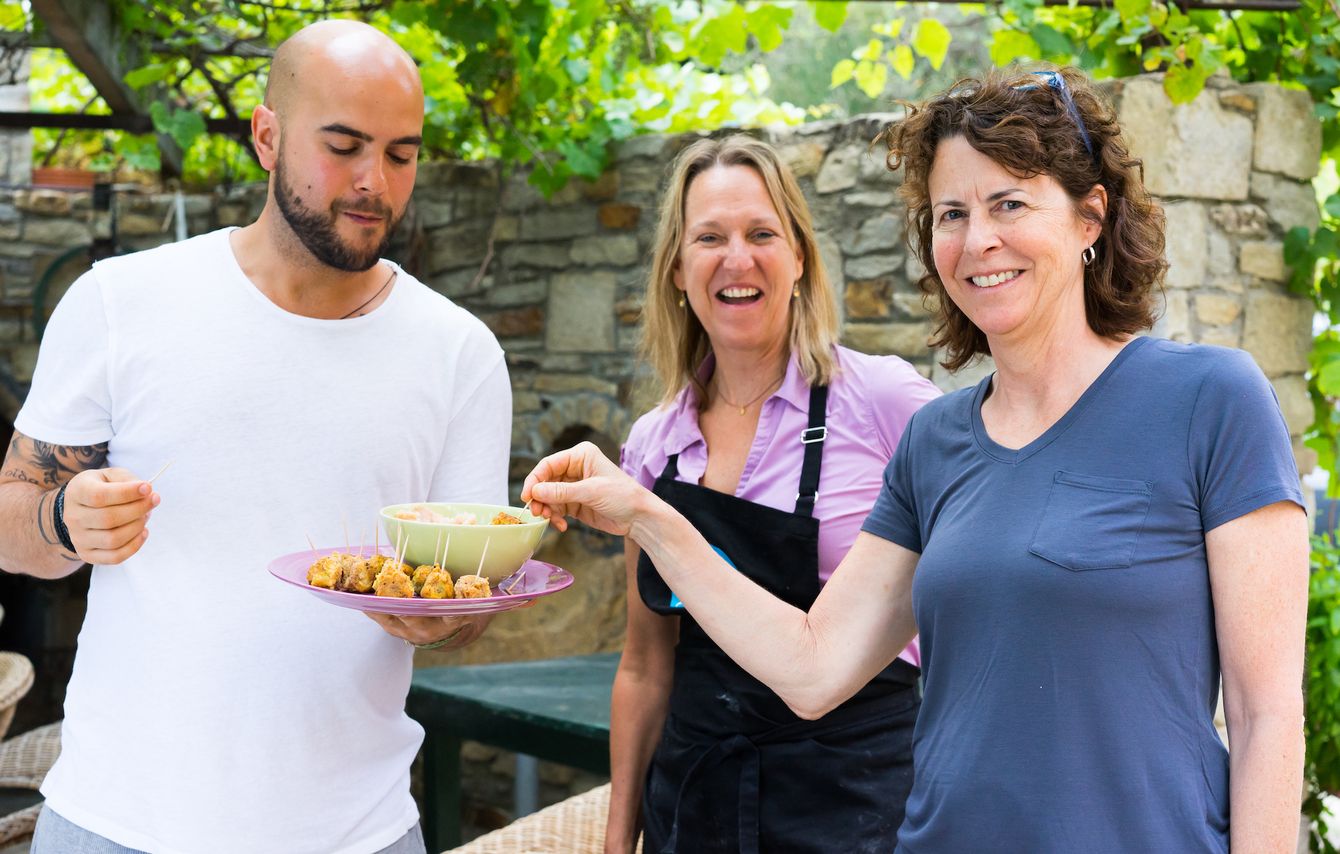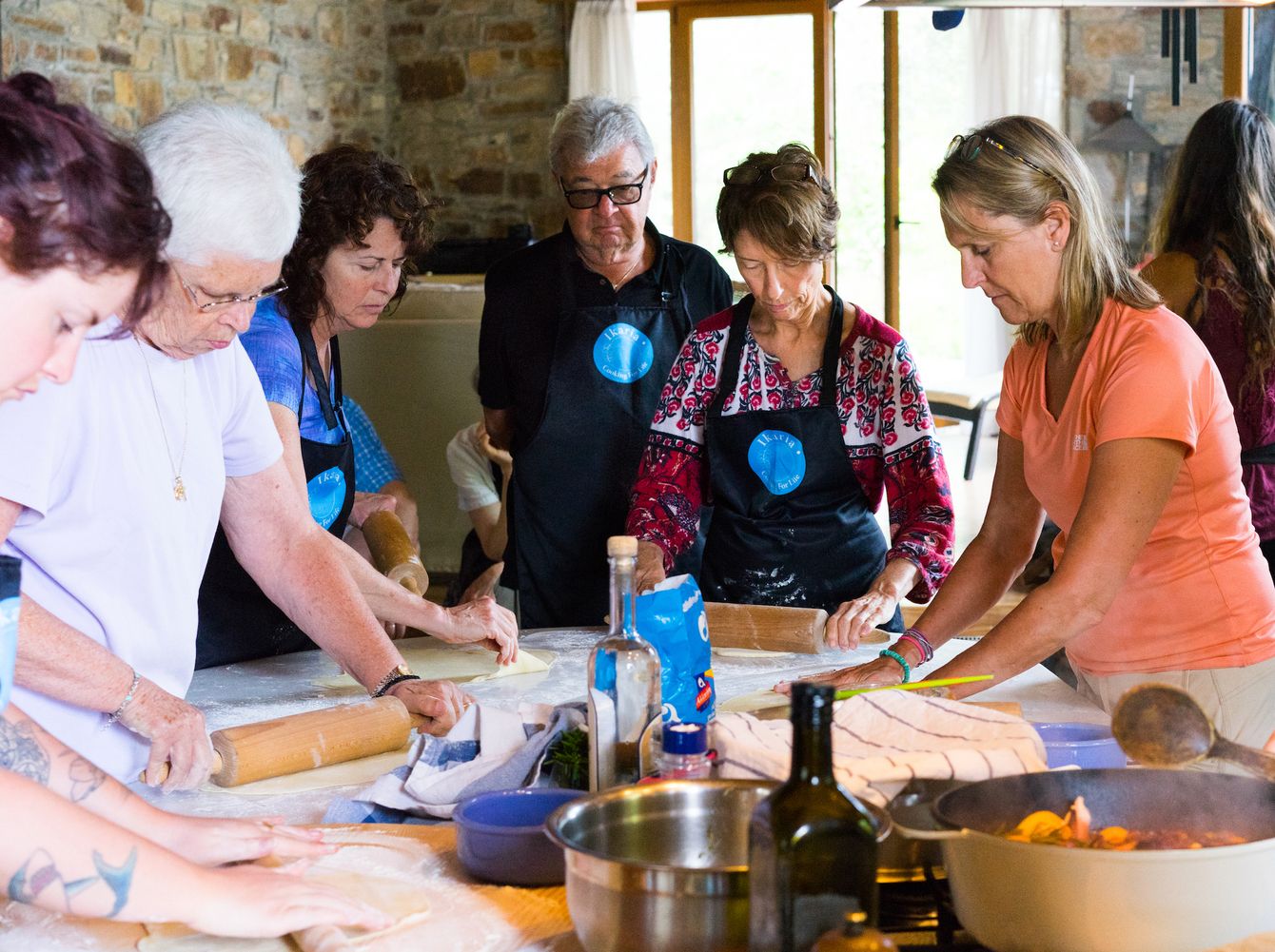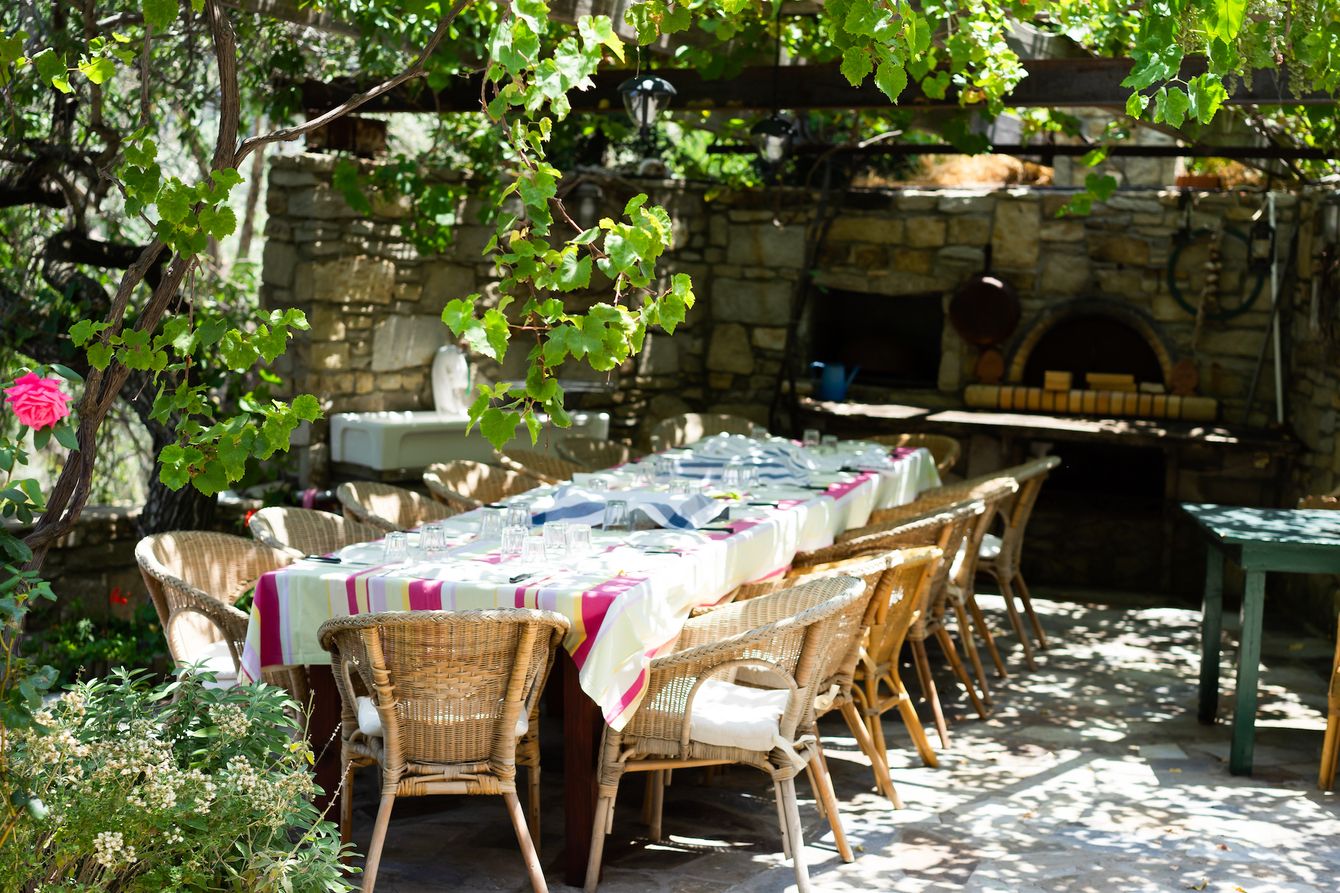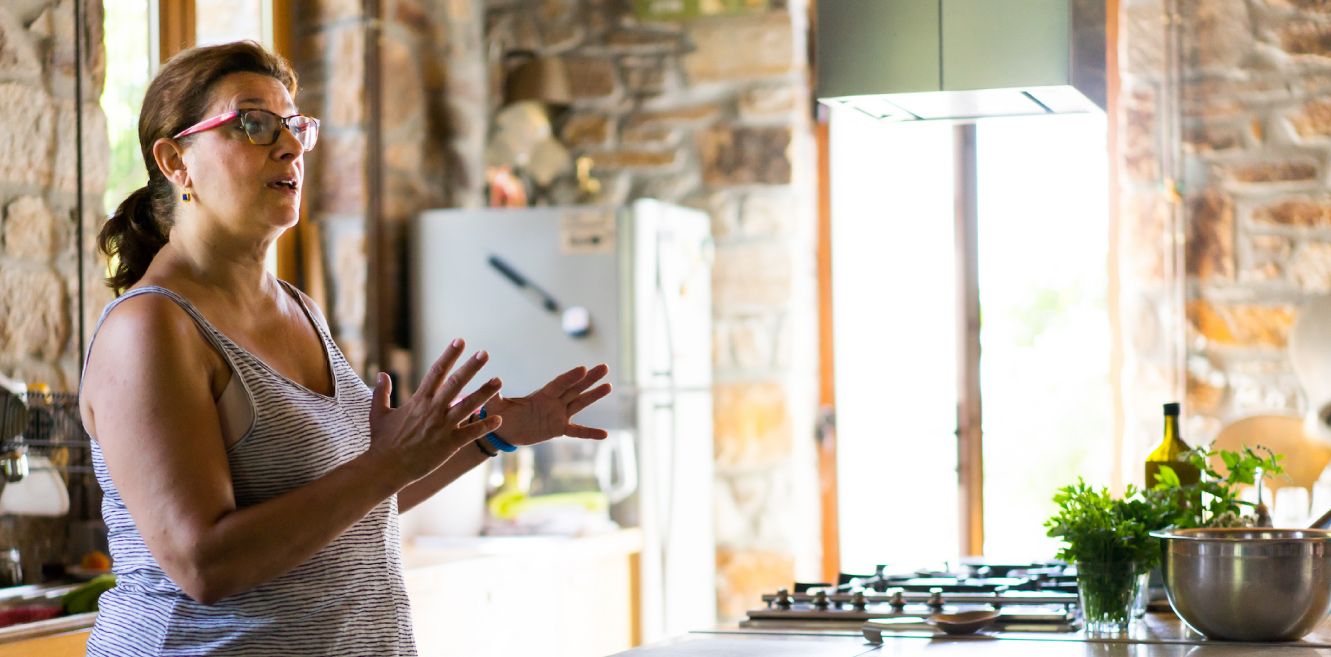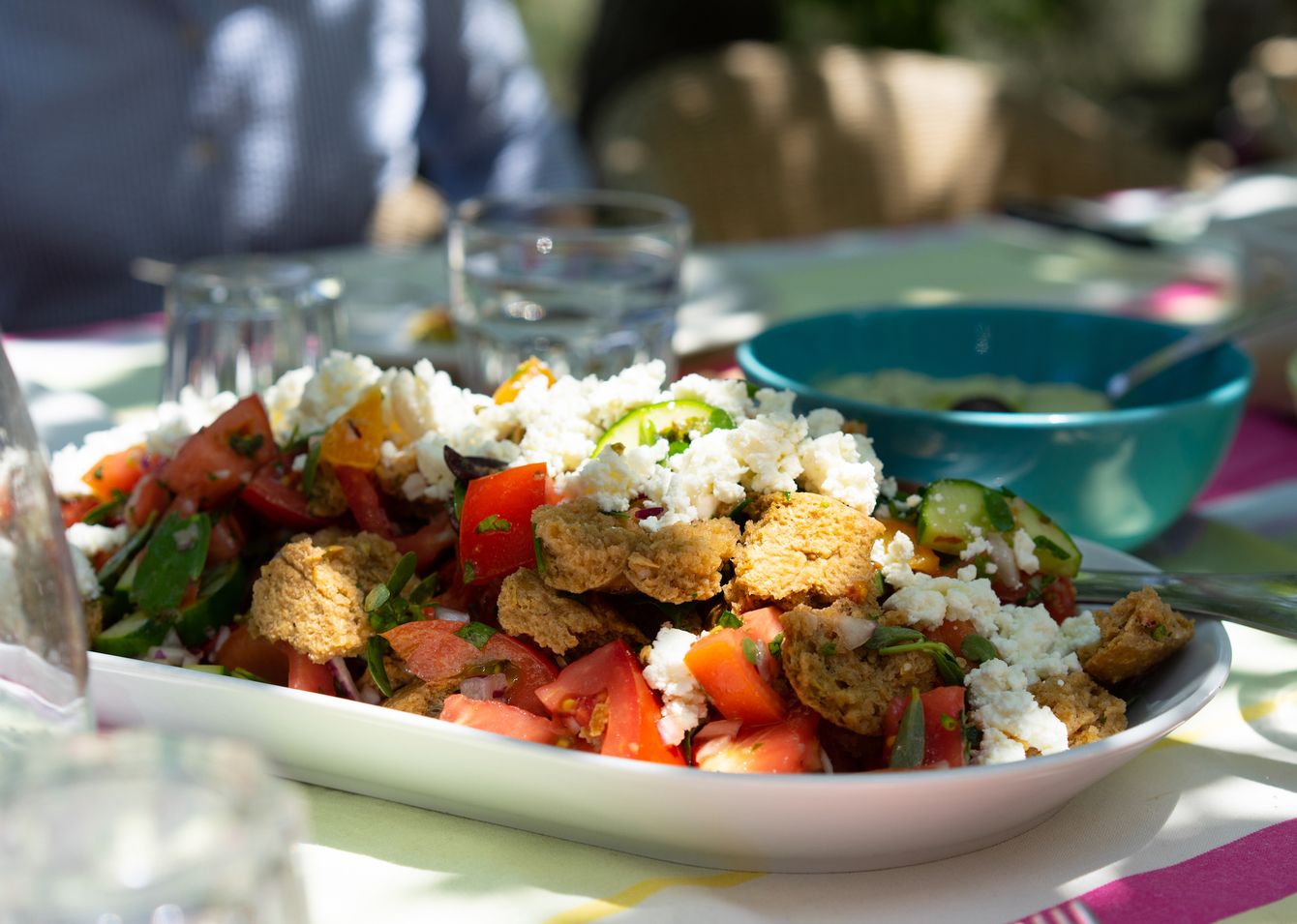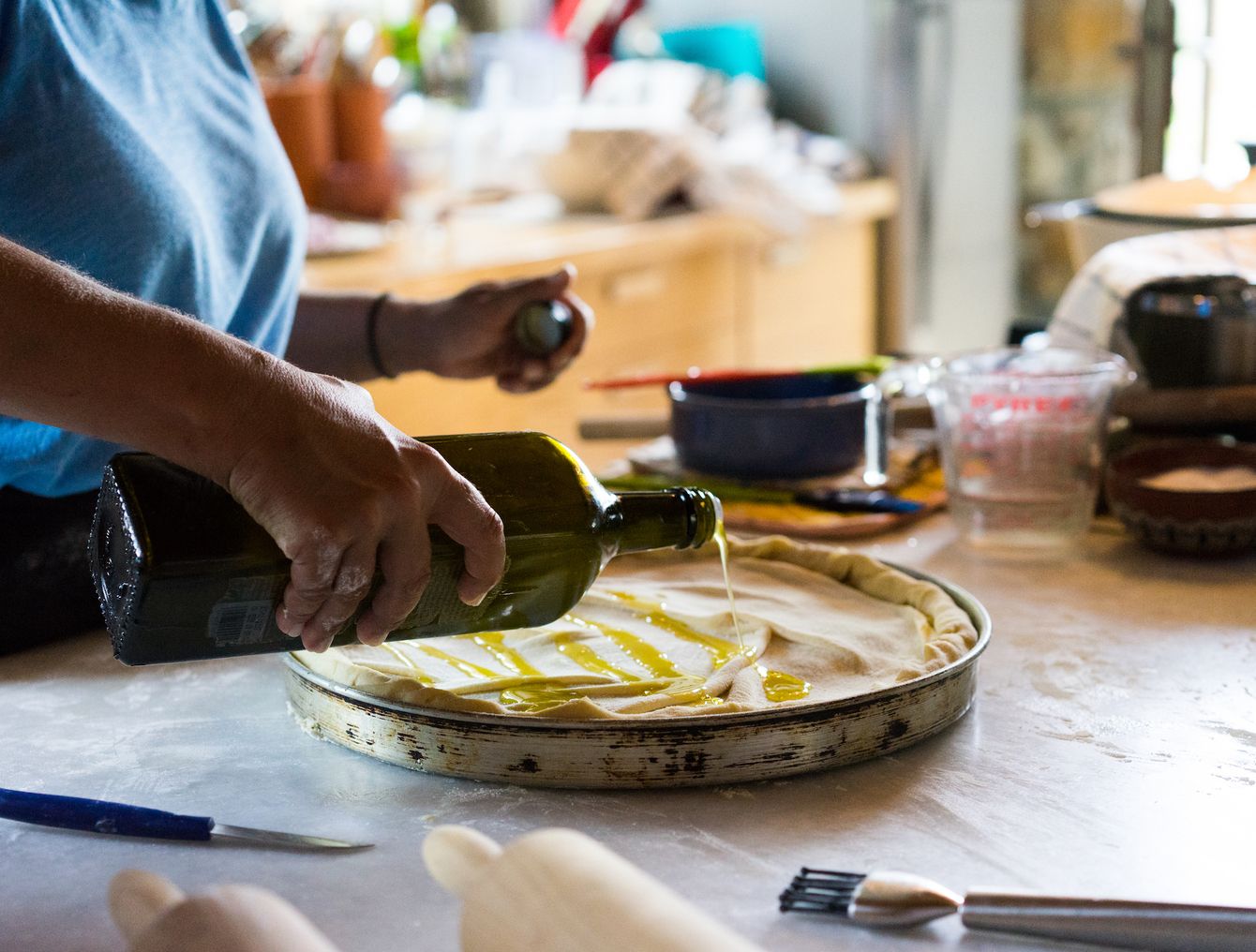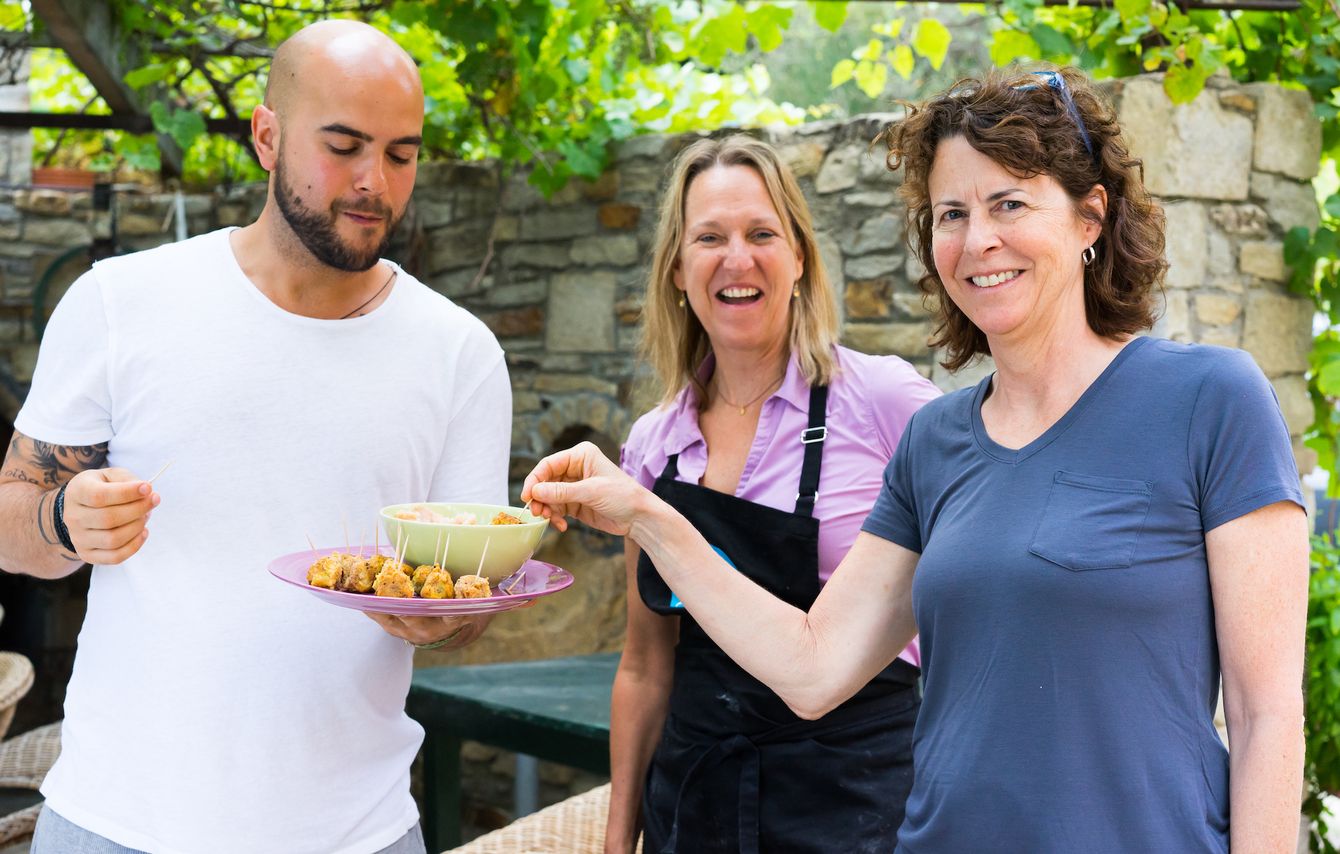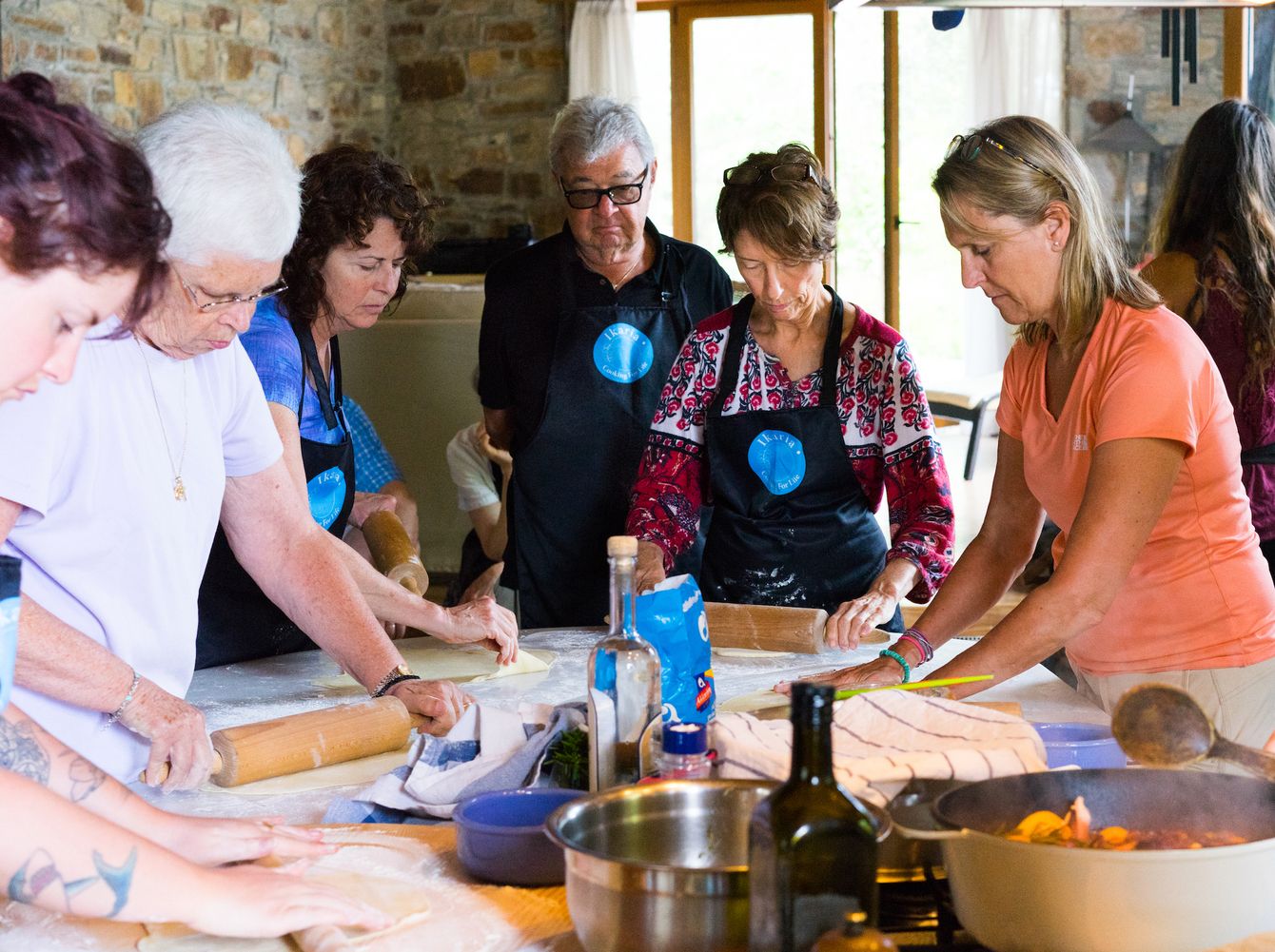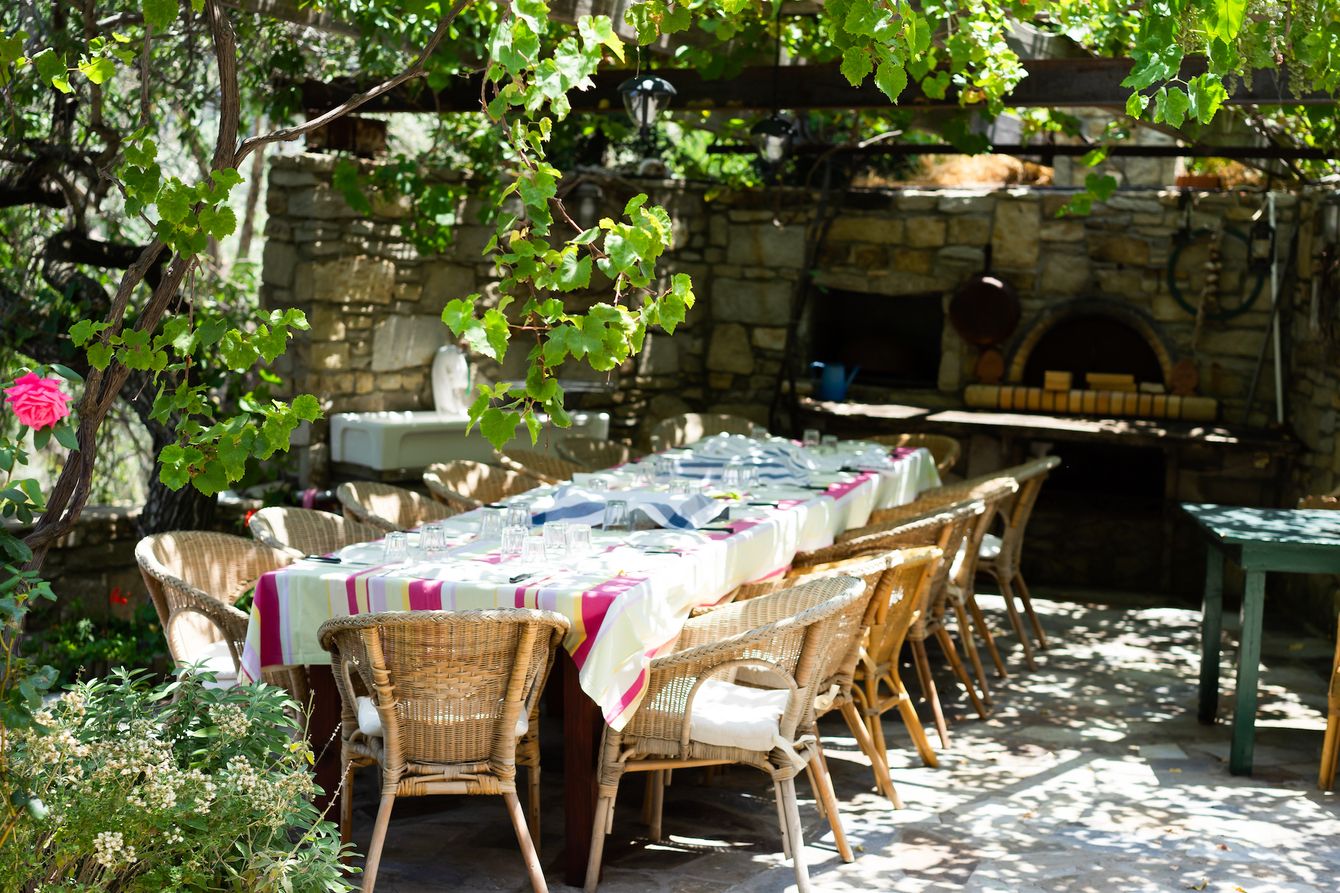 CLASSES
Glorious Greek
Cooking Ikaria
---
Visit us on Ikaria, our sleepy backwater and beautiful Aegean island, which was catapulted to fame in a New York Times Magazine article which touted its stress-free ways, delicious, healthy diet and the amazing longevity of its denizens. Join us for a taste of this amazing lifestyle!

For several weeks each year, I open my family's country home, kitchen and garden in the ancient village of Aghios Dimitris to a limited number of guests for a very personalized experience cooking and learning about life and longevity on Ikaria, the Blue Zone Greek island where "people forget to die."
Join Diane on the Blue Zone Greek Island of Longevity, IKARIA, "Where People Forget to Die" for a week of cooking and immersion in village life, island culture, and the secrets to these islanders' longevity, joy, and peacefulness.
---
---
Daily 3-4 hour hands-on cooking session and meal with award-winning Greek chef, cookbook author and TV host Diane Kochilas in her country home kitchen, where guests can really enjoy the laid-back spirit of Ikaria.
Great meals at the island's best restaurants and tavernas.
Visits with a local artisans, including goatherds, beekeepers, and winemakers, where we participate in or watch them at their craft.
Herb and foraging walks and hikes with one of the most knowledgeable herbalists on the island, where we learn the natural secrets of Ikarians' legendary longevity
Naturopathy demo at the local workshop
Visits to some of the island's most picturesque villages and venues
Cheese, honey, wine and olive oil tastings
Beekeeping secrets and honey tasting in the forests of Ikaria
A night (date permitting) to one of the unforgettable local village feasts, to dance, wine and dine.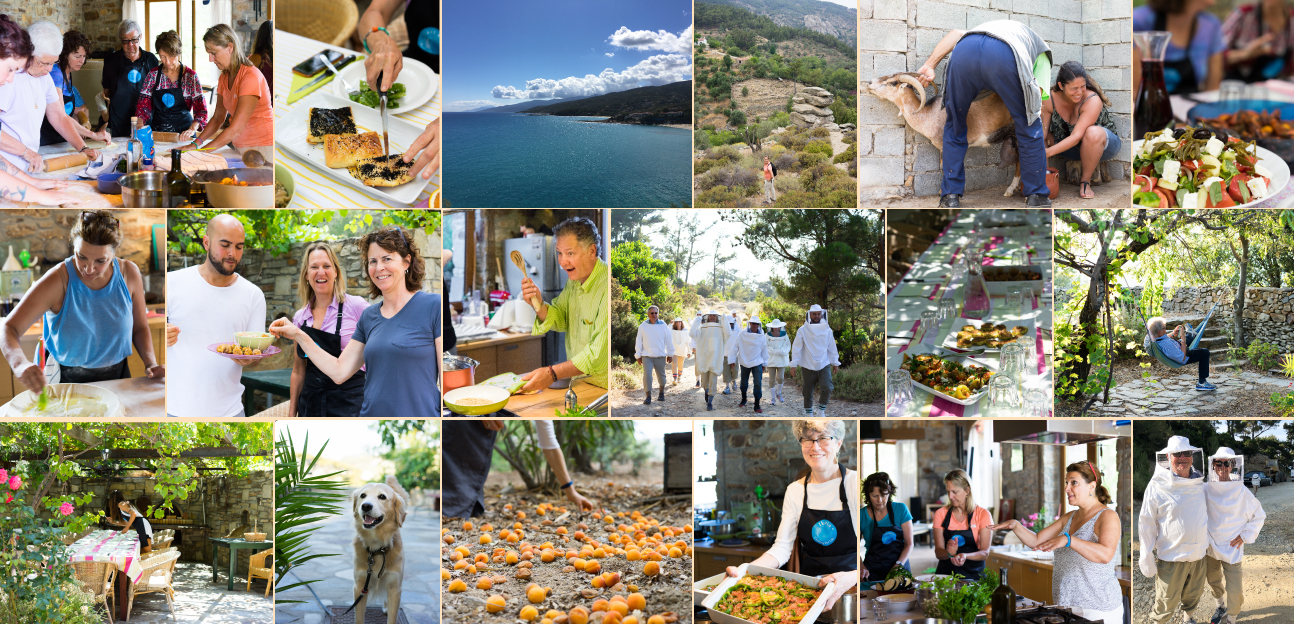 Having been on small Greek Islands before, we were pleased with the choice of hotel and the unspoiled quality of life on Ikaria. Having you and Vassili as our guides to life on the island was an opportunity to experience what it is like to actually live there.

The extensive hands on time in your kitchen was the best part of the week. The conversation about the food and how it could be prepared was wonderful and was augmented by our far reaching discussions of multiple topics apart from the cuisine itself. The time spent foraging for greens was a unique experience which was much more fun than I thought it would be. Now to pull some botany books and see if I can train my eye to identify what I can find locally to enhance my cooking at home.
I found the classes to be the most useful and comprehensive of any cooking class I have taken-and I have taken lots of them over the years. How can you beat working with the master in her own kitchen? Besides-Vassily was a source of more arcane information about life on the island than any text. I have given the course a five-star rating in discussions with friends eager to know how it went. It was truly a unique experience from a technical as well as personal perspective. The two of you and your staff were remarkable hosts.

Paul N – May 2017

Bruce and I both had a wonderful time with you, Vasilly, Gabbie and Lisanna. The week could be marketed as a total cultural immersion in Ikaria. We feel like we know the island intimately and enjoyed all the activities. The cooking classes were fun and I appreciated having the opportunity to ask you specific questions regarding technique and ingredient substitution. Your setting is lovely and it was wonderful sharing meals outside. The two of you are a synergistic couple…Vasilly a wonderful raconteur with incredible knowledge of his island and country. And you are fun to be with, an excellent teacher and a great steward of Greek cuisine. You both handled all the many logistics and details expertly, and yet things always seemed relaxed. The experience was unique and lots of fun.

Eve C – June 2017

The experience is so much more than a cooking class.

The best part of the experience was Diane, Vassili and the island vibe. Diane is awesome; she is graceful and capable and relaxed. Diane is a great teacher and she managed 15 knife-wielding strangers in her kitchen without a bead of sweat or any strain in her voice or tremulous action. Diane has an uncanny ability to embrace all without overt drama or bias. This is my first "cooking class" and I was most struck by the relaxed atmosphere. Obviously, there is a tremendous amount of work in the planning and preparation done by Diane and Lizana and Gabby. Yet to the participant, things seemed to fall easily into place. I really liked the fact that there were few rules; if you want to chop, then chop. Feel like reading the cookbooks? Ok, have a seat on the sofa and dive in. Tired of chopping? Ok, sit down and pet the Dog.

Vassili is the Jonny Carson of Ikaria; he can chat and entertain and make it all seem like he is having fun too.

The food was delicious; summer produce is outstanding; recipes are user-friendly. You were so generous with beverages and juices and fresh fruit to sustain us while we "worked".

The only thing that could have been better was to have a full month of island living! I would recommend this class to friends in a heartbeat.

Rachel B – June 2017

It was great that the focus was more on living a balanced life with good, home-sourced food than obsessing on technical cooking skills. You two, Abby and Lizanne (and Jazzie) set a great, welcoming tone for the group. in no particular order: the first day of foraging and cooking, which set the tone and introduced us to everyone in the welcoming venue of your lovely property; the sourcing visits — George & Eleni at the winery.

Highlights included, in no particular order: the first day of foraging and cooking, which set the tone and introduced us to everyone in the welcoming venue of your lovely property; the sourcing visits — the winery, Yianis' goats and the lady (and son) of the bees; the trip to the Therma. And every communal meal, particularly when starting at 10 pm (!), is a great memory.

The tone set by all of you really set the laid back tone for the entire week. And, who can say too much about V's eclectic view of things big and small?

The most important "food" lesson: The experience confirmed our preference for veggie heavy diet, and also underscored that, if one isn't baking, a hand is a pretty good measuring tool. Also, usually, with herbs (& olive oil), more is better…

We have already recommended this trip to friends.

Seth & Kathy C – June 2017

This island experience exceeded my expectations! Not only did I learn the art of cooking Greek cuisine from a well-known cook, I learned about the island of Ikaria from Diane, Vasilli and other people they connected us with during the week. In addition I enjoyed the experience of cooking with the other people during the class. Everyone pitched in and worked together in Diane's kitchen which felt like our kitchen by the end of the first day. I definitely learned new recipes and working together enabled us to share cooking tips. Diane and Vasili are so knowledgeable about the island and provided us with island excursions throughout the week. We went to a goat farm where we all milked a goat, took a nature hike, visited a winery, a monastery, a women's cooperative and a bee farm. I enjoyed all these trips very much. Our dinners were amazing and the hospitality we received was priceless!

Kathy H – June 2017

Arlene & Eric, recent guests on my Athens walking tour, guided by the inimitable Finiki: "We had a really splendid time on our walk with you. Your knowledge and taste are impressive. Your sense of history and the long look and evolution of Athens added great depth to the tour. And the authentic nibbles were the best of their kind and delicious. Most of all, however, your charm and enthusiasm are simply delightful. We have already told friends who just moved to Athens about you and the tour and they will be taking it soon."

Arlene & Eric

I had a fabulous day with Finiki, thank you for asking. Greek history and architecture combined to give context to the many and varied flavors and textures that she led me through. The preserved clementines were ridiculous and a new culinary obsession. Dry aged cured beef-better than any prosciutto I've ever had. The honey…decadent but sincere, and the reputed health benefits, I'm hooked.
What a great introduction to the regional variety and specialties! Would definitely recommend this tour, especially helpful in the beginning of a visit to Athens.

Leslie
01. What is the easiest way to get to Ikaria?
The fastest route is to fly into Athens and to catch a connecting flight to the island.
02. How long is the Athens - Ikaria flight?
35 minutes
03. Which airline fly to the island?
Olympic/Aegean, Sky Express, and Astra Airlines all fly to Ikaria
04. How do I get from the airport to the hotel?
We will arrange the transfer
05. How long is the ride from the airport to the hotel?
06. What is the name of the hotel and where is it?
We usually house people at the Erofili Beach Hotel in Armenistis. We also work with the Cavos Bay, also in Armenistis.
07. What is the dress code for the classes and excursions?
Dress code is casual and comfortable. Bring layers, as the weather can get chilly at night. Make sure to have one pair of closed walking and/or hiking shoes, long socks, and one pair of long pants, preferably light colored.
08. What is the tipping policy?
Most people tip the kitchen assistants and hotel personnel, i.e. cleaning person. Taxi drivers are generally not tipped. It is customary to leave a 10% – 15% tip in restaurants.
09. How many people are in each class?
Our maximum capacity is 15. Most classes are 12 people or less.
10. It is common to travel solo?
Absolutely. We have many single guests and everyone feels at home and very comfortable.
11. Are children welcome?
We've had lots of young adults and a few children who like to cook accompany their parents. So, yes, kids over 12 are welcome to participate.