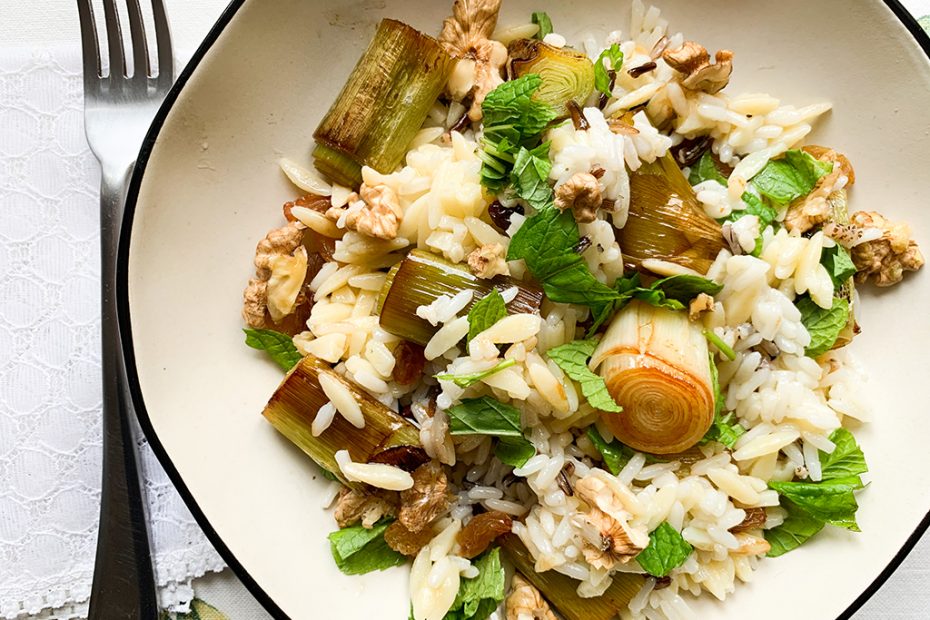 Wild Rice - Orzo Pilaf with Caramelized Leeks
---
A colorful wild rice pilaf dish, with plenty of flavors and fragrances! Feel free to enjoy it not only during the holiday season, but year-round just as well!
Instructions
Soak wild rice in a bowl full of water for 1 hour.

Drain and place in a pot with fresh, cold water. Bring to a boil over medium flame then lower the heat. Simmer for 45 minutes or until rice is soft and grains open up. Strain.

While rice is boiling, wash the leeks and cut into thick round slices (2.5 – 3 cm.)

Heat 2 tablespoons olive oil in a medium saucepan and cook the leeks, adding a pinch of salt, for about half an hour or less - until they become a deep amber color. Be careful not to burn them.

In a separate pot, bring water to a rolling boil, add salt and cook the orzo. Once ready, strain and mix in 2 tablespoons of olive oil.

Combine with the wild rice, orzo, leeks, raisins, mint, walnuts, salt, and balsamic.

Serve.
Love vegetables? Want to learn more great plant-based Mediterranean dishes? Enroll in my online  class "Baked Vegetable Classics!"