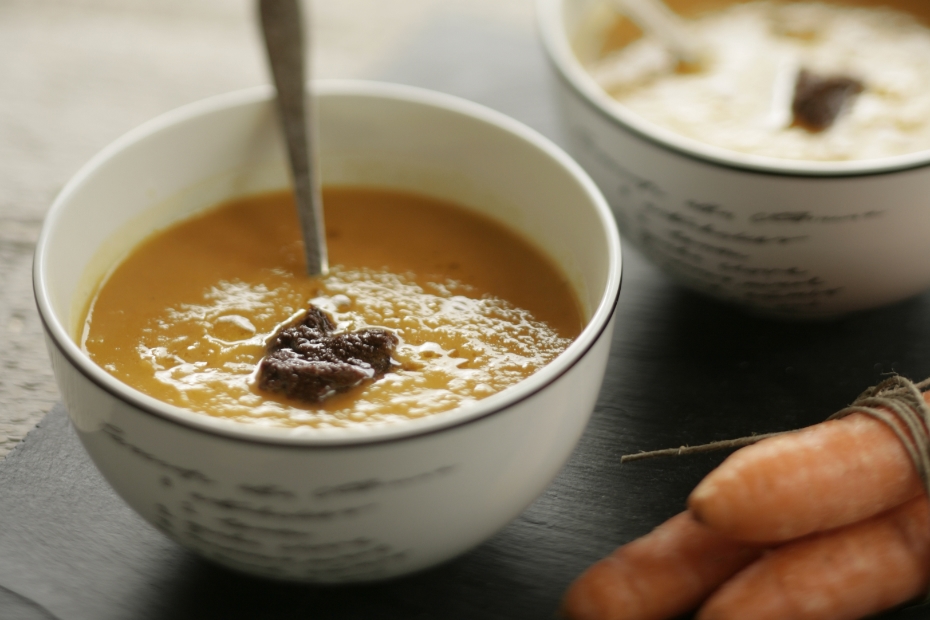 Carrot Soup with Kalamata Olive Paste
---
On a chilly Sunday in Athens, I cooked with what was left in the fridge. That turned out to be a bunch of carrots, a little ginger, and a dollop of Kalamata olive paste. You can make your own olive paste by pureeing authentic greek Kalamata olives. The sweetness of the soup balancesbeautifully with the rich, earthy, tangy flavor of the olives. To purchase the olive oil and olives needed for this recipe go to my online store
here
.
Ingredients
10

carrots

1

one-inch knob of ginger

1

large red onion

1/2

cup

extra virgin Greek olive oil

1

heaping teaspoon turmeric

1

teaspoon

cumin

6

– 8 cups water

1/3

cup

rice

2

– 3 tablespoons sweet Greek vinegar or good balsamic

A few drops of Habanero or Chipotle Tabasco

to taste

6

teaspoons

Kalamata olive paste

preferably from Peloponnese, because it isn't too salty

Olive oil for garnish

One jar of Greek salad in a jar

I used Peloponnese, again because it was flavorful without being salty

Pinch

of dried Greek oregano
Instructions
1. Peel and chop the carrots and ginger and chop the onions and garlic. Heat the olive oil in a large, wide pot and add the carrots, ginger, onions, and garlic. Cover the pot, keep the heat on low, and let the vegetables cook without water for a few minutes, steaming in their own moisture. Stir in the spices and toss all together for a minute.

2. Add the water to the pot. Add the rice. Season with salt. Cover, raise heat to bring the soup to a boil then lower it again, simmer for about 45 minutes, or until all the vegetables are extremely soft.

3. Use an immersion blender or empty the soup into the bowl of a food processor and process until very smooth. Return to the pot if using a food processor. Adjust the consistency with a little water and adjust the spices to taste. Reheat for a few minutes, and add enough vinegar to balance the soup. Stir in the hot sauce, if using.

4. Serve the soup in individual bowls, spooning in a little of the olive paste and drizzling in Greek extra virgin olive oil. Drain the Greek salad and place in a small bowl. Drizzle extra virgin olive oil and a little oregano over it, and Voila, lunch is ready.
Love soup? Check out my online class "Comfort in a Soup Bowl!" 
Love vegetables? Want to learn more great plant-based Mediterranean dishes? Enroll in my online  class "Baked Vegetable Classics!"