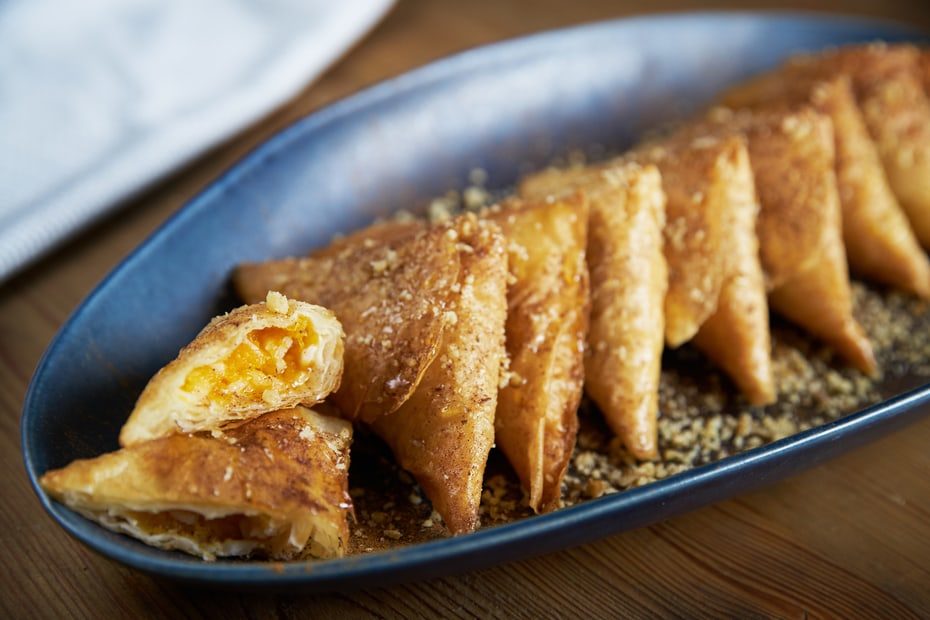 Rafiolia - Chios Sweet Pumpkin Phyllo Pastries
---
This Greek recipe for a sweet phyllo pastry filled with pumpkin is a very traditional dessert from the Aegean island of Chios. Similar Greek dessert recipes from the Aegean islands go by various names, such as rafiolia and keramidopites, or tile cakes, because they once were baked on hot ceramic roofing tiles, like a makeshift griddle. If you have a baker's stone for bread baking, try baking the little pumpkin pastries directly on top of it instead of frying them. You can make the filling savory by replacing the cinnamon and nutmeg with a little crumbled cashew cheese (for vegans) or feta cheese and some chopped herbs such as dill or parsley.
Ingredients
1

pound

commercial phyllo

defrosted and at room temperature

1

cup

extra virgin Greek olive oil (for vegans) or melted unsalted butter
For the filling
1 1/2

pounds

pumpkin

peeled, seeded, and cut into chunks

1/4

cup

long-grain rice

1/2

cup

water

2

teaspoons

olive oil

1

teaspoon

ground cinnamon

1/2

teaspoon

freshly grated nutmeg

⅓

cup

sugar
For the syrup
1

cup

honey or maple syrup

½

cup

sugar

1

cup

water
To make the crescents and fry
Instructions
Prepare the filling
Place the pumpkin in a steamer basket inside a large saucepan with about an inch of water. Cover and steam until soft. Alternatively, place the pumpkin cubes in a large nonstick skillet and cook over medium heat, covered, until soft, about 15 - 20 minutes.

Place the rice and water in a small pot or skillet, bring to a boil, reduce the heat to low, and simmer, covered until soft and all the water has been absorbed, 6 to 8 minutes. Toss with butter and set aside.

Mash the pumpkin with a fork or puree in a food processor. Add the cinnamon, sugar, and nutmeg. Stir in the rice.
Make the syrup
Combine the honey or maple syrup, sugar, and water in a small saucepan and heat slowly until the mixture begins to boil. Let it simmer, uncovered, for 10 minutes. Remove from the heat and set aside.

Open the box of phyllo and place vertically in front of you on a clean work surface. Cut into three stacks of equally wide strips. Keep covered with a kitchen towel. Take one strip, brush with olive oil or melted butter, top with a second strip and brush that with olive oil or melted butter, too.

Place a scant tablespoon of the pumpkin filling in the center bottom of the double phyllo strip and fold up like a flag, into a small even triangle. Place seam side down on a tray lined with parchment and continue with remaining filling and phyllo until everything is used up.

Heat two inches of corn or sunflower oil in a frying pan until hot, place a few pieces at a time of the triangles in the hot oil and turn to brown on both sides. Remove, drain on paper towels and drizzle with the syrup. Sprinkle with additional cinnamon and ground walnuts if desired, and serve.
Love savory pies and phyllo specialties? Sign up for my online class "Fearless Phyllo – Homemade!" to learn the secrets of making great, easy pies at home!