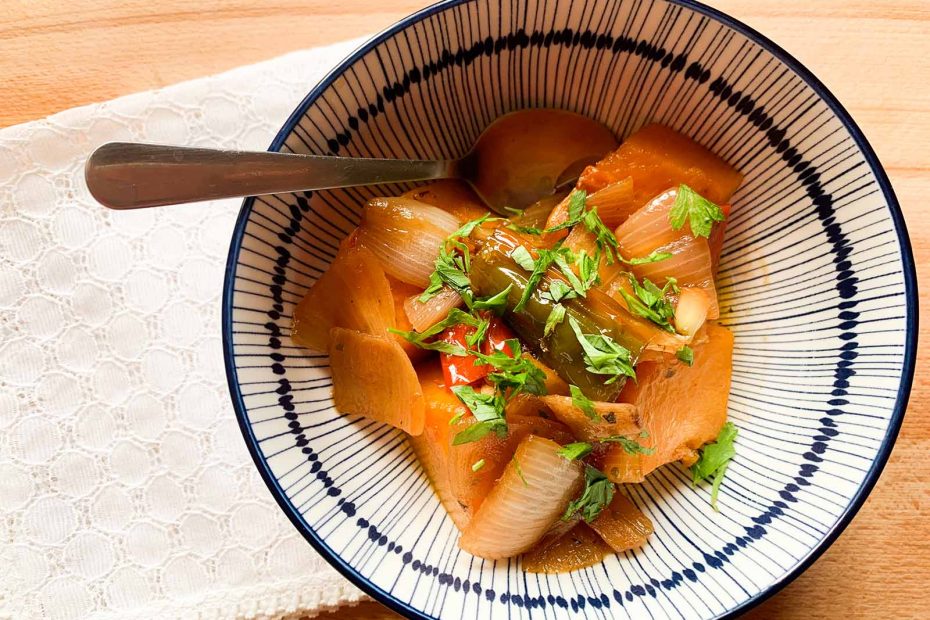 Winter Soufico - Ikarian Pumpkin Stew with Dried Chiles
---
This delicious Greek recipe for pumpkin comes from my native Ikaria and I can happily say that it's one of the many longevity recipes that are plant-based and delicious and that people still cook today. This Greek pumpkin recipe is one of many Greek dishes in which vegetables make for a satisfying, craveable delicious meal. For more great Ikaria longevity recipes, pick up a copy of my book Ikaria: Lessons on Food, Life and Longevity from the Greek Island Where People Forget to Die (Rodale).
Ingredients
8

dried red or green peppers or ancho chiles

3

pounds

fresh pumpkin

3

red onions

coarsely chopped

3

garlic cloves

minced

1

tablespoon

dried wild Greek mint

2

teaspoons

paprika

½ - 1

teaspoon

cayenne

optional

2-3

tablespoons

red wine vinegar

to taste
Instructions
Place the dried chiles in a medium bowl and cover with warm water to rehydrate. Let them sit for 30 minutes, or until soft. Drain and save the water.

Place the pumpkin on a large cutting board and, using a large chef's knife or serrated knife, cut away the skin. Remove the pumpkin seeds and discard (or wash, dry, and bake in the oven with a little salt and cayenne, as a snack). Cut the pumpkin into 1 ½-inch / 4 cm chunks.

In a wide pot, Dutch oven, or deep skillet over medium flame, heat 3 tablespoons olive oil. Add the onions, lower the heat, and cook until the onions are soft and slightly caramelized, about 15 – 20 minutes. Stir the onions occasionally. Stir in the garlic.

Cut the rehydrated chile peppers into thirds across the width.

Add the pumpkin to the pot, and stir to coat in the oil. Add the peppers, mint, paprika, cayenne, salt and pepper.

Cook, covered, over low heat, until the pumpkin is tender but not mushy. Gently stir in the vinegar and adjust seasoning with salt and pepper. Remove and serve.
Want to learn more about Ikaria Longevity Cooking? Sign up for my online class bundle "Everything Ikaria 101!"