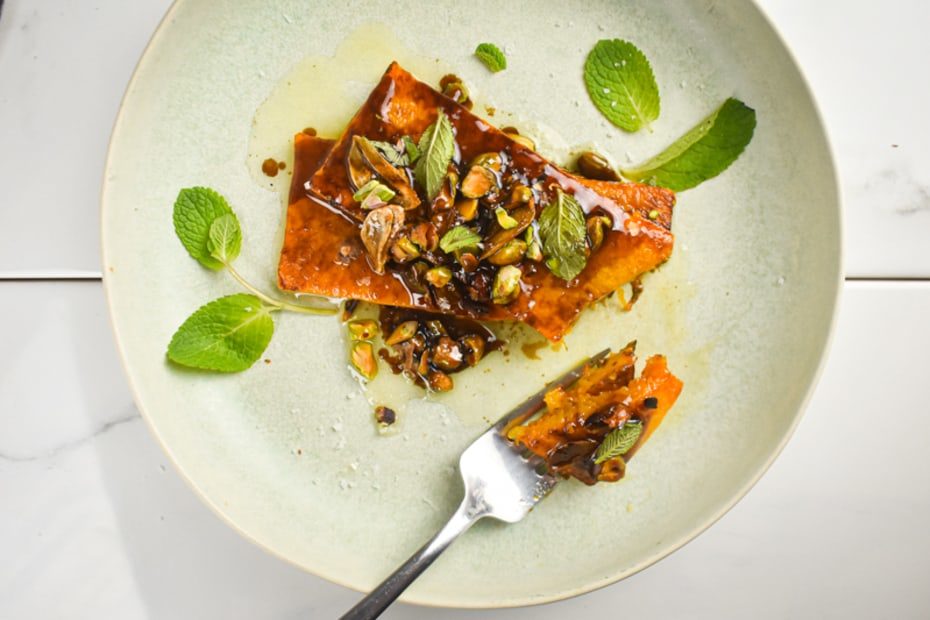 Butternut Squash Steaks with Olive Oil, Mint and Pistachios
---
This Greek recipe speaks to my vegetarian heart and to the endless array of traditional and innovative Greek vegetable dishes that make Greek cuisine one of the great plant-based options on the planet. Greek ingredients such as petimezi, olive oil and Aegina pistachios make this a true stand out.
Instructions
Cut the neck off of squash; reserve base for another use (you can peel and freeze it and save for soup, for example).

Trim the stem off the neck then peel. Cut the neck into two slabs or steaks, about ¾-inch (2 cm) each. Reserve trimmed off sides for another use.

Heat 1 tablespoon of olive oil in a large heavy skillet over medium. Cook squash steaks, turning every 3 minutes, until deeply browned on both sides and fork-tender, about 15 minutes.

Add remaining olive oil, garlic, mint, and nuts to skillet, tilt pan toward you so that the oil pools on one side, and use a large spoon to continually baste steaks. Cook, basting, for about 1 minute. Remove from heat and stir in lemon juice, balsamic and petimezi; season with salt and pepper.

Transfer squash steaks to plates and spoon sauce over.
Love vegetables? Want to learn more great plant-based Mediterranean dishes? Enroll in my online  class "Baked Vegetable Classics!"