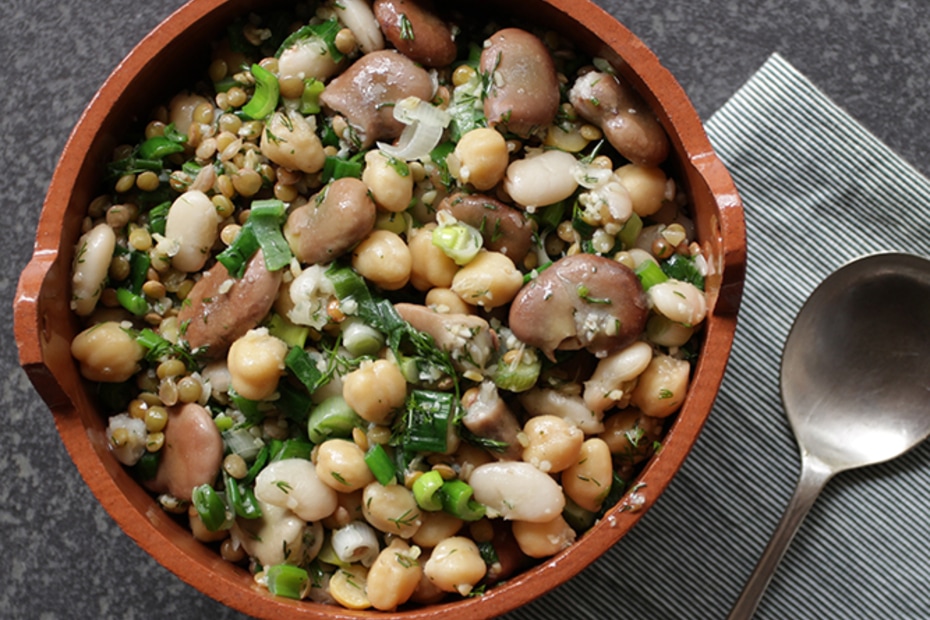 Sympetherio
---
Bean lovers rejoice! This Greek recipe, called Sympetherio, hails from Crete and is the absolute perfect paradigm of the healthy Mediterranean diet. In the Greek diet, as you know, beans have played a major role forever. Here, a medley of beans, grains and vegetables are mixed together into a nutritious whole. Feel free to use canned beans if that's more convenient. You can also swap out some beans for others, adding, for example black beans or kidney beans to the mix. Know, too, that the name of this fascinating multi-bean and grain Greek recipe has a story: Sympetherio means in-laws and legend has it that the dish was so named because it's like a marriage…many disparate parts working together harmoniously!
Ingredients
½

cup

dried baby fava beans or 1 cup frozen and defrosted fresh fava beans

½

cup

dried chickpeas

or 1 cup cooked, frozen and defrosted or canned, rinsed and drained

½

cup

dried navy beans

or 1 cup canned, rinsed and drained

½

cup

coarse bulgur

½

cup

large lentils

rinsed

½

cup

extra virgin Greek olive oil

or more, if desired

1

teaspoon

soda

2

cups

chopped scallions

(whites and greens)

1

cup

finely chopped dill or flat-leaf parsley

Strained juice of 2 large lemons

or more if desired
Instructions
If using dried beans: Soak the fava beans, chickpeas, and navy beans separately overnight in ample water. Drain when ready to use. With a small sharp knife, remove the small black "eye" and husks from the fava beans and discard. Bring the fava beans to a boil in a medium pot of unsalted water. Simmer for 10 minutes, then drain the beans, discarding the water, which will be brown.

Place the bulgur in a bowl with ½ cup of water and let soak until all the water is absorbed, about one hour.

For dried beans: Place the blanched favas, chickpeas, and navy beans in a large pot with fresh water. Bring to a boil, reduce heat and simmer for 1 ½ hours, skimming any foam off the surface of the water.

If using frozen beans: Make sure they're defrosted; for canned, rinse and drain. Add them to the lentils, below, about 20 minutes into cooking the lentils.

Add the lentils to the pot of simmering fried beans, or, if using frozen or canned beans, bring the lentils to a boil on their own with enough water to cover by 1 ½ inches. Season lightly with salt, and continue to simmer for another 35 minutes, or until tender but al dente. Halfway through cooking the lentils, if using frozen or canned beans, add them now.

Heat 3 tablespoons of olive oil in a skillet and sauté the scallions for 5 to 7 minutes, until wilted. Mix into the beans. Add the soaked bulgur, dill or parsley and lemon juice and continue to simmer a few more minutes, until the herbs are wilted. Remove, adjust seasoning with additional salt and lemon juice if desired, and drizzle in remaining olive oil. Let stand for at least 30 minutes before serving.
Want to learn more easy, healthy Mediterranean diet recipes? Sign up for my online course "Mastering the Mediterranean!"