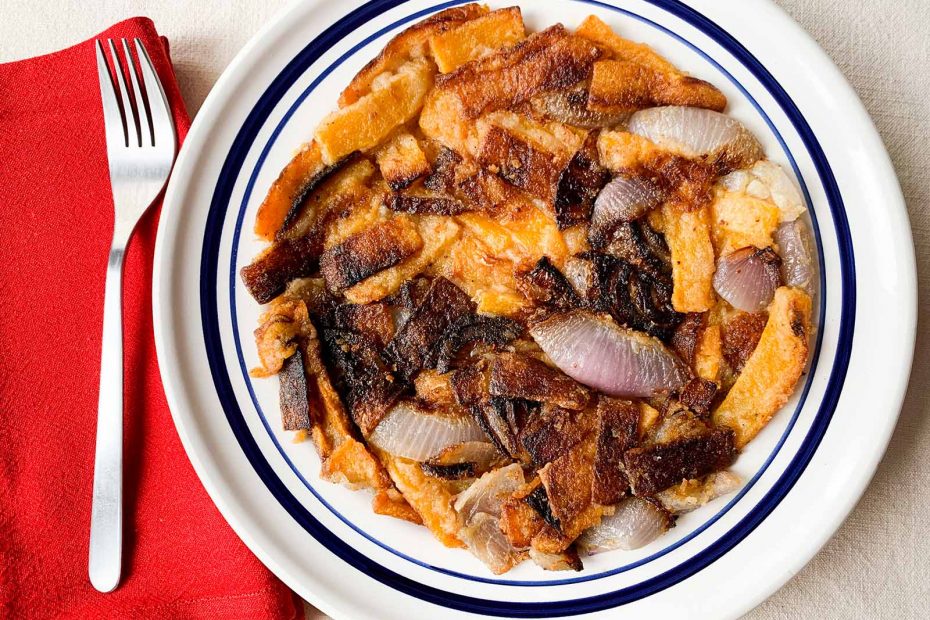 Savory Pumpkin-Onion Skillet Pie
---
In my humble opinion, this is one of the greatest Greek recipes in the entire Aegean! With two basic ingredients, a good frying pan and some manual deftness, you'll create a simple elegant pumpkin skillet pie that is a paean to the simplicity of the Mediterranean Diet and can stand its own at the fanciest dinner party or at a backyard picnic. This particular version is from Naxos; similar dishes are made in Samos and other parts of the North Aegean.
Ingredients
8

cups

of peeled

seeded "sticks" of red winter squash, such as butternut, pumpkin or calabasa (the squash should be cut into finger-size pieces)

6

large red onions

halved and cut into ⅛-inch slices

Flour as needed

about 4 - 8 tablespoons

Extra virgin Greek olive oil for frying
Instructions
Combine the finger-sized pieces of squash, onion and a little salt, to taste in a large mixing bowl. Add flour in two-tablespoon increments, tossing the mixture continuously with a large mixing spoon or your hands, until it is a little gummy from the flour.

In a large, deep frying pan, heat about ¼ inch of olive oil and take 3 1/2 cups of the filling and empty it into the frying pan, flattening out with the back of a spoon so that it looks like a large, thick pancake. Fry over medium heat until the bottoms are brown and crusty.

Remove from heat and place a large plate or the frying pan lid on top, making sure that either covers the entire surface and then some. Using pot holders, very carefully flip the hot frying pan over so that the cooked side of the skillet pie is on top. Slide that back into the pan to continue cooking on the other side, until golden. Slip onto a platter, replenish the olive oil as necessary and continue making more skillet pies in the same way, until the squash mixture is used up.