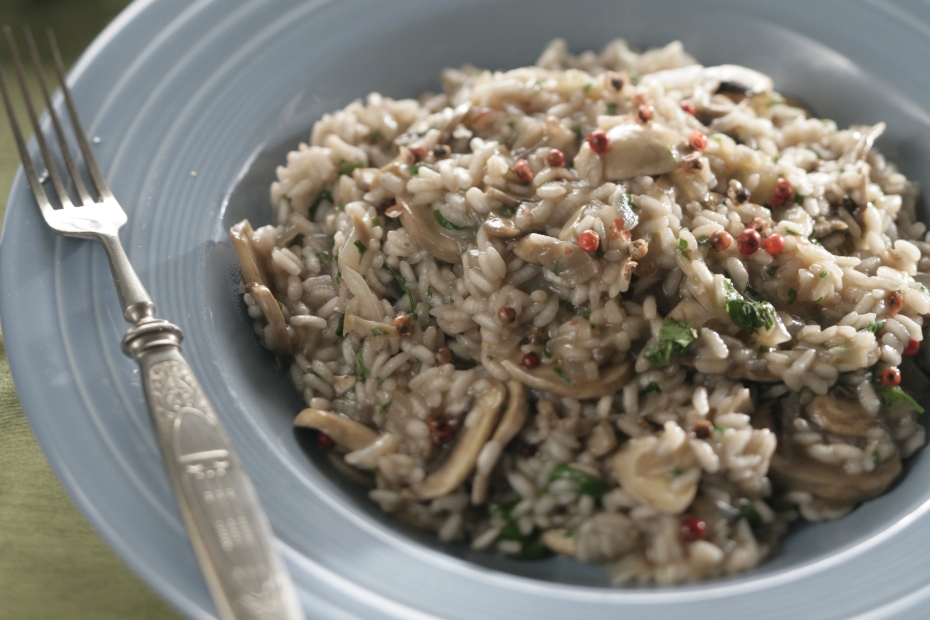 Greek Mushroom Pilafi
---
Another simple dish that's perfect for lent, but also for vegans and vegetarians. It's an easy recipe to fix on a weeknight. Greece, a mountainous country, is a mushroom-lovers paradise. Many mushrooms grow in the wild, but there are also a few companies that have made a thriving business out of cultivating them.
Ingredients
4

tbsp.

extra virgin Greek olive oil

1

lb.

/ 500 g button mushrooms or cremini

trimmed, wiped or rinsed, and sliced thin

2

red onions

finely chopped

2

garlic cloves

finely chopped

1

cup

Arborio

Carnaroli, or Greek "glasé" rice (available in Greek specialty shops)

½

cup

dry white wine

3

cups

vegetable broth

3

sprigs fresh thyme

little leaves only

3

sprigs fresh oregano or marjoram

leaves only, finely chopped

1

tsp.

pink peppercorns
Instructions
Heat 1 tbsp. olive oil in a large skillet and sauté the mushrooms until soft but al dente. Remove from heat and set aside.

In a large, deep skillet or wide pot, heat the remaining 3 tbsp. of the olive oil over medium flame and add the onions. Season with a little salt. Cook over low heat for about 15 – 20 minutes, until the onions turn a deep golden color. Add the garlic, stir to soften for a minute, and immediately add the rice. Stir all together, to coat the rice in the oil.

Add 1 cup of the vegetable broth. Stir until absorbed. Add the wine and cook, stirring occasionally, until absorbed. Stir in the mushrooms and all their pan juices. Add as much of the remaining broth, 1 cup at a time, as needed to finish cooking the rice, which should be soft but al dente. Season to taste with salt and pepper and stir in the herbs. Remove and serve, garnished with the pink peppercorns.
Love vegetables? Want to learn more great plant-based Mediterranean dishes? Enroll in my online  class "Baked Vegetable Classics!" 
Notes
Note: You may add cheese to this dish (but it won't be Lenten or vegan then). Several tablespoons of creamy Greek feta, grated kefalograviera or kefalotyri, or parmesan cheese would work beautifully. The feta adds a whole other dimension.