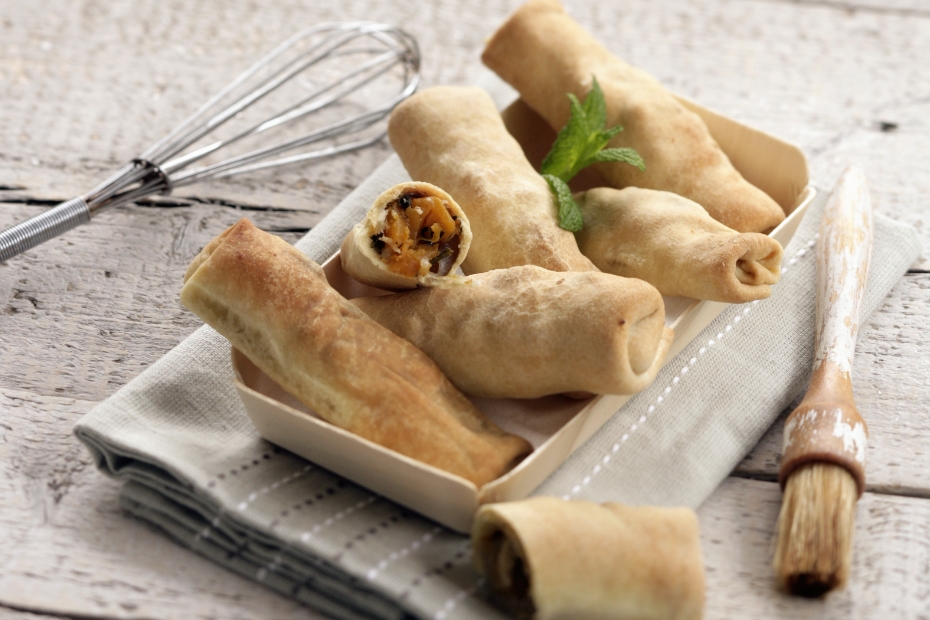 Traditional Greens Pies from Ikaria
---
These little pies are called pitarakia and they are a nutritional powerhouse! Make them even healthier with a generous brushing of real Greek olive oil, or add some intensely flavored Greek herbs to the greens mix. Check out other products from Ikaria, as well as great olive oil and herbs at my online store
here
.
Ingredients
For the filling
1

pumpkin

about 1 ½ kg, peeled and diced

4

onions

chopped

½

cup

olive oil

1

bunch of fennel

chopped

1

bunch of mint

chopped

1

cup

of fresh oregano

chopped
Instructions
Prepare the dough
In a bowl or mixer bowl, combine the flour with the salt. Then, add the oil, the vinegar, and the water. Mix until the ingredients are very well combined.

Knead the dough for about 10 minutes, adding flour or water until the dough is smooth and not sticky. Cover the bowl with plastic wrap and set aside for at least one hour before using it.
Prepare the filling
Preheat the oven to 180°C.

Place the pumpkin in a shallow baking pan, lined with parchment paper. Bake for 20 - 25 minutes until softened and all liquids are absorbed.

Cook the onion in a large, heavy, dry saucepan, over low heat, for 8-10 minutes, without adding any oil, until it produces its own liquid and gets softened.

Add the oil and turn off the heat.

Transfer the pumpkin to the saucepan with the onion. Add salt, pepper and the herbs. Stir and set the mixture aside to cool.
Prepare the pies
Divide the dough into 4-5 equal balls. Flatten a bit with the palms of your hands. Then, flour a working surface and roll them out to thin sheets.

Cut into squares, fill each square with about 1 tbsp filling, wrap the sheet so as to form oblong rolls, and place in oiled baking pan.

Bake in the oven for about 12-15 minutes or until golden colored.

Serve warm, at room temperature.
Love savory pies and phyllo specialties? Sign up for my online class "Fearless Phyllo – Homemade!" to learn the secrets of making great, easy pies at home! 
Notes
These traditional pies, so called "poor", are in fact full of flavor and exceptionally healthy. They are one of the most popular, traditional foods of Ikaria.