Enjoy this collection of Christmas recipes, curated for you from some of my favorites. There are more, too, of course, which you can find RIGHT HERE!
STARTERS, SOUPS & SALADS
1. Greek Figs in a Blanket
Who needs pigs in a blanket when you can have figs in a blanket!? Here's a great holiday or festive dish, perfect to serve when company arrives. Find the recipe here.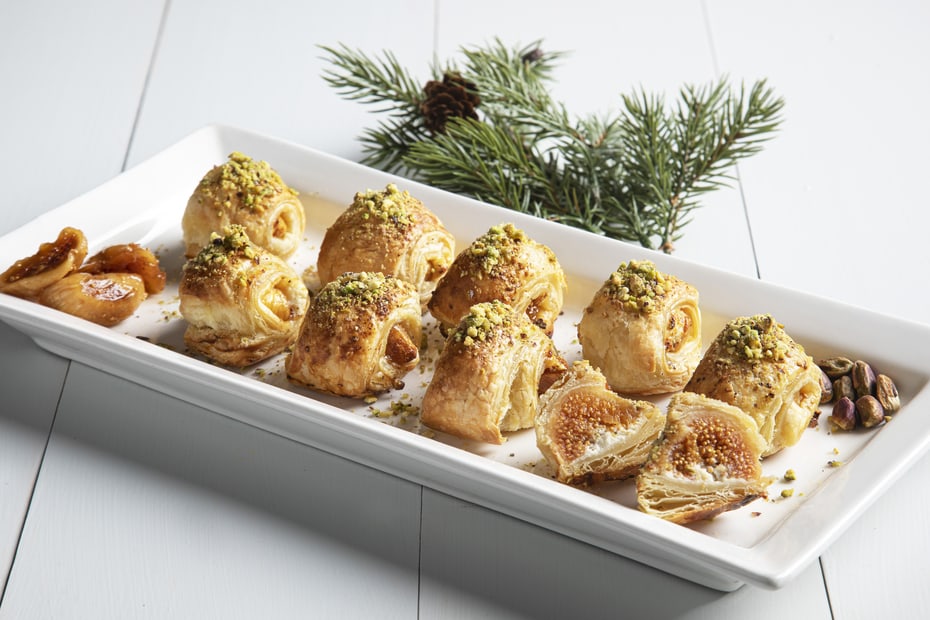 2. Seared Leeks and Shaved Cheese With Greek Currants or Prunes
I hope you enjoy this Greek recipe from my last book, My Greek Table. It's a great paean to the versatility of vegetables in the Greek and Mediterranean Diet. What I love most about this dish is its simple elegance. The recipe below is an adaptation of an old Macedonian dish which called for wild onion or leek stalks. Find the recipe here.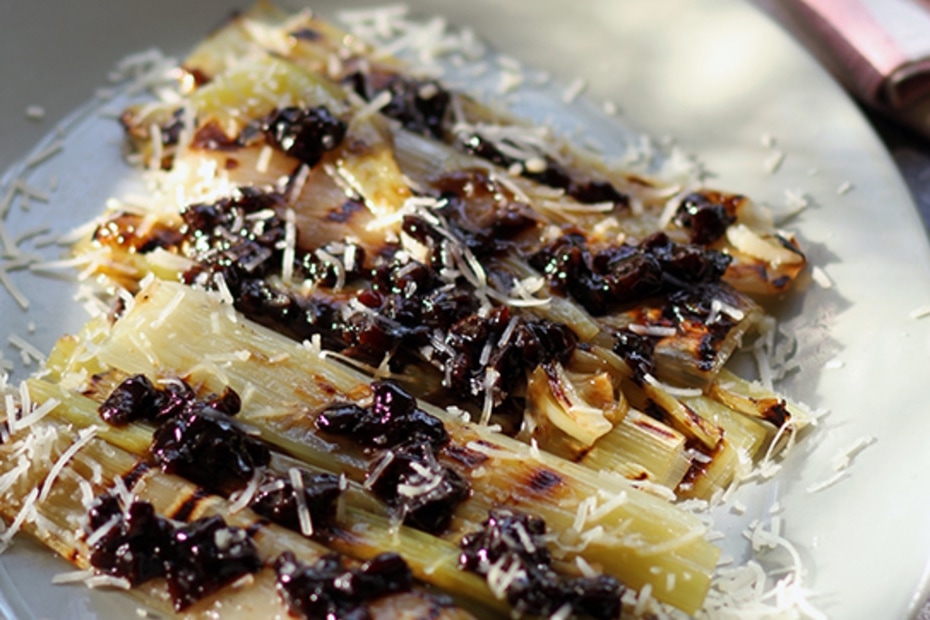 3. Warm Spanakopita Dip
The basic filling for spanakopita has so many different variations and uses, it's really one of the most timeless and versatile Greek preparations. This dip is just right for holiday feasts! Find the recipe here.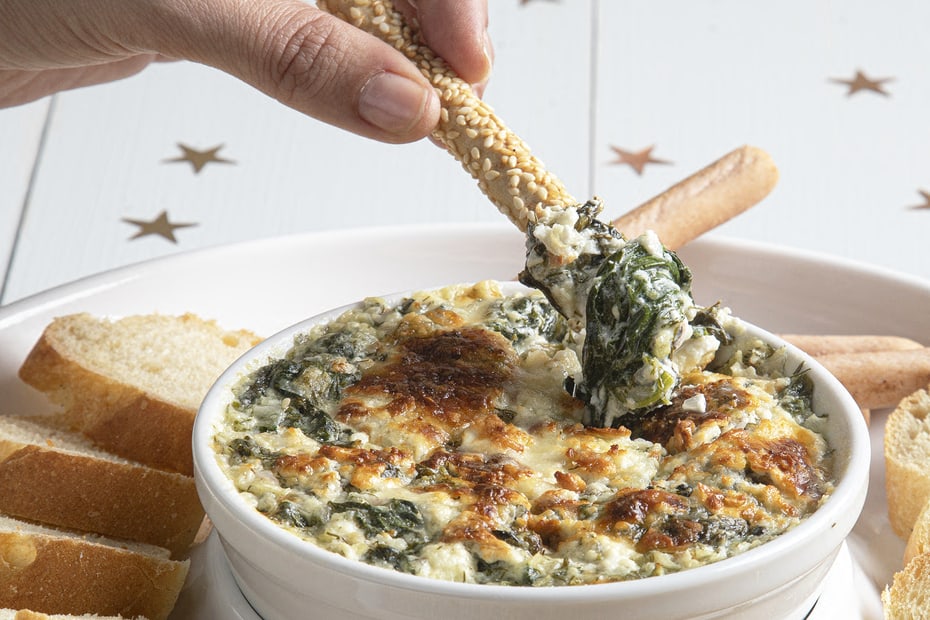 SOUPS
4.  Modern Greek Festive Chestnut Soup 
Chestnut trees grow everywhere in Greece and chestnuts have long been a really important food, both festive and basic! The smell of chestnuts roasting on street carts permeates Greek city streets. Chestnuts go into the holiday bird stuffing and are tossed into rich pork and wild boar stews. They make for desserts that are sating and special. But they also make a great soup, like this one, a modern Greek recipe born inmy kitchen and a classic on my family holiday table. Find the recipe here!
5.  Fava Festive: A Soup!
This simple soup is a chic but cheap approach to the festive table. You can switch out the pork for grilled mushrooms to make it totally vegan or vegetarian, and you can spruce it up with a drizzling of truffle oil to give it some holiday flair. Find the recipe here.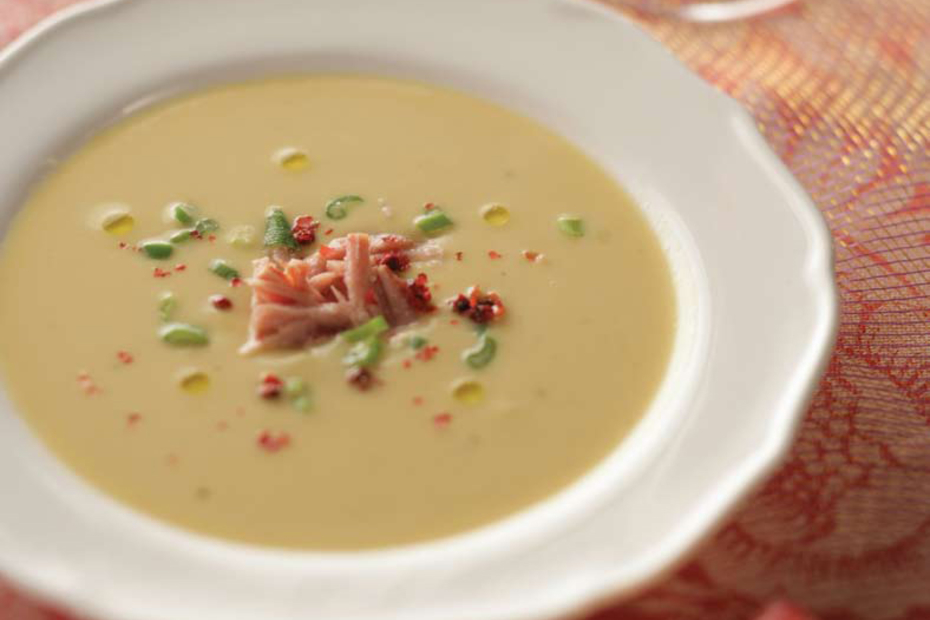 SALADS
6. Waldorf Salad with Greek Figs & Greek Yogurt
One doesn't usually think of anything Greek when it comes to a Waldorf salad, named for the Waldorf-Astoria hotel in New York City. It was first created there, by Oscar Tschirky, maître d'hotel, to be served at a charity ball in honor of St. mary's Childrens' Hospital in March of 1896. It has become a timeless classic and over the course of its 125-year history many a chef have added their own twists. Here's mine, with Greek figs and raisins and Greek yogurt and extra virgin Greek olive oil in place of the classic mayo dressing. Find the recipe here!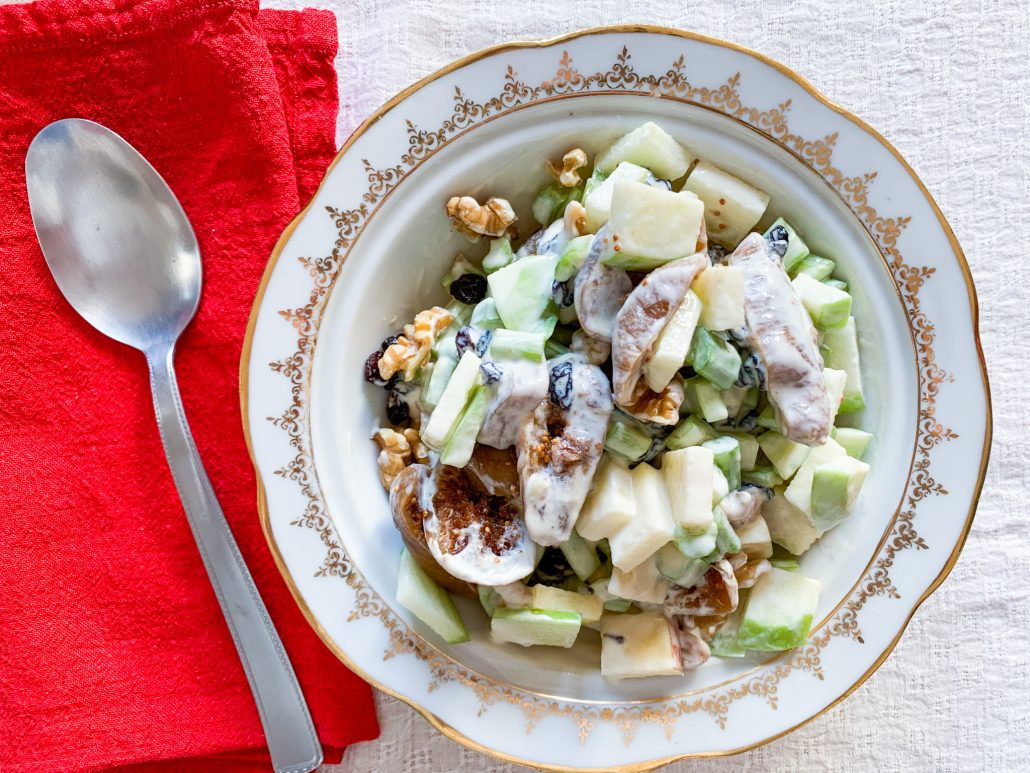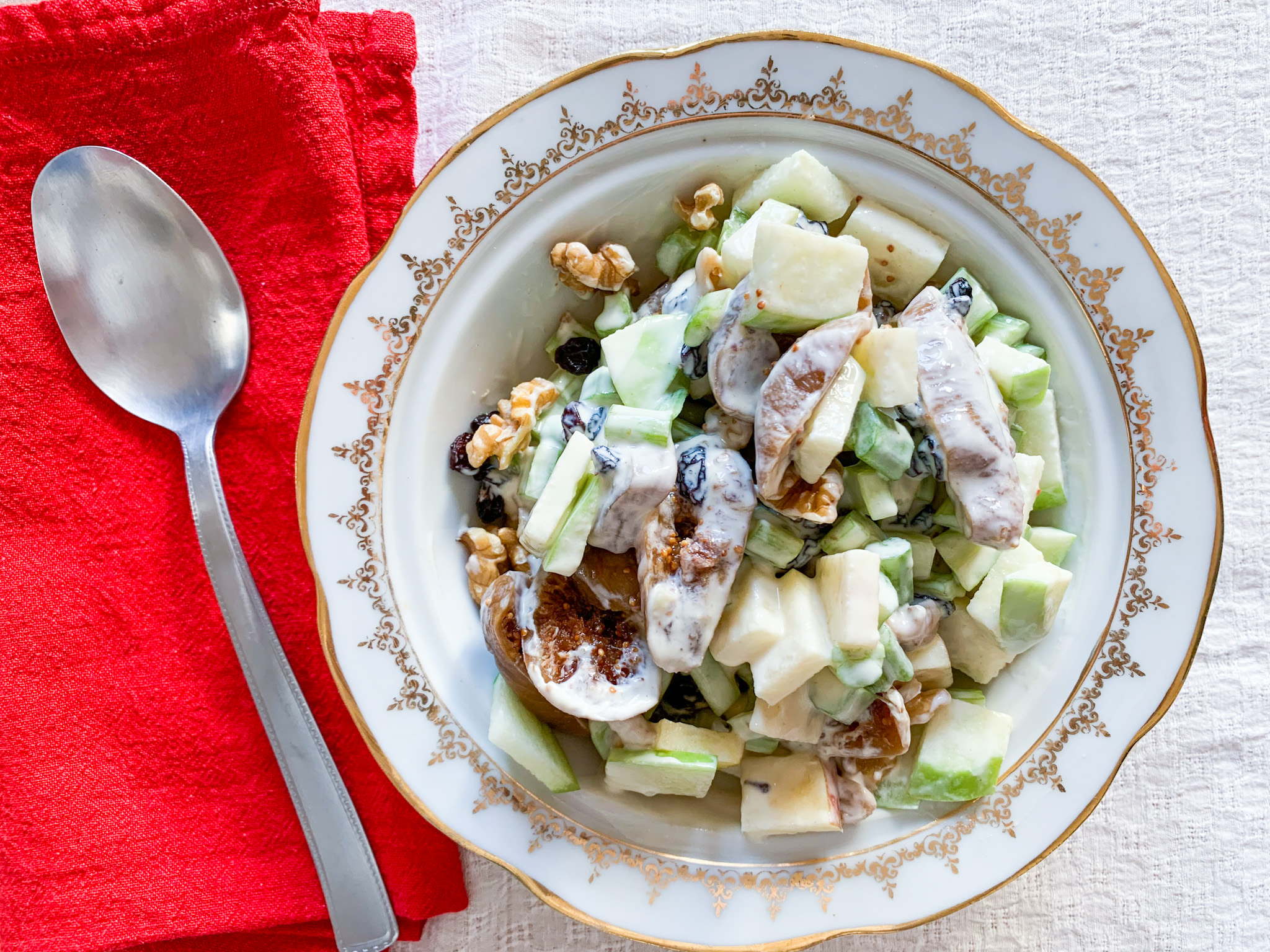 7. Spinach Salad with Olives & Chestnuts or Pine Nuts
A great winter side dish that pairs well with all manner of proteins. Find the recipe here.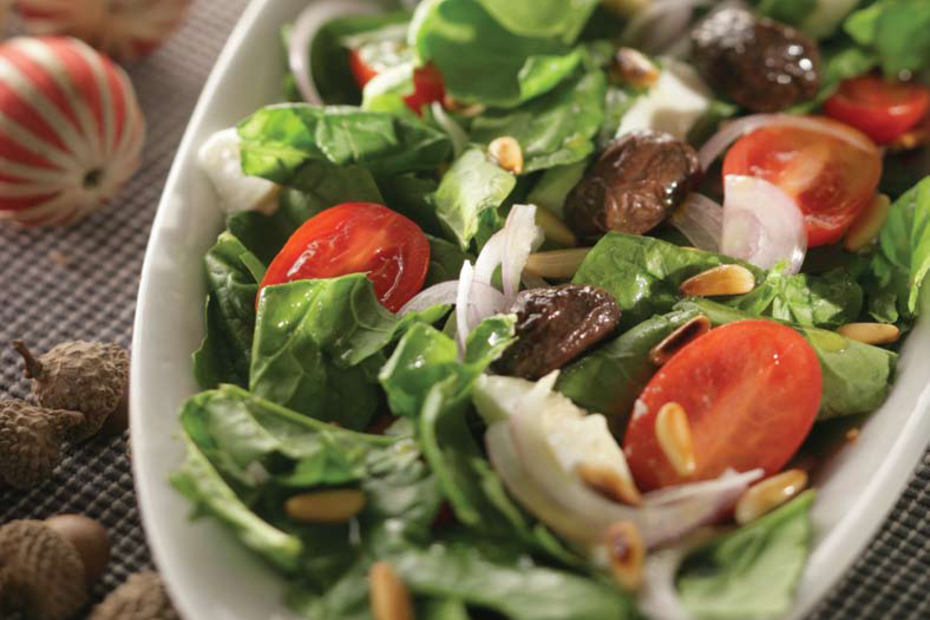 8. Arugula Salad with Persimmons, Candied Walnuts and Feta
Greek salads are powerhouses of nutrition and this one is no different. Take the addition of persimmons, one of the most delicious winter fruits and common in Greece, where it is known as "lotos." It is packed with vitamins A and C, a whole rainbow of phytonutrients, fiber, copper and phosphorus. Find the recipe here.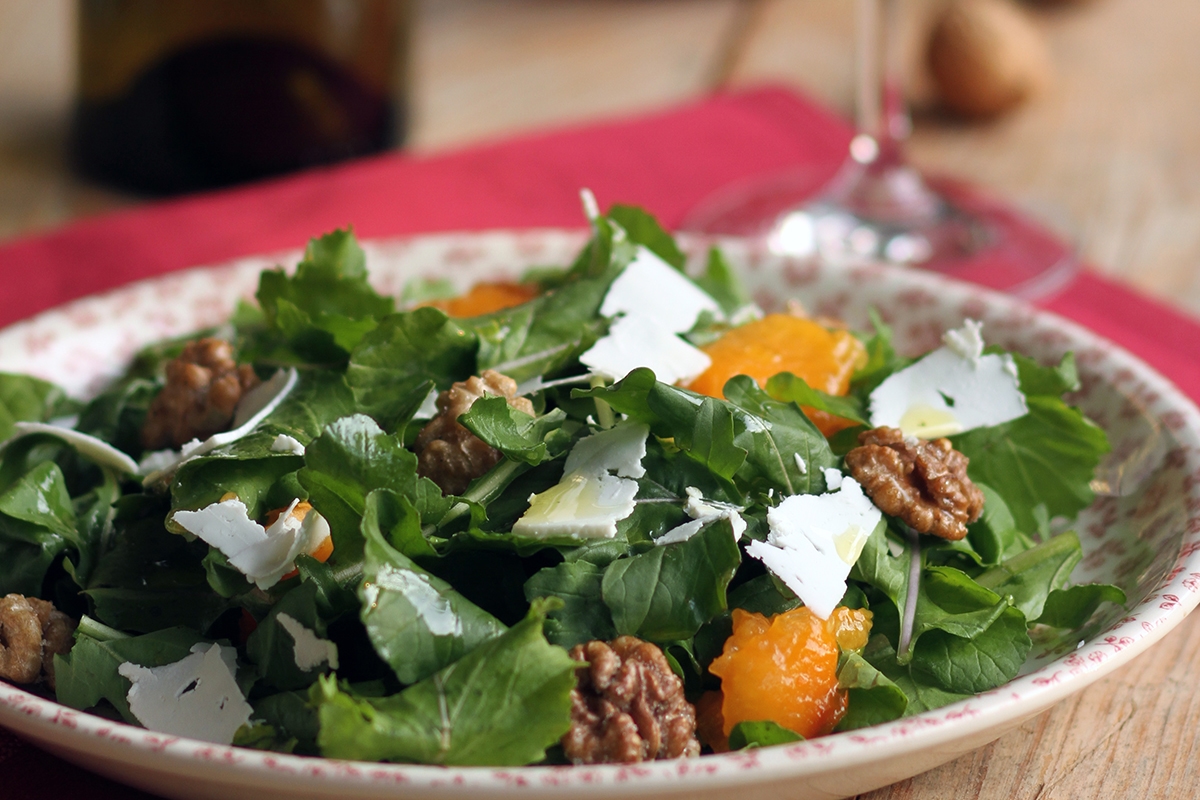 9. Endive Salad With Greek Honey Vinegar & Cretan EVOO
On any festive table, rich foods call out for a counterbalance, and this delicious Greek salad with pleasantly bitter endive and green apples is almost refreshing enough to be a palate cleanser. The Aegina pistachios and an amazing olive oil from Crete, give this Greek recipe a super healthy Mediterranean aura! Find the recipe here.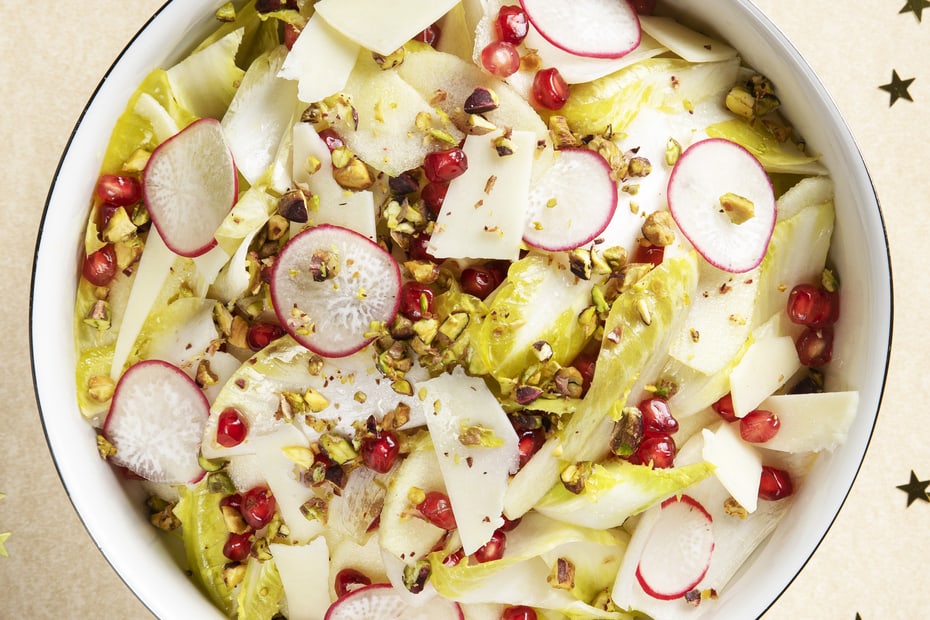 PIES & SAVORY PASTRIES
10. 
Red Onion-Petimezi Tart Tatin with Mastiha Whipped Feta
This wonderful Greek recipe inspired by the traditional French Tarte Tatin, is sweetened with petimezi, grape molasses, and seasoned with Mastiha powder and Greek wild herbs.
Find the recipe here.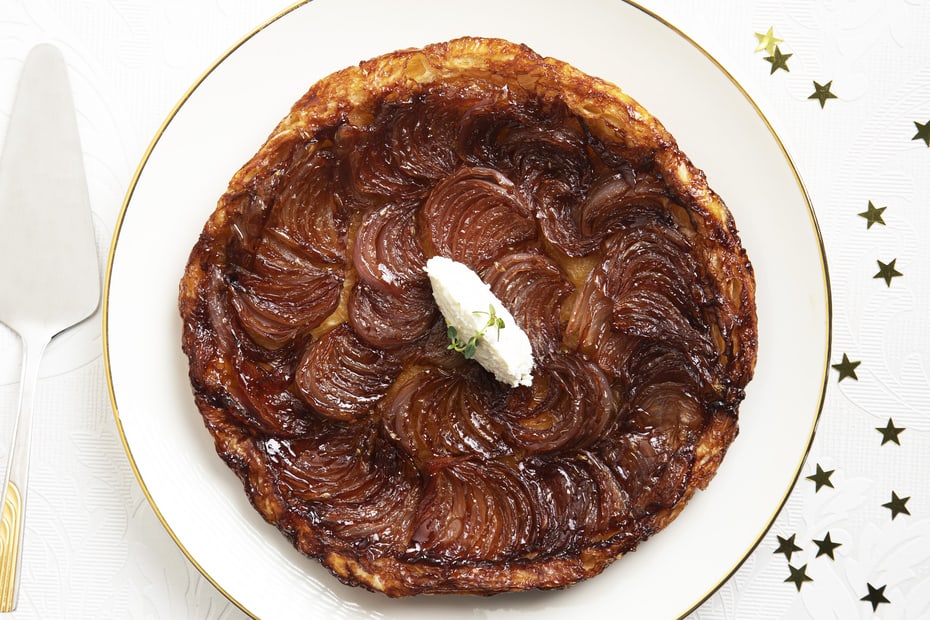 11. Leek Phyllo Tart with Metsovone Cheese
A delicious starter for winter dinner parties, holiday meals and Sunday brunch. Find the recipe 
here
.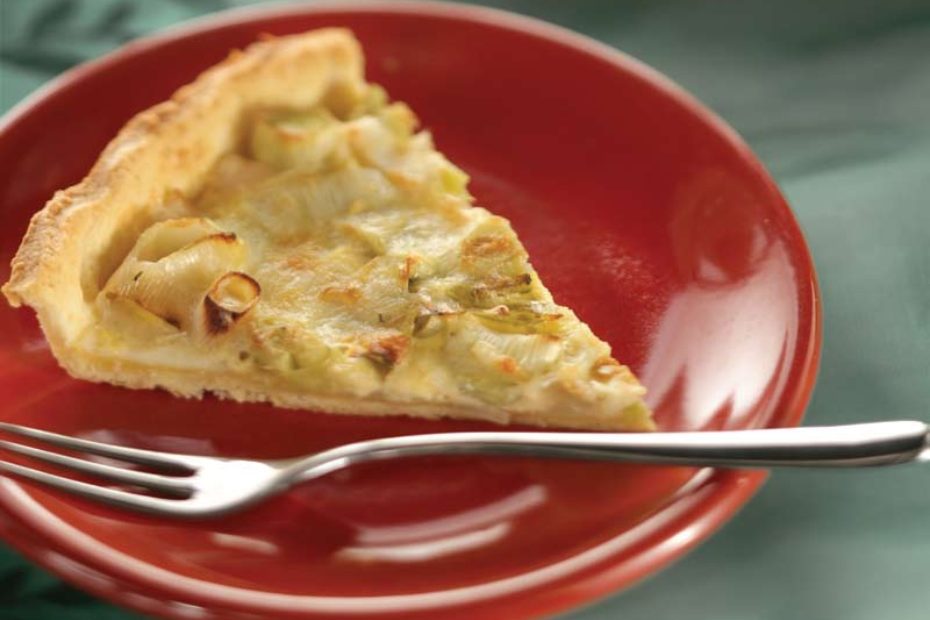 MAIN COURSES
VEGAN
12. 
Braised Chestnuts and Shallots / Kastana Stifado
Chestnuts, one of the oldest foods in the eastern Mediterranean, known to the ancient and modern Greeks alike by the same name, kastano, have always been an important food. This unusual Greek recipe, from my book My Greek Table, is one of my favorites. It is an old country dish from Arcadia in the Peloponnese. Serve it with Greek or other noodles, or on its own. Find the recipe 
here
.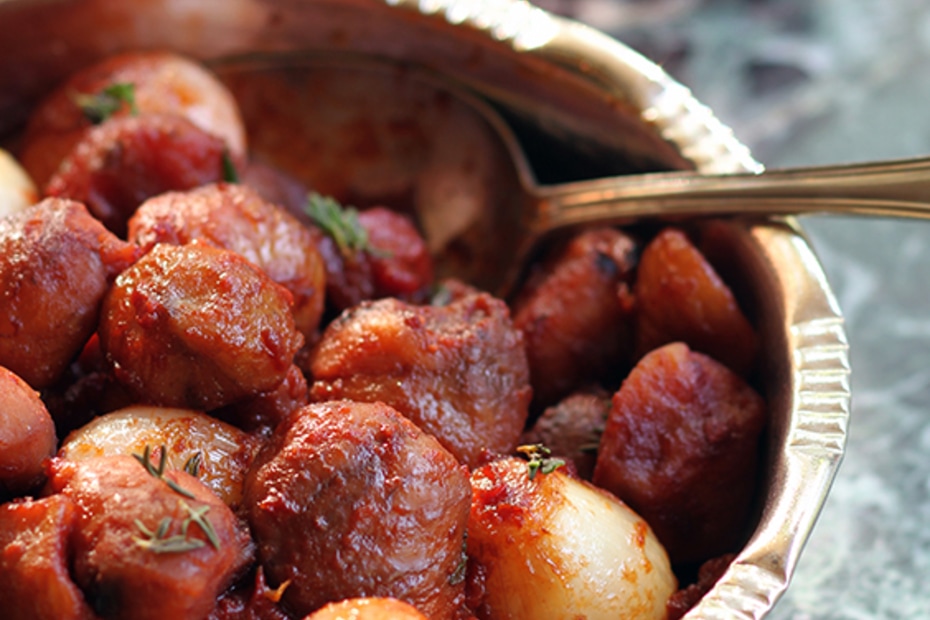 MEAT
13. 

Lamb Shank Roasted With Quince
This Greek recipes for Kydonato—after the Greek word for quince, kydoni, is a popular Sunday dish in northern Greece, typically made either with lamb or beef and typically stewed all together. Lamb shoulder or other stewing cuts are the norm. The recipe that follows calls for lamb shank, which facilitates a much more elegant, even dramatic, presentation, perfect for the holidays.
14. Pork Loin Glazed With Greek Preserved Oranges and Mustard
In this Greek recipe for pork loin, I use an array of unusual Greek ingredients: orange spoon sweets, which go into the topping and sauce and add a very festive allure to this easy, delicious holiday pork dish, as well as Greek balsamic or petimezi and an aromatic honey vinegar which is one of my favourite Greek artisan products. Find the recipe here.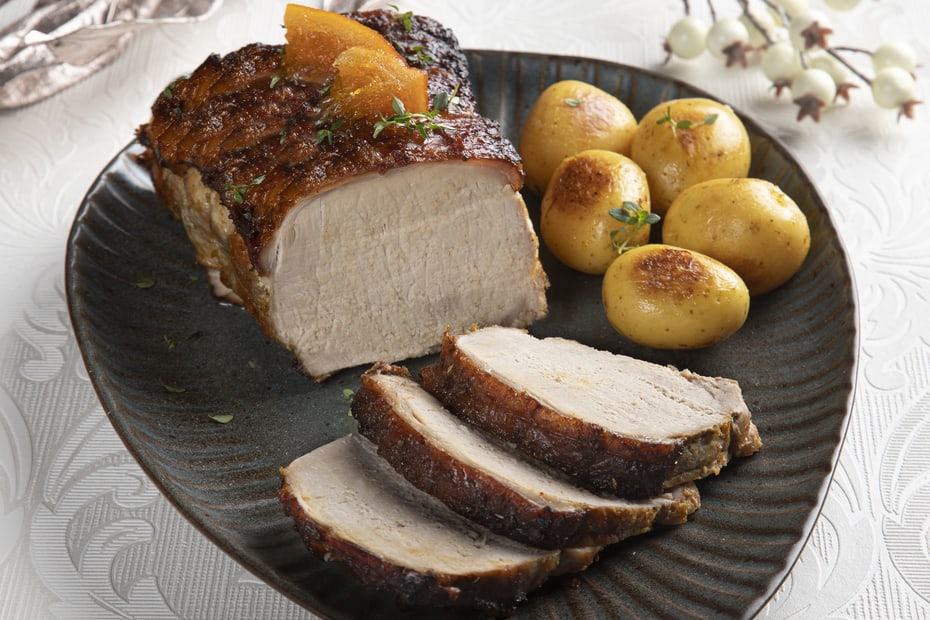 15. Pork Loin with Chestnuts, Hazelnuts and Dried Figs
The combination of meats with nuts and dried fruits is a favorite in the contemporary Greek kitchen. This dish goes well with a glass of Northern Greek Xinomavro red wine. Find the recipe here.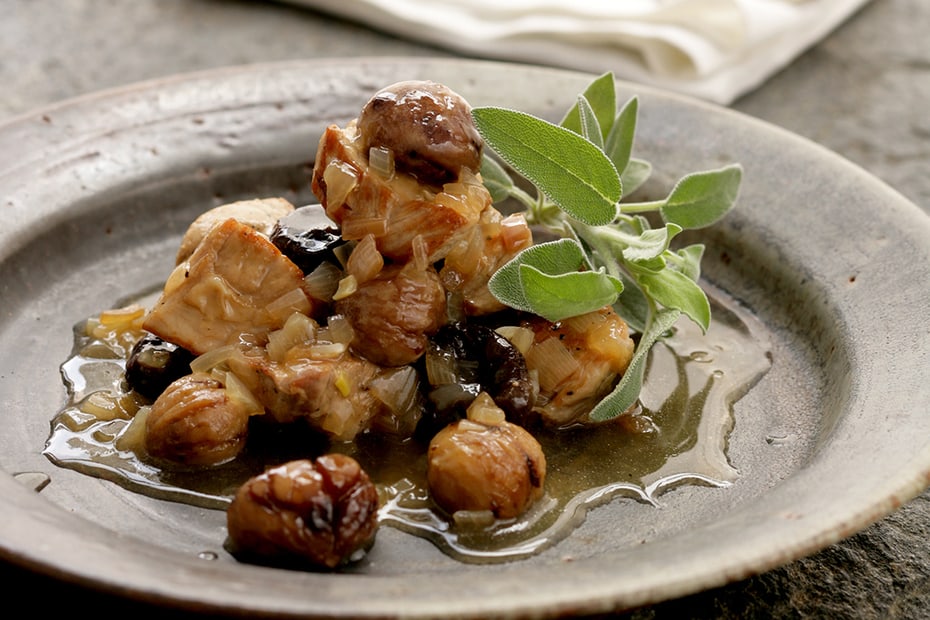 16.  Naoussa Style Braised Pork and Leeks
This is a northern-Greek-pan dish, one of the all time classics and favorites on the Sunday and festive table. In Naoussa, the addition of tomatoes to the dish distinguishes it from other versions around the region. Locals say the best cut for this is pork collar. Find the recipe 
here
.

17. Herb-Crusted Roasted Pork
Crackling roasted pork, whole on the bone, is one of the delights of the holidays, especially for me. I always host Christmas and I love to do it with a gaggle of friends and family. I used to make this for my late father-in-law, who looked forward to the meal all  year. He loved this recipe! I hope you do, too! This is a great dish for the winter holidays. Find the recipe here.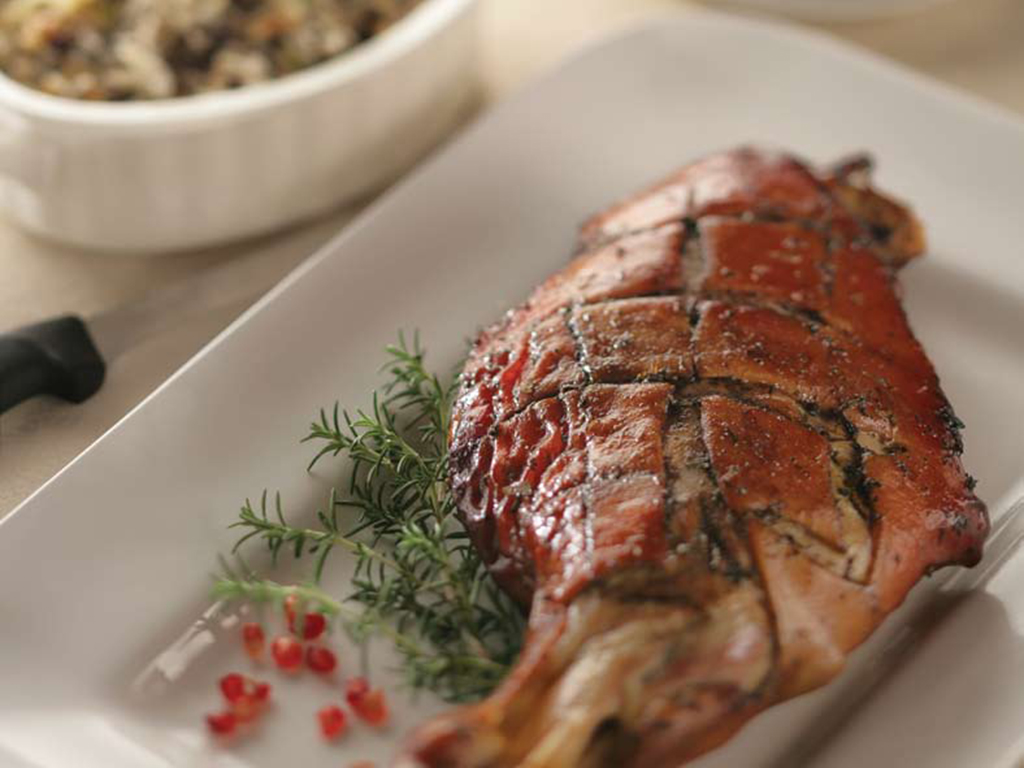 18. Ouzo Turkey Thighs
Turkey, usually stuffed with a rich rice-raisin-chestnut stuffing is one of the most traditional Greek festive main courses. But you can enjoy the bird with much less hassle by just roasting those meaty, juicy turkey thighs. Here's a favorite recipe for all your festive occasions! Find the recipe here.
HOLIDAY BAKING
19. Chocolate – Olive Oil Fruit Cake
I love fruitcake! This Greek recipe for a holiday classic is packed with dried fruits such as Greek figs and currants, but also calls for olive oil and a touch of Greek yogurt. 
 Find the recipe here.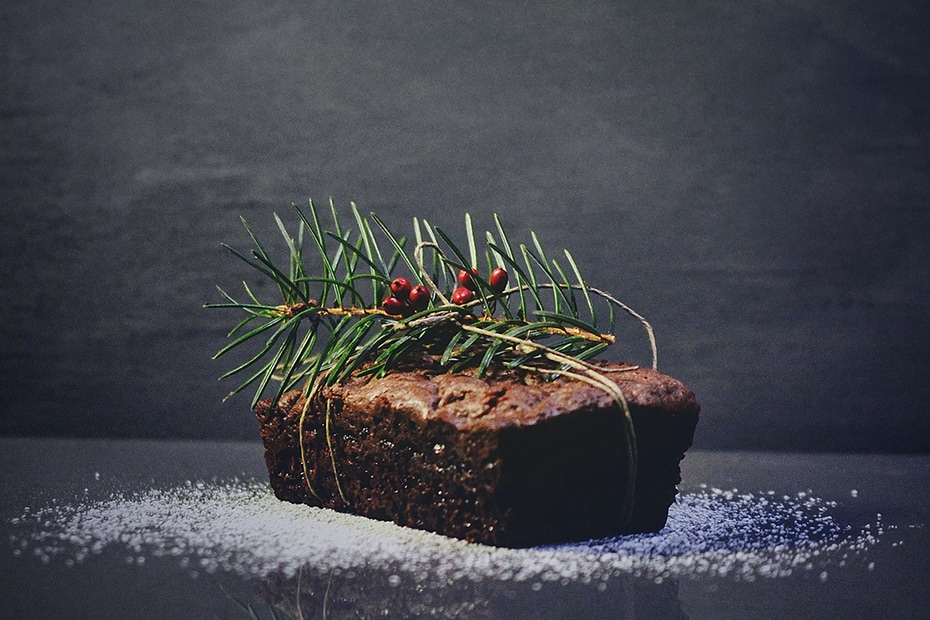 20. Greek Christmas Shortbread Cookies / Kourambiedes
This Greek recipe for the classic Christmas cookies, kourabiedes, is my sister Koko's, passed down to her by her mother-in-law Yiorgia Touris, who was an amazing cook and baker. It's gone through several transformations and, truth be told, requires a little experience to perfect. My sister measures out her flour in cereal bowls, for example, because that's how Yiorgia did it! Greek Christmas always includes these delicious cookies. This recipe makes between 60 and 75, depending on how large you make them. Find the recipe here.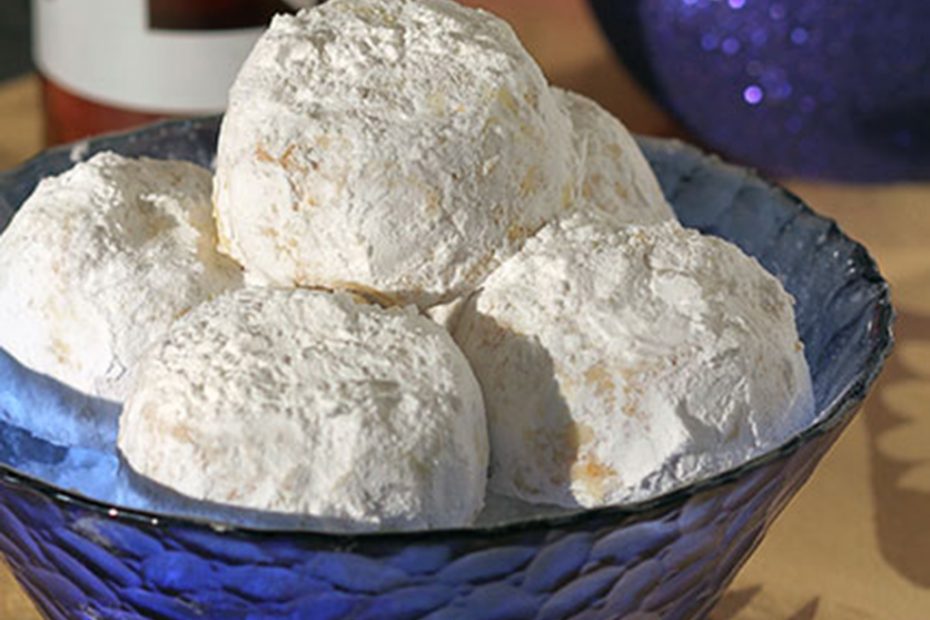 21. Ginger-Spiced Persimmon-Nut Kataifi Rolls
Get creative with kataifi! Fill it with a luscious mix of persimmon flesh, walnuts, ginger, cinnamon, and a pinch of black pepper. Serve it with a glass of delicious Greek dessert wine, the liatiko from Monemvassia. Find the recipe here.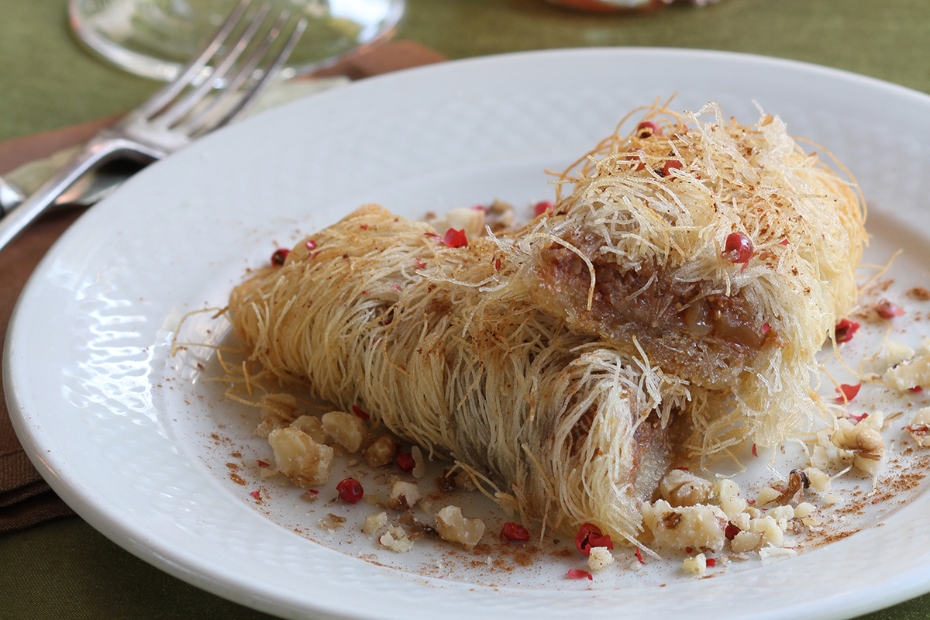 22. Classic Melomakarona
Great olive oil is what makes these classic Greek holiday cookies so healthy and delicious. Find the recipe here.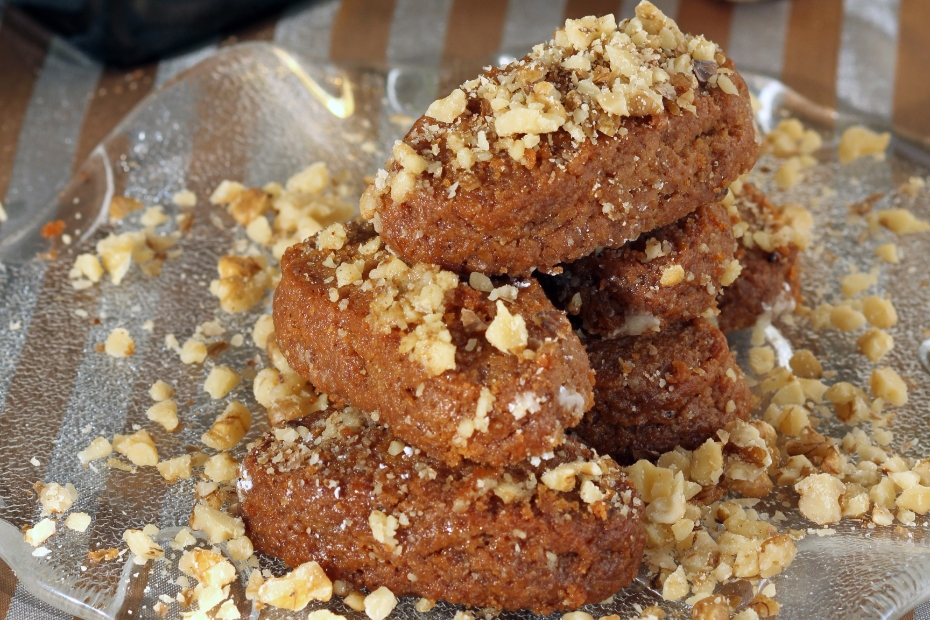 23. Xerotigana: Ikaria's Honeyed Fried Dough Strips
Elsewhere in Greece, these delicate fried pastry strips are called diples (THEE-pless). We call them xerotigana on Ikaria and I have the most vivid memories of my dad, a chef, making these every Christmas. We used to have mounds of them layered precariously on platters and they'd disappear in the course of just a day or two. Find the recipe 
here
.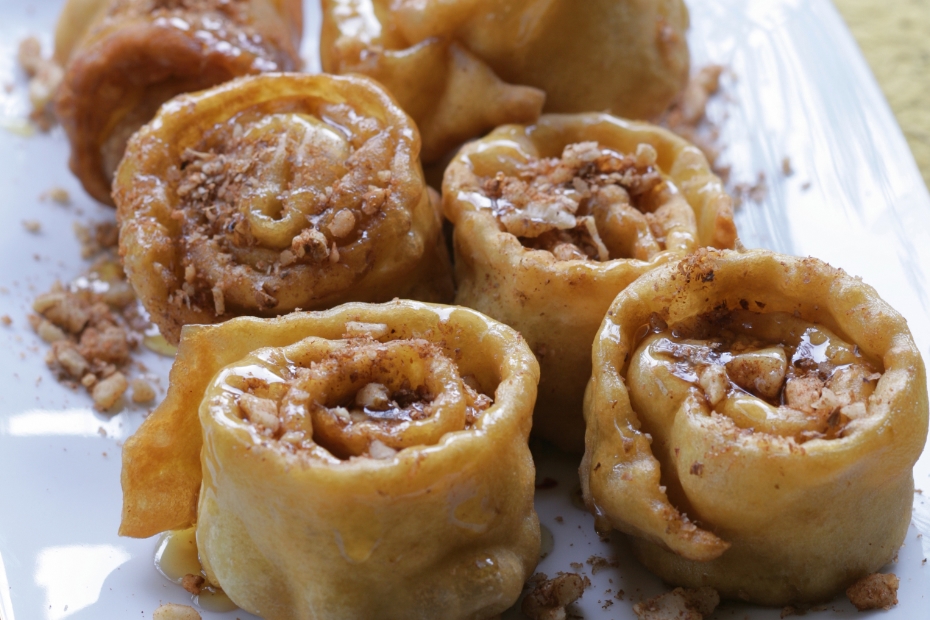 24. Classic Baklava
Timeless. That's the only way to describe a perfect baklava. Try using real Greek pistachios and honey in this classic. Find the recipe here.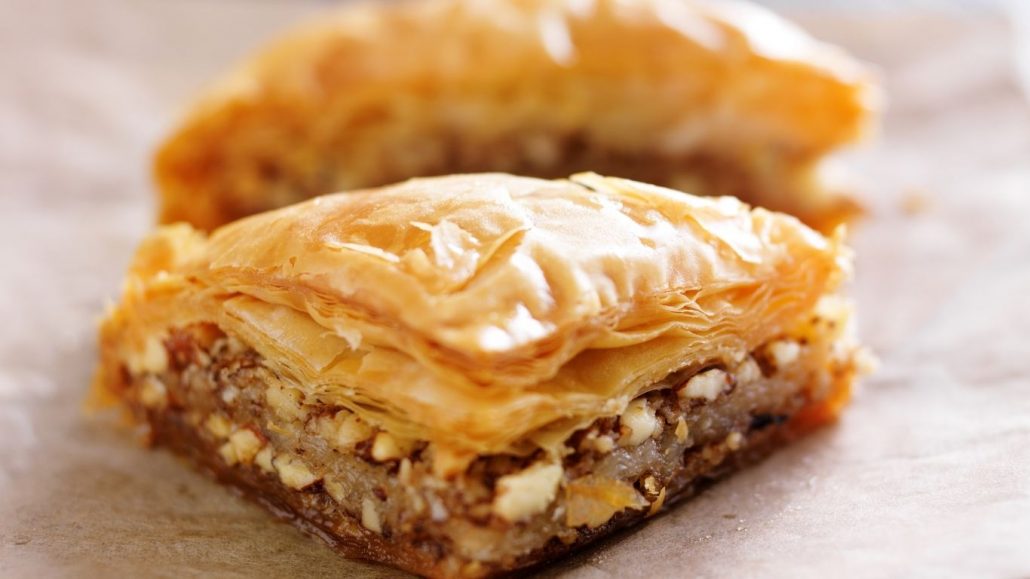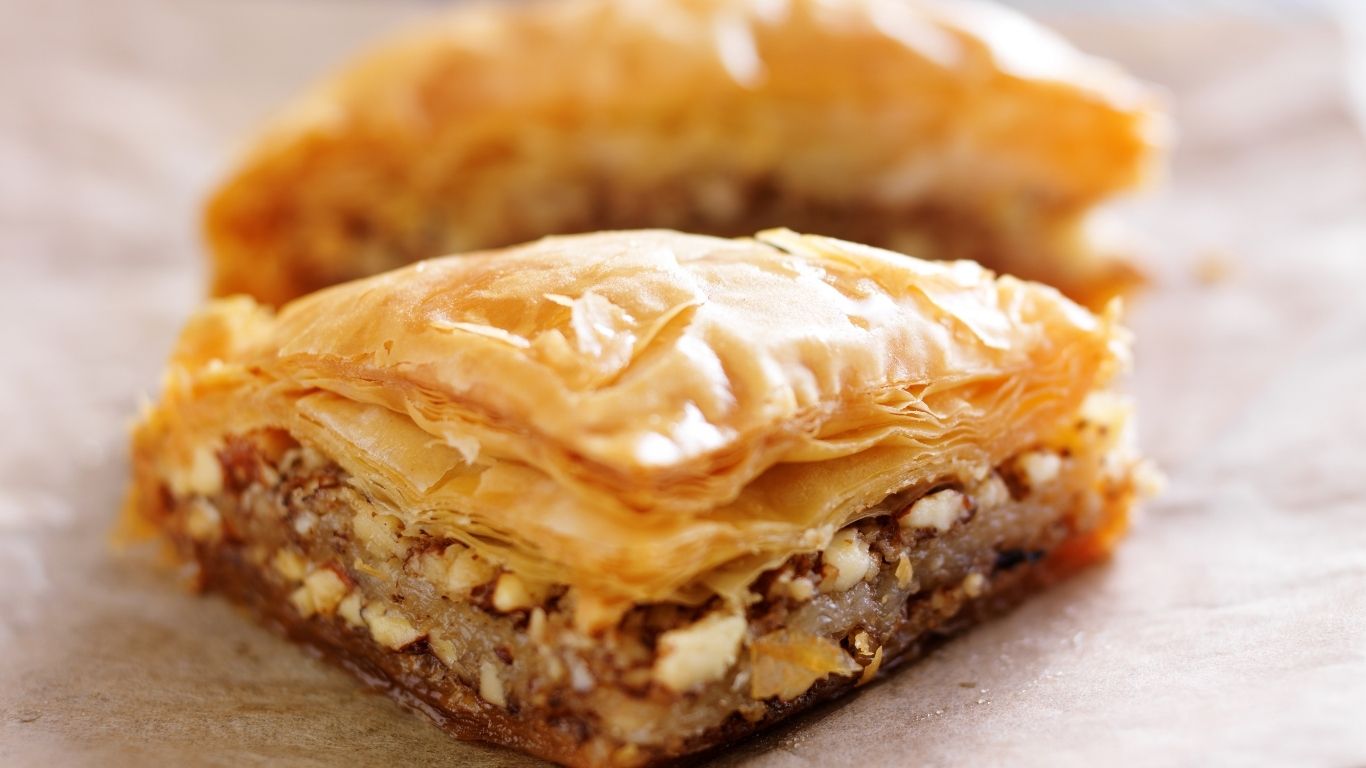 25. Vasilopita Cake
Last but not least in this year's collection of holiday recipes is my Vasilopita cake. It's rich. It's got chocolate. It's got nuts. And, most of all, it's got a coin tucked and baked inside. May 2022 be a BETTER YEAR FOR EVERYONE! Happy New Year to All, with LOVE, from My Greek Table to Yours! Here's the recipe!