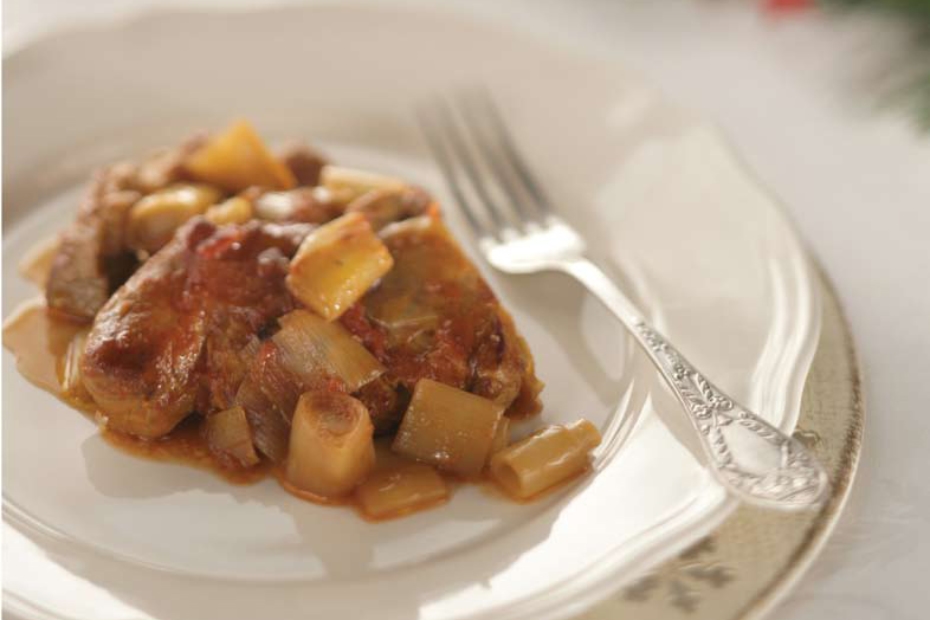 Naoussa Style Braised Pork and Leeks
---
This is a northern-Greek-pan dish, one of the all time classics and favorites on the Sunday and festive table. In Naoussa, the addition of tomatoes to the dish distinguishes it from other versions around the region. Locals say the best cut for this is pork collar.
Ingredients
½

cup

extra virgin northern Greek olive oil

1 ½

kilo

3 lbs pork, preferably shoulder or collar, cut into stewing size pieces

750

gr

1½ lbs leeks, trimmed and coarsely chopped

1

cup

blanc de noir Xinomavro wine

or other dry white northern Greek wine

1

cup

chopped tomatoes

with juice

Water

3

egg yolks

Juice of 1-2 lemons

to taste
Instructions
1. Heat the olive oil in a large, wide pot over high heat and brown the meat. Season with salt and pepper. Add the leeks and stir until soft. Pour in the wine. As soon as it steams up, add the tomatoes. Add enough water to cover the contents of the pot by about two-thirds. Cover, raise heat to high, and bring to a boil. Reduce heat and simmer the stew until the meat is very tender, about 2 hours.

2. In a medium size metal bowl whisk together the egg yolks and half the lemon juice until smooth and thick. Take one ladleful of the pot juices, careful not to take up any solids, and very slowly drizzle the liquid into the egg mixture, whisking vigorously. Repeat with a second ladleful. Remove meat from heat and pour in the egg-lemon mixture. Tilt the pot back and forth to distribute the egg mixture evenly. Adjust seasoning with additional salt, pepper or lemon juice. Serve.