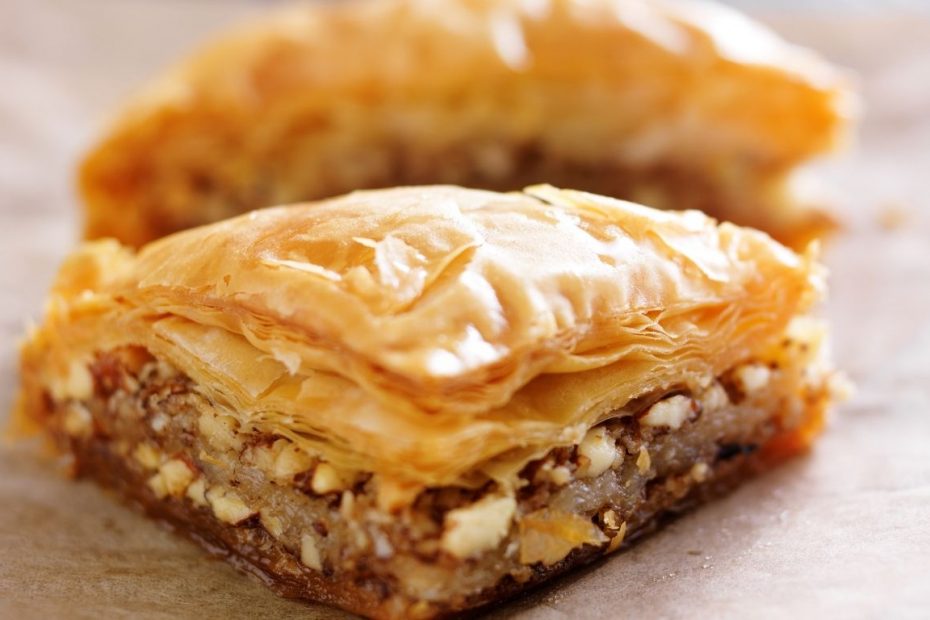 Classic Baklava
---
Timeless. That's the only way to describe a perfect baklava. Try using real Greek pistachios and honey in this classic. You can find them on my online store
here
.
Ingredients
1

pound/500 g. very good quality unsalted butter

preferably sheep's-milk butter

2/3

cup

extra-virgin Greek olive oil

10

cups

coarsely chopped walnuts or blanched almonds

or a mixture of both

3

cups

zwieback or other unsweetened biscuit crumbs

such as Greek frigania or Melba toasts

2

pounds/1 kilo commercial phyllo

Whole cloves

optional

For the Syrup

4

cups

sugar

4

cups

water

2

Tbsp.

strained fresh lemon juice
Instructions
1. Clarify butter: Place butter in a small saucepan and heat slowly over low heat. Remove pan from heat and cool for 2 to 3 minutes. With a spoon, skim the milky foam from the top of the butter and discard foam. Pour the remaining clarified butter in a bowl, combine with the olive oil and set aside until ready to use.

2. Preheat oven to 400˚F/200˚C. Lightly butter a 15X18X3-inch/38X45X8-cm baking pan.

3. In a large bowl, combine nuts and zwieback. Add ¼ to 1/3 cup clarified butter and the olive oil to the mixture – enough to moisten it.

4. Layer 6 phyllo sheets on bottom of prepared baking pan, one at a time, brushing each one generously with butter. Sprinkle about a third of the nut mixture over the sixth phyllo sheet and spread it evenly. Drizzle 1 to 2 teaspoons more butter over nuts.

5. Layer 4 phyllo sheets over the nuts, one at a time, buttering each generously. Spread another third of the nut mixture on top and drizzle, as before, with a teaspoon or two of butter. Layer and butter another 4 phyllo sheets, top with remaining nut mixture, and drizzle with clarified butter. Top the pan with 5 to 6 sheets of phyllo, each brushed generously with butter. With the tips of your fingers, sprinkle the top phyllo with a little water, and brush again. Score into diamond shapes, first cutting gently with a sharp knife vertically, then horizontally, making sure the knife cuts all the way down through the very bottom phyllo. Press a whole clove into each piece of baklava, if desired, before baking to make the tray more decorative.

6. Bake for 10 to 12 minutes, or until the phyllo begins to crisp – and brown slightly. Reduce heat to 325˚F/165˚C and bake for 1 ½ to 2 hours, or until baklava is golden brown. Five minutes before removing baking pan from oven, brush baklava with one more ample dousing of butter.

7. To prepare syrup: While baklava is baking, in a large saucepan combine sugar and water and bring to a boil. Reduce heat and simmer, uncovered, for 12 to 15 minutes, until syrup is heavy and lusciously thick. Remove pot from heat and immediately stir in lemon juice.

8.

Baklava, the classic nut-and-spice layered filo dessert, is never absent from a Greek Christmas.

Remove baking pan from oven and pour hot syrup over the baklava. Place the baklava back in the oven – which has been turned off but is still hot – and let stand until all the syrup is absorbed, about 20 minutes. Serve baklava warm or at room temperature and store at room temperature, sealed in a tin.
Love savory pies and phyllo specialties? Sign up for my online class "Fearless Phyllo – Homemade!" to learn the secrets of making great, easy pies at home!