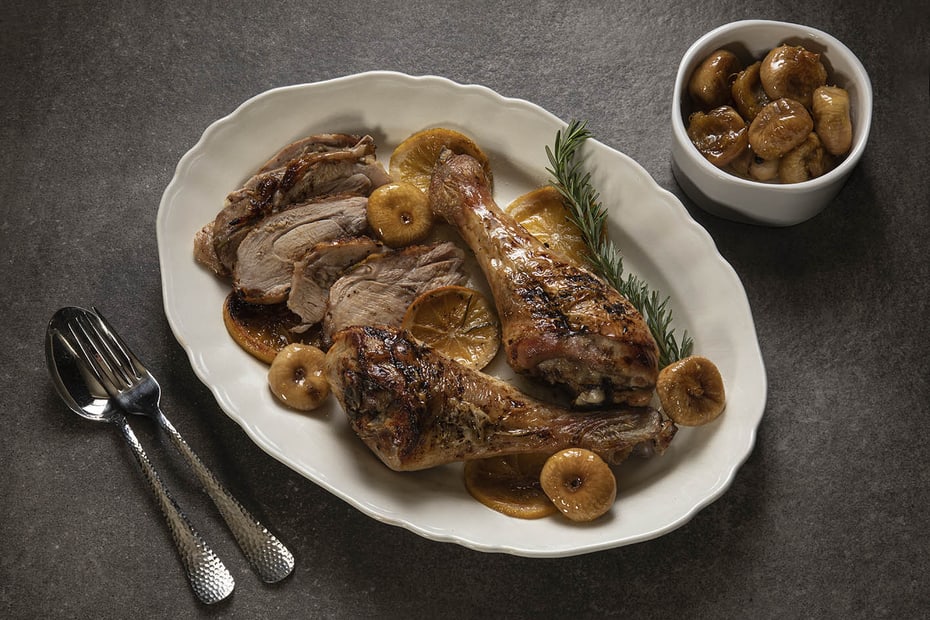 Greek-Honey-Ouzo Roasted Turkey Thighs with Figs and Black Pepper
---
I usually hold Thanksgiving at my home in Athens, with more people than I can usually handle! To make my life easier, I've started to roast turkey parts and to make the stuffing separately. Turns out that this has been a great way to experiment with some unusual and, yes, Greek-inspired gravy ideas. So, here, my Greek recipe for "gravy" is more a dolloping of the plump, fleshy Greek figs, from Taxiarchon in Northern Evvoia (available online) , cooked in either ouzo or sweet wine, such as Mavrodaphne, with a hint of orange. Trust me, it's bread- worthy and very delicious!
Ingredients
For Turkey
6

turkey thighs

skin on

1 ½

cups

chicken or vegetable broth

6

sprigs fresh rosemary

4

bay leaves

1

orange

rinsed, zested (see below) and cut into 6 – 8 round slices

6

large garlic cloves

crushed
For the Figs
2

1-inch X 3–inch

strips orange zest

10

Black peppercorns

2/3

cup

ouzo or sweet Greek wine

such as Mavrodaphne

2/3

cup

water
Instructions
Preheat the oven to 424F/220 C.

In a large bowl, whisk together all the ingredients for the marinade until smooth.

Rinse and pat dry the turkey legs. Spread the rosemary, bay leaves, orange slices, and garlic on the bottom of a roasting pan large enough to hold the turkey thighs in one layer. Pour in the chicken broth. Season the thighs with salt and pepper, and brush on all sides with the marinade. Set aside leftover marinade. Cover the pan with parchment paper then with aluminum foil, pressing around the perimeter of the pan to seal.

Roast for about 1 hour, or until the thighs have turned golden brown. Remove the parchment and foil, brush with remaining marinade and continue roasting, uncovered, for about 30 minutes.

While the turkey continues to roast, prepare the figs: In a medium saucepan, place the ouzo or Mavrodaphne wine, water, peppercorns, orange zest and figs. Bring to a boil, then reduce heat and simmer until the figs are puffy and the liquid reduced by half and the consistency of a thin syrup, about 20 minutes. Remove and set aside, covered, to keep warm.

Remove turkey from oven, cool for 10 minutes and serve, with the fig mixture spooned over each thigh.
Love chicken? Check out my online class "Wing It! – Great Mediterranean Chicken!"