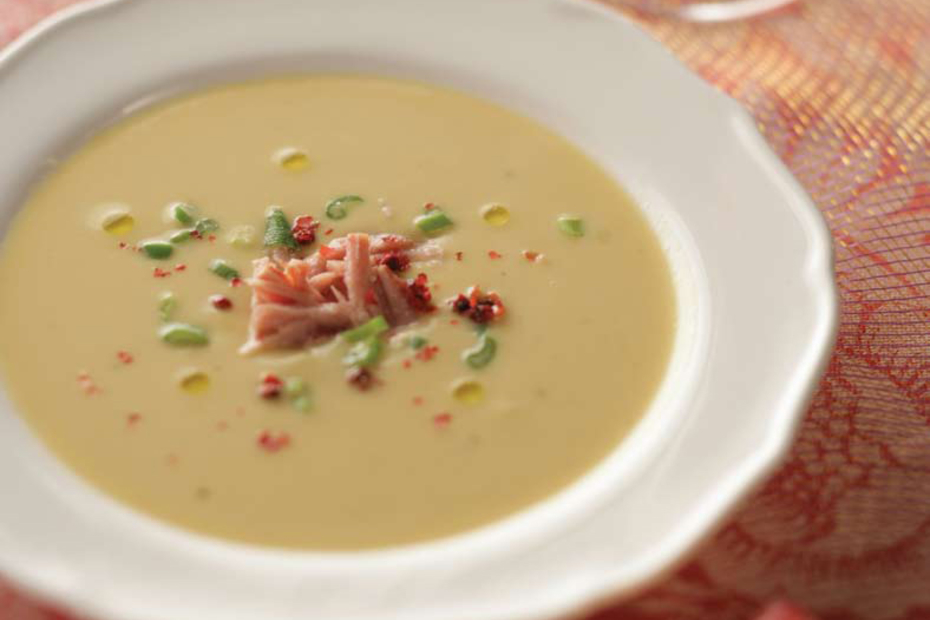 Fava Soup with Cured Pork
---
This simple soup is a chic but cheap approach to the festive table. You can switch out the pork for grilled mushrooms to make it totally vegan or vegetarian, and you can spruce it up with a drizzling of truffle oil to give it some holiday flair.
Ingredients
3

tbsp.

Greek extra virgin olive oil

1

large onion

finely chopped

1

pound/ ½ kilo yellow split peas

2

quarts/liters water or chicken stock

2

bay leaves

2 to 3

sprigs thyme

Salt and pepper

to taste

Juice of ½ lemon

4

oz.

cured Greek or other pork

such as smoked bacon or pancetta OR 8 oz. grilled portobello or other mushrooms, cut into slivers

Thyme sprigs

chives and/or pink peppercorns for garnish

Extra virgin olive oil or truffle oil for garnish
Instructions
In a large pot, heat olive oil over medium heat and sauté the onion until softened, about 8 – 10 minutes. Rinse the split peas in a sieve and add to the onion, stirring well to coat in the oil. Pour water or broth, or a combination of the two.

Bring to boil over high heat, reduce heat. Reduce heat and add the bay leaves, thyme, salt and pepper. Simmer until tender, about 50 minutes to 1 hour. Skim the foam off the surface as the soup simmers.

Transfer the soup to the bowl of a food processor, or, using an immersion blender, process the soup to a smooth puree. Test for salt and pepper and add if needed. Stir in lemon juice. Dilute the soup if necessary with additional water or stock, making sure to reheat as you stir.

To serve, ladle the soup into serving bowls and garnish with a few drops of truffle oil, pink peppercorns and a few pieces of cured pork.
Love soup? Check out my online class "Comfort in a Soup Bowl!" 
Love vegetables? Want to learn more great plant-based Mediterranean dishes? Enroll in my online  class "Baked Vegetable Classics!"