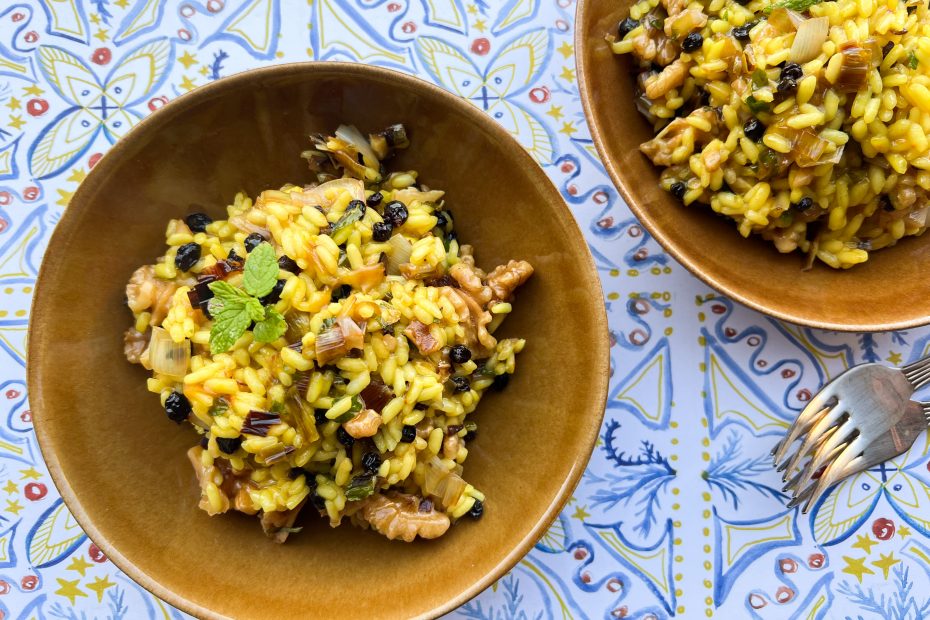 Leek-Walnut Rice with Saffron and Currants
---
This Greek recipe for leek walnut rice with saffron can be both a main course and a side dish. It is perfumed with all the wonderful flavors of the Greek earth, especially in the saffron, aka krokos Kozanis. Rice is an important ingredient in the Greek diet and is often prepared as a main course, in dishes like spanakorizo (spinach rice) and prasorizo (leek rice). These vegetable rice recipes are classics during periods of fasting, too, but they're also quite elegant and have that hard-to-resist texture thanks to the addition of extra virgin Greek olive oil. You'll love this recipe! It's great any time of the week or year!
Instructions
Coarsely chop the walnuts and toast them in a dry skillet for a few minutes over medium heat, to release their essential oils and aromas. Remove from the skillet and set aside.

In the same skillet, heat 2 tablespoons of olive oil over medium heat and sauté the leeks until wilted and lightly browned. Season them with a little salt as they cook, which helps draw out the moisture.

Chop and set aside the mint (leaves only).

Add the chopped garlic to the leeks and stir for about 30 seconds. Stir in the currants or raisins. Add the petimezi and walnuts. Stir in the mint. If using dried, add it now. Stir in the sage, too, if using. Cook everything for another 2 minutes so that the aromas meld, then transfer to a plate and set aside.

In the same skillet heat another 2 tablespoons of olive oil over medium heat. Add the rice and stir to coat in the oil. Add 1 ladleful of vegetable stock, cooking it until the rice absorbs all the liquid. Repeat several times until the rice is about halfway cooked. Stir in the saffron and a little sea salt, and continue cooking and adding liquid until the rice is tender and creamy. Add the leek-walnut mixture and serve.
Want to learn more easy, healthy Mediterranean diet recipes? Sign up for my online course "Mastering the Mediterranean!"
Want to learn more easy, healthy Mediterranean diet recipes? Sign up for my online course "Mastering the Mediterranean!"