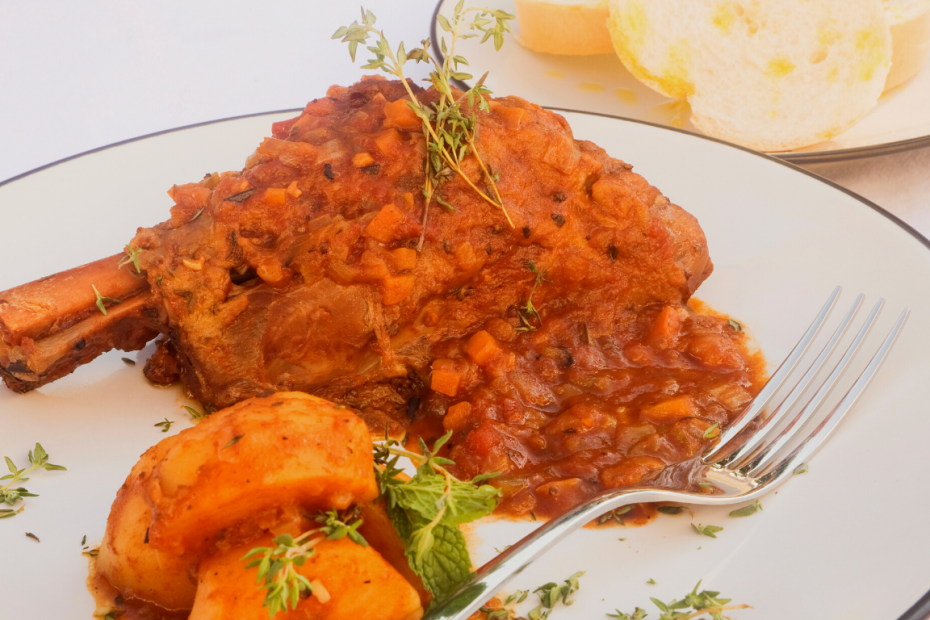 Lamb Shank Roasted With Quince
---
This Greek recipes for Kydonato—after the Greek word for quince, kydoni, is a popular Sunday dish in northern Greece, typically made either with lamb or beef and typically stewed all together. Lamb shoulder or other stewing cuts are the norm. The recipe that follows calls for lamb shank, which facilitates a much more elegant, even dramatic, presentation, perfect for the holidays.
Ingredients
3

tablespoons

fresh or 1 tablespoon dried thyme

3

tablespoons.

fresh rosemary

2

tablespoons

fresh or 1 tablespoon dried sage

(faskomilo)

3

tablespoons

fresh mint leaves

4

lamb shanks

bone in

Salt and freshly ground black pepper

to taste

Flour for dusting the lamb

Olive oil for searing

2

large onions

finely chopped

4

garlic cloves

minced

2

cups

dry red northern Greek wine

such as Xinomavro

2

cups

chopped plum tomatoes

(canned are fine) or grated fresh tomatoes

2

bay leaves

2

cinnamon sticks

4

quinces

1

lemon

2

tablespoons.

unsalted butter

1-2

teaspoons

sugar

Parsley or thyme sprigs for garnish
Instructions
In a mortar with a pestle, crush the thyme, rosemary, sage, and mint together to form a paste. Wash and pat dry the lamb shanks. Season generously with salt and pepper and dust lightly with flour. Heat about half a cup of olive oil (enough to cover the bottom of a wide pot by about 5 mm/1/4 inch). Sear the shanks until browned on all sides.

Add the onions, lower heat to medium, and cook until the onions are soft. Stir in the garlic. Pour in one and a half cups of red wine. As soon as it steams up, add the tomatoes, bay leaves, 1 cinnamon stick, and herb mixture. Add six cloves and enough water to come about two-thirds of the way up the meat. Cover and bring to a simmer over high heat. Reduce heat to low and simmer the lamb for about 1 ½ to 2 hours, or until very tender.

Prepare the quince: Squeeze the lemon into a bowl of cold water. Cut the quince lengthwise into quarters and remove the seeds and core. Cut each quarter into two long slices and place in the lemon water to keep from oxidizing.

Heat the butter in a large, nonstick skillet. Add the quince and remaining cinnamon stick and cloves. Sauté over high heat until the edges of each slice begin to brown lightly. Pour in remaining wine and season with salt, pepper and a little sugar. Reduce heat, cover, and cook until the quince are tender and almost syrupy. About 2 to 3 minutes before removing, spoon three to four tablespoons of the lamb's pot juices over the quince and shake the pan to distribute evenly.

To serve: Remove one lamb shank per portion and place in the center of a large plate. Spread the quince slices and their pan juices evenly around the shanks. Spoon over the sauce from the lamb, garnish with parsley or thyme sprigs and serve.