My Favorite Greek Black-Eyed Pea Recipes – for New Year's and Beyond!
I love the soft comfort of black-eyed peas when they're cooked into stews and braised dishes, both popular ways to prepare them throughout Greece. Black-eyed peas, a traditional New Year's Good Luck food int he American South, are the ultimate easy Mediterranean diet ingredient. They require no soaking and can be cooked straight away from the bag. They're a super healthy Mediterranean food and a great addition to your cupboard if you're interested in following a green med diet. I try to make them a part of my own personal Greek and Mediterranean meal plan on a regular basis and, luckily, have taught my kids to love them so that now, as fully grown adults, they turn to the simple preparations in Greek cooking to build their own repertoire of healthy Mediterranean diet recipes.
While cooked almost everywhere in Greece, black-eyed peas have a special place in the regional cooking of the Peloponnese. It is there that we find the most luscious and comforting recipes for this humble legume, cooked with myriad greens and copious amounts of some of the best olive oil in Greece! The slow food cooking techniques, simmering the black-eyed peas until they're almost meltable, and marrying them with herbs, tangy tomatoes, various sweet greens, and a touch of vinegar, makes for soft, warm comfort food that brings out the natural sweetness in the ingredients. Extra virgin Greek olive oil adds texture and that elusive quality we sometimes call cravability — the thing that gets you going back for seconds.
That's a surefire way to bring good luck to your diet and to set yourself up on a Mediterranean diet meal plan that's easy — and inexpensive — to execute.
Happy, Healthy Cooking with my favorite black-eyed pea recipes for New Year's and beyond!
This is pure comfort food and combines the subtle flavors of the beans with the earthiness of wild greens and sprightly fennel together with lots (and lots) of extra virgin Greek olive oil! You can serve this as a main course or starter, or even as a meze. It's great leftover and even works as a healthy Mediterranean diet breakfast!
This wonderful salad combines the almost smokey earthiness of black-eyed peas with the astringent, refreshing flavors of mastiha, one of the Mediterranean diet's true superfoods, cultivated and produced only on the island of Chios. Mastiha is a fascinating Mediterranean diet ingredient, one of the most seductive and mysterious spices in the world. It is a resin, collected each summer in the mastic groves of southern Chios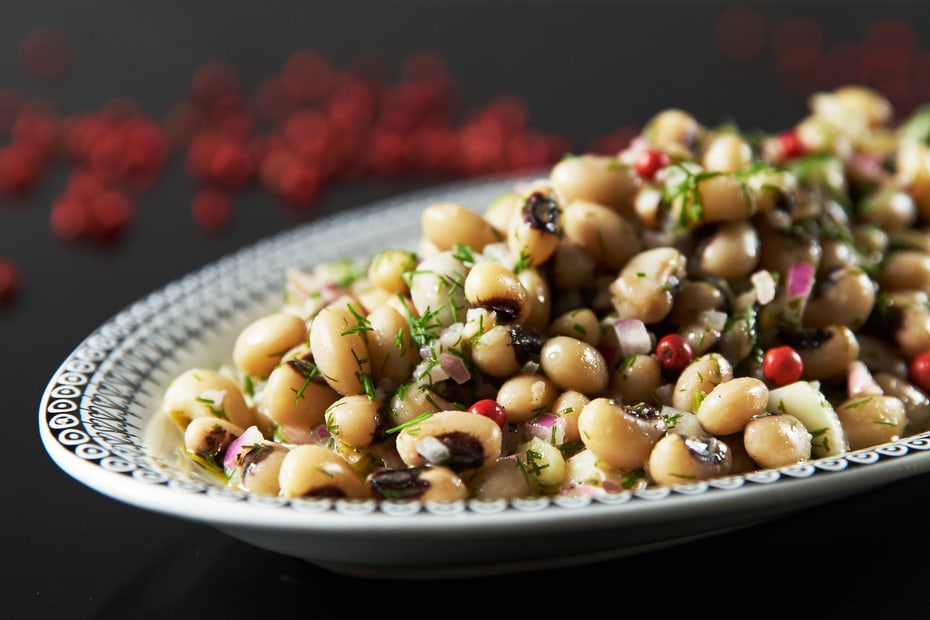 And, finally, one of my most beloved salads focusing on the humble black-eyed pea, studded with sweet, caramelized leeks and bright, juice pomegranate seeds, a good luck food in Greece! Because of their hundreds of tiny, juicy seeds, pomegranates symbolize prosperity and fertility in Greece and we give the actual fruit as a gift on New Year's. The pomegranate as a motif, in glass, ceramic, metal, fabric, two and three dimensional, is a popular sight around New Year's in Greece.