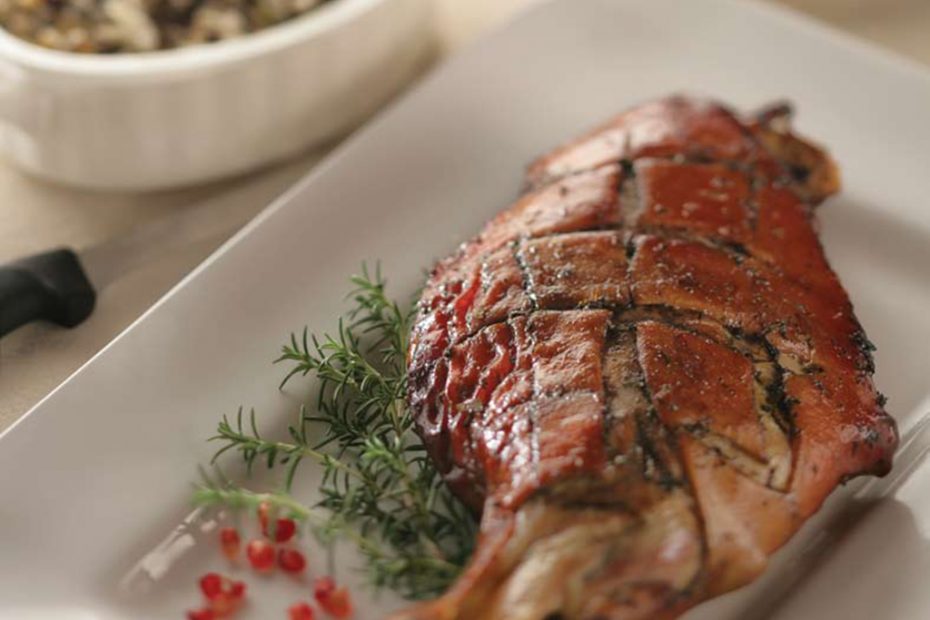 Herb-Crusted Roasted Pork
---
This is a great dish for the winter holidays.
Ingredients
3

pounds

pork

leg or shoulder, bone in
For the herb crust
¼

cup.

coarse salt

1

tsp.

black pepper in grain

1

bay leaf

crumbled

¼

tsp

paprika

2

sprigs rosemary

spiny leaves only

3

sprigs thyme

leaves only

2

cloves

garlic

peeled

3

cloves

garlic

peeled and chopped

4

tablespoons

olive oil

3

cups

red wine

1

large onion

coarsely chopped

1

large carrot

coarsely chopped

3

cloves

garlic

lightly crushed with the flat side

a knife
Instructions
1. In a mortar with a pestle, grind the salt, pepper, bay leaf, paprika, rosemary, thyme and two garlic cloves to a thick paste.

2. Preheat oven to 400°F / 220°C. Score the pork with a sharp knife, drawing "X"'s all over the surface. Using the tip of a sharp paring knife, make incisions all over the pork and stuff the chopped garlic into each incision. Rub the surface of the pork with 2 tablespoons olive oil and the herb paste. place onion, carrot, and remaining garlic on bottom of baking pan. Place pork leg on top. Pour in wine. Roast, covered, for about three hours or until the pork is fork tender and falling off the bone. Remove, let rest, covered, for 15 minutes, and serve.

A few tips for roasting a perfect pork: For a crisp surface, make sure the oven is hot. To know that the pork is cooked, stick a thermometer into the thickest part of the leg. It should read 158° to 165° F /70° - 76°C, and the juices, when the pork is pierced, should run clear.

To make the gravy, strain the pan juices into a large measuring cup and skim the fat off the top. Make a roux by melting 2 tablespoons butter in a saucepan then whisking in 1 tablespoon flour until it begins to color. Add the pan juices, some beef or chicken stock, and one cup of red wine or sherry. Season to taste with salt and pepper. Simmer over low-medium heat for about 15 minutes, or until the alcohol has cooked off. Serve the sauce over the meat, or on the side.