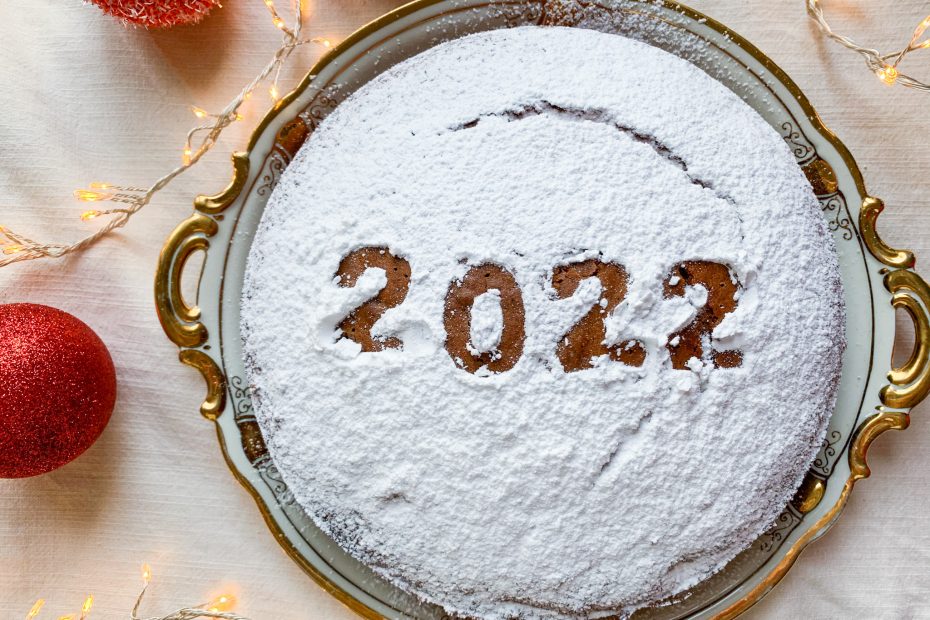 Vasilopita Cake
---
At New Year's for good luck, Greeks make Vasilopita, which can be a sweet bread, cake, or even meat pie. Regardless of the recipes, a coin is always inserted and whoever gets it in their piece will have good luck for the next year.
Ingredients
1/2

tsp

mastiha

mastic crystals

2

cups/400 g plus a pinch sugar

5

large eggs

separated

1/2

tsp

strained fresh lemon juice

1

cup/225 g unsalted butter

softened

3/4

cup/180 ml milk

2

tbsp

brandy

Grated zest and strained juice of 1 large orange

1 1/2

cups/150 g ground blanched almonds

2

oz/55 g couverture chocolate

finely chopped, or dark chocolate chips

1

lb

2 oz/500 g self-rising flour

Confectioners'/icing sugar for sprinkling

Chocolate sprinkles or slivered almonds for sprinkling

optional
Instructions
Preheat the oven to 350°F/175°C (gas mark 4). Cut out a round piece of wax/greaseproof paper or parchment paper to line the bottom of a 12-in/30.5-cm round springform or conventional baking pan/tin. Butter the surface of the paper and the walls of the pan. With a pestle, pound the mastic with a pinch of the sugar in a mortar. Set aside.

In the bowl of an electric mixer outfitted with a whisk,whisk the egg whites at medium speed until foamy. Add 1 1/2 cups/300 g of the sugar and the lemon juice, increase the speed to medium-high, and whisk the whites until they form a stiff meringue. Remove from the mixer and set aside.

In a clean, large mixing bowl, use the electric mixer with the paddle attachment to whip together the butter and remaining 1/2 cup/100 g of sugar at medium-high speed until light and fluffy, for about 5 to 7 minutes. Add the egg yolks, one at a time, whisking after each addition. Whisk in the milk, brandy, and orange juice. Stir in the orange zest, almonds, pounded mastic, and chocolate.

Using a rubber spatula, fold the meringue and flour into the egg-yolk-and-liquid mixture, a little at a time, alternating between them.

Pour the batter into the prepared baking pan/tin. Bake for about 1 hour, or until a thin knife inserted into the center of the cake comes out clean. Remove the cake from the oven and invert onto a wire rack to cool. If making the cake for New Year's, wrap a small coin in aluminum foil and insert it into the bottom of the cooled cake.

Turn the cake right-side up and sift confectioners' sugar over the surface. If the cake is for New Year's, write the new number with chocolate sprinkles or almonds.