Lots of people ask me if I can suggest a weekly Mediterranean diet or Ikarian diet meal plan, and while I don't have something per se, mostly because I am not a dietician (and therefore think more like a cook), I can certainly offer up a few tips and ideas for adding variety to your weekly recipe roster, all in the spirit of the Mediterranean diet! And my main inspiration for this plan shows just how delicious and simple (yet versatile and accessible!) this plan can be.
When I first moved to Greece more than 30 years ago, I had a neighbor, Kyria Ioanna, who lived downstairs. I knew exactly what day of the week it was by the delicious smells emanating from her kitchen. Without realizing it, in her traditional ways, she had a weekly meal plan that was the perfect example of the Mediterranean diet.
And each of her weekly food prep meals focused on a different main ingredient for the day: Animal protein on Sundays, a main course vegetable on Mondays, pasta or rice with vegetables on Tuesdays, fish on Wednesdays, a ladero dish on Thursdays, beans on Fridays, and something cheesy for Saturdays. She shopped for all the week's ingredients at the weekly farmer's market, so everything was always seasonal, and her repertoire was that of Greek classics executed by a home cook.
With all this in mind, I developed a menu for the week that features a variety of Mediterranean diet ingredients, all of which you can find from anywhere. They're easy to whip up, but they're still totally delicious, and there are 3 choices per day. Scroll on for my ideal Mediterranean diet meal plan!
Sunday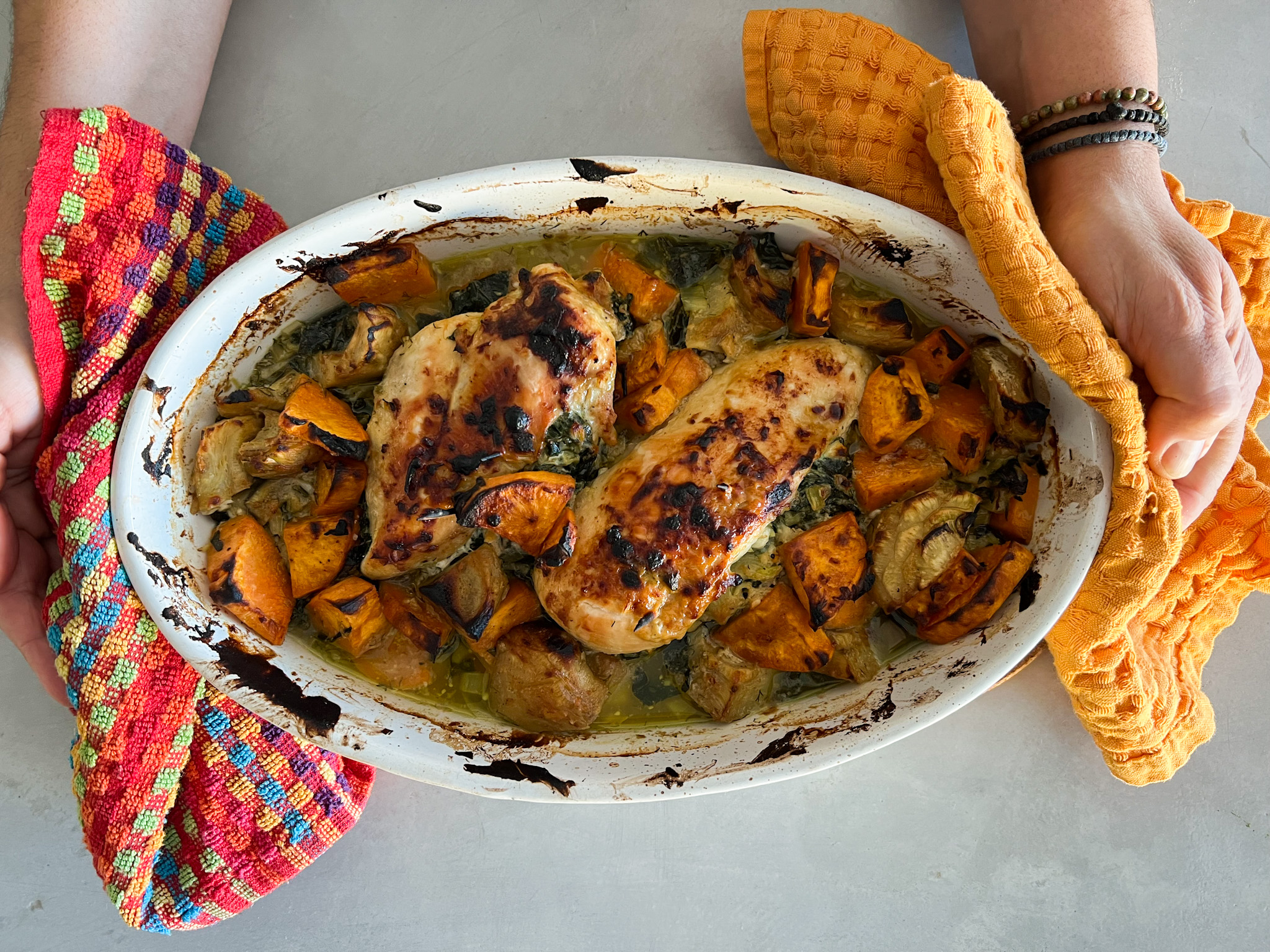 In the spirit of Kyria Ioanna, I'm selecting 3 protein-packed recipes for Sunday. These Chicken Breasts Stuffed with Spinach, Artichokes and Greek Feta are a good way to start the week – I made this with ingredients I had sitting in my fridge and freezer, and they came together for a quick but yummy meal. Another good chicken option? Chicken Thighs Roasted with Fresh Figs, a simple, juicy dish that comes together in a snap. Lamb and Vegetable Souvlaki is the perfect chicken alternative, and can be paired alongside tzatziki and Greek pan-fried potatoes.
Monday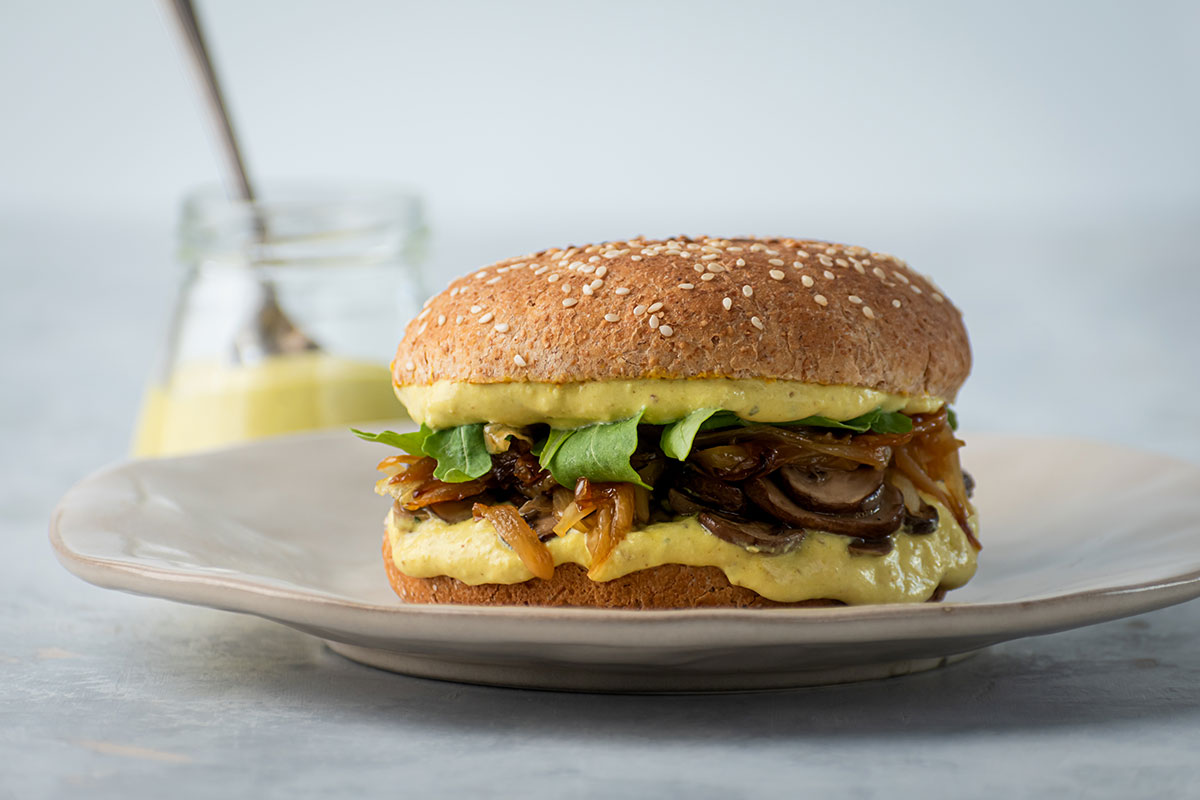 Today, we're focused on vegetable mains! My Mushroom-Caramelized Onion Sandwich with Greek Fava-Yogurt Spread is a great vegetarian sandwich with braised mushrooms, which takes its cue from a classic Greek dish called manitaria stifado, or stewed mushrooms. Another year-round classic is Fasolakia Yiahni (Green Beans in Tomato Sauce), an easy, luscious casserole of fresh beans slowly cooked in olive oil, with tomatoes, onions, potatoes and herbs. Then there's Mageirio, named for the verb, to cook, "mageirevo." It's essentially an all-purpose summer stew, a kind of "throw-everything-in-one-pot," dish that almost every home cook makes at least once a week, making use of everything that grows in her garden.
Tuesday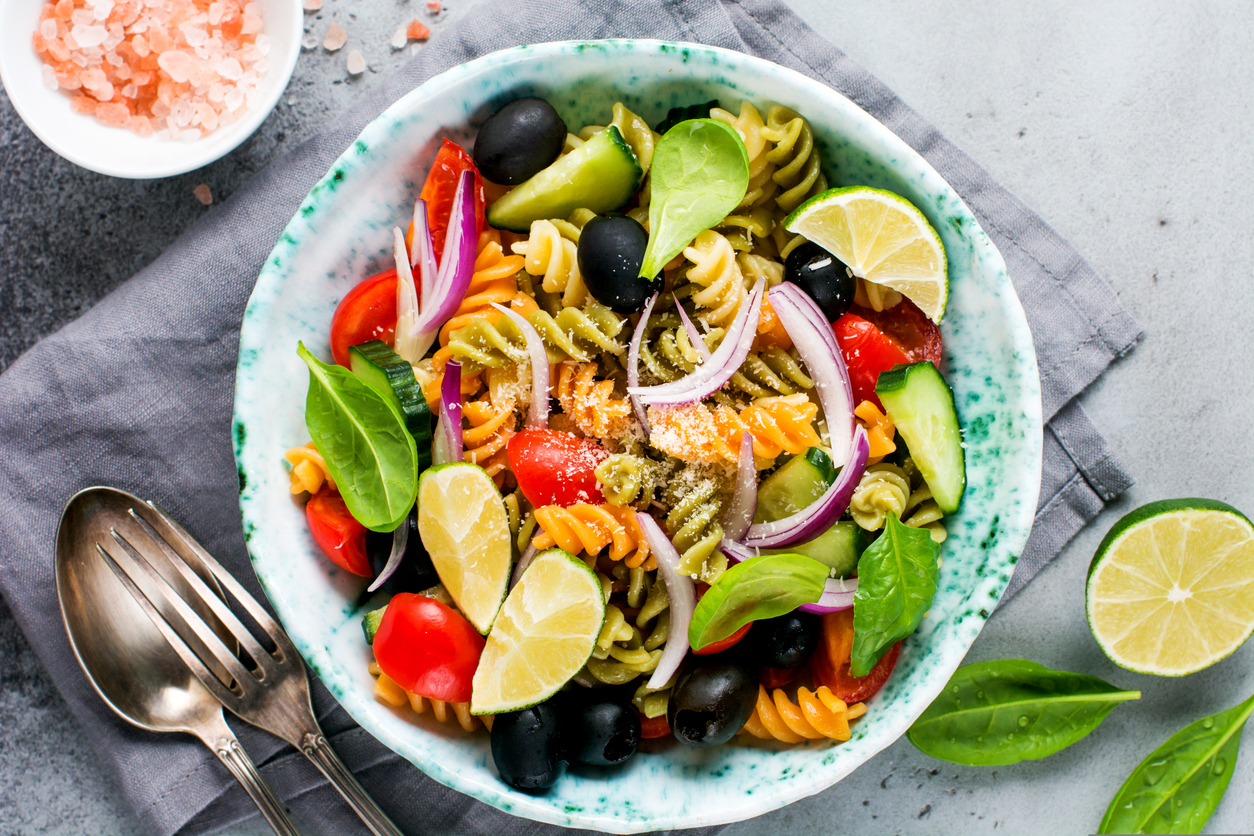 Tuesday is a day for grains! Vegan Greek Salad Fusilli Pasta with Lime, Basil, and Olives is super easy and delicious, a pasta salad that gives you a full bounty of summer vegetables on a bed of healthy pasta. Spanakorizo, or spinach rice, is one of the great, classic, simple vegetarian dishes of the Greek table. It can be totally vegan, or it can be served with feta or greek yogurt as well as a sunnyside up egg. And I love a great, hearty Greek salad that can double as a main course, which is why this Wheat Salad With Sundried Tomatoes, Dodoni Feta And Herbs often ends up in my weekly meal plan rotation.
Wednesday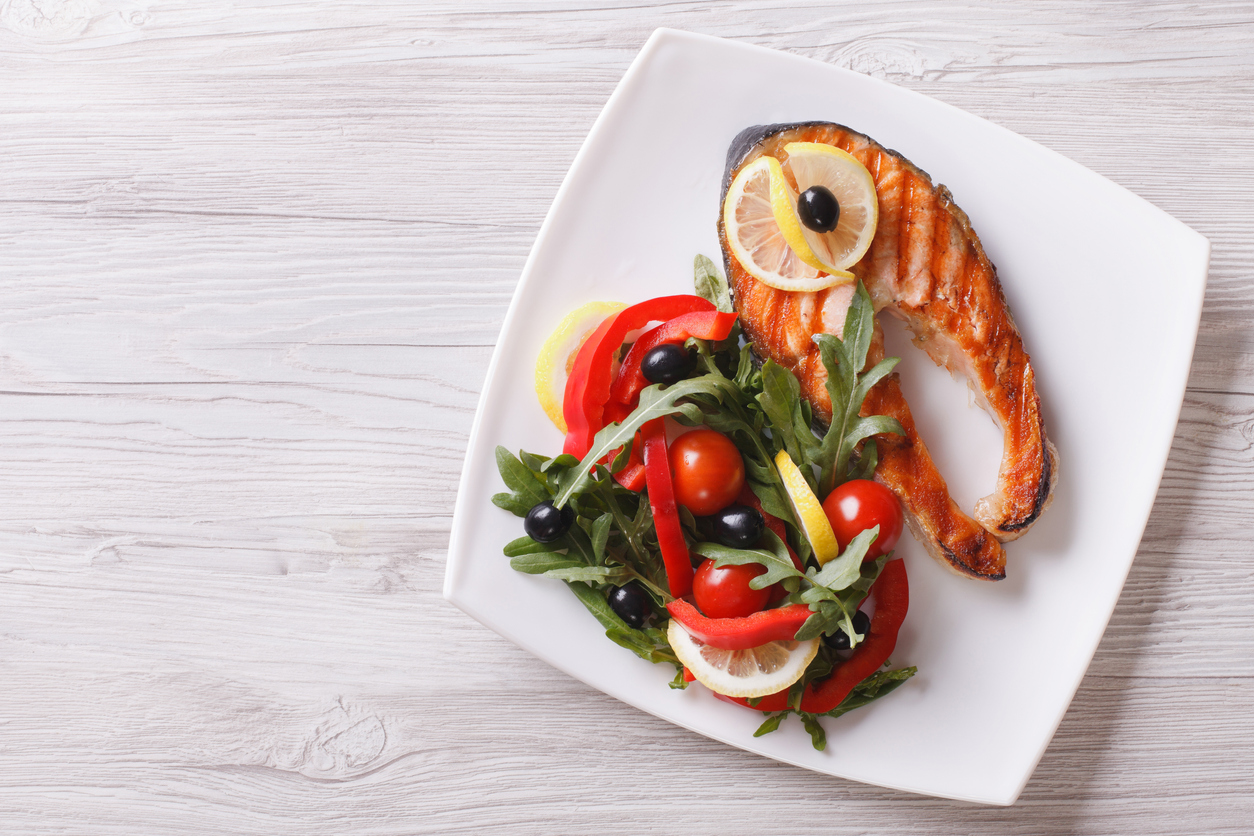 Let's focus on fish. Grilled Salmon with Tomatoes and Olives puts a Greek touch on classic grilled salmon. Want to get a bit more fancy? Fish Steaks with Santorini Capers, Blood Orange, Ouzo & Leeks are easy to make, but the addition of blood orange and Santorini capers gives it a kick of complexity. Here's another option: sardines, packed with omega fatty 3 acids and antioxidants, are a favorite fish in Greece. We eat them grilled, fried and baked. This recipe for Baked Sardines with Ouzo, Tomatoes, Capers, and Lemon, from Season 1 of My Greek Table, is inspired by the flavors of Lesvos.
Thursday
You're almost at the weekend, so it's time to mix it up! Let's start with Greek Spicy Spaghetti with Shrimp, a pasta that brings the spice alongside lots of herbs and extra virgin Greek olive oil. And this delicious Vegan Moussaka recipe will delight the most diehard traditionalists. It's an excellent combination of classic Mediterranean diet ingredients, such as vegetables and beans, all the wonderful robust flavors associated with Greek cooking, and a few new techniques that will surprise you. Try another riff on a classic recipe, Imam Bayldi, with these deliciously sweet, totally vegan stuffed eggplants stuffed with onions and tomatoes. It's one of the great ladera (olive-oil-based) dishes of Greece, and one of my favorite stuffed vegetable dishes.
Friday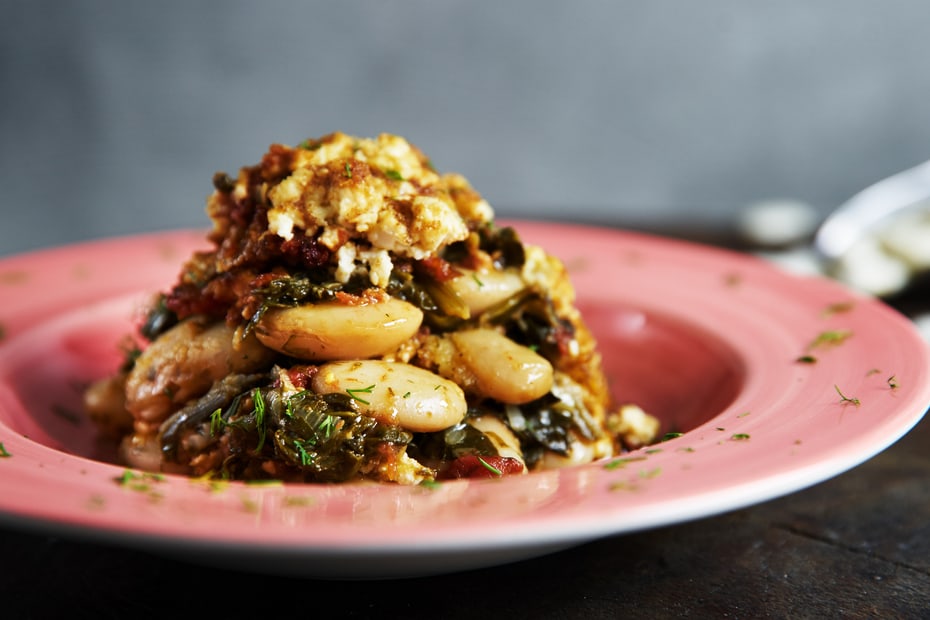 Fridays are the day for beans and legumes, starting with Messinia Style Giant Beans Baked (Gigantes) with Spinach & Feta, a Greek bean recipe is inspired by the delicious traditions of Messinia, in the Peloponnese, where beans and greens are often cooked together with a generous amount of local extra virgin Greek olive oil. Next up, lentils, a legume that figures prominently in the plant-rich Mediterranean diet. I have lots of these recipes, but I particularly love the Red Lentil Soup with Tomato Paste, Herbs & Spices. And bring beans into the soup mix with Vegetable Soup With Borlotti Beans, Spinach, And Parmesan.
Saturday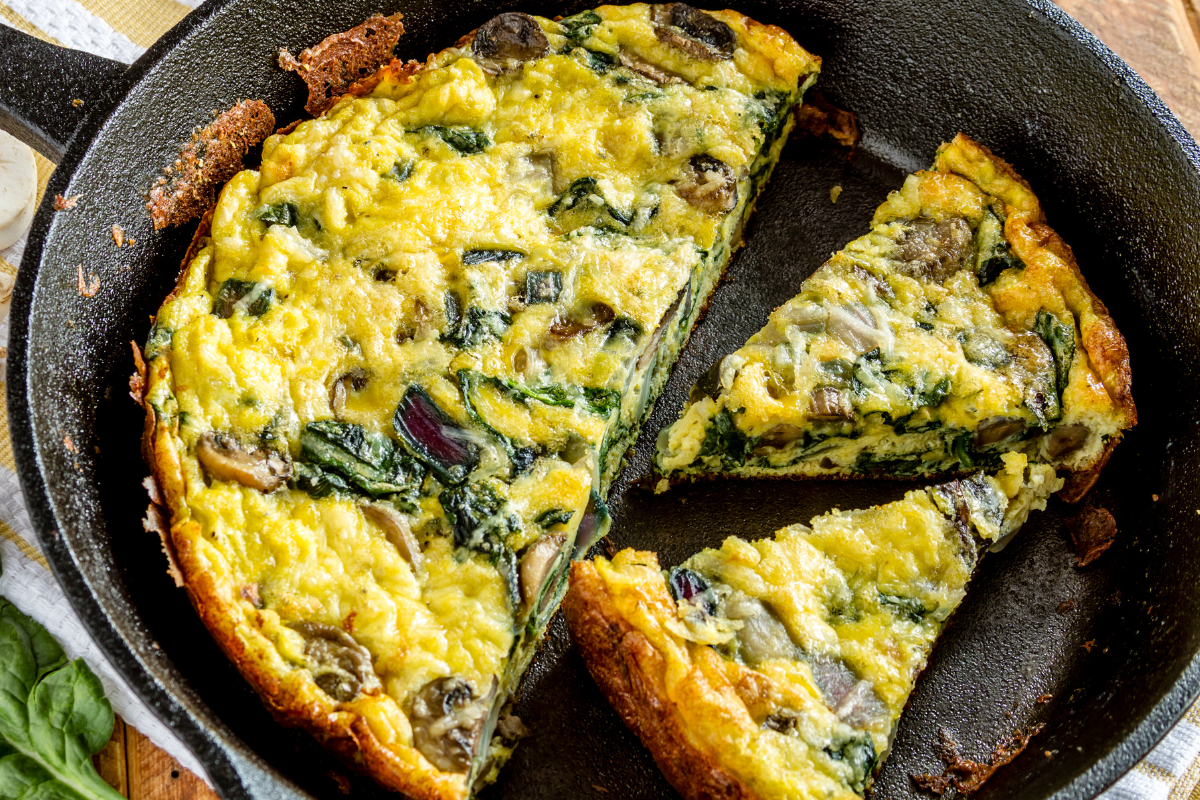 Are you ready for something cheesy? This Spanakopita Frittata with Pine Nuts is great any time of the day, plus it's great and easy and slightly crunchy with the addition of pine nuts. Even cheesier is this Phyllo Pie With Zucchini, Feta & Mint, a savory pie from Season 4 of My Greek Table that can be everything from breakfast and brunch to lunch and a main course at dinner. And finally, scratch that fettuccine alfredo itch with my Fetuccine Al Greco, a tangy, healthy pasta dish that uses Greek yogurt in lieu of unhealthy cream sauce.