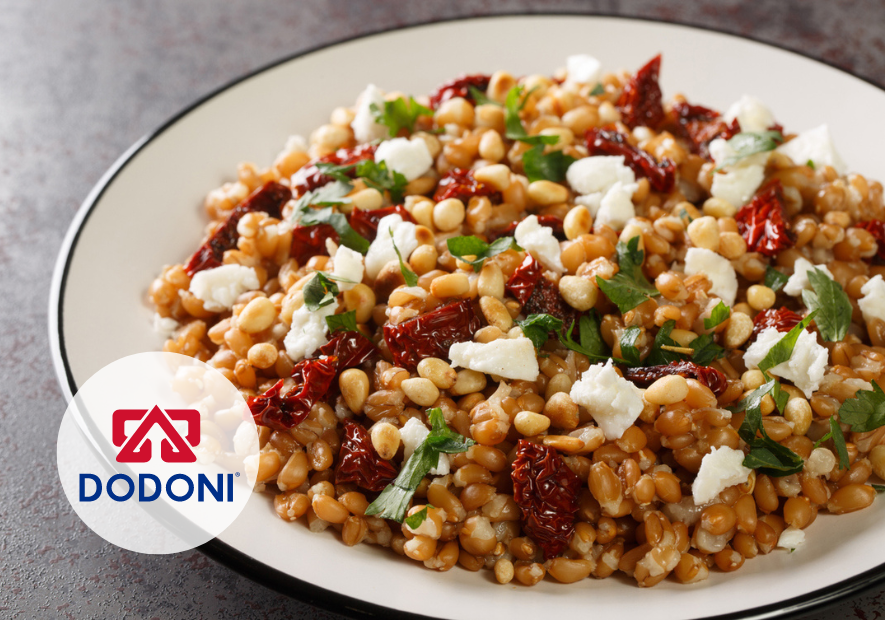 Wheat Salad With Sundried Tomatoes, Dodoni Feta And Herbs
---
I love a great, hearty Greek salad that can double as a main course. I created this recipe for a wheat salad with sundried tomatoes, Dodoni Feta, and herbs with that in mind, using My Greek Table season 4 sponsor's Dodoni Greek feta. It speaks to the medley of Mediterranean diet ingredients that are healthy, timeless and meant to sate our palates and appetites. There are many forms of wheat used in dishes like this all over the Mediterranean. The addition of sun-dried tomatoes speaks to the long tradition of preserving the foods of summer for enjoyment in winter. Herbs have always been a seminal flavoring agent in every Mediterranean cuisine, more so, though in Greece than anywhere else. ANd the feta is the crowning element, adding tangy flavor, protein and enough pungency to balance against the earthiness of the wheat. Enjoy this any time of the year!
Ingredients
1

cup

wheat berries

5

cups

of water

1

bay leaf

1

cup

finely chopped fresh parsley or basil leaves

⅔

cup

coarsely chopped sundried tomatoes

8

tablespoons

extra virgin Greek olive oil

3

tablespoons

fresh lemon juice

½

cup

crumbled Dodoni feta

for garnish
Instructions
Follow the box directions for cooking the wheat berries, simmering it as per directions, in ample lightly salted water with a bay leaf added to the pot. When tender, after about 30 - 45 minutes of simmering, drain the cooked wheat and discard bay leaves. Let the wheat cool.

In a small bowl, whisk together the olive oil, lemon juice and a pinch of salt until emulsified and smooth. Add the cooked wheat, sun-dried tomatoes and herbs to a serving bowl. Mix in the dressing. Sprinkle the crumbled Dodoni feta on top and serve.
Want to learn more easy, healthy Mediterranean diet recipes? Sign up for my online course "Mastering the Mediterranean!"