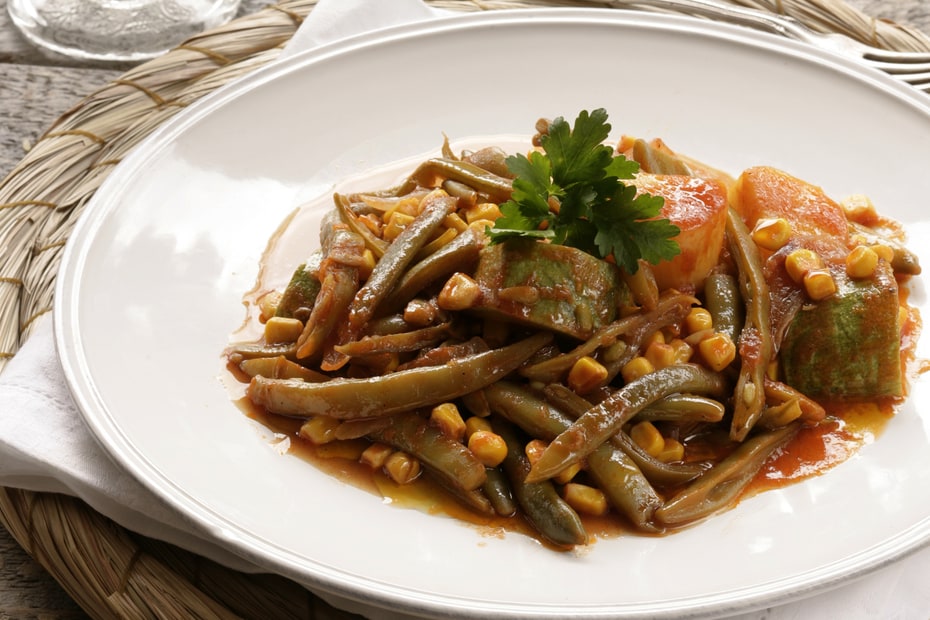 Mageirio - Ikarian Vegetable Stew
---
Mageirio, after the verb, to cook, "mageirevo," is essentially an all-purpose summer stew, a kind of "throw-everything-in-one-pot," dish that almost every home cook makes at least once a week, making use of everything that grows in her garden. This and the next recipe offer slight variations on the theme. If amaranth greens are unavailable, you can use any sweet green, such as chard or dandelion.
Ingredients
1/3-1/2

cup

extra virgin Greek olive oil

2

medium red onions

coarsely chopped, about 2 cups

4

garlic cloves

crushed

2

pounds

/ 1 kilo green beans

trimmed and halved crosswise

3

green bell peppers

trimmed and seeded and cut into ½-inch / 1 ¼ cm rings or strips

1

fresh chili pepper

optional, whole

3

ears corn

trimmed and halved

4

medium

waxy potatoes, peeled and cubed

3

large

firm ripe tomatoes, chopped or grated

½

pound

amaranth or sweet dandelion greens

trimmed and coarsely chopped

1

cup

chopped fresh mint

½

cup

chopped fresh flat-leaf parsley
Instructions
Heat 1/3 cup olive oil together with 3 cups water in a large pot over medium-high heat. As soon as the water simmers, add the onions, garlic, beans, peppers, corn, and potatoes. Simmer for about 25 minutes, or until the potatoes and corn are tender but al dente.

Add the tomatoes, greens and herbs. Season with salt. Stir gently to combine, cover, and simmer over low heat until all the vegetables are very tender, about 20-25 more minutes. Serve warm or at room temperature, drizzled with as much additional olive oil as desired.
Want to learn more about Ikaria Longevity Cooking? Sign up for my online class bundle "Everything Ikaria 101!"