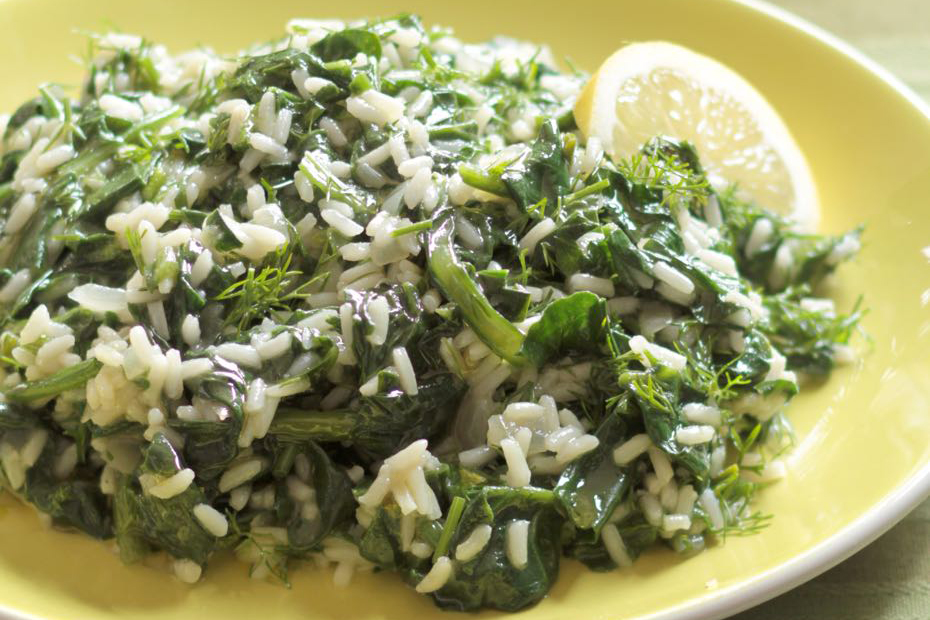 Spanakorizo, Greek spinach rice
---
Spanakorizo, or spinach rice, is one of the great, classic, simple vegetarian dishes of the Greek table. It can be totally vegan, or it can be served with feta or greek yogurt as well as a sunnyside up egg. A squeeze of lemon over the rice, which is how Greeks eat it, make this an even greater nutritional bomb, as the lemon helps our bodies absorb the iron in the spinach. To find some of the artisinal Greek products you'll need to make this, visit my online shop
here
, where you'll discover a host of lovingly curated Greek ingredients.
Ingredients
1

large onion

finely chopped

2

garlic cloves

finely chopped

3

scallions

trimmed and

1

medium fennel bulb

trimmed and chopped

1

cup

long- or medium-grain Greek rice

1 ½

pounds

fresh spinach

stems remove, coarsely chopped

½

bunch fresh dill

snipped or chopped

Extra virgin Greek olive oil as needed

about 2/3 cup

1

– 2 fresh lemons

Feta cheese or Greek yogurt for serving
Instructions
Heat ½ cup of olive oil in wide pot. Saute onions, scallions, and fennel until soft, about 10 minutes, over medium-low heat. Stir in the garlic. Add the rice. Stir to coat with the oil. Add spinach in batches and stir to cook down, until all of it has been added.

Season with salt and pepper. Add 2 cups water or vegetable stock. Cook over low heat, covered, until rice is very tender, about 45 minutes. Add more water or stock if necessary.

Add dill five minutes before end and stir gently to wilt.

Stir remaining olive oil, lemon juice, additional salt and pepper to taste just after removing from heat. Serve with Greek feta or Greek yogurt.
Want to learn more easy, healthy Mediterranean diet recipes? Sign up for my online course "Mastering the Mediterranean!"
Love vegetables? Want to learn more great plant-based Mediterranean dishes? Enroll in my online  class "Baked Vegetable Classics!" 
Notes
Adapted from IKARIA: LESSONS ON FOOD, LIFE & LONGEVITY FROM THE GREEK ISLAND WHERE PEOPLE FORGET TO DIE (Rodale)