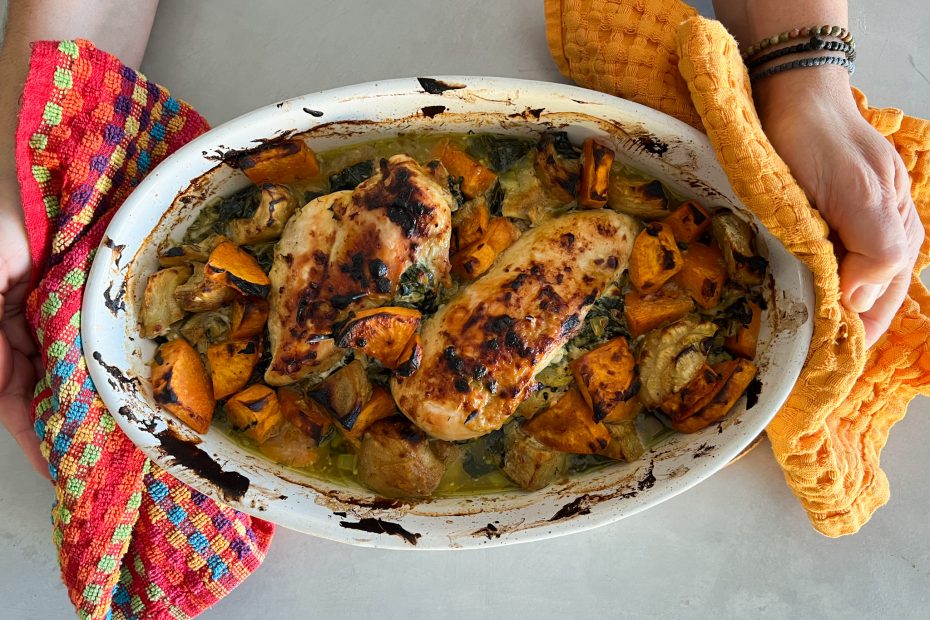 Chicken Breasts Stuffed with Spinach, Artichokes and Greek Feta
---
When most people think of Greek chicken recipes, whole roasted chicken with oregano and garlic probably comes to mind. Or maybe a chicken yiouvetsi, with orzo or Greek hilopites (pasta). This Greek recipe for chicken breasts stuffed with spinach, artichokes and Greek feta was born by accident in my kitchen when a few friends popped over unexpectedly. I had all these basic Greek diet ingredients in my fridge and freezer and put together a quick but yummy meal. Make sure to use Greek feta!
Ingredients
4 to 6

tablespoons

extra virgin Greek olive oil

1

leek

trimmed and chopped

½

large fennel bulb

chopped

2

tablespoons

chopped garlic

4

cups

fresh chopped spinach

6

frozen and defrosted or fresh artichoke hearts*

2/3

cup

chopped fresh dill

Finely grated zest of 1 lemon

Freshly ground black pepper to taste

3

– 4 ounces Greek feta

2

boneless

skinless chicken breasts

1

sweet potato

halved lengthwise and cut into ½-inch piece or chunks
Instructions
Warm 3 tablespoons of olive oil in a large skillet over medium heat and cook the leek and fennel bulb until wilted, about 7 to 8 minutes.

Coarsely chop two of the artichoke hearts. Set the others aside in acidulated water.

Stir in the garlic then add the chopped spinach, in batches of necessary, stirring after each addition until the spinach loses volume but isn't completely wilted. Season with salt and pepper.

Add the artichokes to the spinach mixture and stir to combine. Stir in the chopped dill and parsley and grate the lemon zest over the mixture. Stir to combine and remove from heat.

Let it cool for a few minutes, then crumble the feta into the mixture.

With remaining olive oil, lightly oil a baking dish large enough to hold the breasts and the excess filling which will be spooned around it. Preheat the oven to 350F/170C.

Using a sharp knife, cut pockets into the fat side of each chicken breast. Season the chicken with salt and pepper. Stuff each breast with about 3 to 4 tablespoons of the spinach mixture. Secure each stuffed breast closed with a toothpick and place in the oiled baking dish. Spoon the remaining filling around the breasts.

Cut the remaining artichoke hearts into ½-inch thick slices. Combine in a bowl with the sweet potato.

Whisk together the yogurt, mustard, honey, olive oil and lemon juice and season the mixture with salt and pepper. Pour about half this mixture into the sweet potato-artichoke mixture and brush the remaining half generously over the chicken breasts. Nestle the artichoke-sweet potato mixture around the chicken breasts, tucking it into the spinach mixture.

Bake, covered, in a preheated oven at 350F / 170C for about 40 minutes, or until the breasts are thoroughly cooked. About 8 minutes before removing from the oven, remove the covering and allow the chicken breasts to brown. You can also do this by turning on the broiler for the last few minutes.

Remove and serve.
Love chicken? Check out my online class "Wing It! – Great Mediterranean Chicken!"
Want to learn more easy, healthy Mediterranean diet recipes? Sign up for my online course "Mastering the Mediterranean!"