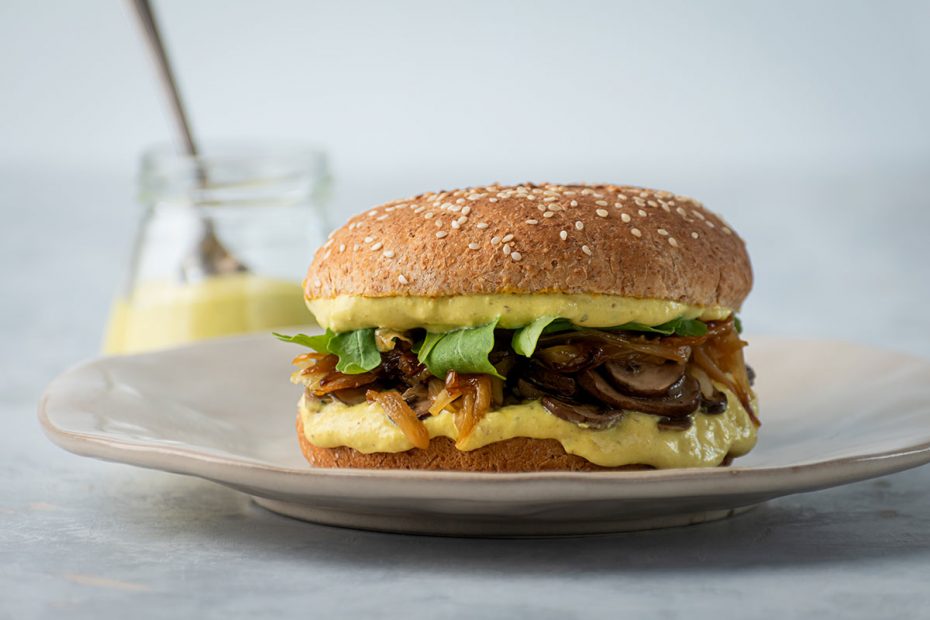 Mushroom-Caramelized Onion Sandwich with Greek Fava-Yogurt Spread
---
This Greek recipe for a great vegetarian sandwich with braised mushrooms takes its cue from a classic Greek dish called manitaria stifado, or stewed mushrooms. I often serve that over a velvety bed of Greek fava, the classic yellow split-pea puree. Here, I've turned the combo into a sandwich befitting of the best that the Mediterranean diet has to offer: great flavor, easy ingredients, and unquestionable nutrition!
Instructions
Heat half the olive oil in a medium-large skillet and add the onions. Cook until wilted over medium-low heat, add a generous pinch of salt and continue to cook until golden, about 20 – 30 minutes.

In a separate skillet, heat the remaining olive oil and cook the mushrooms, thyme sprigs and garlic together until the mushrooms are soft and all their pan liquid has been cooked off. Remove from heat.

Spread 1 tablespoon of the fava-yogurt spread on each of the bread surfaces (2 per sandwich). Top with mushrooms, caramelized onions and some of the arugula, evenly divided among the four rolls. Serve.
Want to learn more easy, healthy Mediterranean diet recipes? Sign up for my online course "Mastering the Mediterranean!"
Love vegetables? Want to learn more great plant-based Mediterranean dishes? Enroll in my online  class "Baked Vegetable Classics!"