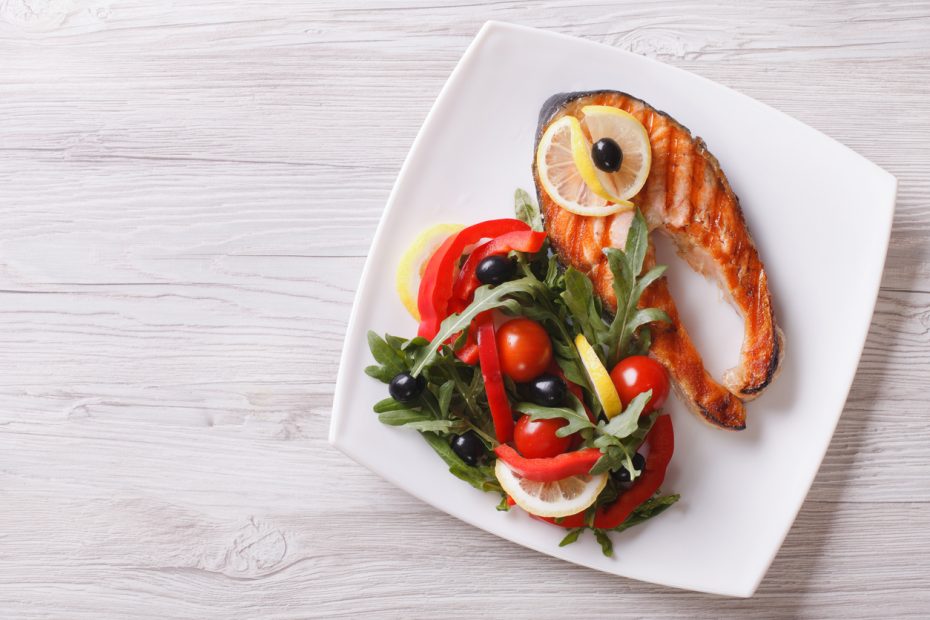 Grilled Salmon with Tomatoes and Olives
---
Salmon grilled to perfection, with a Greek touch to it: olives and tomato sauce!
Ingredients
1 ½

cup

300 gr. ripe tomatoes, seeded, cut into small cubes

6

tbsp

olive oil

12

Kalamata or other black olives, preferably Greek

pitted

¼

cup

fresh thyme

chopped

A few thyme sprigs or sage or other herb, for garnish

2

tbsp

capers

drained

2

large garlic cloves

cut into thin slices

6

salmon fillets or steaks

180 gr. each

Mustard
Instructions
In a medium bowl, combine the tomatoes, 4 tablespoons olive oil, olives, thyme, capers, and garlic. Let stand in the refrigerator for at least 30 minutes and up to 2 hours.

Turn on the oven grill (medium to high heat) or prepare the barbecue.

Season the salmon with salt and pepper to taste.

In a medium bowl, whisk a little bit of oil with mustard, ground pepper, and a bit of minced garlic.

Spread the fresh thyme in an ovenproof pan. Place salmon fillets or steaks over it. Brush the salmon fillets with the mustard sauce and then grill.

Serve with the tomato, olives, thyme, capers, and garlic.
Want to learn more easy, healthy Mediterranean diet recipes? Sign up for my online course "Mastering the Mediterranean!"
Want to learn more easy, healthy Mediterranean diet recipes? Sign up for my online course "Mastering the Mediterranean!"