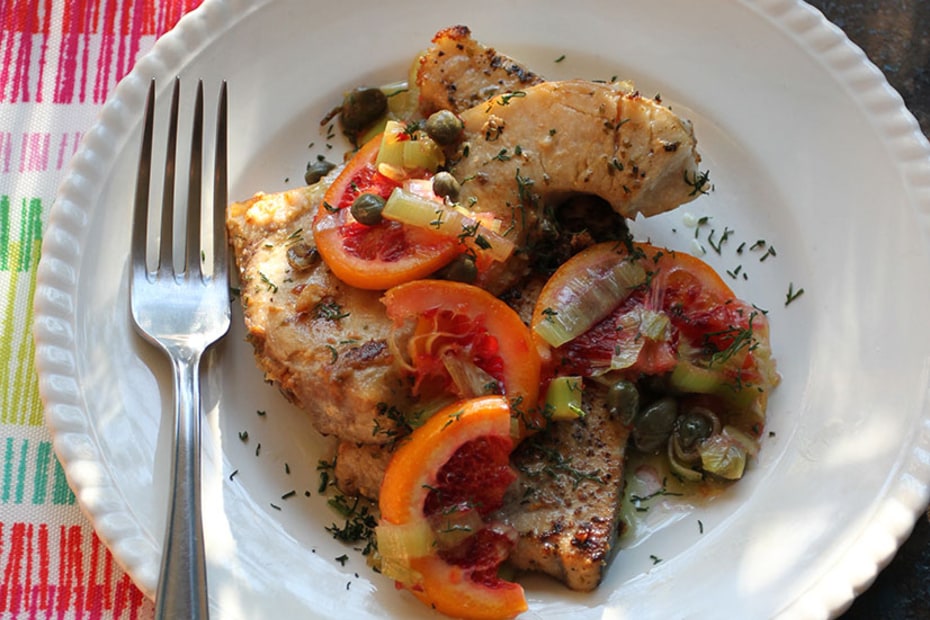 Fish Steaks with Santorini Capers, Blood Orange, Ouzo & Leeks
---
Fish is an integral part of the Greek-Mediterranean diet and there are many Greek recipes for fish and seafood. Most of these Greek recipes for the fruits of the sea are easy and make for delicious, healthy quick meals. Enjoy this simple fish steak recipe, and use any fish of choice. 
Instructions
Place the fish steaks in an oiled baking dish. Preheat the oven to 350F/170C.

Juice 1 ½ oranges and cut the remaining 1 ½ oranges into 12 wedges (4 slices per half). Whisk together the orange juice, ½ the ouzo, 2 tablespoons of olive oil, half the wild oregano and 1 teaspoon of the wild thyme. Pour over the fish and marinate for 30 minutes or up to three hours.

In a large skillet over medium heat, heat the remaining 2 tablespoons of olive oil and cook the leek until softened slightly, about 8 minutes. Stir in the garlic and toss in the pan. Add the remaining ouzo and orange wedges and gently stir or shake in the pan to combine. Heat for 3 minutes, then add the tomato wedges. Stir in the capers. Remove from heat and stir in remaining dried herbs.

Season the fish steaks with sea salt and pepper. Spoon the orange-leek-caper mixture over the fish steaks and bake, covered, for about 15 to 20 minutes, or until fork tender. Remove and serve.