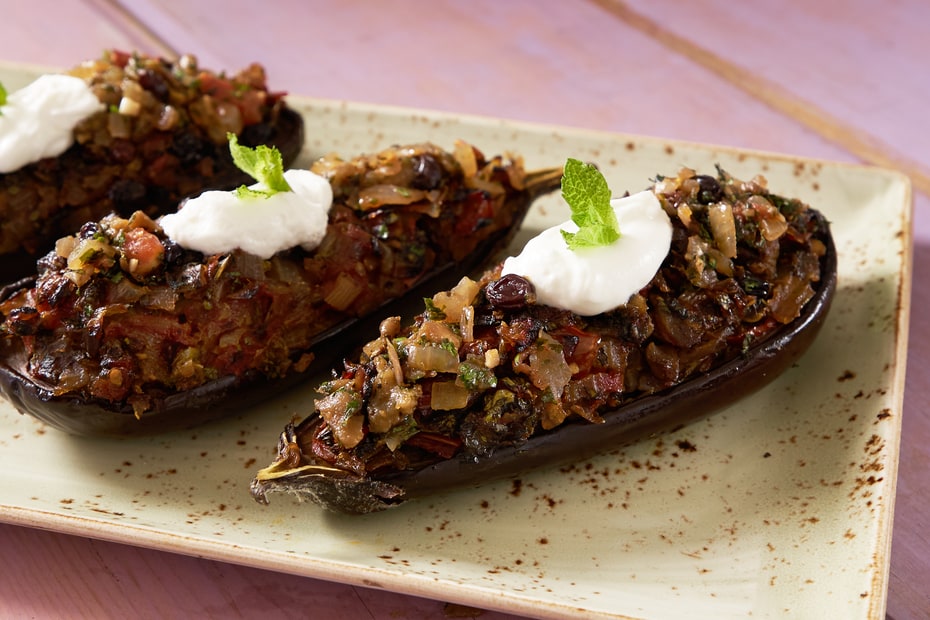 Eggplants Stuffed with Onions, Raisins, and Grape Molasses
---
These deliciously sweet, totally vegan stuffed eggplants are a riff on a classic dish, Imam Bayldi, eggplants stuffed with onions and tomatoes. It's one of the great ladera (olive-oil-based) dishes of Greece, and one of my favorite stuffed vegetable dishes. If you have access to a wood-fired oven, try baking it in there, which is what I like to do in our village on Ikaria in the summers, when the eggplant harvest from our garden overflows.
Ingredients
½

cup

extra virgin Greek olive oil

or more, as needed

6

red onions

coarsely chopped

4

garlic cloves

minced

5

fresh tomatoes

coarsely chopped

4

tablespoons

Greek or other seedless raisins

3

tablespoons

petimezi

grape molasses

1 to 2

tablespoons

balsamic vinegar

4

medium eggplants

1

cup

chopped fresh mint

1

cup

chopped fresh parsley

Salt

pepper to taste
Instructions
Preheat the broiler.

In a deep skillet or wide pot over medium heat, warm 3 tablespoons of olive oil and cook the onions until wilted and just starting to brown, about 12 to 15 minutes. Stir in the garlic. Add the tomatoes and stir to combine. Raise heat to medium-high and cook for about 10 to 15 minutes all together, until most of the liquid from the tomatoes cooks off. Stir in the raisins, petimezi and balsamic. Set aside to cool.

Cut the eggplant down the middle lengthwise, keeping the stems intact (they look pretty when baked).

Using a sharp paring knife, criss-cross and score the open, flesh side of each eggplant half, careful not to draw the knife completely down to the skin or to puncture the skin in any way. Lavishly brush the eggplant halves, skin and flesh, with extra virgin Greek olive oil.

Place on a lined cookie tray or shallow pan, flesh-side down. Broil 8 inches / 20 cm from heat source for about 5 to 7 minutes, until the skin starts to char lightly, then turn using kitchen tongs to broil on the other side. Remove when the flesh is tender but still al dente, in about 6 to 7 minutes. Pierce the flesh with a fork to gauge its readiness. Remove and set aside to cool. Switch the oven to bake mode and preheat to 350F / 175C.

Using a tablespoon, carefully remove most of the pulp from the eggplant, leaving enough around the perimeter of each eggplant half to keep it firm enough to hold up to the filling. I usually leave about an eighth of an inch.

Coarsely chop the pulp and mix into the onion-tomato mixture. Mix in the herbs and season with salt and pepper. Place the eggplant halves in an oiled ovenproof glass or ceramic baking dish just big enough to hold them snuggly. Spoon equal amounts of the tomato-onion mixture into the eggplant halves. Bake for 30 minutes, or until the filling is set and the onions soft. Remove, cool slightly and serve, drizzled, if desired with additional extra virgin olive oil.