Greeks just might be born to grill – so, of course, it makes sense to go Greek for Father's Day! Grilling is everywhere in Greece, no matter where you go, and historically this cooking method has long been a part of the Mediterranean cooking repertoire: evidence of grilling can be found in Greece's Mycenaean civilization during ​​1600-1100 B.C. Archaeologists have uncovered ceramic trays made for grilling souvlaki, and griddles made for grilling bread, in addition to the large hearths where most of their meals were prepared. It was a major culinary advancement for a fairly basic cooking technique!
And in past seasons of My Greek Table, I discovered that the basic, ancient methods of grilling are still part of the Greek diet and grill masters are held in particular esteem. One can learn to cook, as they say in Greece, but one is born to grill! This was demonstrated by Professor John Camp, who for decades directed the excavations of the Ancient Athenian Agora – he showed me many cataloged artifacts unearthed over the years, indicating that nothing has really changed except the technology.
And of course, all grilled dishes make a great treat for dad on Father's Day. Whether it's a juicy mini burger, or a peached charred over hot coals, there are lots of ways to up your grilling game for Father's Day. So fire up the grill, and show your dad how much you care with my favorite Greek recipes for grilled starters, salads, mains, and desserts below!
Starters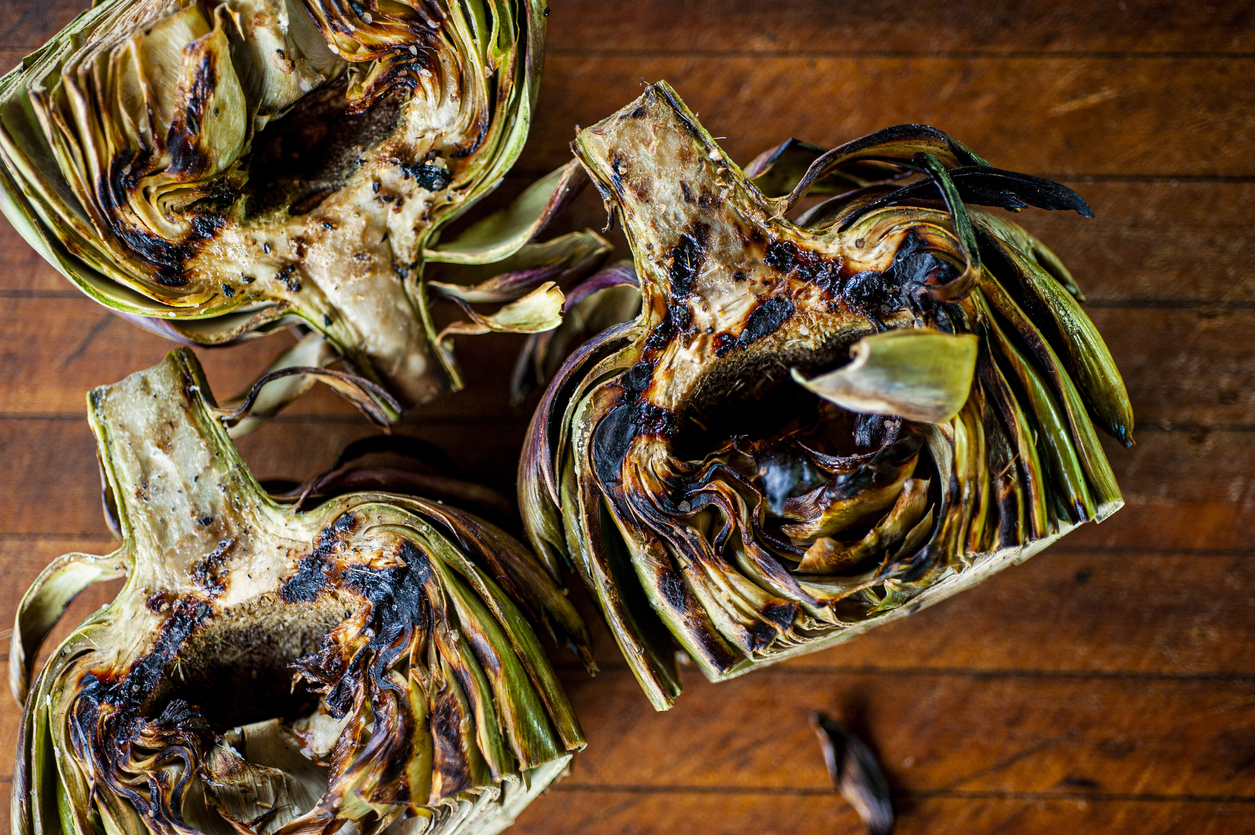 Grilled vegetables make for incredibly versatile starters! Grilled Artichokes with Greek Lemon Vinaigrette are one of my favorites. They're super simple, and you can serve them alongside a bowl of lightly salted Greek yogurt with a little extra virgin olive oil and lemon zest. And this recipe is proof that sometimes the easiest Greek diet recipes are the tastiest! This Grilled Eggplant is drizzled with a simple combination of basic Mediterranean diet ingredients — tomatoes, fresh herbs (in this case cilantro), extra virgin Greek olive oil and a special fermented honey vinegar, and it makes a wonderful meze to savor and share with friends. But if grilled vegetables aren't your thing, I have another option: Grilled Halloumi With Greek Honey, the perfect, easy welcome nosh when friends arrive. I prepared this when my friends arrived for a dinner party, one of our episodes on season 4 of My Greek Table.
Salads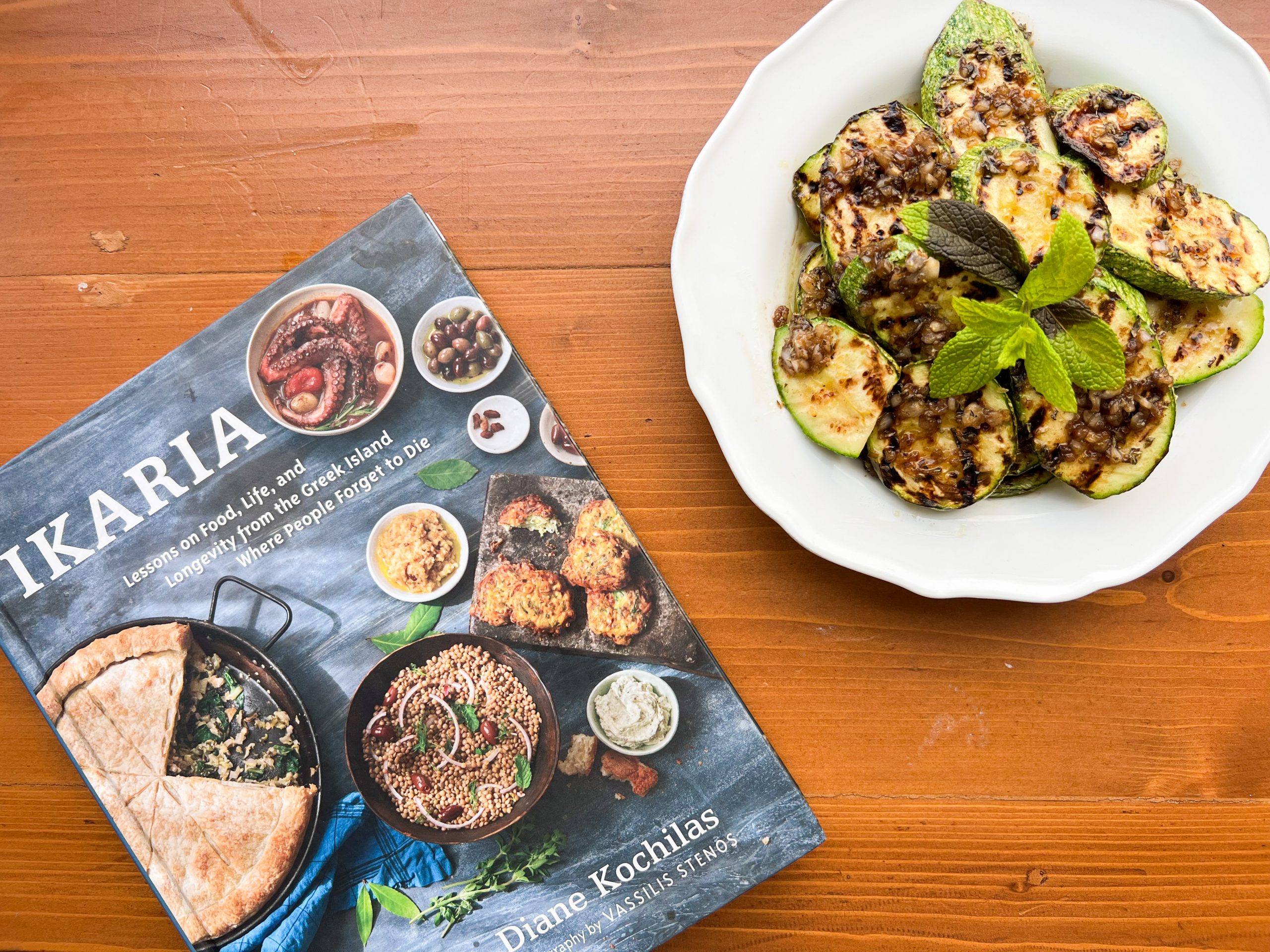 Even your salads can get a good grilling on Father's Day! Halloumi, one of the cheeses that holds up best to grilling, makes an appearance in this Arugula-Strawberry Salad with Grilled Halloumi, a lovely and light option that makes excellent use of fresh strawberries. Then there's my Ikaria-Style Grilled Zucchini Salad, made with lots of garlic and oregano. It's a Greek recipe adapted from my first Ikaria book: Ikaria: Lessons on Food, Life and Longevity from the Greek Island Where People Forget to Die. And this colorful Grilled Corn & Potato Greek Salad with Purslane & Cherry Tomatoes is hearty and healthy, especially with the addition of purslane, one of the world's most nutritious wild greens.
Mains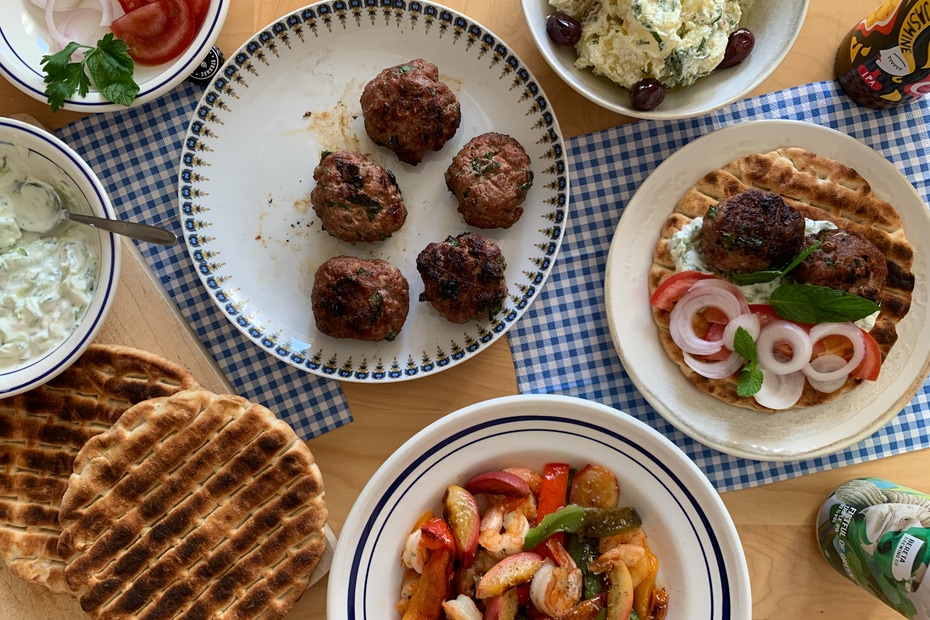 The Greek diet is filled with great grilled mains. These Small Lamb Burgers With Onion Juice Marinade are a spicy mini burger with Eastern Mediterranean flavors! Another option that is found in variations all over the Eastern Mediterranean and Eastern Aegean? My Ground Lamb Kebabs, served with pita rounds and tzatziki. And then, of course, there are these Seared Lamb Chops with Lemony Ouzo-Caper Sauce. In this recipe, wild Greek herbs and garlic make for a great dry rub and capers, ouzo and lemon zest provide the flavors for a delicious sauce to pour over the succulent chops.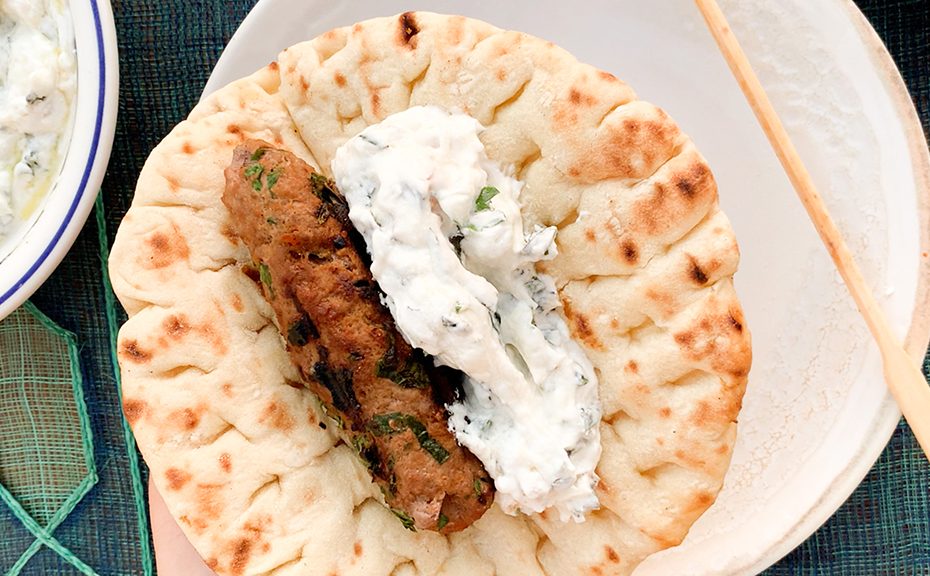 If you're not into red meat, there are other Greek options, like these Chicken Skewers Marinated in Yogurt and Spices. They're not your everyday chicken skewers – marinating chicken in yogurt produces very tender, almost flaky meat. And, of course, there are lots of recipes for grilled seafood, like Grilled Salmon with Tomatoes and Olives, or Classic Grilled Octopus, a classic Greek recipe that is perfect if you're looking for something beyond burgers to throw on the grill.
Desserts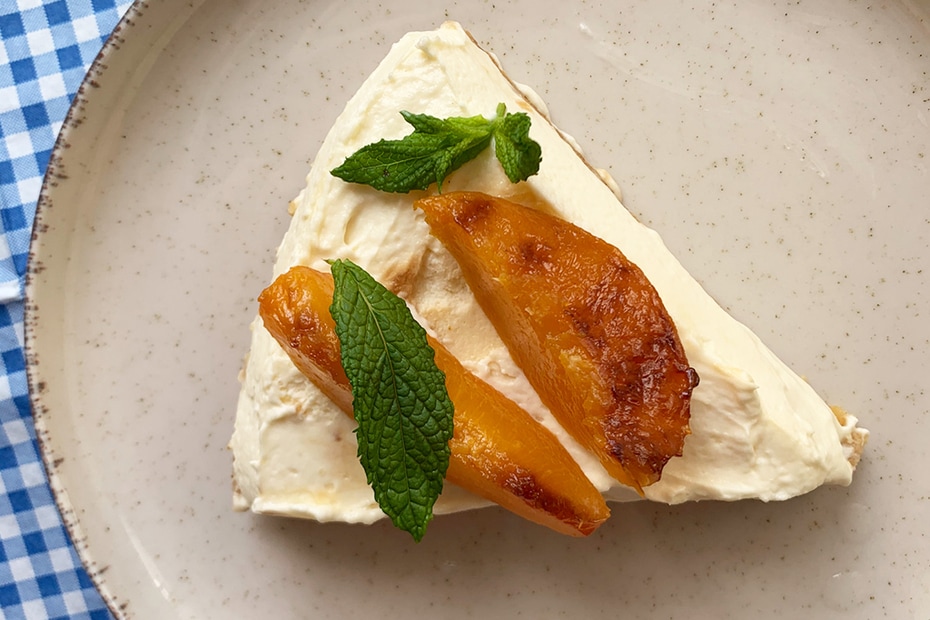 This Greek recipe for Refrigerator Cheesecake With Grilled Fruit & Greek Honey is a year-round classic. The best part about it? You can top your cheesecake with any seasonal fruit, and all of it tastes great when it's fresh off the grill. And while grilled fruit is not a Greek tradition, I give this simple, elegant recipe for Grilled Ginger Peaches a Greek twist with the addition of a marinade that calls for any one of the organic regional olives oils available at my online shop. And just because grilled fruit isn't inherently Greek, doesn't mean I don't love it – especially when seasoned with a little Greek wine. Grilled Summer Fruit Packets with Greek Wine and Greek Yogurt is the perfect Mediterranean Diet dessert: light, fresh, easy, and made with healthy ingredients like fresh fruit and Greek yogurt. You can swap out the plums and grapes for peaches, nectarines and cherries.