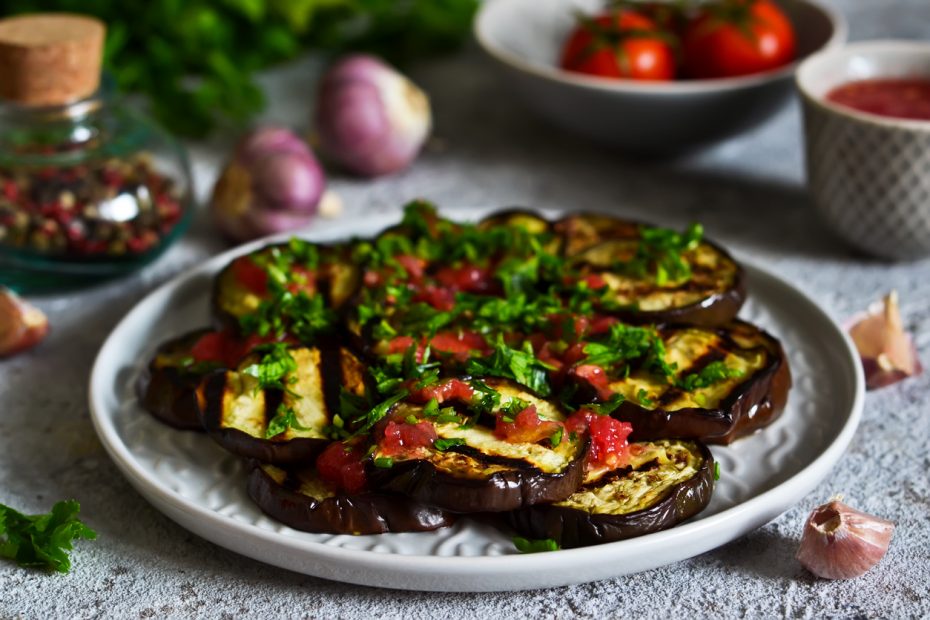 Grilled Eggplant with Cilantro, Tomatoes & Honey Vinegar
---
Sometimes it is the easiest Greek diet recipes that are the tastiest! This grilled eggplant recipe, drizzled with a simple combination of basic Mediterranean diet ingredients -- tomatoes, fresh herbs (in this case cilantro), extra virgin Greek olive oil and a special fermented honey vinegar--makes a wonderful meze to savor and share with friends. I like to make this all summer when I am in my native village on the Blue Zone Greek island, Ikaria. The consumption of fresh, seasonal vegetables and plant-based recipes, as well as of fermented foods like the vinegar that is splashed over this, are one of the longevity secrets to these islanders' legendary lifespans.
Ingredients
2

large eggplants

trimmed and cut into ¼-inch rounds

½ - 2/3

cup

extra virgin Greek olive oil

Freshly grated black pepper to taste

1

bunch cilantro

trimmed and leaves chopped

1

– 2 large

firm, ripe tomatoes, trimmed and diced

2

garlic cloves

minced

1

splash of honey vinegar

or as much as desired
Instructions
In a large basin or mixing bowl, toss the eggplant slices with sea salt, pepper and ½ cup olive oil, or more, as needed.

Combine the chopped tomato, garlic, cilantro in a mixing bowl. Season with a little salt and pepper, a drizzling of olive oil. and a splash of the honey vinegar. Set aside.

Fire up the grill to medium, or heat a grill pan on top of the stove over medium-high heat. Lightly oil the pan. Grill the eggplant slices until tender, turning once, so that there are grill marks on both sides.

Serve the eggplant slices in a platter, drizzled with the tomato-cilantro mixture, in one layer or multiple layers on the same dish, as desired.
Want to learn more easy, healthy Mediterranean diet recipes? Sign up for my online course "Mastering the Mediterranean!"
Want to learn more easy, healthy Mediterranean diet recipes? Sign up for my online course "Mastering the Mediterranean!"
Love vegetables? Want to learn more great plant-based Mediterranean dishes? Enroll in my online  class "Baked Vegetable Classics!"