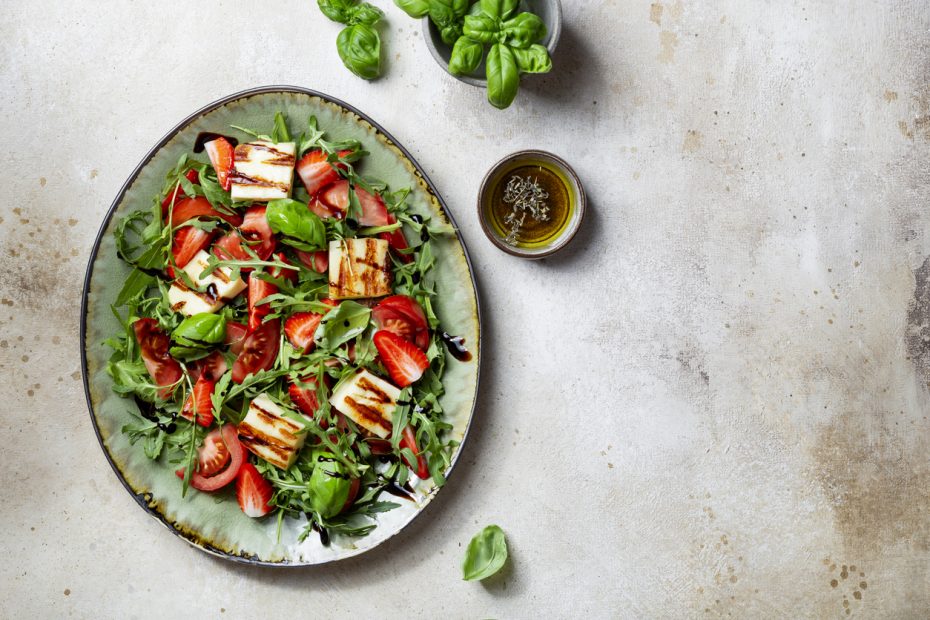 Arugula-Strawberry Salad with Grilled Halloumi
---
When it's strawberry season in the Mediterranean I love to use the fresh fruit in all sorts of ways, from starters and salads to desserts. The combination of fruit and greens is, indeed, a very Mediterranean habit and speaks to the variety and richness of Mediterranean ingredients, especially when they end up together in a salad bowl. So this Greek salad is the perfect combo of elegance, seasonality and simplicity. Of course extra virgin Greek olive oil plays an important role in bringing it all together.
Ingredients
4

ounces

/ 225 g Halloumi cheese

1

tablespoon

extra virgin Greek olive oil

2

bunches baby arugula

1

small bunch fresh mint or basil

12

medium strawberries

12

teardrop or cherry tomatoes

halved
Instructions
Cut the halloumi into strips about ¼-inch thick. Cut the strips into smaller pieces, about 1 ½ X 1-inch. Set aside.

Trim, wash and spin dry the arugula and mint or basil. Tear apart the arugula by hand. trim and chop the fresh mint or basil. Hull and halve or quarter the strawberries.

Combine the greens, tomatoes and strawberries on a platter or in a salad bowl.

Whisk together all the ingredients for the dressing and set aside. Drizzle the salad with most of the dressing, reserving a tablespoon or two for garnish. Toss gently.

Heat a grill pan over high heat and grill the halloumi pieces until lined with brown grill marks. Turn to grill on the other side. Place the halloumi pieces around the salad. Drizzle with the remaining dressing and serve.
Want to learn more easy, healthy Mediterranean diet recipes? Sign up for my online course "Mastering the Mediterranean!"
Want to learn more easy, healthy Mediterranean diet recipes? Sign up for my online course "Mastering the Mediterranean!"