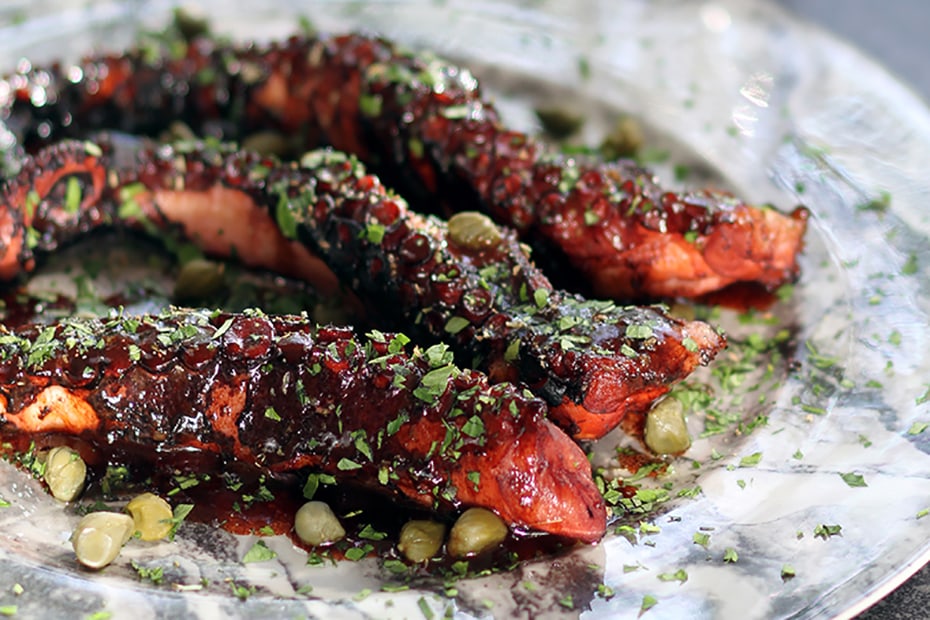 Classic Grilled Octopus / Ktapodi stin Skara
---
It would be hard to imagine the Greek meze table without a few slightly charred, smoky grilled octopus tentacles. This classic Greek recipe is perfect if you're looking for something beyond burgers to throw on the grill. A little extra virgin Greek olive oil, Greek oregano and Santorini capers finish the dish! Try it with ouzo! This recipe is adapted from my latest book, My Greek Table.
Instructions
If using frozen octopus, defrost it in the refrigerator overnight.

Using a large, sharp knife, cut off the octopus's sack-like hood just below the eyes and either discard or use to make a few servings of octopus keftedes (see box). Divide the octopus into eight pieces, keeping the tentacles intact. Place in a heavy saucepan with the garlic, bay leaf, rosemary, thyme, vinegar, balsamic, half cup of olive oil, and black pepper. Cover and bring to a boil. Reduce heat and simmer for about 45 to 50 minutes, or until the tentacles are tender but al dente and not at all stringy.

Remove the octopus from the heat and place it in a bowl with enough of the pot juices to cover. Set aside until ready to grill. (At this point, you can bring the octopus to room temperature, then refrigerate in its cooking liquid for up to 24 hours.)

Strain the octopus cooking liquid and discard the solids. Transfer the liquid back to the pot and simmer over medium-low heat until reduced to a loose syrupy consistency.

When ready to grill, make sure the octopus is at room temperature. Light the grill to medium-high and brush the grill with a little olive oil. Remove the octopus tentacles from the marinade and grill, about 8 to 12 minutes, turning to char lightly on all sides.

Remove and serve the tentacles on a platter, drizzled with the pan juice reduction, extra virgin Greek olive oil, and sprinkled with capers and a little chopped parsley or oregano.