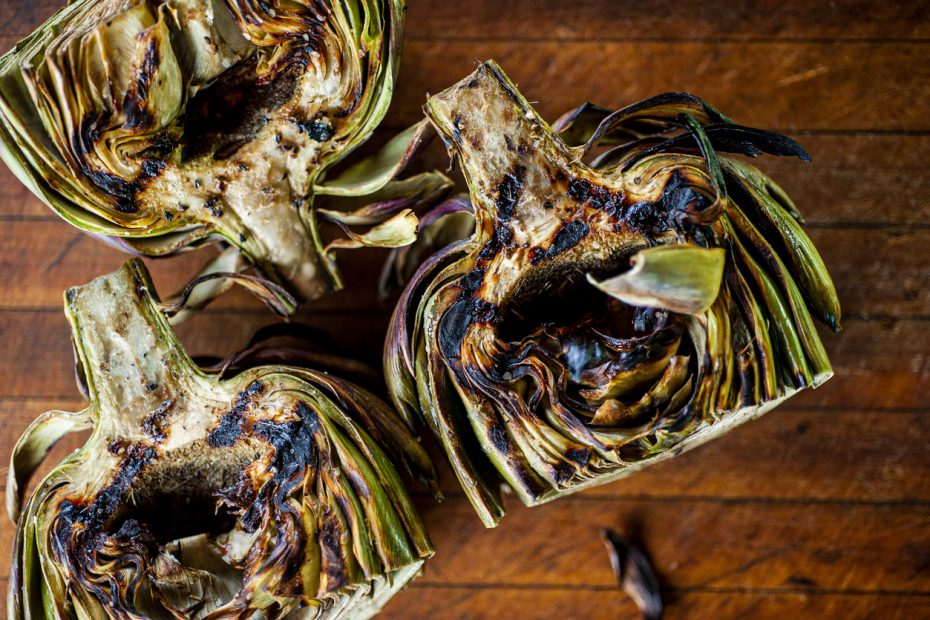 Grilled Artichokes with Greek Lemon Vinaigrette 
---
Artichoke Lore: Artichokes are one of the most ancient and beloved vegetables in the Eastern Mediterranean, and Greeks have been eating them forever, or at least since discovering and embracing their ancestor, the wild cardoon. There are several artichoke varieties grown in Greece, mostly in the Peloponnese and Crete. Try serving this with a bowl of lightly salted Greek yogurt into which you an add a little extra virgin olive oil as well as some lemon zest.
Instructions
Trim and clean the artichokes: Before you start, fill a medium sized bowl with cold water and squeeze the lemon into it. Remove the toughest upper part of each artichoke with a serrated knife, cutting away at least one inch. Hold each artichoke round side down and trim away the tough outer leaves with the serrated knife, leaving the most tender, inner ones intact. Cut away all but a ½ inch of the stems. Cut the artichokes in half lengthwise so that the choke is exposed. Work fast to remove the choke with a spoon. Drop the artichoke into the acidulated water.

Bring a pot of salted water to a rolling boil and blanch the artichokes for about 6-7 minutes. Remove with a slotted spoon, rinse under cold water, drain and cool.

Simmer the potatoes in the same water, for about 20 minutes, until they can be pierced with a knife. Drain and set aside until ready to use.

Heat the grill to medium-high.

Toss the artichokes with the 4 tablespoons olive oil and a little sea salt. Grill the artichokes on the hottest part of the barbecue for about 7 minutes, turning, so that the grill marks are visible on all sides and the artichokes tender. You can also do this in a grill pan or stovetop cast iron griddle.

Remove the artichokes from the grill and serve.
Want to learn more easy, healthy Mediterranean diet recipes? Sign up for my online course "Mastering the Mediterranean!"