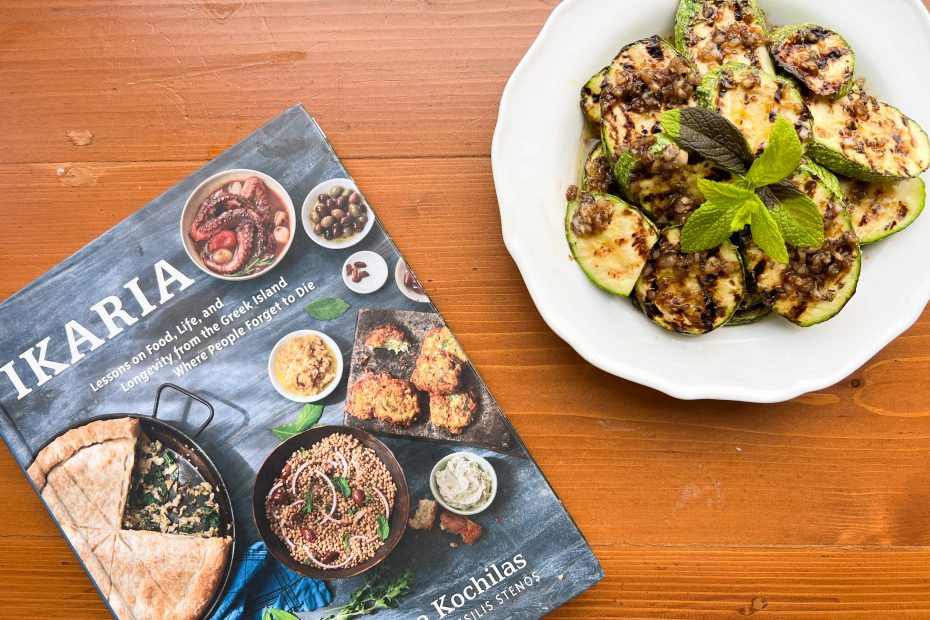 Ikaria Style Grilled Zucchini Salad
---
This Ikaria style grilled zucchini salad with lots of garlic and oregano is a Greek recipe adapted from my first Ikaria book: Ikaria: Lessons on Food, Life and Longevity from the Greek Island Where People Forget to Die. My next Ikaria-inspired book, The Ikaria Way, will be out in March 2024, and you can pre-order it here. This grilled zucchini salad is one of many perfect Greek Ikaria longevity recipes: healthy, seasonal and simple to make. Enjoy it as a side and use the leftovers as sandwich stuffers with a little whipped feta!
Ingredients
4

medium zucchini

2 to 3

tablespoons

balsamic vinegar

Dried Greek oregano to taste

2

teaspoons

finely chopped garlic

Coarsely ground black pepper to taste
Instructions
Trim the zucchini and slice on the bias into ½-inch (1.5-cm) thick ovals.

Place in a mixing bowl and toss with about 3 tablespoons of olive oil and a little sea salt.

Heat a grill pan over medium-high heat, brush with a little olive oil, and place the zucchini ovals on the pan in rows, as snugly as possible to fit all in one layer. Do this in batches if necessary.

Grill and turn to brown on the other side. Remove when both sides are lined with grill marks and the zucchini is tender but al dente.

In the meantime, whisk together the remaining olive oil, balsamic, garlic, oregano, sea salt and pepper.

Remove the zucchini and transfer to a serving plate or shallow bowl. Drizzle and toss gently with the dressing and serve.
Want to learn more about Ikaria Longevity Cooking? Sign up for my online class bundle "Everything Ikaria 101!"
Want to learn more easy, healthy Mediterranean diet recipes? Sign up for my online course "Mastering the Mediterranean!"