When you let feta into your kitchen and cooking, everything tastes better! Greek feta is a great ingredient for preparing Mediterranean diet recipes and is a mainstay in countless specifically Greek recipes. Salty, slightly sour, earthy, and packed in brine, it's probably my favorite to include in everything from casseroles to salads and even sandwiches – or just on its own, drizzled with olive oil and sprinkled with oregano!
Beyond being delicious, there are lots of health reasons to keep feta in your recipe rotation. You'll find vitamins like calcium, which helps maintain healthy bones, and phosphorus. When these 2 combine, there's truly nothing better for bone density and preventing osteoporosis.
Feta has lots of star power, so let it shine in everything from sandwiches to pies to cheesy dips. Scroll on to find my very favorite feta recipes.
Greek Feta Saganaki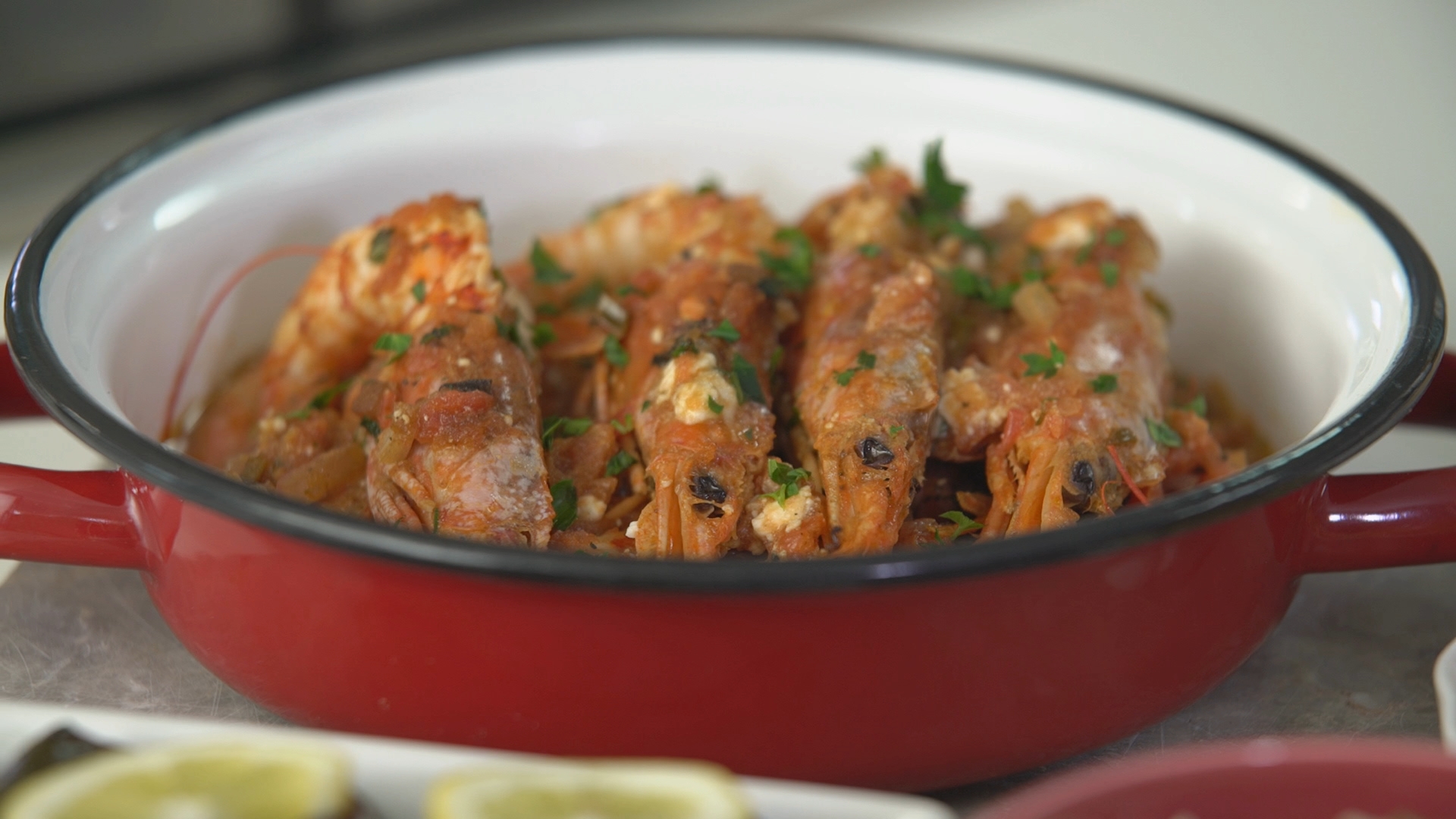 Saganaki, named for the two-handled pan that was part of the kitchen panoply of every Greek from Asia Minor, made its way into Greece proper with their arrival in 1922. Now, it's the poster boy for Greek meze! You'll find the classic version here, for a simple cheesy treat, but I also love combining feta with shrimp. Shrimp Saganaki with Ouzo and Feta Cheese finds its way into my kitchen pretty often, either as a meze or a sauce for pasta or rice.
And then there are new takes on these tried-and-true classics. Shrimp Saganaki on a Stick is a grilled shrimp variation, on a skewer, and it's a lot of fun to make if you're planning to grill. And saganaki gets an elegant and delicious twist with this Feta Saganaki with Aegina Pistachios and Mastiha – the combination of sweet mastiha is perfect with the crunch of pistachio and the savory richness of the feta.
Sandwiches with Greek Feta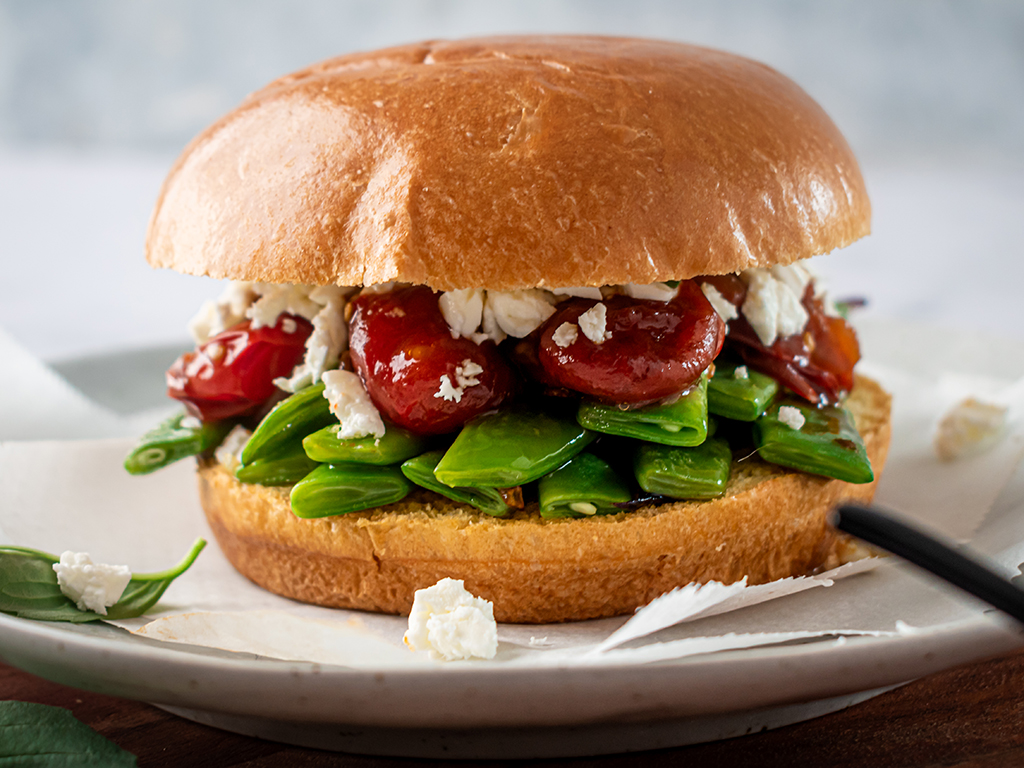 The taste of feta goes so beautifully with so many different flavors, even in sandwiches. This recipe for Greek Bean – Feta Sandwich with Tomato Jam in particular is made in the best vegetarian traditions of the Mediterranean diet, where the jammy tomatoes pair perfectly with the tanginess of the Greek feta.
Tyropita – Feta Cheese Pie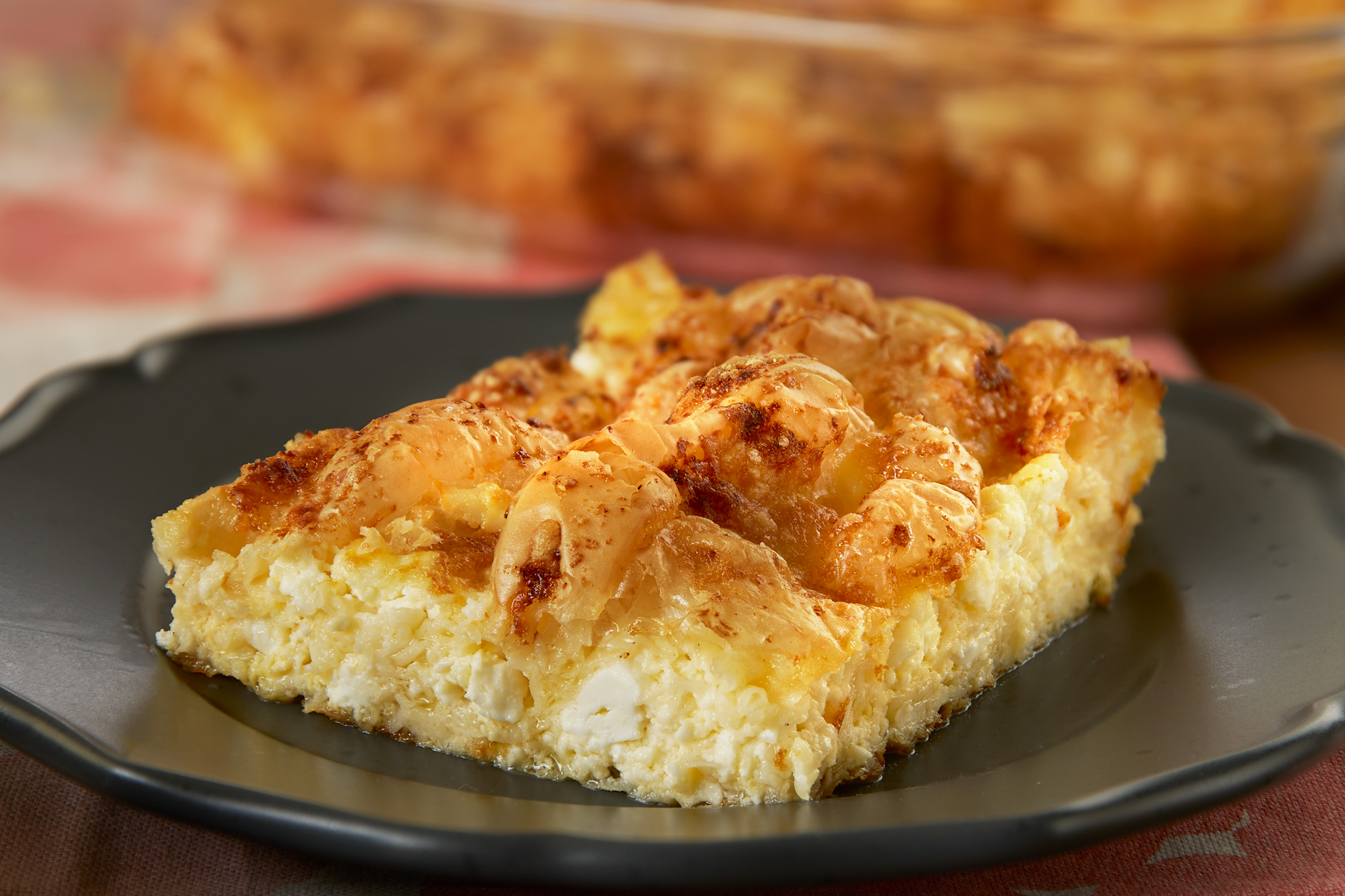 Greek cheese pies could be filled with just about any Greek cheese, but feta is certainly one of my favorites! There are dozens of Greek recipes for cheese pies made with feta all over Greece. This Pleated Phyllo Pie with Feta comes from Epirus in Northwestern Greece, although you might know it by another name – Crinkle Pie. Another one from Epirus? This Feta Cheese Skillet Pie, which I prepared with great pleasure on My Greek Table, Season 4. It is almost like a pancake, and it makes a great snack, breakfast food, light lunch with a good Greek salad, and a fun dish for kids.
Sometimes, feta pies get a little more complicated: Feta Cheese Pie Baked in Embers features an ancient way of baking over hot coals using a copper or steel dome as a makeshift portable oven, a method that the shepherds of Epirus have been using for hundreds of years, if not longer. But don't worry – my version relies on an oven, not hot embers. And they also come in all kinds of shapes! My Northern Greek Feta Cheese and Egg Pie is a specialty of Naoussa, one of the premiere wine-producing regions in Macedonia, about an hour and a half from Thessaloniki. And you can also feel free to pair it with meat, like in my Chicken Phyllo Pie with Two Greek Cheeses and Herbs!
Greek Feta Stuffings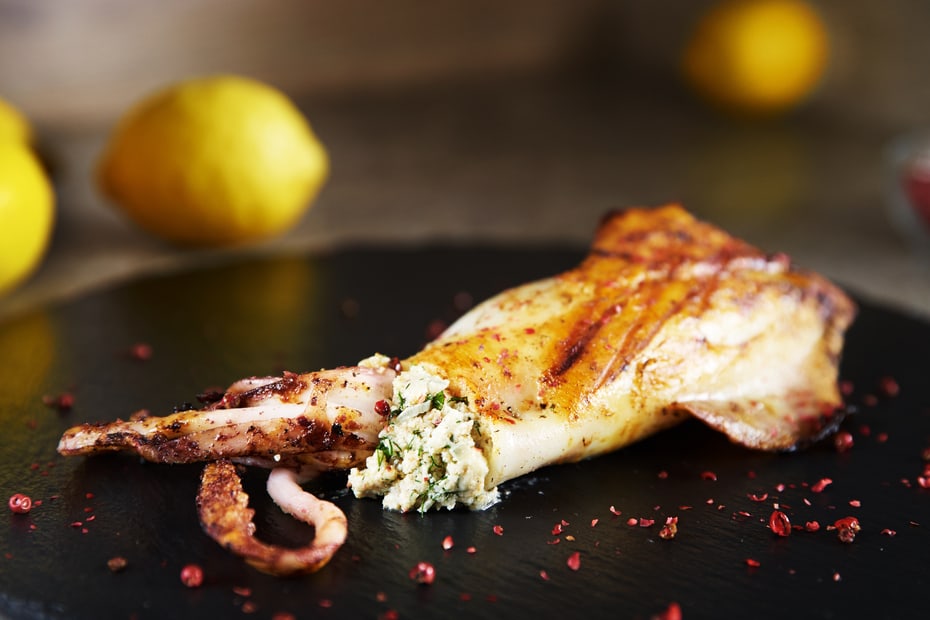 Because of how well feta holds up to heat, it makes a great stuffing, and appears in lots of Greek recipes. Baked Feta-Stuffed Calamari is a taverna classic and one often found in the seaside fish eateries along the Athenian Riviera. And Feta Stuffed Roasted Peppers is one of the absolute classic Greek meze recipes from the country's de facto food capital, Thessaloniki. This recipe is found in many specialty meze restaurants, and it's often spicy. I also love feta and chicken, and this Greek recipe for Chicken Breasts Stuffed with Spinach, Artichokes and Greek Feta was born by accident in my kitchen when a few friends popped over unexpectedly. I had all these basic Greek diet ingredients in my fridge and freezer and put together a quick but yummy meal.
Want to take feta stuffings in a sweeter direction? Fresh Figs Stuffed with Honeyed Greek Feta and Herbs is one of the great gifts of a Greek summer, especially the end of it!
Burgers with Greek Feta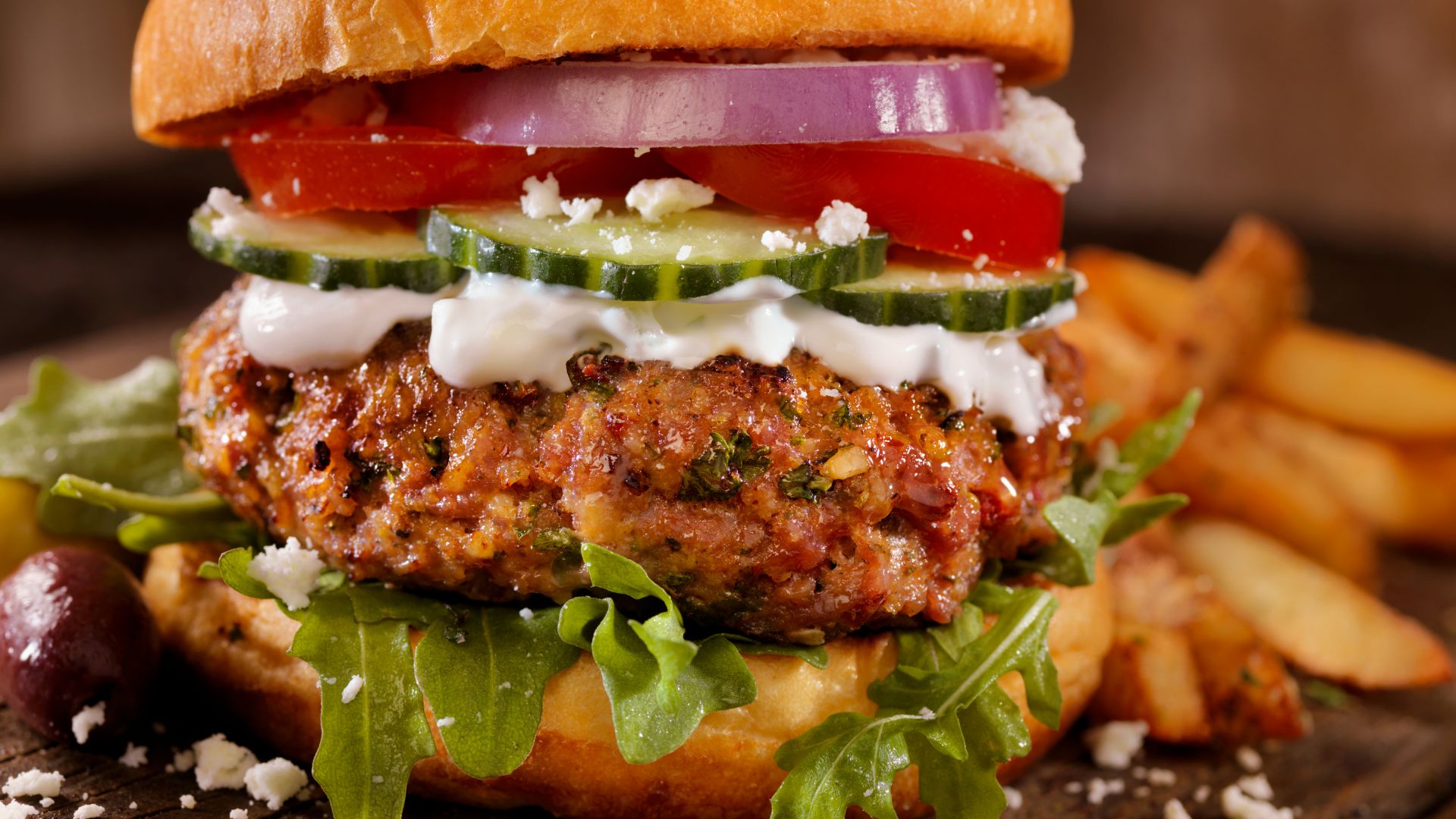 Burgers are called "biftekia" in the Greek diet, and they are so delicious, especially if you're looking for something different for any weekend cookout or grill fest! Greek Salad Lamb Burgers combine 2 Greek classics: lamb and Greek salad. The Mediterranean diet ingredients that are in this Greek recipe run the gamut of everything from great extra virgin Greek olive oil to dried Greek oregano, sea salt, feta cheese, of course, and Greek yogurt. But the feta can also go on the inside of your burger. Greek Burgers Stuffed with Spicy Feta are fairly common in Greece, featuring a spicy feta that melts beautifully as the meat cooks.
Terrines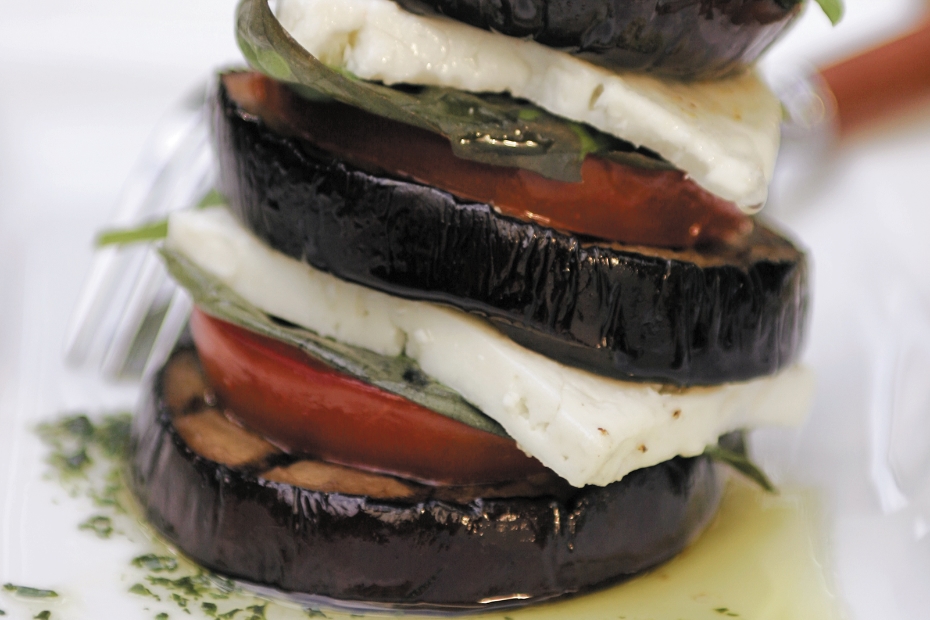 I always find terrines make for simple, elegant dishes, served as a light main course together with a salad or some pasta, or as a starter. And they're made even better when feta is involved! Grilled Eggplant-Feta Terrines feature all kinds of great Greek ingredients, and they melt right into one another for such a delicious and beautiful dish.
Greek Feta Dips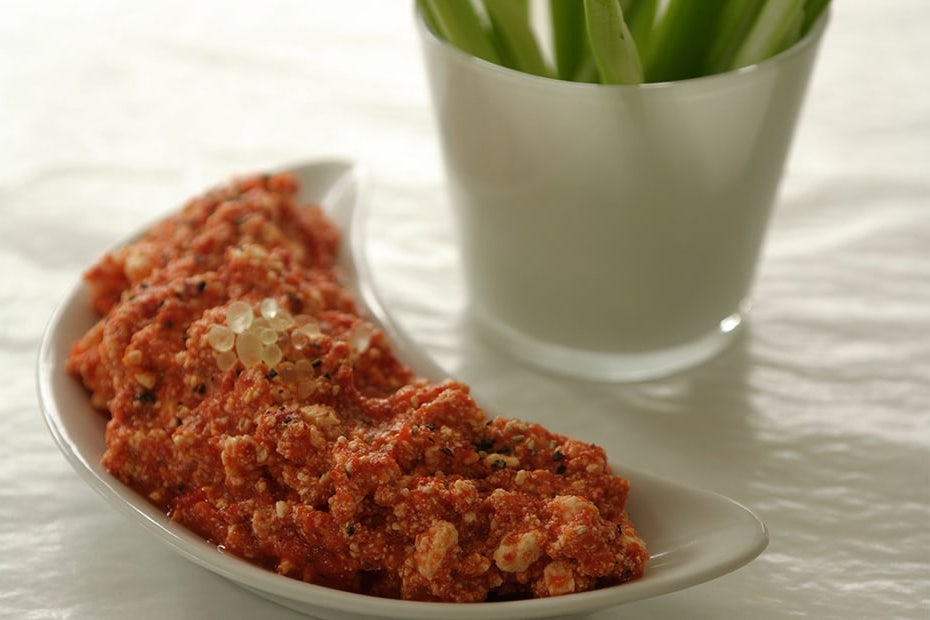 Feta doesn't even have to be incorporated into a main dish or a salad to be great. Try it in a simple, easy-to-assemble dip! Spicy Feta Cheese Dip, or Tyrokafteri, with Basil or Cilantro and Lemon is wonderful to enjoy on pita chips or by the forkful, but you can also use it as a bed, say, for some grilled protein and even as a topping for a piece of fish. And feta gets blended with graviera for a Feta-Graviera Melt, an easy and impressive appetizer or meze to serve for company or as a quick accompaniment to a light dinner. This Roasted Pepper, Mastiha and Feta Spread is based on some of the most authentic, regional, and ancient Greek ingredients, such as mastiha Chiou, Florina red peppers, and extra virgin Greek olive oil.