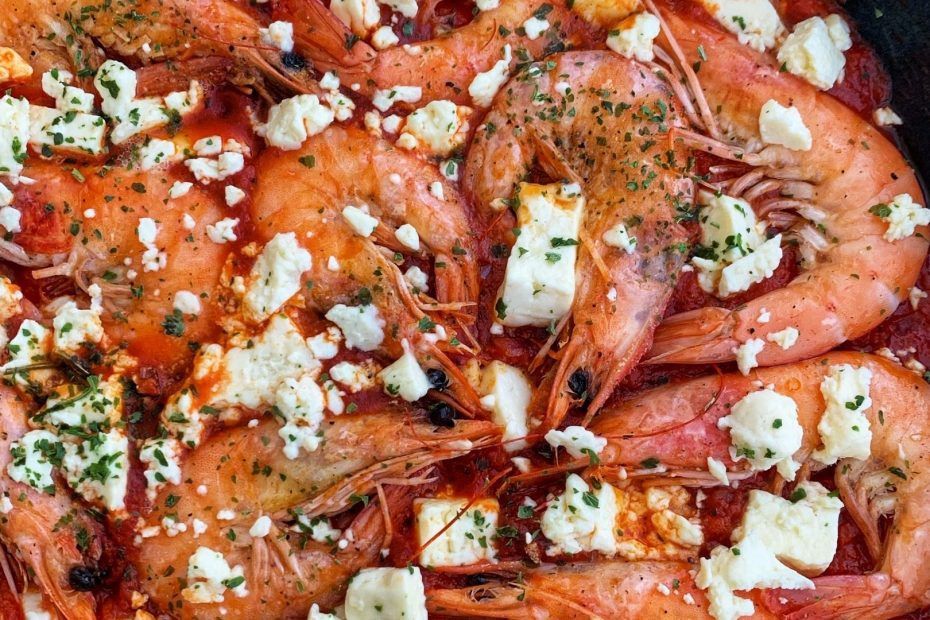 Shrimp Saganaki on a Stick
---
Greek recipes include many regional variations on the classic Shrimp Saganaki. Enjoy this grilled shrimp variation, on a skewer. It is a lot of fun to make if you're planning to grill. Think Greek souvlaki with a healthy spin!
Ingredients
6

tablespoons

ouzo

Sambuca or other anise flavored liqueur

2

tablespoons

fresh

strained lemon juice

1

large tomato

grated on the coarse side of a stand grater

½ - 1

teaspoon

Boukovo or any hot pepper flakes

8

tablespoons

olive oil

divided

3

tablespoons

fresh oregano leaves

finely chopped

4

tablespoons

extra virgin Greek olive oil

16

large shrimp

peeled and deveined (heads and tails on or off are optional and to taste)

16 1 2/2-2-

inch

cubes of hard Greek PDO feta cheese
Instructions
In a small skillet or saucepan, gently heat the ouzo to deglaze (cook off the alcohol). It can flame up, so be careful. Reduce to about half its original volume and set aside.

In a medium stainless steel bowl, whisk together the deglazed ouzo, lemon juice, grated tomato, hot pepper flakes, oregano leaves and olive oil until smooth. Set aside half the mixture and toss the shrimp in the remaining half mixture and refrigerate for 30 minutes or up to 3 hours.

If using wooden skewers, soak them in warm water for a half hour.

Light the grill. Remove the shrimp from the marinade and set the marinade aside. Oil the grill rack.

Thread four alternating pieces each of shrimp and feta on each of the four skewers. Grill over medium heat, turning carefully so that the feta doesn't fall apart. Brush with the marinade in which the shrimp were submerged. Grill until the shrimp are bright pink and cooked through and the feta seared on all sides.

Serve hot on a platter and place the remaining unused marinade in a bowl as a dipping sauce.