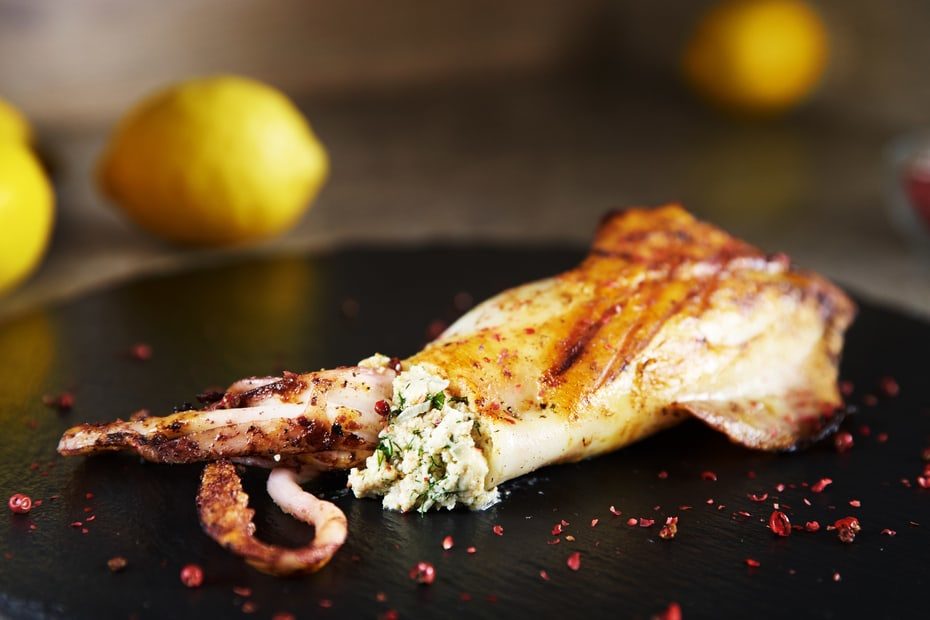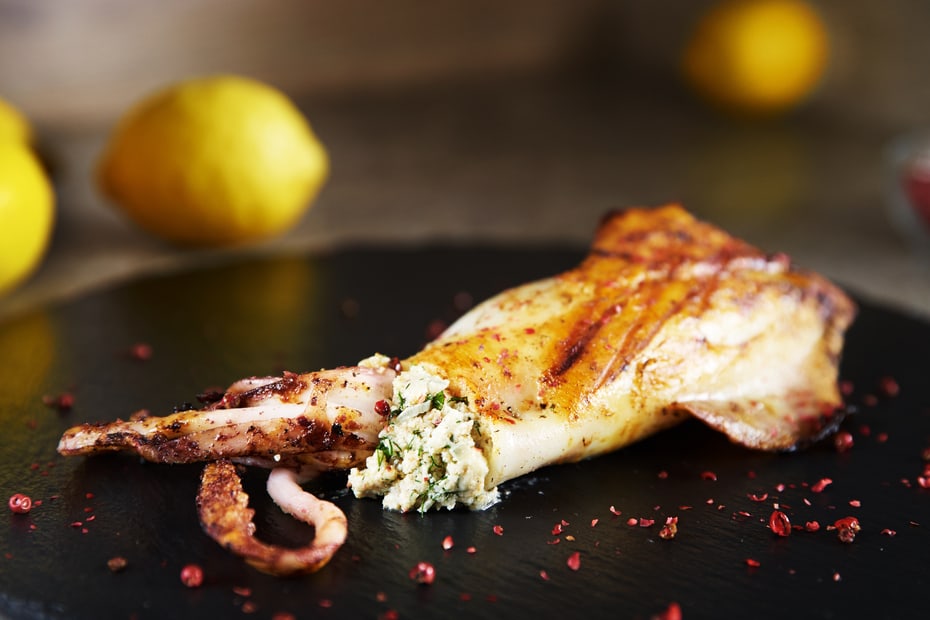 Baked Feta-Stuffed Calamari
---
This retro-stuffed grilled calamari is a taverna classic and one often found in the seaside fish eateries along the Athenian Riviera. You can use frozen squid for this, but make sure the tubes are large enough to fill.
Ingredients
1

pound

(450 g) squid, preferably fresh, cleaned (6 to 8 pieces, 6- to 8-inches long)

2

tablespoons

extra-virgin Greek olive oil

plus more as needed

1

red or yellow onion

chopped

2

garlic cloves

finely chopped

1½

cups

(225 g) crumbled Greek feta

½

cup

(50 g) coarsely grated Graviera or Kefalograviera cheese, or any mild, nutty sheep's-milk cheese

½

cup

(120 ml) fresh anthotyro or ricotta cheese, drained

½

cup

(25 g) chopped fresh dill

½

cup

(25 g) chopped fresh mint

Finely grated zest of 1 lemon

1

medium egg

1

teaspoon

crushed pink peppercorns

2 to 6

tablespoons

plain bread crumbs

as needed

2

lemons

quartered
Instructions
Keep the cleaned squid in the refrigerator until ready to use.

In a medium skillet, heat the olive oil over medium heat. Add the onion and cook until

wilted and lightly golden. Stir in the garlic. Transfer the mixture to a bowl and let cool.

Add all the cheeses, dill, mint,the lemon zest and egg to the bowl with the onion and toss to combine. Season with the pink peppercorns and salt and black pepper to taste. (The mixture will likely be salty enough with the feta, so you may not need to add any.)

Stir in 2 tablespoons of the bread crumbs to help bind the mixture. Test it by shaping a

small ball with your hands; if it is still too loose to hold its shape, add more of the bread crumbs, 1 tablespoon at a time, until firm enough. Cover and refrigerate the mixture for 30 minutes to help firm it up.

Remove the squid and filling from the refrigerator. Stuff each of the squid tubes with enough of the filling to come up to about ¼ inch (6 mm) from the top so that when the stuffed squid shrinks during cooking, it doesn't burst. Using a toothpick, secure the open end of the tube closed.

Heat a grill until quite hot or heat a grill pan over high heat. Brush the grill grates or pan

with a little olive oil. Place the stuffed squid and tentacles (separately) on the grill or in the

hot grill pan and cook for 5 to 7 minutes, turning with kitchen tongs a few times, until lightly

browned all over.

Serve as is or, for a more dramatic effect, using a sharp knife score the top of each squid tube so that the surfaces fans open a bit, revealing the cheesy filling. Remove the toothpick and serve, garnished with lemon wedges and pink peppercorns.