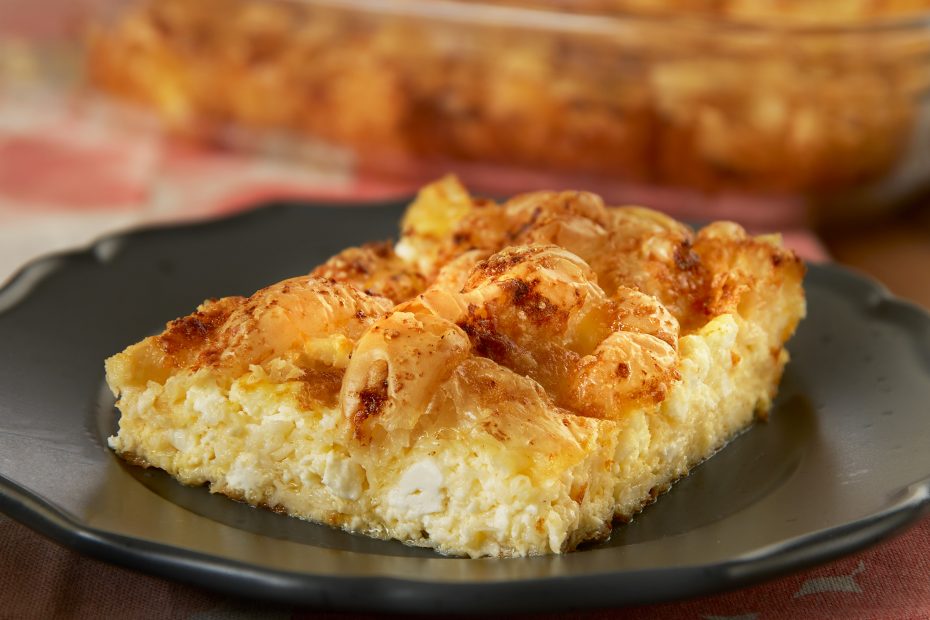 Pleated Phyllo Pie with Feta
---
This Greek recipe for Pleated Phyllo Pie with Feta, sometimes called Crinkle Pie across social media (!), is a very easy way to make a delectable Greek cheese pie, or tyropita. There are dozens of Greek recipes for cheese pies made with feta all over Greece, and many of them are from Epirus in Northwestern Greece, where we filmed the episode for which this pie is inspired. Use Greek feta in this recipe – it is far superior to any other cheese named feta and the only one legally allowed to be called feta! Try pairing it with a delicious Greek white wine produced from the Moscofilero grape in the wine region of Mantineia.
Ingredients
½

pound

220 g commercial phyllo defrosted and at room temperature

1

pound

450 g Greek feta cheese crumbled

4

large eggs

6 ½

ounces

180 g unsalted butter melted and cooled slightly plus more for brushing the pan

1

cup/ 250 ml seltzer water or Greek sparkling water

4

Tbsp

grated kefalotyri cheese
Instructions
Preheat the oven to 350°F/180°C. Butter a large baking pan. Place a sheet of phyllo on a clean work surface near the baking pan. Sprinkle lightly with feta. Scrunch the phyllo together across the wide side so that it bunches up and resembles a pleated surface. Lift this carefully and place it along the short side of the baking pan. Repeat with the remaining phyllo and cheese, placing each scrunched piece of feta-sprinkled phyllo snugly next to the previous one until the pan's surface is covered.

Using a whisk, beat the eggs in a medium size bowl, then slowly add the melted butter, whisking fast. Pour the seltzer over the surface of the phyllo, then pour the egg-butter mixture on top, and finally sprinkle with kefalotyri. Bake until golden brown, about 45 to 50 minutes. Remove, cool slightly, and cut into pieces. The pie will look pleated.
Love savory pies and phyllo specialties? Sign up for my online class "Fearless Phyllo – Homemade!" to learn the secrets of making great, easy pies at home!