In Greece, they often have a Greek yogurt base, which serves as an excellent foundation for a wide range of both sweet and savory components. What's more, it enhances the health benefits of your drink! They're also rich in probiotics, high in fiber and protein, and low in sugar.
But let's talk about those components, especially the ones that can put you in a fall state of mind. You might think of smoothies as a summer drink, and because they're cold, that often makes them a warm-weather go-to. But their adaptability and versatility means you can make them appropriate for any season! With ingredients like spinach, oats, and nuts/nut butters, you can give your smoothie a little more heft than the typical berries combo, but still keeping it refreshing and easy.
If you're looking for more cold-weather smoothie inspiration, try Greek honey as a natural sweetener, or tahini, made from toasted sesame, as a way to thicken up your favorite recipe. You can also replace strawberries and blueberries with more wintery options, like pears and apples.
Here are some of my preferred smoothie recipes for any season: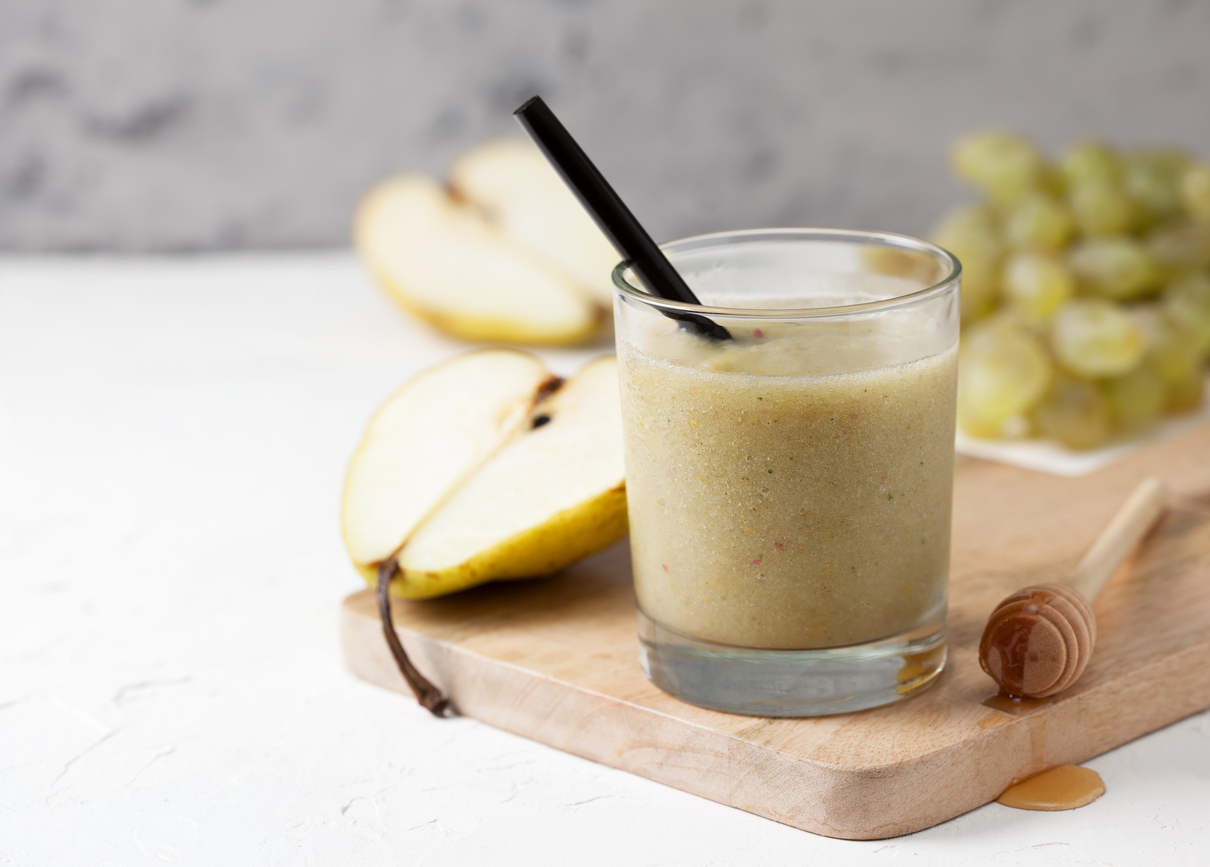 Pears are basically the ultimate fall-weather fruit, and when you combine them with oats and spices including cinnamon and ginger, you've got a recipe that will feel fall-appropriate despite the ice. This is one of my favorite recipes, a wonderful dessert or snack.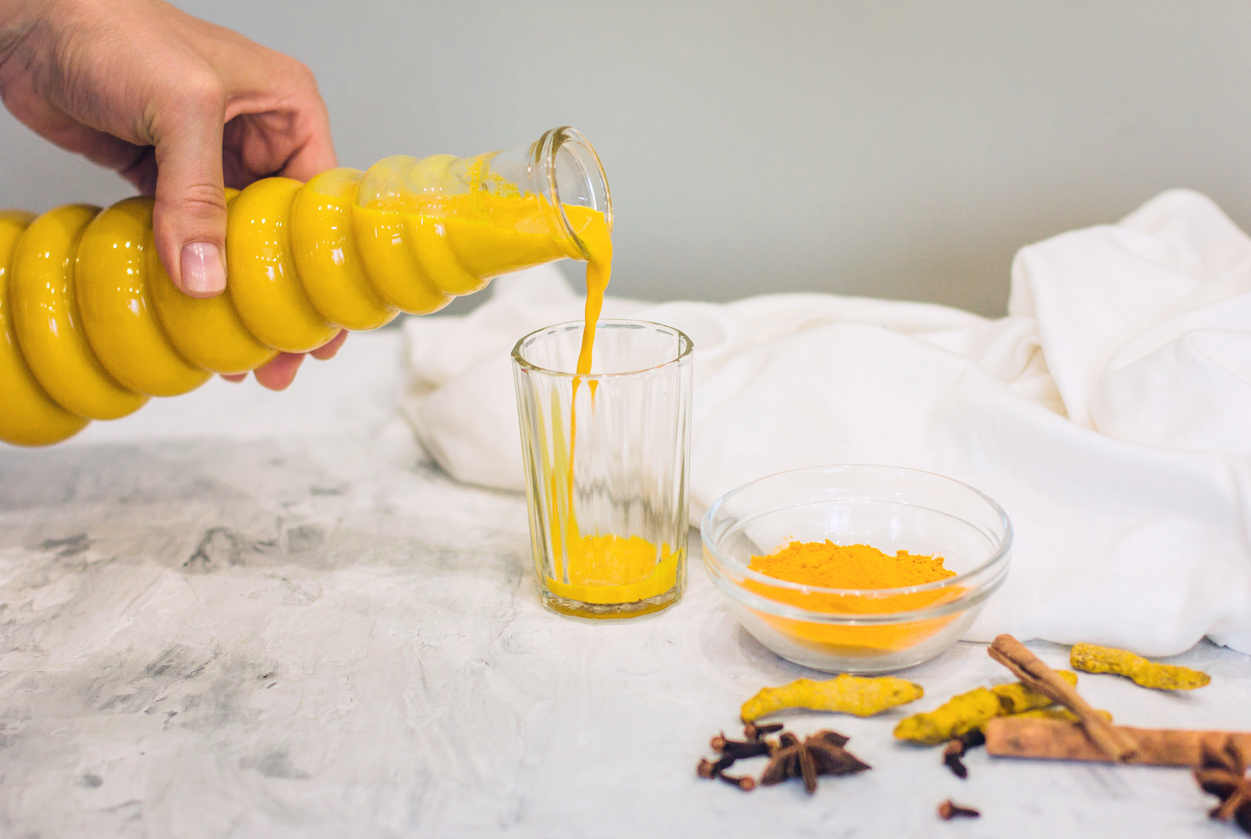 Any opportunity to include turmeric in my diet is a welcome one! Turmeric, related to ginger, has grown in popularity because of its considerable health benefits. Its major active ingredient is Curcumin, which has antioxidants and anti-inflammatory properties. It's also thought to help fight depression, by boosting a protein in your hippocampus which is related to mood. With all these benefits, it's a no-brainer to add it to a delicious banana smoothie!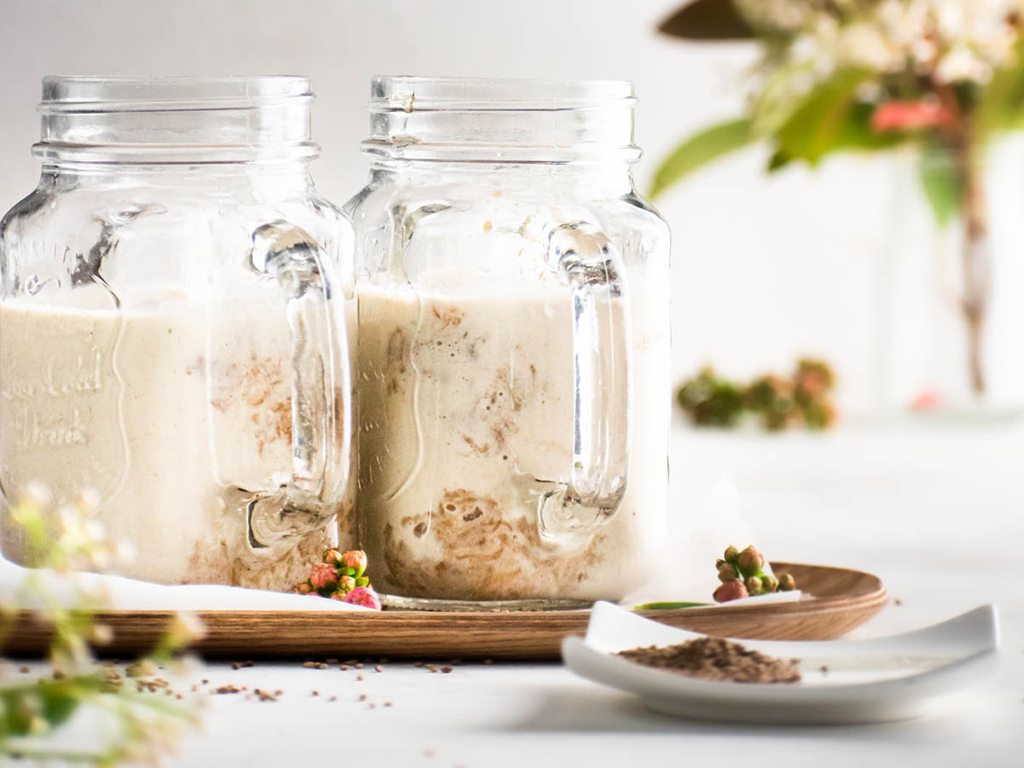 Roasted apples? In a smoothie? Oh yes. The apples become a jammy consistency – you'll almost think you're enjoying a classic fall apple pie. I chose to make this smoothie vegan and call it a healthy snack or quick meal option. You can cheat and use Greek (or other) honey, preferably raw, in place of maple syrup. It does call for a little sugar, in addition to calcium-packed tahini and sesame seeds; brown sugar surprisingly is also a rich source of calcium and potassium.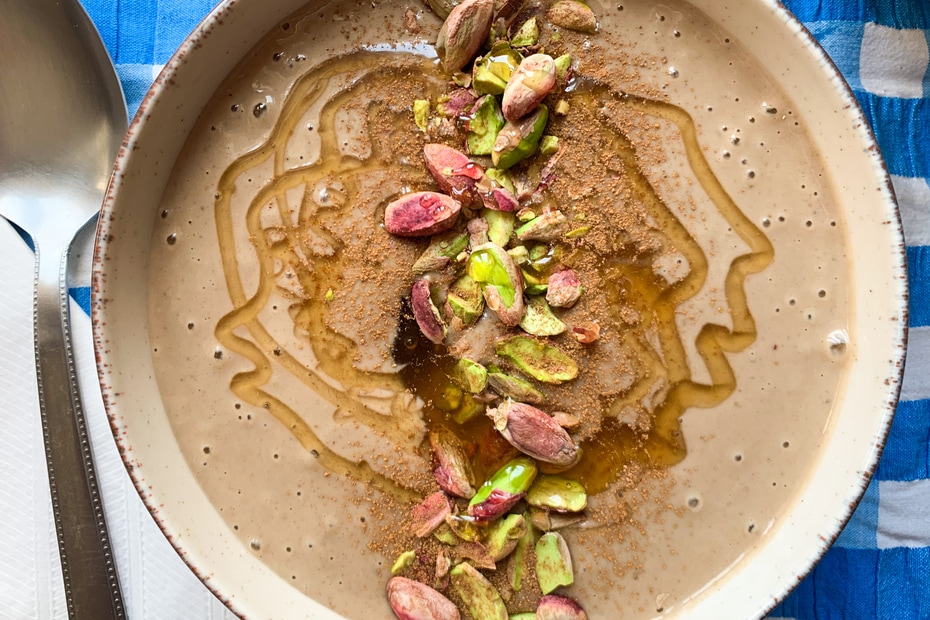 The classic flavors of baklava, with all those warm spices, play out beautifully in a not-so-classic Greek recipe for a smoothie, which you can even enjoy in a bowl if you're not in a rush. Call this the perfect Mediterranean diet snack and make sure to drizzle it with real Greek honey! You'll love the Aegina pistachio butter as well!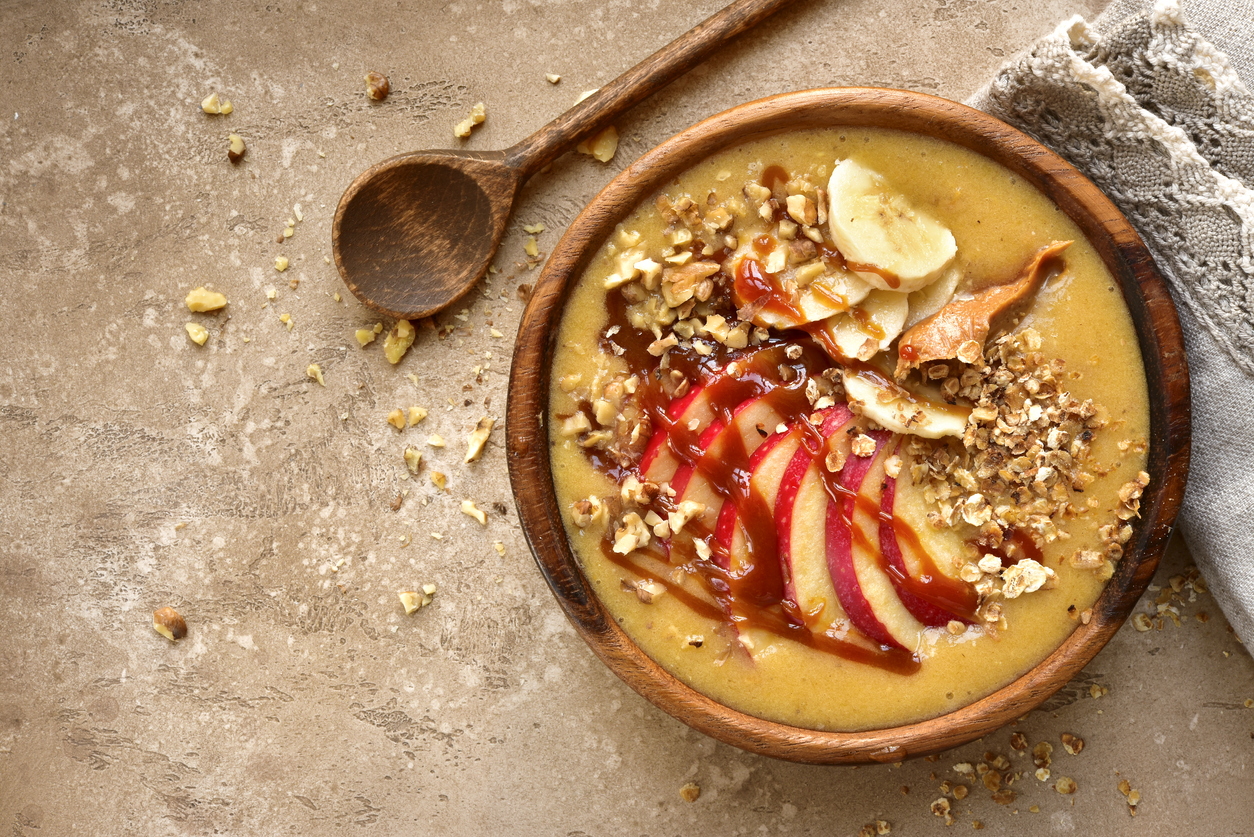 This smoothie is so easy to make: just toss the ingredients in a blender and you're good to go! It involves fall fruits, plus granola and peanut butter, and a drizzle of pine honey – a thick, amber honey features notes of candied chestnuts and honeysuckle. If you want to try this one, you can find it at my e-shop here.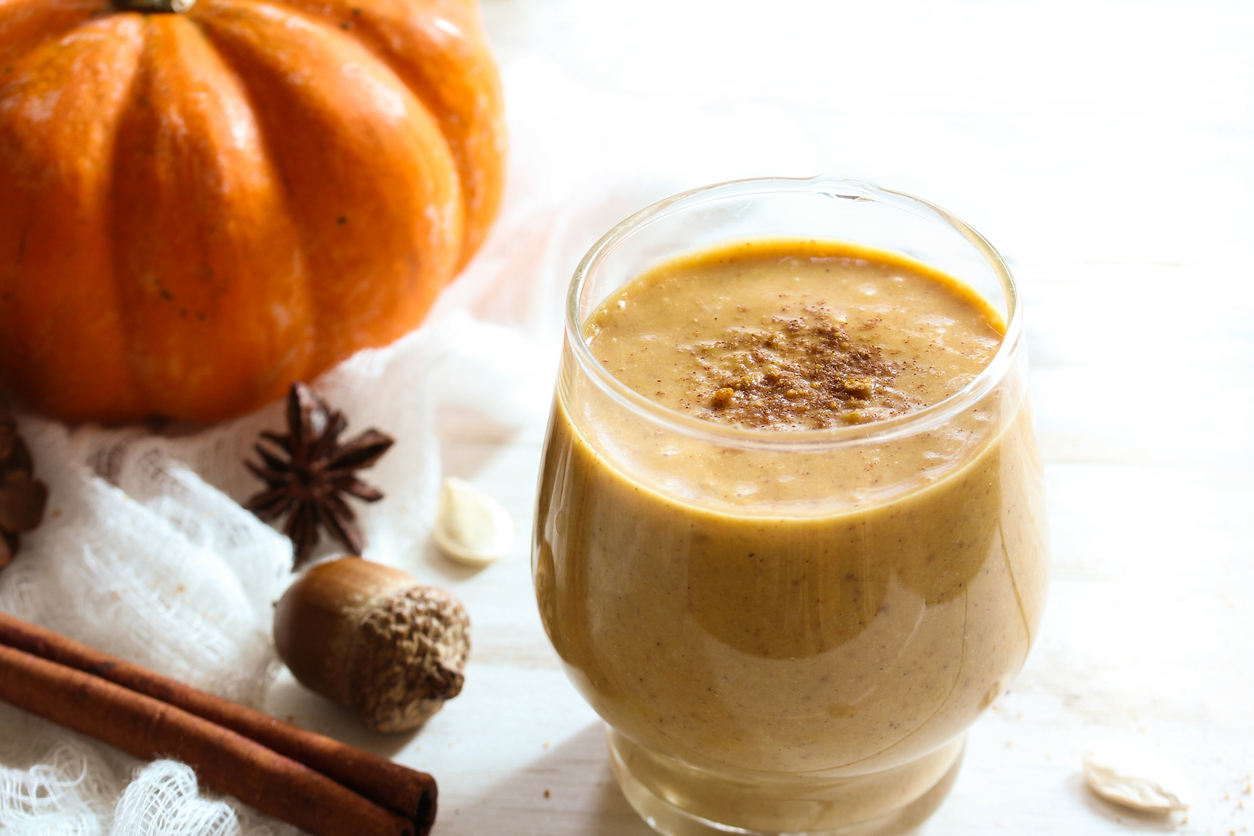 I call this one pumpkin pie in a glass! It's thick and creamy, and for a second, you might even think you're indulging in something unhealthy. But this smoothie is made with Greek yogurt, so you don't have to feel guilty about a sweet smoothie. You can play around with the milks in this recipe: Oat milk is the best choice for a smoothie recipe like this one as it's creamier and sweeter than soy milk, but maybe the best alternative is almond milk, as it's got a nuttier flavor and thinner consistency. Coconut milk is the creamiest and thickest non dairy milk -it has a similar texture to dairy milk or heavy cream.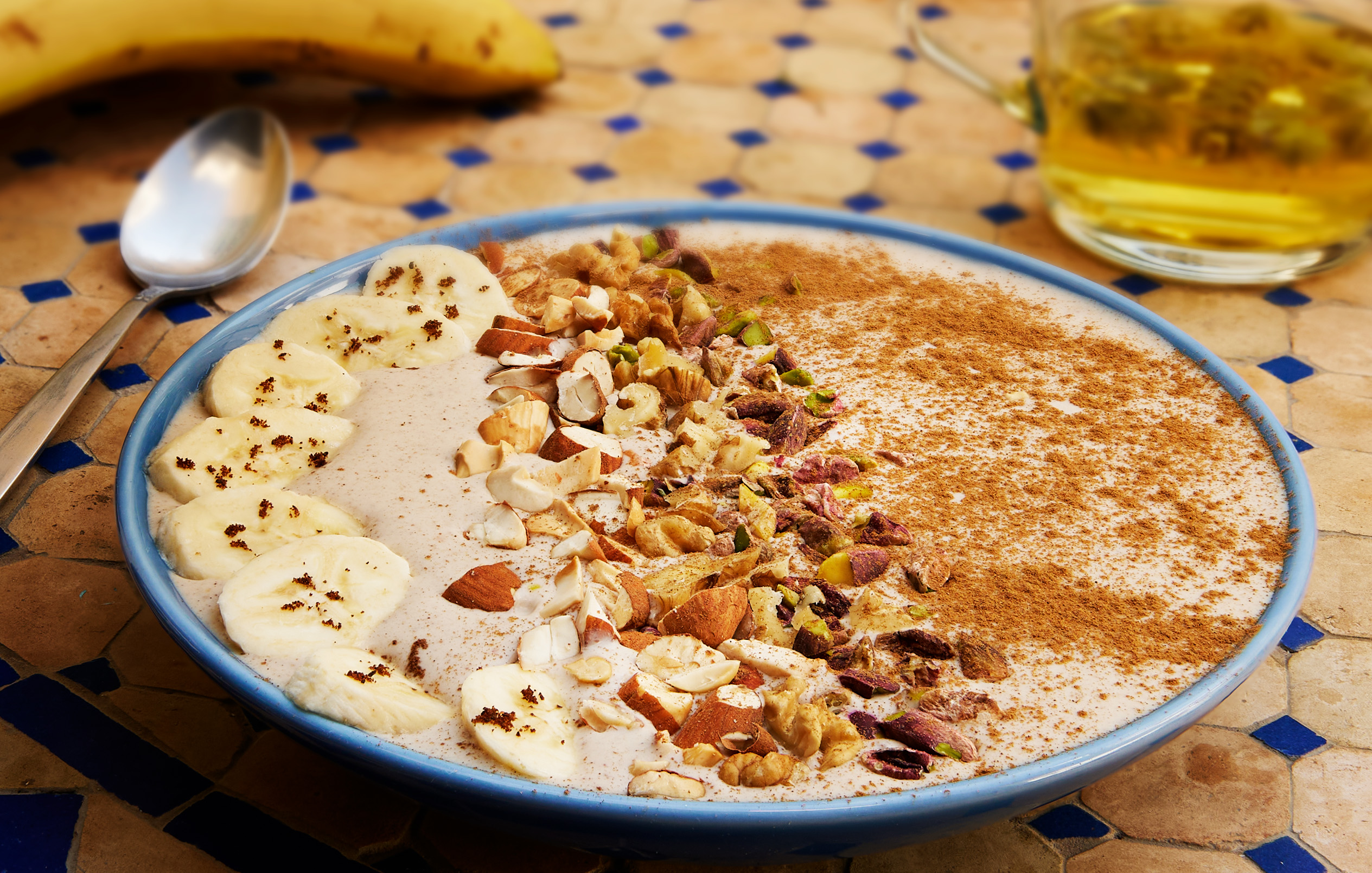 Baklava is one of the most iconic Greek sweets; Greek yogurt is one of the most iconic Greek diet ingredients. In this recipe from season 4 of My Greek Table, I combine them both to create a delicious and easy snack perfect for those of us who want to enjoy the Mediterranean diet on the go. Baklava is chock full of healthy Mediterranean diet ingredients, such as walnuts, almonds and pistachios.