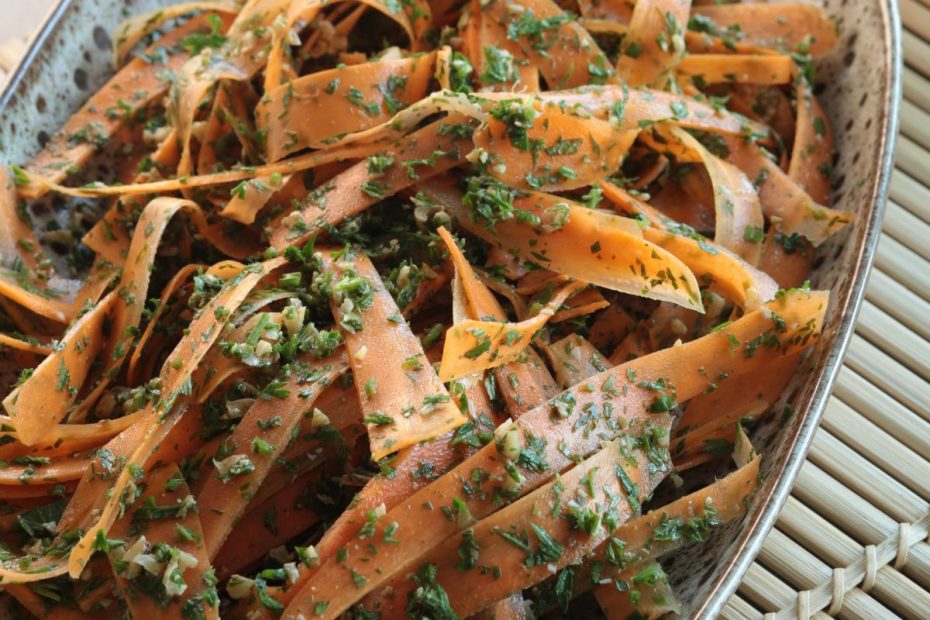 Carrot Salad with Carrot Greens, Mint and Walnuts
---
This carrot salad with carrot greens, mint and walnuts is inspired by Ikaria's longevity diet and the waste-not, want-not mentality of Ikarian home cooks. Nothing evinces that more than the variety and number of edible greens most of us, myself included, would discard if someone didn't show us a more enlightened way to use them. My 90-year-old friend Yiorgo taught me that carrot tops are not only edible, they're really good for us. Indeed, the greens contain an impressive list of nutrients, including vitamin A, dietary fiber, vitamin C, calcium, and iron. On Ikaria, they are mostly used in savory pies together with countless other wild greens and herbs. I like to add them raw to this carrot salad, which is one Greek salad that's both a feast for the eyes (literally, too, since carrots and carrot greens are both very good for eye health!) and the senses. The walnuts add a layer of crunch! This is one of many Greek recipes perfect when the main ingredient is in season, and for carrots peak freshness is in cooler weather.
Ingredients
6

medium carrots

preferably different colors, with their greens intact

4

tablespoons

ground walnuts

lightly toasted

Strained fresh juice of 1 lemon

1

large garlic clove

minced

1 ½-

inch

knob of ginger

peeled and grated

½

teaspoon

cinnamon powder

½

teaspoon

cumin powder

¼

teaspoon

cayenne or more to taste

¼

cup

shredded fresh mint leaves
Instructions
Remove the greens from the carrots and set the carrots aside. Trim the greens, discard the tough stems, and wash the leafy part thoroughly, as they can contain some dirt. Finely chop the greens and set aside.

Pare the carrots. Using a mandolin or spiralizer, cut the carrots into thin flat strips or strands.

Whisk together the olive oil, lemon juice, sea salt, garlic, ginger, and spices.

Combine the carrots, chopped carrot greens, walnuts, and mint in a serving bowl. Pour the dressing over the salad, toss gently and let stand for a few minutes before serving.
Want to learn more about Ikaria Longevity Cooking? Sign up for my online class bundle "Everything Ikaria 101!"
Want to learn more easy, healthy Mediterranean diet recipes? Sign up for my online course "Mastering the Mediterranean!"
Want to learn more easy, healthy Mediterranean diet recipes? Sign up for my online course "Mastering the Mediterranean!"