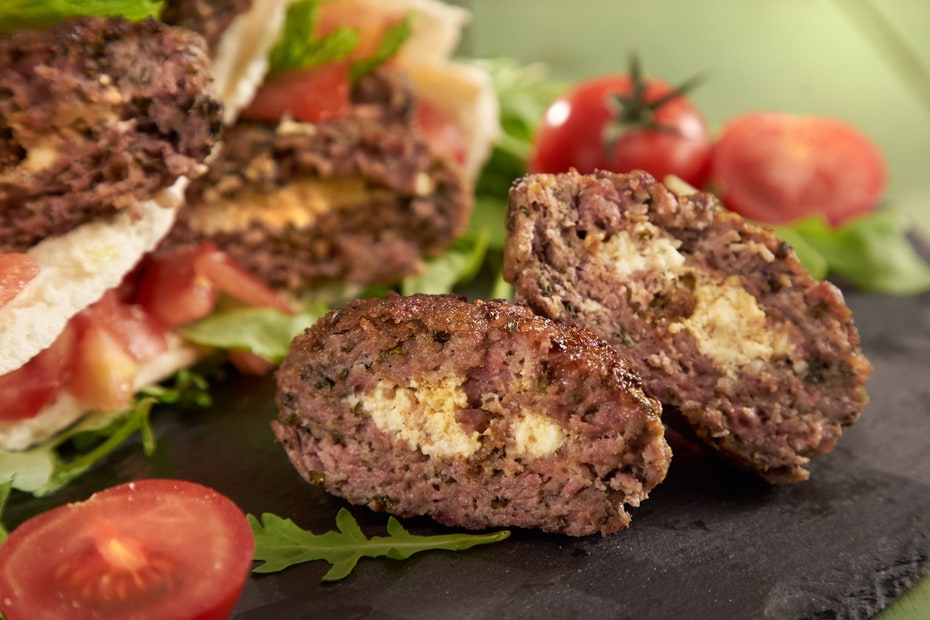 Greek Burgers Stuffed with Spicy Feta
---
Burgers are called biftekia in Greek and are usually a bit smaller in size than the typical American burger. It's common to find a little surprise in the heart of a Greek bifteki, typically some cheese, which melts beautifully as the meat cooks. You'll find a spicy feta center in this bifteki, beautifully balanced by the chopped tomatoes and comforting pita bread meant to be served with it.
Ingredients
2 ½/ 1

kilo pounds ground lamb or a combination of ground lamb and/or beef or pork

4

large garlic cloves

finely chopped or pressed

4

Tbsp.

dried mint or ½ cup finely chopped fresh mint

4

Tbsp.

finely chopped fresh oregano leaves

4 to 6

Tbsp.

extra virgin Greek olive oil

Vegetable or olive oil for brushing grill rack or grill pan

½

pound

Greek feta

crumbled

1

scant Tbsp. cayenne pepper or hot paprika

1

Tbsp.

plus 1 tsp. fresh

strained lemon juice

4

ripe but firm tomatoes

8

pita rounds
Instructions
Combine the ground meat(s), garlic, mint, oregano, salt and pepper in a mixing bowl and knead well. Add 2 to 4 tablespoons of olive oil to the mixture while kneading, to create a soft, succulent mass. The mixture should be dense but slightly unctuous. Cover and refrigerate for 30 minutes to 12 hours. (You can make ahead, the day before.)

Mash the feta, cayenne or paprika, and lemon juice together in a bowl using a fork, or pulse on and off in a food processor, to form a thick paste. Divide the mixture into 8 eqyal portions, about a tablespoon each, and shape into small balls.

Right before preparing the burgers, core and cut the tomatoes into 1-inch/2.5-cm cubes, place in a bowl, season lightly with salt and set aside.

Divide the ground meat mixture into 8 equal parts. Rub the palms of your hands with a little olive oil and shape each portion into a burger. Using your thumb, make an indentation in each burger and fill with the spicy feta ball. Pinch together the meat to seal the indentation, so that the feta is not exposed.

If broiling, preheat the broiler and place the burgers on a lightly oiled baking tray and broil 6 inches from heat source. Broil for about 5 to 7 minutes per side for medium, remove and serve; if using a grill pan, heat the pan, add about a tablespoon of oil and tilt back and forth to distribute it evenly over the surface of the pan. Place the burgers in the grill pan over medium heat. Press down with a spatula and pan-grill on one side until browned and seared with grill marks. Flip and cook on the other side until done, for a total of about 10 to 12 minutes for medium. If using an outdoor grill, heat to medium, oil the grill rack and grill the burgers for about 5 to 6 minutes per side for medium.

Brush the pita rounds with the remaining olive oil and broil, sear or grill for about 45 seconds per side, until soft and warm. Place a burger on each of the pita rounds, top with the tomatoes and serve.