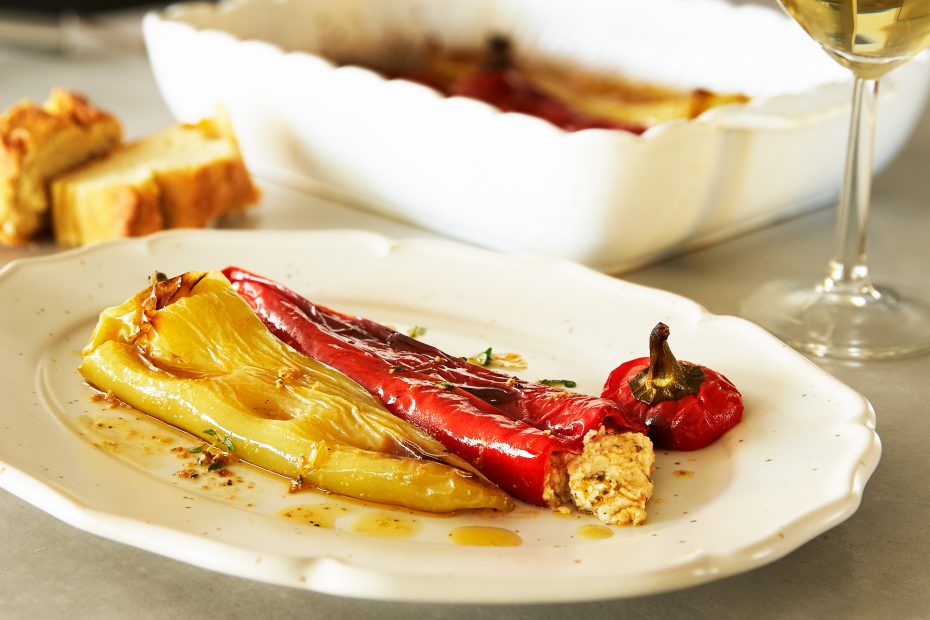 Feta Stuffed Roasted Peppers
---
Here is one of the absolute classic Greek meze recipes from the country's de facto food capital, Thessaloniki. This recipe is found in many specialty meze restaurants, and it's often spicy. Peppers are an important raw ingredient in and around Thessaloniki. Many different varieties are cultivated in the region, and they appear like a rainbow of colors, sizes, and shapes at farmers' markets all over the city. Take a look at the notes below to see what Greek wine pairs well with this dish!
Ingredients
½

pound

Greek feta

crumbled

1

tsp

cayenne

Seasalt and freshly ground black pepper to taste

1 to 2

Tbsp

strained fresh lemon juice

1

tsp

dried Greek oregano

1

tsp

dried Greek thyme

4

large

long, fresh green peppers, such as Annaheims or Italian peppers, washed and dried

4

long

fresh Florina or other fleshy red peppers, washed and wiped dry
Instructions
Place the feta, 1 to 2 tablespoons of olive oil, lemon juice, cayenne, oregano, thyme, and black pepper in the bowl of a food processor, and whip for a few seconds until smooth.

Fill a pastry bag with the feta mix and keep it aside.

Cut off the pepper lids and reserve them. Gently scrape or pull out the seeds.

Using the pastry bag (or a dull knife, such a butter knife) fill the peppers with the feta mix. Leave an inch of room at the top, so that the feta doesn't spill out. Gently stuff the lids back into each of the peppers. Secure each pepper lid with a toothpick.

Preheat the broiler. Place the peppers in a shallow baking pan, large enough to hold the peppers in a single layer. Drizzle some olive oil on top.

Place the peppers 6 to 8 inches from the heat and roast or broil for 25 minutes or until the cheese melts and the peppers begin to brown lightly. Remove the toothpicks and serve immediately.
Notes
NOTE: These feta-stuffed roasted peppers pair well with white wine, namely with a Savatiano from Attica. Attica Savatiano has a bright straw yellow color with greenish highlights and aromas of medium intensity, drupes, and white flowers and with unique herbal notes. Its rich, intense taste and moderate acidity provide flavor balance and a long finish.