What could be more versatile than a potato? Greek potato recipes span the gamut of just about every cooking method. Whether baked, boiled, roasted, pan-seared, air-fried or fried (in EVOO!), there are countless ways to cook and enjoy a potato in the Greek diet. And when combined with great Greek and Mediterranean diet ingredients, they become even more enjoyable. Oregano, lemon, extra virgin Greek olive oil – all of these and more work perfectly in potato recipes.
Now, it's almost impossible to imagine the Greek kitchen without potatoes, but they are a relatively new arrival to the country. Potatoes became a pantry staple in Greece following the 1821 revolution, when Ioannis Kapodistrias, the country's first Governor, introduced them. He made this decision based on his travels throughout Europe, where he saw many countries depend on the potato during winter months. Greeks depended on them increasingly through the challenging years following the World Wars, staving off hunger thanks to this very basic vegetable.
But the potato has gotten a bad rap in the last few years, as carbs havebeen demonized and the potato largely blamed for Americans' growing waistlines. In a recent article in the New York Times, titled "10 Nutrition Myths Experts Wish Would Die," the villainization of white potatoes is debunked in "Myth No. 6 – White potatoes are bad for you." Potatoes have often been vilified in the nutrition community because of their high glycemic index, the author writes, because they contain rapidly digestible carbohydrates that can spike your blood sugar. "However, potatoes can actually be beneficial for health, said Daphene Altema-Johnson, a program officer of food communities and public health at the Johns Hopkins Center for a Livable Future. They are rich in vitamin C, potassium, fiber and other nutrients, especially when consumed with the skin. They are also inexpensive and found year-round in grocery stores, making them more accessible. Healthier preparation methods include roasting, baking, boiling and air frying."
Potatoes are also a great source of vitamin B6, an important element across the board: it affects athletic performance, heart protection, and brain and nervous system activity. They're also full of copper, manganese, and phosphorus. Their complex carbs make them great for energy levels, and these also help to stave off hunger spikes that prod us to binge eat. They also contain a variety of phytonutrients with antioxidant attributes. Research has identified 60 different phytochemicals and vitamins in potatoes, so you'll want to add them to your diet.
And if you like potato skins, I've got good news. If you boil your potatoes with the skin on, they will retain their flavor and nutritional value. Peeled potatoes do cook faster, but they also won't be quite as fluffy when you mash them, and they won't as easily absorb whatever fat – olive oil in the case of Greek mashed potatoes – you decide to add.
From moussaka to skordalia, there are many great ways to enjoy potatoes in the Greek diet. Scroll down for some of my favorite preparations.
(Pan-) Fried Potatoes
This might just be one of the most indulgent ways to enjoy a potato (and the most delicious), but when Greeks fry potatoes, they don't turn out exactly like you might imagine. When we make Greek fries at home, we cut them thicker, like fingers. Extra virgin Greek olive oil has a relatively high smoke point, so while it's not ideal for deep frying, it's a great option for pan-frying. As it's also packed with antioxidants, the chances of forming harmful substances while frying is dramatically reduced compared to other oils, and it can ramp up the flavor of anything, especially fries – basically, it's the healthy way to fry anything.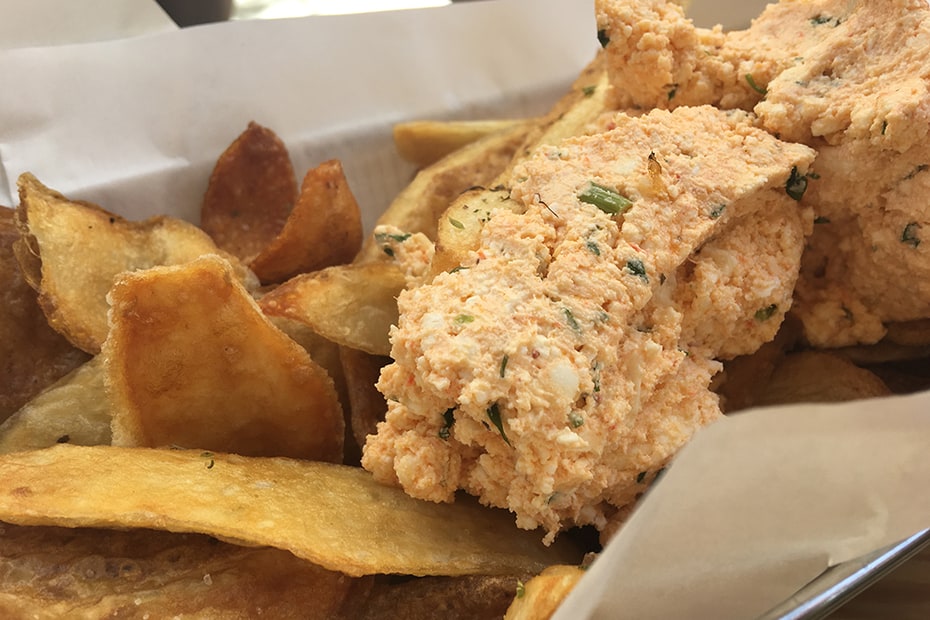 It's the right way to go with these Fried Potatoes with Spicy Whipped Feta, a simple and delicious potato recipe. They're evidence that potatoes are great paired with feta cheese (here, the feta is whipped and just a bit spicy!). I also love to enjoy fried potatoes with grated kefalotyri on top. It's a hard, light-yellow cheese with a delightfully salty taste, made from sheep or goat's milk.
Potato Salads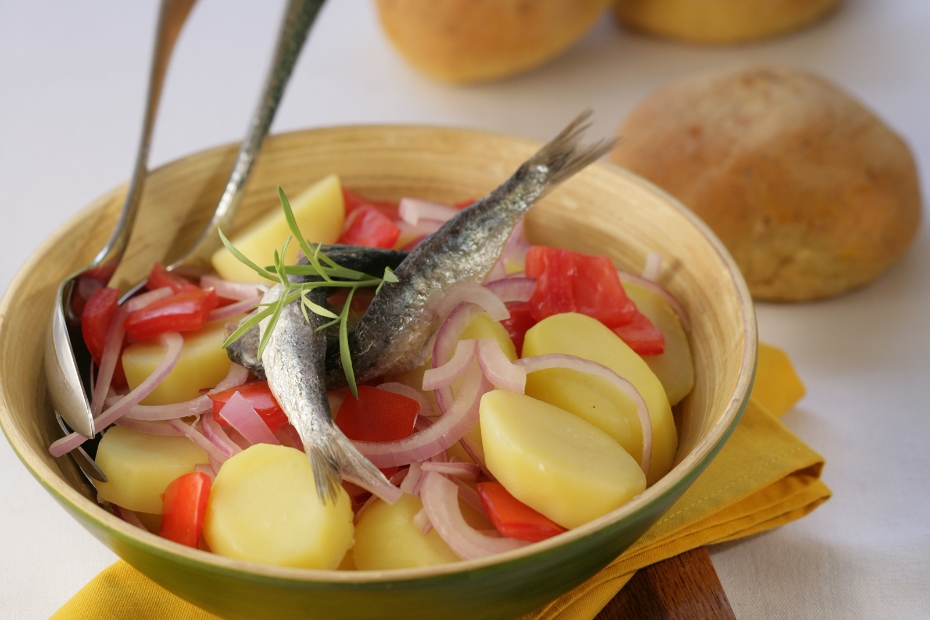 These recipes might have a summer ring to them, but I believe that potato salads actually transcend seasons. They can be a hearty, delicious, warming alternative to a lettuce salad, and they're often quite simple to make. This Naxos Potato Salad (Naxos potatoes are one of the most renowned vegetables in Greece, relatively small in size and firm-fleshed) is such a perfect example, pairing potatoes with sardines, chopped tomatoes, and onion. Then, of course, there are many mayo versions, but my Potato Salad With Greek Yogurt – Herb "Mayo" is a healthy alternative, one that calls for Greek yogurt and extra virgin Greek olive oil, plus plenty of herbs. I promise, it will change your mind about the old-school classics slathered in mayo!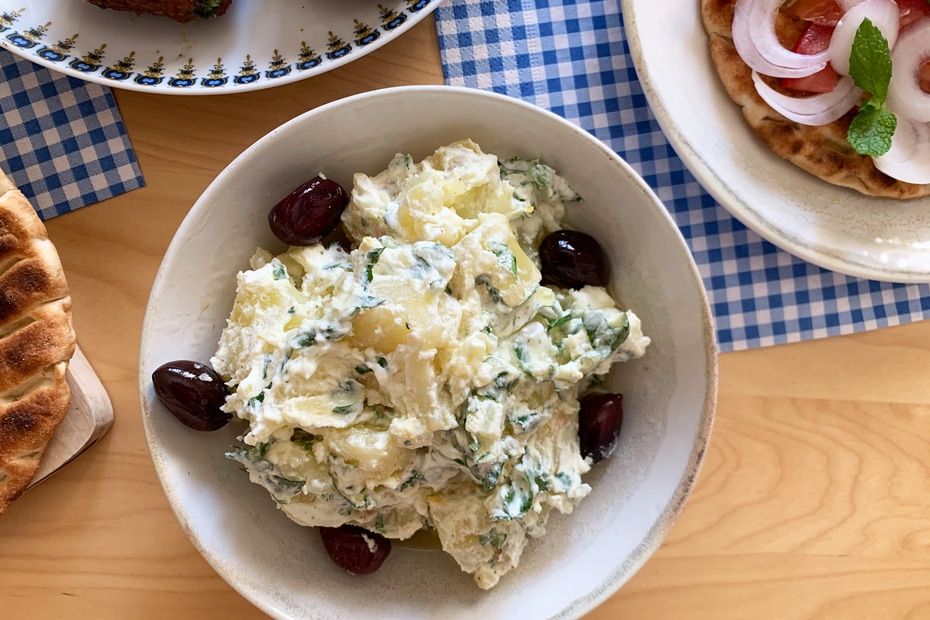 Then, there's the Warm Greek Potato Salad with Feta Cheese Pesto & Kalamata Olives, a satisfying warm potato salad that combines Greek traditions and Mediterranean diet deliciousness, with a little Italian finesse worked in. It's truly a paean to Greek-Italian friendship: a pesto made with feta and a potato salad garnished with one of the all-time classic Mediterranean diet ingredients: Kalamata olives.
Mashed Potatoes
No, mashed potato recipes shouldn't just hit your table at Thanksgiving. It's the ultimate comfort food, and it's one that pops up often in the Greek diet. I love these Mashed Potatoes with Greek Feta and Yogurt, which go well with all sorts of comfort foods, especially tomato based stews. If you need more proof that feta cheese is the perfect addition to your mashed potatoes, you have to try these Cheesy Mashed Potatoes with Greek Yogurt.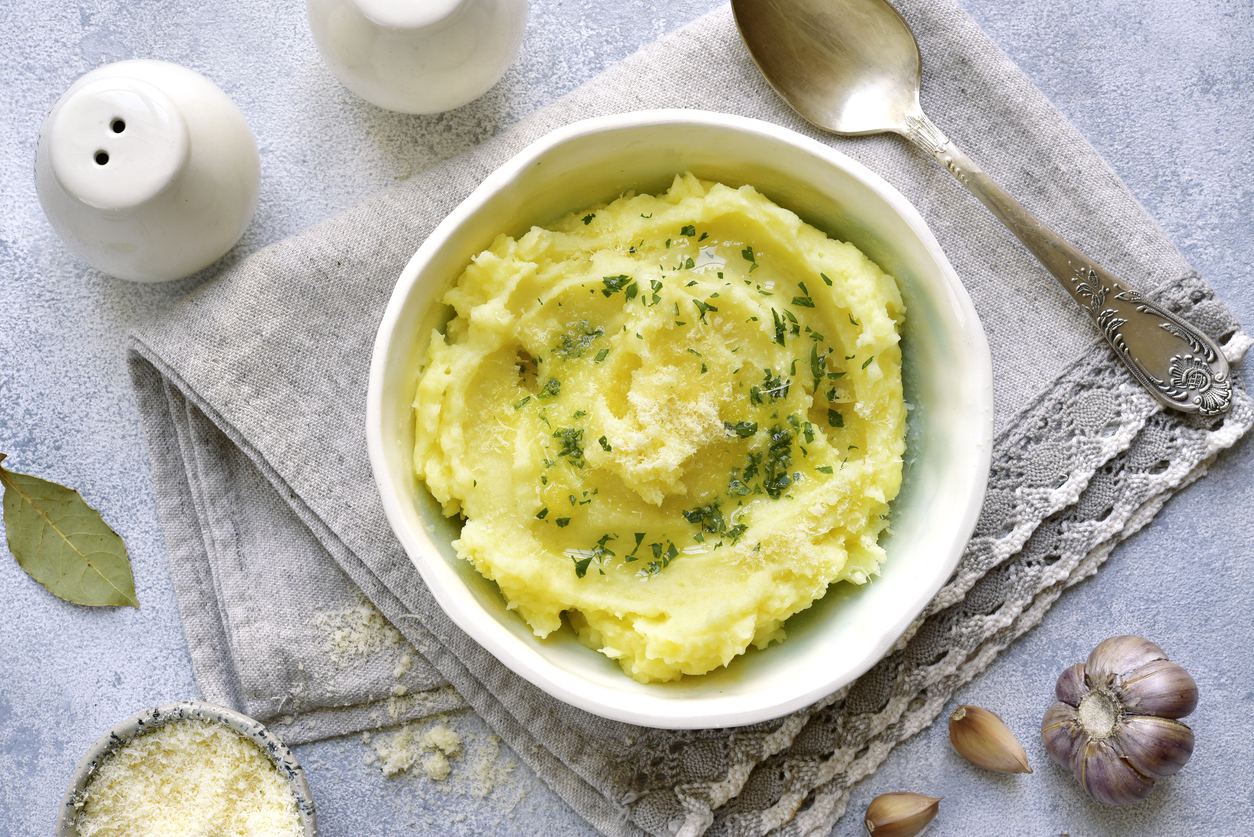 It adds some tang and complexity to an otherwise smooth and creamy dish, plus that gooey deliciousness that melted cheese always provides!
Roasted Potatoes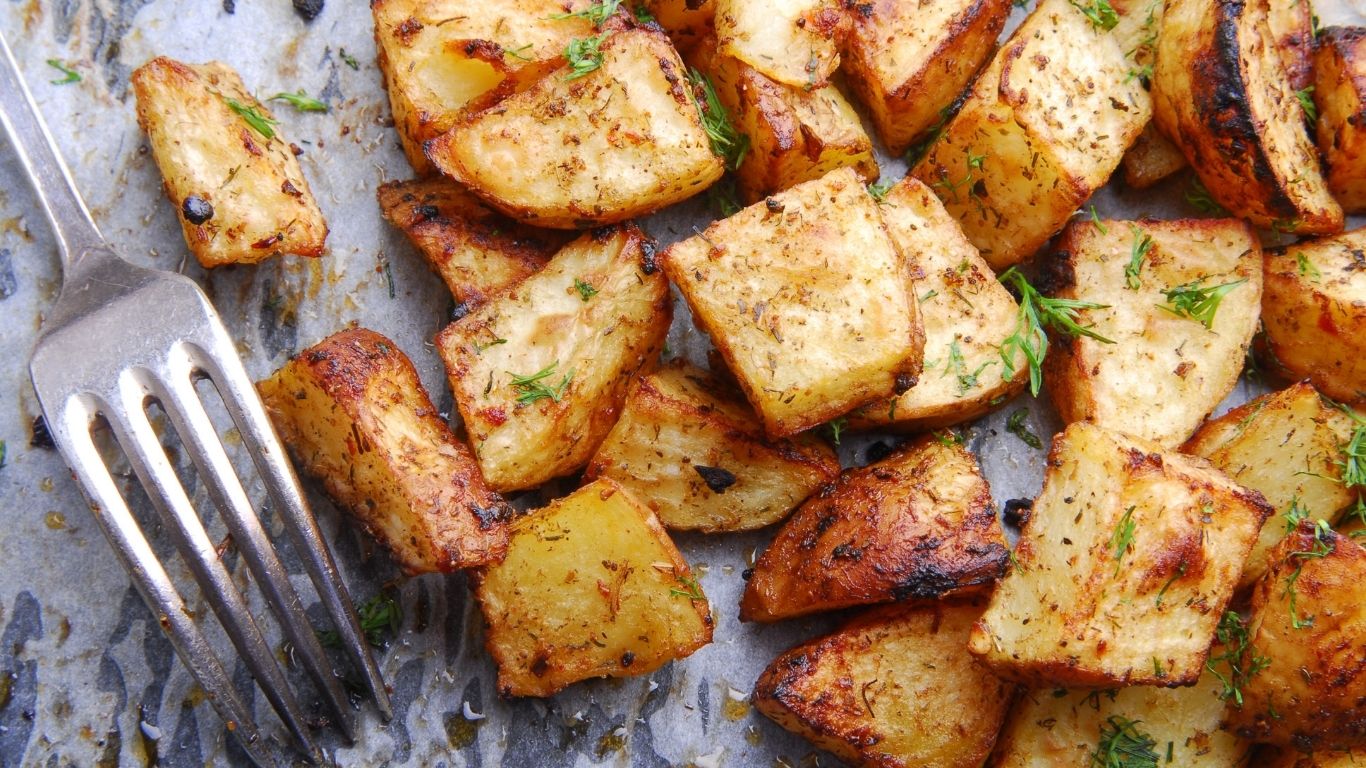 Roasted potatoes are remarkably easy, but still full of flavor. Take my Greek Yiayia's Roasted Potatoes, for instance: they use honey, lemon juice, and lots of garlic, bringing a perfect combination of sharp acidity and sweetness. An added benefit? Potatoes and garlic are both sources of good nutrition, and they double up to become excellent fighters of disease and illness. Another favorite roasted potato recipe: Roasted Artichokes and Potatoes, a vegetarian main course that is perfect for Meatless Mondays!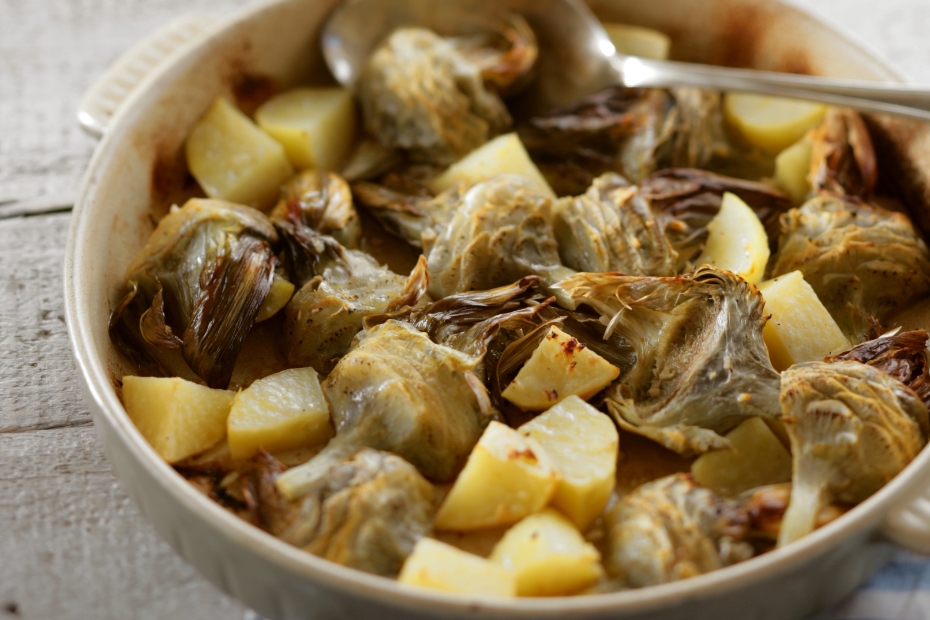 Baked Potatoes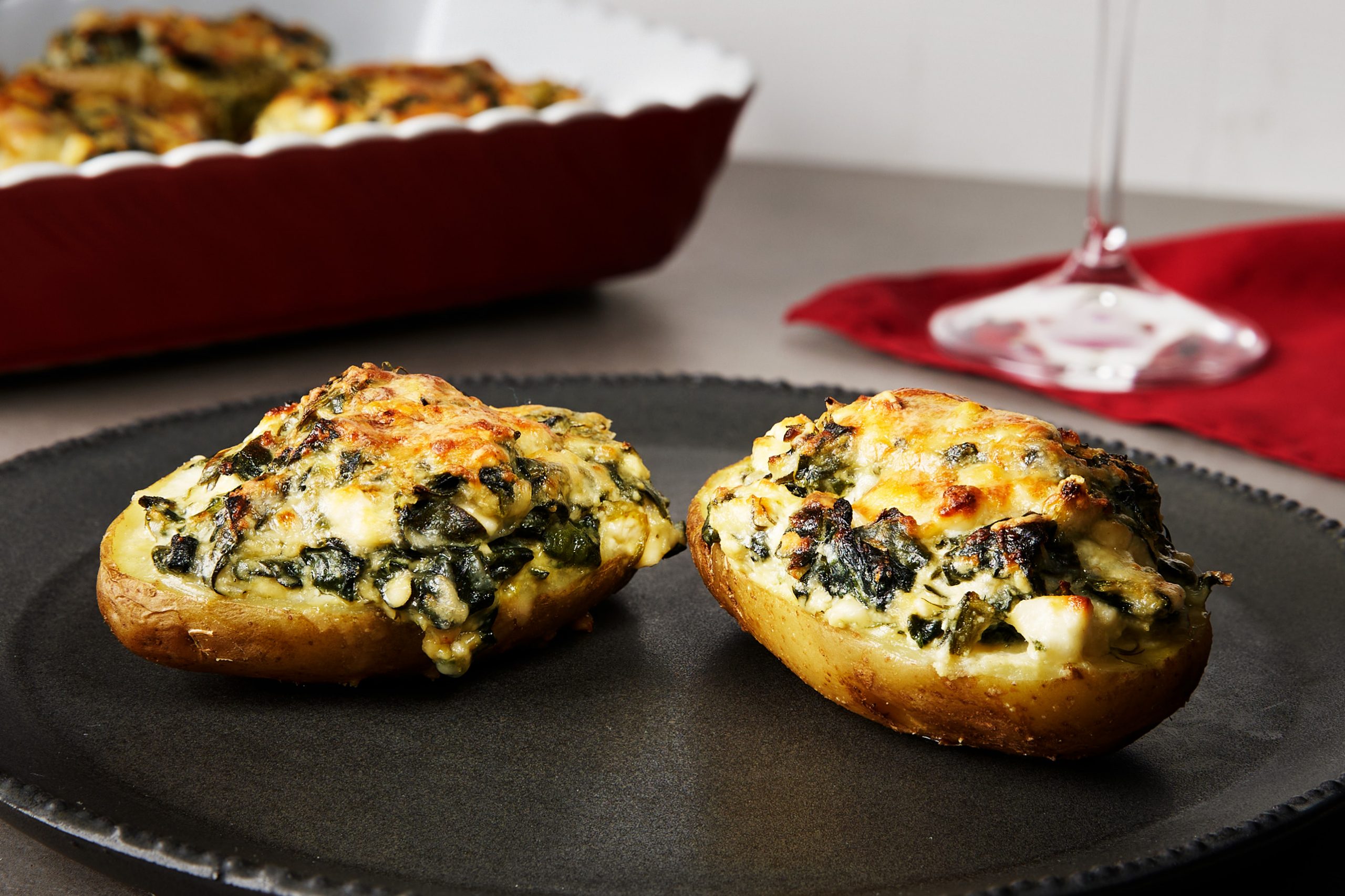 I love a good baked potato. There's nothing more simple – but there are also lots of great ways to jazz them up! Spanakopita Baked Potatoes, from season 4 of @mygreektable, will become a family favorite. You might find yourself making these for a tailgate party, dinner party or holiday table.