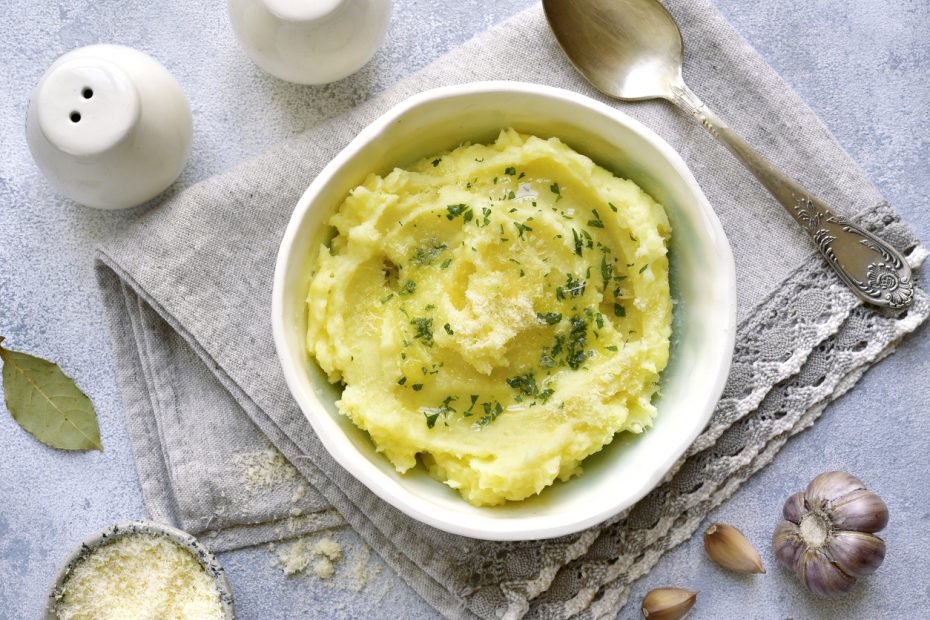 Cheesy Mashed Potatoes with Greek Yogurt
---
Cheesy Mashed Potatoes with Greek yogurt might just be the ultimate Mediterranean diet comfort food! Serve this with a great roasted chicken, such as my recipe for Roasted Chicken Stuffed with Figs and Olives. This Greek recipe for mashed potatoes calls for three Greek cheeses AND Greek yogurt. The cheeses, Greek feta, graviera and kefalotyri, add tang and that gooey deliciousness that melted cheese gives us, while the yogurt adds a creaminess and underlying tang that will surprise you.
Ingredients
4

medium boiling potatoes skins left on

washed well

1

garlic clove minced

1/4

cup/60 ml plus 2 Tbsp./90 ml extra-virgin Greek olive oil

1/4

cup/60 ml Greek yogurt

3

tbsp

milk

8

oz/225 g Greek feta cheese crumbled

4

oz/ 115 g Graviera or Kefalograviera cheese

grated

2

oz/60 g grated Greek Kefalotyri cheese

or Romano

2

Tbsp.

finely chopped fresh chives
Instructions
Put the potatoes in a pot of cold salted water to cover. Bring the water to a boil and cook the potatoes until the skins burst and the potatoes are fork-tender. Drain, remove from the pot, cool slightly, and peel.

Put the potatoes in a medium nonreactive bowl and mash with a potato masher, gradually adding the garlic, olive oil, yogurt, milk, and cheeses and continue mashing until smooth and well blended. Add the chives and season with salt and pepper. Serve hot.