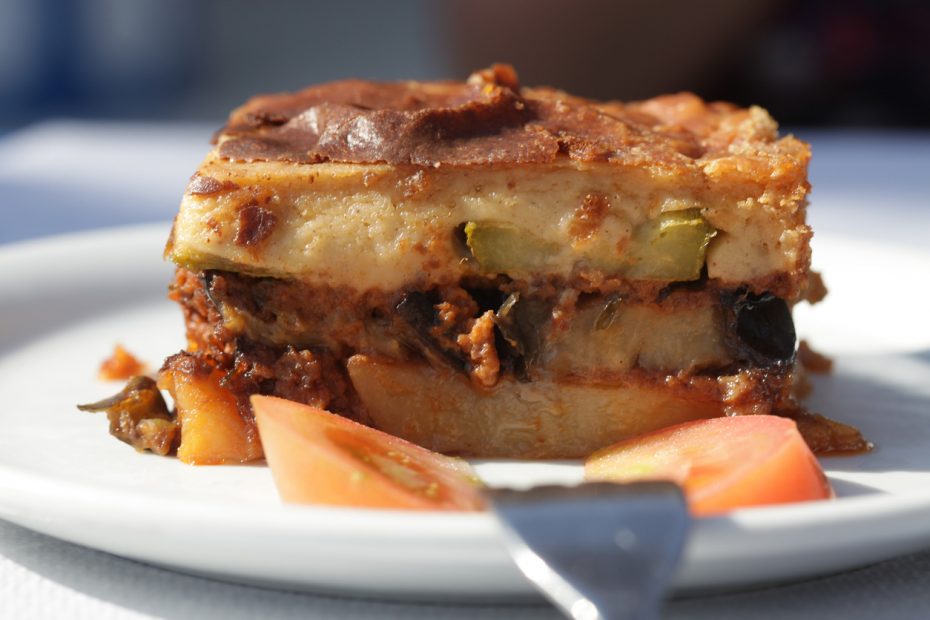 MOUSSAKA (BAKED EGGPLANT WITH GROUND MEAT AND BECHAMEL)
---
Invariably mispronounced with the accent on the second instead of the last syllable, moussakå is probably the Greek national dish to many foreigners, although its origins are thought to be Asian. This Greek recipe, a true Greek classic, might actually be related or descended from the Asian maghuna, a "ayered dish of mutton, onions and aubergine. But moussaka isn't limited in eggplants; it can refer to any layered vegetable dish baked with ground meat and topped with bechamél. 
Moussaka is an indulgent Mediterranean diet recipe. for sure! It is part of the Greek diet but not something we eat every day. In the summer and in other seasons, it is typically a Sunday meal.
This recipe is adapted from my first book, The Food and Wine of Greece.
Ingredients
6

large eggplants, sliced lengthwise 

2/3

cup

plain bread crumbs,

or

2

large

potatoes,

peeled and sliced into 1/8-inch rounds

4 to 6

cups

bechamel sauce (see below)

1

cup

grated Kefalotyri, Kefalograviera, Romano or Parmesan cheese 
For the Meat Sauce
4

medium to large

onions, chopped

2

pounds

lean ground beef

3

cups

canned chopped plum tomatoes, with juice

3

garlic cloves, finely chopped

1

cinnamon stick, or ½ tsp ground 

2

bay leaves

1

pinch

all spice

salt and freshly ground pepper, to taste

3

Tbsp

tomato paste

½

cup

dry red wine 
For the Bechamél
6

Tbsp

butter

6

Tbsp

all-purpose flour

6

cups

milk,

warmed slightly

Pepper, to taste

1/2

tsp

nutmeg,

freshly grated

2

eggs

1/2

cup

ricotta or Greek anthotyro

1/2

cup

grated Kefalotyri, Kefalograviera, Romano or Parmesan

1/2

cup

crumbled Greek feta
Instructions
To prepare eggplants: In making moussaka, the eggplants are traditionally fried in order to soften them. I usually bake them. But, if you want to go the traditional, old-fashioned route..: Wash eggplants and cut off stems and tip. Cut lengthwise into large oval slices about 1/4 inch thick. If the eggplants have large seedbeds (most no longer do), place them in a colander in layers, sprinkling each layer with salt, and let them drain for 45 minutes. Rinse slices very well, drain thoroughly, and pat dry. Alternatively, just proceed with the frying: In a large skillet, heat 2 tablespoons of olive oil for every 3 - 4 slices of eggplant. Sauté the slices lightly and drain on paper towels.

To bake them (easier and lighter!): Preheat the oven to 350F/180C. Brush the eggplant slices on both sides generously with olive oil and place on a parchment-lined baking sheet or sheets, or do this in batches. Bake until soft, about 10 - 12 minutes.

In either case, remove and cool slightly before using. 

If opting for potatoes over breadcrumbs, toss the potato sliced in olive oil and bake on a baking sheet until soft but not browned.

To prepare meat sauce: In a large heavy skillet, heat 2 tablespoons of olive oil and sauté onion until translucent. Add the ground meat and cook, stirring, until browned. Add garlic, cloves, cinnamon, bay leaves, allspice, salt, pepper, and stir for a few minutes. Pour in the wine and then the chopped tomatoes. Lower heat, cover, and simmer for 45 to 50 minutes, adding more wine or a little water, if necessary to keep the mixture moist. It should be moist, not liquid. About 5 minutes before turning off heat, add tomato paste. Keep cover off and simmer until all liquid has been absorbed. Remove skillet from heat and cool slightly. 

While the sauce is simmering, make bechamél. In a large saucepan, heat the butter over medium heat until melted and bubbling. Be careful not to brown the butter. Add the flour and whisk all together for about 5 minutes, carefully not to brown the roux (butter-flour mixture). The aim here is to cook the flour so that the sauce doesn't end up with a pasty taste. Add the warm milk, whisking all the while. Add the cream and seasonings (salt, pepper, nutmeg). Whisk the bechamél for about 8 - 15 minutes until thick. It should have the consistency of a medium-thick pancake batter. Remove from heat and slide in the eggs, working fast and whisking to combine them without curdling them. Whisk inthe cheeses. Cover and set aside until ready to use. 

Preheat oven to 350° F. Lightly oil an 11x15x3-inch baking pan or oven-proof glass or ceramic dish, large enough to hold moussaka. 

Mix a ladleful of the bechamél into the meat sauce and stir to combine.

Spread bread crumbs or slightly cooked potato slices on bottom of baking pan. Place an overlapping layer of eggplant slices over bread crumbs or potatoes, patting down with a spatula or your palms. Spread a third of the meat mixture evenly over eggplant. Spread another overlapping layer of eggplant and a third of the meat sauce. Repeat with the last layer of eggplant and finish with a top layer of meat sauce. Pour the remaining bechamel over the meat sauce, spreading it with a spatula so that it is evenly dispersed over the surface. Sprinkle with additional grated cheese and bake for 45 minutes to 1 hour, until bechamél is set and golden brown on top. Remove, cool slightly and serve.
Want to learn more easy, healthy Mediterranean diet recipes? Sign up for my online course "Mastering the Mediterranean!"
Want to learn more easy, healthy Mediterranean diet recipes? Sign up for my online course "Mastering the Mediterranean!"
Love vegetables? Want to learn more great plant-based Mediterranean dishes? Enroll in my online  class "Baked Vegetable Classics!" 
Notes
Note: You can make the moussaka over a couple of days. Make the meat sauce and keep it refrigerated. Make the bechamél and keep it covered and refrigerated. (You can loosen it up a little when ready to use by warming and stirring in some additional milk.) You can prepare the eggplant slices and even the potatoes a day or two earlier, as well, keeping both refrigerated. Assemble the moussaka and bake it.