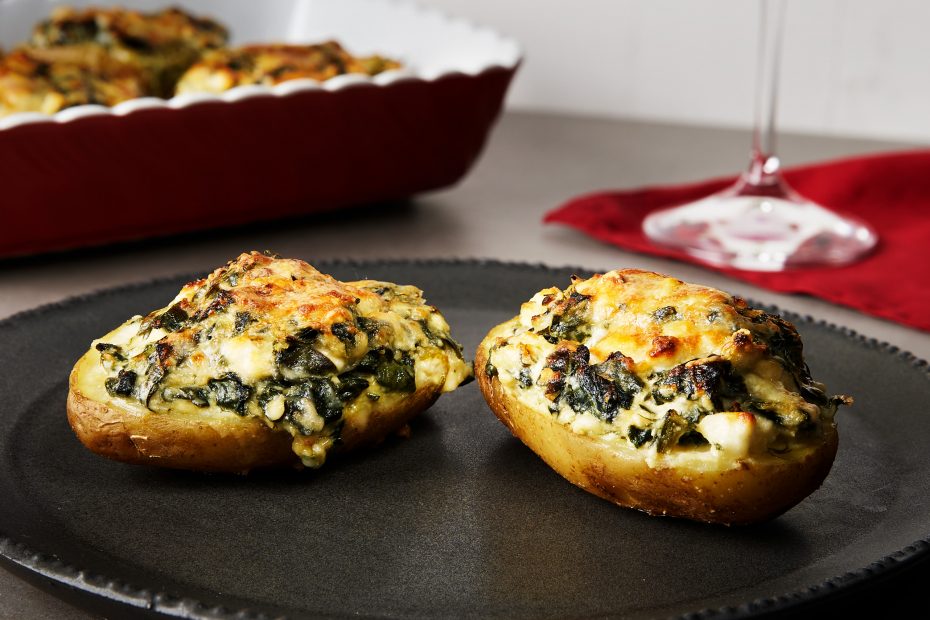 Spanakopita Baked Potatoes
---
I promise you that the Spanakopita Baked Potatoes from the Foods that Unite Us episode, in Season 4 of My Greek Table, will become a family favorite. You might find yourself making these for a tailgate party, dinner party or holiday table. You can serve it as a separate course, i.e. a starter, and pair it beautifully with a crisp, white Savatiano from the Attica region just outside Athens.
Ingredients
6

large baking potatoes

5

Tbsp

extra virgin Greek olive oil and more for oiling the baking dish

1

large red onion finely chopped

2

cups

steamed

drained spinach (about 6 cups fresh)

3

Tbsp

unsalted butter

1

cup

crumbled Greek feta

½

cup

crumbled Greek anthotyro or ricotta

2/3

cup

Greek yogurt

½

cup

chopped fresh dill

2

large eggs lightly beaten

2/3

cup

coarsely grated Greek kasseri cheese or other semi-hard nutty yellow sheep's milk cheese
Instructions
Scrub the potatoes well, but leave their skins intact. Bring the whole potatoes to a boil over high heat in a large pot of salted water. Reduce the heat and simmer until the potatoes are al dente, about 20 minutes. They should not be cooked through and should not simmer so long that their skins split open. Remove and drain.

While the potatoes are cooking, prepare the filling. Heat 3 tablespoons of olive oil over medium heat in a medium skillet and cook the onion until tender and lightly golden, about 10 minutes.

Add the spinach to the skillet and stir to combine. Add the dill and stir. Remove and cool slightly. Transfer the filling to a bowl.

Cut each of the potatoes carefully in half lengthwise. Scoop out their flesh, leaving about a quarter inch of potato as a shell. Mash their flesh lightly with two tablespoons of olive oil until fluffy and crumbly. Add to the spinach. Mix in the cheeses, yogurt, dill, eggs, salt, and pepper. Refill each of the potatoes with this mixture, mounding it decoratively. Sprinkle each potato with 1 tablespoon of coarsely grated Kasseri or other mild, semi-hard cheese.

Place in a lightly oiled baking pan large enough to fit the potatoes snugly. Bake at 350 F for 25 to 30 minutes, or until tender. Serve hot.
Want to learn more easy, healthy Mediterranean diet recipes? Sign up for my online course "Mastering the Mediterranean!"
Want to learn more easy, healthy Mediterranean diet recipes? Sign up for my online course "Mastering the Mediterranean!"